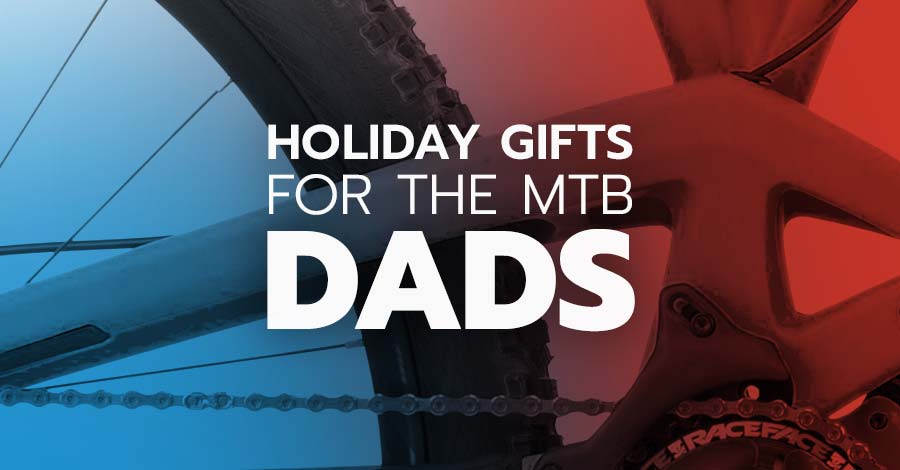 These holiday gifts for mountain bike dads are sure to raise your status in the family! Want to solidify your rank as his favorite child or restore the youthful glimmer in his eye (even though nothing can be done about that receding hairline)? All you have to do is choose something this holiday season which reinforces his love for mountain biking.
All kidding aside – here are a few gift ideas that may help you get something interesting for the old man.
VIEW the complete HOLIDAY GIFT GUIDE FOR MOUNTAIN BIKERS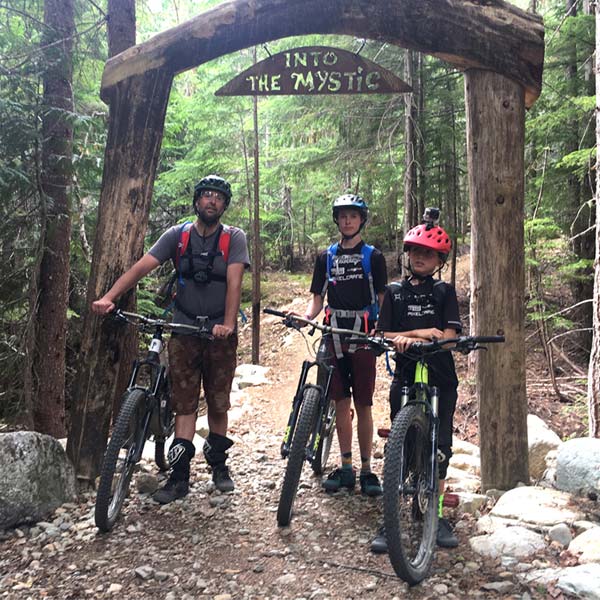 Park Tool Cyclone Chain Scrubber | $24.95 USD 
Dad loves a clean chain! The Park Tool Cyclone Chain Scrubber has extra-large reservoir that holds 2 fl. oz. of solvent while a series of brushes and sponges work to clean grit from your bike chain. The strong magnet at the base of the reservoir draws particles scrubbed from the chain to the bottom, keeping them from being redistributed. The Park Cyclone chain scrubber works with all multi-speed bikes and some single-speed models.
Evoc FR Trail Team Protector Hydration Backpack | $220.00 USD 
Dad's mountain biking pack needs to be big enough to deal with the variety of situations that come up on the trail. The Evoc FR Trail Team Protector Hydration pack can accommodate up to 20 liters of cargo volume and a hydration bladder up to three liters in volume (not included), so it has room for supplies and tools for the whole family. This pack includes an easily accessible tool compartment, a helmet carrier strap, and extra straps to carry additional gear. This pack is water-resistant but highly breathable thanks to the Air Mesh back panel. Importantly, the Evoc FR Protector is CE-certified with Evoc's Liteshield Back Protector, a system to reduce shock to the spine by up to 95% in the event of an accident. The Evoc FR Trail Team Protector Hydration Pack comes in three sizes: Small, Medium/large, and X-Large.
Exposure Toro Mk9 Headlight | $356.96 USD 
Sometimes dad needs to get out for a ride after dark. The Exposure Toro Mk9 Headlight is lightweight (236 gram) yet powerful (2650 lumens). This light features Reflex+ Technology, which allows the light to intelligently adjust its own brightness to suit your riding. A combination of gradient, acceleration, and cornering forces are calculated to match output to your need for light while still maintaining the burntime you have selected. Internal Thermal Management prevents it from overheating and the included smart charger and USB cable make it convenient and hassle-free charge.
Niner AIR 9 RDO X01 Eagle Complete Mountain Bike – 2018 | $3,399.00 USD 
When it comes to bikes for dad this holiday season, this is the hardtail XC machine you've been looking for! It has been marked down over 1/3 of the original retail price and you still get a sweet carbon frame, 29 inch wheels, Eagle 12 speed drivetrain and 120mm travel RockShox fork.
Evil The Calling XT | $4,999.99 USD 
Evil has partnered with Jenson USA to offer this exclusive build that will be dad's weapon of choice for rowdy singletrack and missions in the bike park. An 11 speed Shimano drivetrain, RockShox suspension (140mm front, 130mm rear) complement the carbon fiber frame. And, the 27.5 wheelset is wrapped in takcy Schwalbe Hans Dampf rubber.
Pivot Mach 5.5 | $5,579.10 USD 
This medium travel all-mountain ripper features a Shimano 11-speed drivetrain, carbon frame and KS LEV dropper. The Fox suspension will make dad yell "Yew!" as he speeds up and down his favorite trails this season. It's geometry is made for action as the 66.5º head angle and 17 inch chainstays are ready-to-rumble.
Troy Lee Designs Raid Knee Guard | $115.00 USD 
Troy Lee Designs Raid Knee Guards features neoprene construction with a breathable back panel for all-day comfort. Fit-Lock calf bandwill prevent slippage and the knee cap integrated w/flex panel provides flexibility for full range of pedaling motion. These pads also include abrasion resistant side padding for protection against bike frame & trail features.
Timber! Mountain Bike Bell | $24.85 USD 
Timber Bells provide awareness when you need it, silence when you don't. The simple on/off lever controls the internal clapper. These bells are designed for safe, friendly passing and signaling on shared use trails, and alerting wildlife, including bears and mountain lions. The timber bell can be easily mounted anywhere on your handlebars or right on the grip for instant shifting between ring and silent mode. While you're at it, buy one for each member of the family.
Foundation Airblast Tubeless Floor Pump | $69.99 USD 
The Foundation Airblast Tubeless Floor Pump is specifically designed to inflate tubeless tires with ease . It features a 6063 Aluminum barrel is fitted with a 2.5″ top mounted gauge that's precise and easy to read. It comes with a reliable steel handle that's shaped for easy gripping and a steel standing base to assure stability while pumping. The GCT-TU pump head uses a switchblade lever to clamp on to valves.
Foundation 748 Bike Tool Kit | $109.99 USD 
Teach your kids to fix their own bikes and they'll ride for a lifetime. Basic bike maintenance is an important skill – the Foundation 748 Bike Tool Kit features a wide arrangement of tools, ranging from basic maintenance tools to more complex tools that every bike mechanic should own. The Foundation 748 Bike Tool Kit features a durable toolbox that allows convenient storage and easy traveling. Never find yourself without the right tool to keep you pedaling!
Five Ten Freerider Pro MTB Shoes | $150.00 USD 
The completely updated Freerider Pro sets high standards for performance and versatility. This mountain biking shoe has a low profile and lightweight feel. The Stealth S1 outsole rubber provides unrivaled grip to keep you on your pedals or provide traction across the rocks should you have to hike-a-bike. The Freerider Pro is made of a synthetic, light-weight, weather-resistant upper, an impact-resistant toe box and a compression-molded EVA midsole to keep you pedaling all day long.
Leatt DBX 5.0 All Mountain Jacket | $199.99 USD 
The Leatt DBX All-Mountain jacket is made of waterproof and breathable material with adjustable ventilation. It boasts a dirt/water/stain resistant coating to take on any weather conditions you might face. The four-way stretch shell material allows full range of motion. This jacket features a new patent-pending magnetic hood system that keeps the hood magnet fixed over the helmet or fixed at your back so it won't flap around.
Fox Rowan Stretch Flannel | $64.00 USD 
Dads love flannel! This shirt will take dad from the trail to the post-ride drinking hole. The Fox Rowan Stretch Flannel is made of stretchy cotton flannel and will match dad's rugged good looks.
Life is Better When You Ride Mountain Bike T Shirt | $15.97 USD 
We know that you know dad needs a new T-Shirt. Throw out his old ones for him because he never wears them anymore. They have holes in them and take up space.
https://mtbwithkids.com/wp-content/uploads/2018/11/holiday-gifts-for-mtb-dads-feature.jpg
470
900
Brett
https://mtbwithkids.com/wp-content/uploads/2016/05/logo-mtbk-400-300x157.png
Brett
2018-11-09 02:21:58
2018-12-20 19:56:31
Holiday Gifts For Mountain Bike Dads