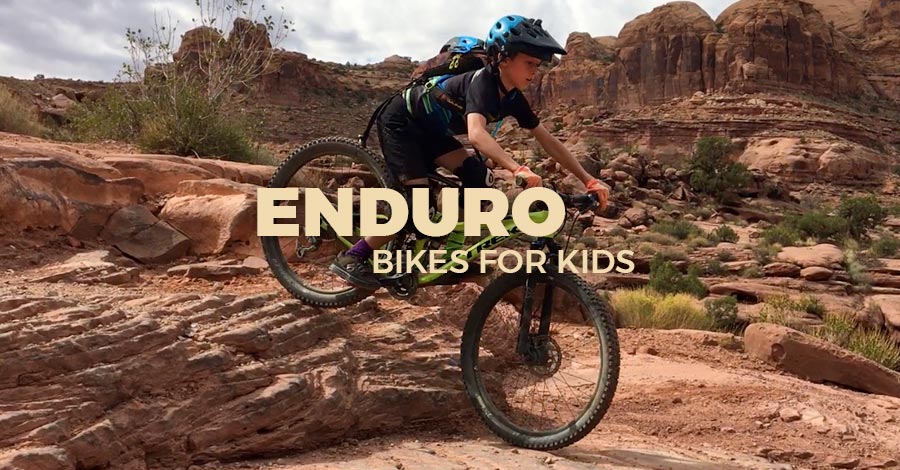 Look at the standover heights on these bikes and choose the best fitting one for your junior enduro racer! We selected bikes with 24-inch wheels or extra-small or small adult sizes with 27.5-inch wheels. There are some great deals to be had, too! Several of these enduro bikes for kids are priced to move.
The term "enduro" technically refers to a race format, not a bike type. Enduro races are multi-stage races that take place over 1-2 days. Only the descents are timed so racing uphill is not a necessity.  In general, climbing can be slow and steady to make the cut-off time for transitioning between stages.
Thus, enduro bikes for kids aren't a separate category of mountain bikes. In contrast, they're just kids' bikes suitable for technical downhill trails as well as climbing. An adult "enduro bike" is typically a full suspension bike with medium travel. The same applies for kids' enduro bikes. However, because children weigh less, many of these bikes can also be used as kids' downhill mountain bikes. 
You can see even more bikes suitable for enduro in our lists for kids' mountain bikes for 8-11 years old and mountain bikes for kids 11-14 years old.
Trailcraft Maxwell 24
The Trailcraft Maxwell 24 is burly enough for smaller and lighter riders to use on advanced technical trails. Importantly, the bike's weight helps avoiding a bonk on stage transfers. When you visit the Trailcraft site, you'll be impressed by all the options for this kid-sized powerhouse of an enduro bike. The Maxwell 24 is easily one of our our favorites for the younger enduro crowd.
Rosignol Trail Mandate JR 24
The Mandate JR 24″ has a frame adapted to young riders, very manageable and ready for them to enjoy a casual ride or ripping in the bike park. All the ingredients are in the plate: SR Suntour air fork and shock, Shimnao 9 Speed transmission and Tektro M285 2 pistons brakes are ready to provide the best experience to the next generation of talented riders!
Transition Ripcord 24
Transition's Ripcord kids bike is designed to do-it-all while delivering maximum smiles. The Ripcord looks like a rad adult bike that was put on the photocopier and reduced by 40%. You get all the features of an adult bike but in a sweet package that kids can shred. Features like super-low standover, air front and rear shocks, hydraulic disc brakes and knobby Maxxis tires for superb braking and cornering control.
Alchemy Arktos 27.5
Alchemy is an amazing American brand that's gaining a larger share of the all-mountain and enduro market. They accomplish this by offering a high quality frame with high quality components and wheel sets at a lower price. Your teen rider will be thrilled with this bike. The Arktos 27.5 mountain bike features many important design details that set it apart. Specifically, the internal cable routing and a direct mount chain guide to keep it looking and running clean. Additionally, the Alchemy Arktos 27.5 features Fox Factory suspension both front and rear. Above all, your young rider will love the feel of this all-mountain bike.
Rocky Mountain Reaper 26
The Reaper 26 is a wonderful option for your up and coming enduro rider. Once you tune the suspension – you've got a more than capable mountain bike for your pre-teen enduro enthusiast. Rocky Mountain is dedicated to getting your kid the right size Reaper. They designed two different frame sizes to hold 24-inch wheels, 26-inch wheels, and 27.5 inch wheels. At any rate, you should explore the Reaper on the Rocky Mountain website to learn more.
Juliana Furtado Carbon Mountain Bike
Although the Juliana Furtado is marketed as a "women's" bike, this trail bike may be the perfect fit for your pre-teen or teen racer. The Juliana Furtado is a gender-neutral all-mountain/enduro trail assassin. It's XS frame size with 26.9 standover height may be the perfect fit for a shredding young rider. This trail bike is loaded with 130-millimeters of travel. The Juliana boasts VPP suspension, to balance responsive pedaling with bump-smoothing compliance. Significantly, the engineers at Juliana gave the Furtado a custom shock tune for lighter riders. Your young rider will appreciate the improved responsiveness.
Santa Cruz Bronson C S
The Santa Cruz Bronson is a popular mountain bike with the NICA crowd in Utah. For one thing, the 27.5 wheels on an extra-small or small frame is an excellent fit for kids who still need to grow into a 29-inch wheel. Additionally, the carbon frame is light and strong. Most importantly, the VPP suspension system provides the perfect ride. The Bronson's redesigns over the last few years have not changed its legendary strength, stiffness, and handling. In this case, you can't go wrong with the Santa Cruz Bronson.
Trek Slash
The Trek Slash has long been the staple of the manufacturer's enduro line up. Available in several build options, we'll focus on the Slash 9.8 XT. It weighs in at less than 30lbs and the carbon frame is put in motion by Bontrager Line carbon wheels. A 160mm Lyrik fork and 150mm RockShox Deluxe RT3 absorb the bumps. This enduro steed in sizes S – XL will have a standover height varying from 28.3in to 36.2in. So, it's sure to fit all your castle's striplings and sovereigns.
Kids' Enduro Bike Comparison Chart
https://mtbwithkids.com/wp-content/uploads/2019/11/enduro-featured-2019.jpg
470
900
Brett
https://mtbwithkids.com/wp-content/uploads/2016/05/logo-mtbk-400-300x157.png
Brett
2019-11-02 17:18:11
2022-06-14 17:12:54
Enduro Bikes For Kids