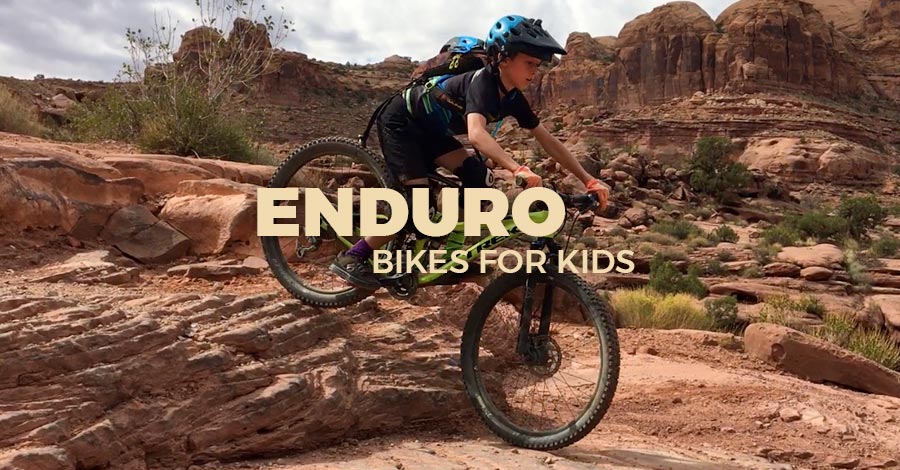 UPDATED NOVEMBER, 2019 – Look at the standover heights on these bikes and choose the best fitting one for your junior cat enduro racer! We selected bikes either available with 24-inch wheels and extra-small or small adult sizes with 27.5-inch wheels. There are some great deals to be had, too! You will find a few of these enduro bikes for kids priced to move.
Enduro bikes for kids aren't a new category of mountain bikes – they're just kids' bikes suitable for technical trails as well as climbing. An adult "enduro bike" is typically a full suspension bike with medium travel. The same applies for kids' enduro bikes, but because children weigh less, many of these bikes can be used as kids' downhill bikes. Next, the term "enduro" technically refers to a race format, not a bike type. Enduro races are multi-stage races that take place over 1-2 days. Only the descents are timed so racing uphill is not a necessity unless your kid needs to make a cut-off time for transitioning between stages.
You can see even more bikes suitable for enduro in our lists for kids' mountain bikes for 8-11 years old and mountain bikes for kids 11-14 years old.<
Norco Fluid FS 1 24
It doesn't matter if your youth's enduro race is in the bike park or out in the woods. The newly redesigned Norco Fluid is up for the task. The bike's lower standover height and other geometry points are specifically designed for the 9-12 age group. We especially like the stock Maxxis tire pairing and inclusion of a 100mm dropper on this all-mountain sled from our friends up north.
Marin Hawk Hill 1
Enduro racing is supposed to be fun. But when you have the wrong bike for the job, it can be a slog that is anything but fun. That is why the Marin Hawk Hill 1 is a good your growing teenagers a a lower price-point. It has a full-suspension system built to handle even the toughest of terrains.
Trailcraft Maxwell 24
The Trailcraft Maxwell 24 is burly enough for smaller and lighter riders to use on advanced technical trails. And, the bike's weight helps avoiding a bonk on stage transfers. When you visit the Trailcraft site, you'll be impressed by all the options for this kid-sized powerhouse of an enduro bike. It's easily our favorite for the younger crowd.
Alchemy Arktos 27.5
Alchemy is an American brand that's gaining a larger share of the all-mountain and enduro market. They accomplish this by offering a high quality frame with high quality components and wheel sets at a lower price.
Rocky Mountain Reaper 27.5
The Reaper 27.5 is a wonderful option for your up and coming enduro rider. Once you tune the suspension – you've got a more than capable mountain bike for your pre-teen enduro enthusiast. Rocky Mountain is so jacked on getting your kid the right size Reaper, they designed two different frame sizes to hold 24-inch wheels, 26-inch wheels, and 27.5 inch wheels. Explore the Reaper on the Rocky Mountain website to learn more.
Marin Hawk Hill Jr 24″
The Marin Hawk Hill Jr. 2020 makes shredding possible for young riders thanks to a fun, full-suspension bike that doesn't cost an arm and a leg. With an aluminum alloy frame, it creates the kind of snappy feel that is great for multi-day enduro events. Your child will enjoy mountain biking every time that they hop on their Hawk Hill Jr. – a great introductory purpose built mountain bike for any young shredder.
Juliana Furtado Carbon Mountain Bike
When our two boys were younger they refused to wear regular blue jeans. They insisted on wearing colorful pants in sizes we could only get from the girls' dept. in H&M. Carry this concept over to a trail ripping all-mountain / enduro bike and the Juliana Furtado is a gender-neutral trail assassin. It's XS frame size with 26.9 standover height is going to be the perfect fit for a shredding young rider.
Evil Insurgent LB GX Eagle
Juxtaposed against its name, the Insurgent is a slice of heaven on earth. Thanks to its Delta System suspension configuration with Flip Chip, you can dial in the feel when your junior racer is crushing the rocks and roots. Pedaling matters, too. And, that's handled by an angelic SRAM Eagle drivetrain. A durable tubeless-ready E*Thirteen wheelset is also part of the build.
Santa Cruz Bronson C S
A lot of these bikes are seen across the junior race circuit because 27.5 wheels on an extra-small or small frame is an excellent fit for kids who still need to grow into a 29-inch wheel. The Bronson's redesigns over the last few years have not changed its legendary strength, stiffness, and handling.
Devinci Troy Carbon
This bike is an excellent descender and climber due to its carbon frame construction and drivetrain. It's good looking, too. Junior enduro racers will shave off valuable seconds of time across stages when this bike's RockShox fork and shock are custom tuned. The RaceFace wheels and Maxxis tires are rowdy-ready. The stock Reverb Stealth dropper will make for efficient climbing and simply get the saddle the eff out of the way when the gnar shows up.
Kids' Enduro Bike Comparison Chart
https://mtbwithkids.com/wp-content/uploads/2019/11/enduro-featured-2019.jpg
470
900
Brett
https://mtbwithkids.com/wp-content/uploads/2016/05/logo-mtbk-400-300x157.png
Brett
2019-11-02 17:18:11
2019-11-04 00:24:49
Enduro Bikes For Kids