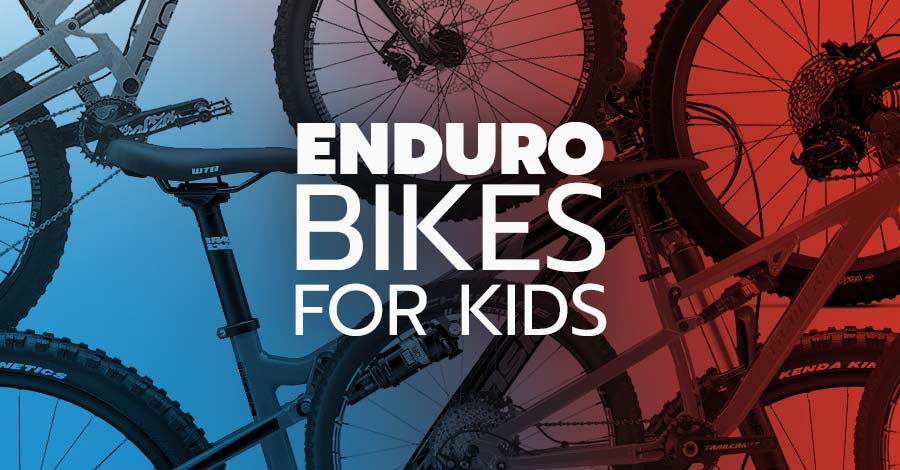 Enduro bikes for kids aren't a new category of mountain bikes – they're just kids' bikes suitable for technical trails as well as climbing. An adult "enduro bike" is typically a full suspension bike with medium travel. The same applies for kids' enduro bikes, but because children weigh less, many of these bikes can be used as kids' downhill bikes. Next, the term "enduro" technically refers to a race format, not a bike type. Enduro races are multi-stage races that take place over 1-2 days. Only the descents are timed so racing uphill is not a necessity unless your kid needs to make a cut-off time for transitioning between stages. You can see even more kids' mountain bikes by visiting our online bike index.
Diamondback Splinter | $1,600.00 USD
The Diamondback Splinter packs a big punch for your little rider. Built for technical riding, it's an aggressive mountain bike with 24-inch wheels. The Splinter is built around a lightweight aluminum frame for easy handling and maneuverability. It has a 100mm of air sprung X-Fusion O2 Pro R rear suspension for maximum comfort. A 15mm thru-axle X-Fusion Velvet RL fork is custom-valved for the lighter riders and provides adequate support and stability with 100mm of travel. SRAM's 1×10 drivetrain allows perfect shifting with the gear ratios to suit.
No matter how fast you go, the Shimano hydraulic disc brakes with 180mm rotors just take just a steady tap to stop. DB SL260 wheels with Kenda Nevegal tires offer perfect grip and traction for tight cornering and braking. A SRAM 11-speed drivetrain is responsible for getting your young enduro biker through the flats and to the next stage. The Splinter also features a Race Face Chester, 31.8 Bar Bore 740mm Wide handlebar.
Giant Trance Jr. | $1,890.00
The Giant Trance Jr. is a 26-inch wheeled ride with a geometry designed for young enduro riders. It's alloy/aluminum frame boasts a 120mm travel RockShox fork and 120mm of Giant's proprietary Maestro rear suspension. The bike is recommended for rippers 57 inches – 65 inches tall. A 1x drivetrain allows mom and dad to tinker with the rear cassette and front chainring so you can get the gearing just right for race day. Off the showroom floor, the bike is adorned with a 30T chainring up front and a 11-speed (11×42) cassette in the back. The bike also comes with 2.35 inch wide Maxxis tires – great for gripping any terrain that comes your kid's way. The stand over height for the Giant Trance Jr. is spec'd at 25.7 inches. Last but not least, this kids mountain bike has 165mm long cranks.
Norco Fluid FS 24
The Norco Fluid FS 4.2 is a miniature version of Norco's classic trail bike. Its appropriate components, ride quality, stability, and agility make is one of our choices for your kids to get their enduro on. Built on a 24″ aluminum/alloy frame, it has 100mm travel with a 1×10 drivetrain. The suspension is composed a of RockShox fork (Recon, air-sprung 100mm) and rear shock (Monarch R 100 mm) which performs exceptionally well under lightweight riders for enduro style riding. You get a Shimano Deore Shadow Plus 10-speed rear derailleur and Samox crank. A Norco 6061 alloy 1" rise handlebar combined with Norco MTB gator design trail grip provides perfect grasp and posture. The Norco Fluid FS 4.2 comes with Maxxis Snyper 24×2.0 folding bead tires for all-weather traction and a Norco Jr. XC trail saddle to keep the little riders in their place. Finally, the Tektro hydraulic disc brake with shorter reach brake levers provide the much-needed stopping power and modulation to handle tough terrain and descents. The Norco Fluid FS 4.2 weighs just over 29 lbs.
$1,699.00 USD | More from Norco
Rocky Mountain Reaper
Rocky Mountain brings their expertise and awesomeness to the younger market with great kids' bike – the Rocky Mountain Reaper. It's a bike to dominate everything from a singletrack to bike parks and technical descents. The Reaper will grow with your kids because the 24-inch wheels can easily be swapped for 26-inch wheels. The Rocky Mountain Reaper is built on an aluminum/alloy frame with adjustable uspension rate. Among the other impressive features are RockShox Recon Silver TK Air 120mm fork, RockShox Monarch R 130mm shock, Rocky Mountain AM 620mm handlebar and Rocky Mountain lock-on light grips. The stopping power is delivered by the Shimano M396 160mm brakes that just take a flick of Shimano M396 brake levers. The Rocky Mountain Reaper comes with stainless spokes, WTB SX17 rims and Maxxis Snyper 24″ tires.
$1,799 USD | More from Rocky Mountain
Spawn Rokkusuta

The Spawn Rokkusuta is an advanced full suspension mountain bike for kids. It's available in both the 20″ and 24′ wheel categories and is ideal for kids 5 years old and up. A Horst link suspension gives The Rokkusuta a significant edge over single pivot and faux bar designs. The 24″ Rokkusuta boasts an impressive list of features that include an X-Fusion Velvet fork and O2 Pro RLX rear shock. Brood handlebars, Brood Throne Pivotal saddle, GX derailleurs and shifters with a 1×10 drivetrain. One of the most impressive features of the Rokkusuta is the Brood TR27 tubeless ready wheelset and the new Brood Maxtion DH 24″ x 2.3″ tires with a two layers of Kevlar protection from bead-to-bead. This makes it an agile climber and an even more stable option for the sharp descending trails.
$2,195 USD | More from Spawn
Trailcraft Maxwell 24

The Maxwell 24 is a full suspension trail bike that is built to handle all stages of your kid's enduro race weekend. It's a mountain bike built for maximum performance and is ideal for kids 4'4″ to 4'10″, 8 years old and up. The foundation of the Maxwell 24 is an aluminum/alloy frame which uses a Horst link suspension deisgn. With its high-performance geometry, lightweight parts, and RST Snyper 100mm fork your young rider will rail the enduro trails. The Maxwell 24 comes in three models: Pro XT M8000, Pro Deore M6000, and Special Build. This is a premium kids' enduro bike because of its lightweight frame and components that mom and dad will with they had on their bikes.
$1,350.00 – $2,999.00 USD | More from Trailcraft
Transition RipCord

The Transition RipCord is a kids' enduro bike which can take you almost anywhere and it's ideal for kids age 8 to 12 years old. It has 100mm of suspension travel to play with which can be easily tuned for kids. The Transition RipCord has a 67-degree head tube angle and a short 381mm chain stay. This geometry makes the bike a good fit and equally adaptable on the drops and ascents. Thanks to a simple 1×9 drivetrain and E-Thirteen LG1 chain guide, the RipCord can go anywhere without the additional complexity of double shifting. The aluminum/alloy frame has a two year warranty and features a 100mm RockShox fork and Monarch ear shock with 100mm rear travel. The RipCord features Shimano Deore M395 disc brakes and Shimano Deore M395 brake levers.
$1,699.00 USD | More from Transition
Trek Fuel Ex Jr.

Modeled after the Fuel Ex line, the Fuel Ex Jr. uses similar technology as the adult-sized Fuel bikes. This is the perfect bike for your kids if they are passionate about mountain bikes but not quite big enough for the adult fuel line of bikes. The Trek Fuel Ex. Jr comes with a 2×10 drivetrain, front and rear disk brakes and air sprung suspension. The Fuel Ex Jr is built around an Alpha Gold solid aluminum frame. Its X-Fusion Performance Suspension is purpose-built for the kids enduro riders. Lock-out adjustments on the fork and shock are also standard. The Shimano Deore drivetrain can handle any terrain and track because the trigger shifters work like a charm. As opposed to grip shifters, there's no need for remembering the shift directions and the hand strength. This kids' enduro bike uses 26-inch wheels on a frame whose set up resembles that of an adult-sized 29er enduro mountain bike. This ride is perfect for kids 4'4" to 5' tall. The Fuel Ex Jr. has a 90mm X-fusion Microlite RL air shock at the rear which works best for the lightweight kiddos.
$1,899.99 USD | More from Trek
https://mtbwithkids.com/wp-content/uploads/2018/05/enduro-bikes-for-kids-feature.jpg
470
900
Brett
https://mtbwithkids.com/wp-content/uploads/2016/05/logo-mtbk-400-300x157.png
Brett
2018-05-07 17:18:11
2018-09-07 13:20:53
Enduro Bikes For Kids