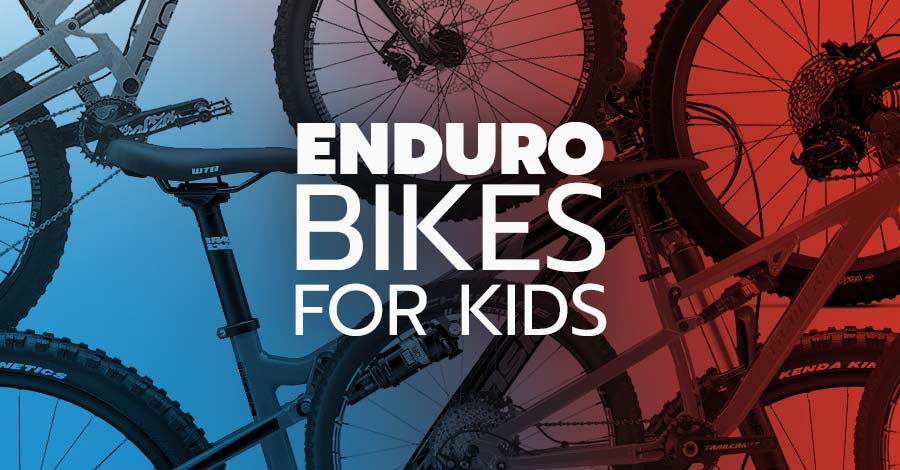 Enduro bikes for kids aren't a new category of mountain bikes – they're just kids' bikes suitable for technical trails as well as climbing. An adult "enduro bike" is typically a full suspension bike with medium travel. The same applies for kids' enduro bikes, but because children weigh less, many of these bikes can be used as kids' downhill bikes. Next, the term "enduro" technically refers to a race format, not a bike type. Enduro races are multi-stage races that take place over 1-2 days. Only the descents are timed so racing uphill is not a necessity unless your kid needs to make a cut-off time for transitioning between stages. You can see even more kids' mountain bikes by visiting our online bike index.
Pivot Mach 6 Race XT 1x – 2018
We chose to choose a kids' enduro bike with an aluminum/alloy frame for our list. After doing the research, we selected the Pivot Mach 6 because of its size range, cost, and build. We are a bit bias because of where we live and the trails we like to ride. Therefore, the Fox 160mm front travel and 155mm rear travel on this steed make it a killer option for when your kid is ready to ratchet things up a notch. If you haven't already done so, it's time to grab the tape measure and go through the awkward task of getting your pre-teens inseam size. The Extra Small Pivot Mach 6 claims a standover height of 27.81 inches. The drivetrain and brakes are by Shimano. Highlights of the build are a XT rear derailleur, 27.5 inch Maxxis High Roller II tires, and a 11t-46t 11 speed cassette.
Evil Wreckoning LB GX Eagle 2019
If Ash from Army of Darkness could go forward in time and then bring a bike back to 1300 AD, he would choose the Evil Wreckoning. The Evil Wreckoning LB features a carbon frame with internal dropper routing.
A nifty RockShox suspension package is composed of a Lyrik RCT3 fork with 6.3 inches (160mm) of travel and a 6.3 inch travel Monarch Plus RC3 Debonair. The seatpost is a Reverb Stealth. This version of the Wreckoning is powered by a 1×12 SRAM Eagle GX Drivetrain with a 10t-50t rear cassette. A Raceface Aeffect R wheelset of the 29inch flavor makes this bike go round and the Maxxis tires will ensure you get the grip you need when it counts. If you choose to make this bike actually slow down, the task is attended to by a SRAM Guide R brakeset. Color selections are as beautiful as rear triangle and linkage on this bike. You get to choose from Nuclear Fallout Green or Rusty Trumbone.
Ibis Ripmo NX Eagle Complete Enduro Bike For Kids
You're in luck! As stated by several websites far more credible than ours, the recommended use for the Ibis Ripmo is "Enduro". The latest edition of the Ripmo is adorned with 29 inch wheels and a lot of SRAM components. The KS Lev-Si dropper will help you get the best bike position possible as you ascend or descend during your next race.
The carbon frame and geometry on this enduro bike are interesting because of its 76 degree seat tube. The guys that spent years and years in engineering school tell us that this angle will help prevent front wheel washouts because this angle keeps your weight a bit more forward. A Fox Float 36 fork with 160mm of travel is in the front and the rear squish is handled by a Fox Float Performance DPX2 with EVOL. Your front chainring on this ride will have 30 teeth and cassette range is 11t-50t.
Yeti SB6 Carbon GX Eagle, Kids' Enduro Mountain Bike – 2019
The biggest reason we put this bike on our list is because is comes in an Extra Small size for your enduro kid. The claimed standover height for the Extra Small is 760.6m. This is roughly 29.944882 inches. And that means it's suitable for a rider 4ft 11in through 5ft 3in tall. Another reason we put this bike on our list is all of the great build specs: carbon frame with 27.5 inch wheels. Fox 36 fork (170mm of suspension); a gorgeous Fox DPX2 rear shock (152mm travel); Guide R brakeset; Fox Transfer dropper; Maxxis tires; SRAM GX Eagle 12-speed drivetrain. When paired with your skilled young rider – this kids' enduro bike will absolutely shred.
Santa Cruz Nomad C R Mountain Bike –  2019
This offering from Santa Cruz is also available in an Extra Small size. The specs claim it will fit kids as "little" as 4ft 8in tall. How freaking rad is that? Sing it like Cookie Monster… "C is for carbon, that's good enough for me!" Actually, this bike is a lot better than good. It features a Race Face dropper, SRAM Guide SE brakes, and 27.5 inch wheels. 170mm of travel in the front and rear are courtesy of a RockShox Lyrik fork and RockShox Super Deluxe Air R rear shock. Whether it be enduro racing, aggressive all-mountain loops, shuttle laps, or bike parks – the Nomad has the geometry, components, and size range to fit your little ripper.
Norco Fluid FS 24
The Norco Fluid FS 4.2 is a miniature version of Norco's classic trail bike. Its appropriate components, ride quality, stability, and agility make is one of our choices for your kids to get their enduro on. Built on a 24″ aluminum/alloy frame, it has 100mm travel with a 1×10 drivetrain. The suspension is composed a of RockShox fork (Recon, air-sprung 100mm) and rear shock (Monarch R 100 mm) which performs exceptionally well under lightweight riders for enduro style riding. You get a Shimano Deore Shadow Plus 10-speed rear derailleur and Samox crank. A Norco 6061 alloy 1" rise handlebar combined with Norco MTB gator design trail grip provides perfect grasp and posture. The Norco Fluid FS 4.2 comes with Maxxis Snyper 24×2.0 folding bead tires for all-weather traction and a Norco Jr. XC trail saddle to keep the little riders in their place. Finally, the Tektro hydraulic disc brake with shorter reach brake levers provide the much-needed stopping power and modulation to handle tough terrain and descents. The Norco Fluid FS 4.2 weighs just over 29 lbs.
Rocky Mountain Reaper
Rocky Mountain brings their expertise and awesomeness to the younger market with great kids' bike – the Rocky Mountain Reaper. It's a bike to dominate everything from a singletrack to bike parks and technical descents. The Reaper will grow with your kids because the 24-inch wheels can easily be swapped for 26-inch wheels. The Rocky Mountain Reaper is built on an aluminum/alloy frame with adjustable uspension rate. Among the other impressive features are RockShox Recon Silver TK Air 120mm fork, RockShox Monarch R 130mm shock, Rocky Mountain AM 620mm handlebar and Rocky Mountain lock-on light grips. The stopping power is delivered by the Shimano M396 160mm brakes that just take a flick of Shimano M396 brake levers. The Rocky Mountain Reaper comes with stainless spokes, WTB SX17 rims and Maxxis Snyper 24″ tires.
$1,799 USD | More from Rocky Mountain
Spawn Rokkusuta

The Spawn Rokkusuta is an advanced full suspension mountain bike for kids. It's available in both the 20″ and 24′ wheel categories and is ideal for kids 5 years old and up. A Horst link suspension gives The Rokkusuta a significant edge over single pivot and faux bar designs. The 24″ Rokkusuta boasts an impressive list of features that include an X-Fusion Velvet fork and O2 Pro RLX rear shock. Brood handlebars, Brood Throne Pivotal saddle, GX derailleurs and shifters with a 1×10 drivetrain. One of the most impressive features of the Rokkusuta is the Brood TR27 tubeless ready wheelset and the new Brood Maxtion DH 24″ x 2.3″ tires with a two layers of Kevlar protection from bead-to-bead. This makes it an agile climber and an even more stable option for the sharp descending trails.
Trailcraft Maxwell 24

The Maxwell 24 is a full suspension trail bike that is built to handle all stages of your kid's enduro race weekend. It's a mountain bike built for maximum performance and is ideal for kids 4'4″ to 4'10″, 8 years old and up. The foundation of the Maxwell 24 is an aluminum/alloy frame which uses a Horst link suspension deisgn. With its high-performance geometry, lightweight parts, and RST Snyper 100mm fork your young rider will rail the enduro trails. The Maxwell 24 comes in three models: Pro XT M8000, Pro Deore M6000, and Special Build. This is a premium kids' enduro bike because of its lightweight frame and components that mom and dad will with they had on their bikes.
Transition RipCord

The Transition RipCord is a kids' enduro bike which can take you almost anywhere and it's ideal for kids age 8 to 12 years old. It has 100mm of suspension travel to play with which can be easily tuned for kids. The Transition RipCord has a 67-degree head tube angle and a short 381mm chain stay. This geometry makes the bike a good fit and equally adaptable on the drops and ascents. Thanks to a simple 1×9 drivetrain and E-Thirteen LG1 chain guide, the RipCord can go anywhere without the additional complexity of double shifting. The aluminum/alloy frame has a two year warranty and features a 100mm RockShox fork and Monarch ear shock with 100mm rear travel. The RipCord features Shimano Deore M395 disc brakes and Shimano Deore M395 brake levers. Transition's website states this kids' bike will fit riders as short as 3ft 8in tall through 5ft tall.
Kids' Enduro Bike Comparison Chart
Kids Enduro Bike

Wheel Size

Min. Standover Height

Cost and Info

Evil Wreckoning

29 inch

28.89 inches

EVO

Ibis Ripmo

29 inch

27.7 inches

Competitive Cyclist

Norco Fluid FS 24

24 inch

26.37 inches

Norco

Pivot Mach 6

27.5 inch

27.81 inches

Backcountry

Rocky Mountain Reaper

24 inch26 inch27.5 inch

27.24 inches28.62 inches31.18 inches

Rocky Mountain

Santa Cruz Nomad

27.5 inch

27.95 inches

Jenson USA

Spawn Rokkusuta

20 inch24 inch

20.5 inches24 inches

Spawn

Trailcraft Maxwell

24 inch26 inch

25 inches26.5 inches

Trailcraft

Trailcraft

Transition Ripcord

24 inch

?

EVO

Yeti SB6

27.5 inch

29.94 inches

Jenson USA
https://mtbwithkids.com/wp-content/uploads/2018/05/enduro-bikes-for-kids-feature.jpg
470
900
Brett
https://mtbwithkids.com/wp-content/uploads/2016/05/logo-mtbk-400-300x157.png
Brett
2018-05-07 17:18:11
2019-04-11 13:59:43
Enduro Bikes For Kids