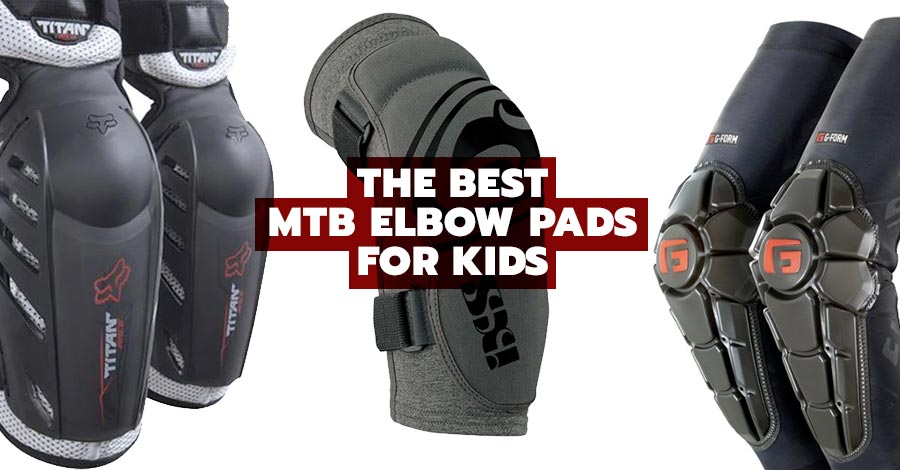 Like knee pads for kids, elbow pads are an important part of kid's mountain biking gear. They protect the elbows in case of a fall by limiting scrapes and other superficial (yet painful) injuries from occurring. The newest elbow pads for mtb kids are available in a series of stylish colors, and made of very lightweight, yet strong materials, these elbow pads will defy all of your child's objections. The five models reviewed here are all well-recommended, as well as designed by some of the best-known names in mountain biking safety gear. Your child will actually want to wear them, or at least, not complain as much about them before taking to the trails.
Mountain Biking Goggles For Kids Comparison Chart
| | | |
| --- | --- | --- |
| Product | MSRP | Buy from |
| G-Form Pro-X2 Elbow Pads - Youth | $40.00 | REI |
| Leatt - Contour Elbow Guards (Youth) | $49.00 | BTO Sports |
| IXS - Carve Evo+ Elbow Armor (Bicycle) (Youth) | $99.00 | BTO Sports |
| Leatt 3DF 5.0 Jr. Elbow Guard - Kids | $59.95 | Backcountry |
| Fox Racing Youth Titan Race Elbow Guards | $26.95 | Amazon |
G-Form Pro-X2 Elbow Pads – Youth

Check out the G-Form Pro-X2 Elbow pads for kids. These guards cover a good part of the arm, stretching from the middle of their lower arms to a length halfway to their shoulders, making them perform like a rash guard as well as an elbow pad. Most of the protection is focused on the elbow portion, which is covered by a soft, flexible foam that hardens instantly on contact. This ensures that the elbow pads are lightweight and breathable, yet provide the necessary level of protection when your child needs it the most. Not only do these elbow pads stay in place thanks to the compression sleeves with silicone grippers on either end, but they also look great as well.
Leatt – Contour Elbow Guards (Youth)

Comfort and style combine in the Leatt Contour Elbow Guards. Initially designed for MX bikes, these pads are similar to styles designed for adults, only they come in a youth size, allowing your child to wear a set just like those worn by their idols. The patterned gray on black sleeves stretches from the wrists all of the way to a spot just shy of the shoulder, with a slim fit that easily slides on under a mountain bike jersey. The compression sleeves help the elbow guards stay in place while providing extra protection in case your child falls or gets too close to a boulder or tree branch on the trail. The protective hard shell near the elbow is made of Leatt's patented HDPE High-Density Poly Ethylene material, while the rest is made of their MoistureCool wicking fabric. Under the hard shell casing is a layer of Leatt 3DF impact foam, providing even more protection.
IXS – Carve Evo+ Elbow Armor (Youth)

Available in three different sizes (youth small through youth large), as well as two different color combinations, it's easy to find a pair of IXS Carve Evo + Elbow Armor that your child will want to wear. No matter the size, these elbow pads feature LoopLock fasteners that keep them firmly in place, as well as silicone grippers for an additional level of support. Once they're on, unless your child wants them off, these elbow pads aren't going anywhere. Color choices include gray or camel, both with the IXS logo in a darker print that helps it stand out. These elbow pads are extremely lightweight, coming in at a mere 270 grams (or half of a pound) for the entire set. With safety features that include the use of IXS's patented X-Matter material for maximum absorption no matter how hard the fall and an open-cell foam cover that also cushions the blow, these elbow pads mean business.
Fox Racing Youth Titan Race Elbow Guards
With a patented Posi-lock strap system to hold them in place, as well as additional Velcro fasteners, these Fox Racing Youth Titan Race elbow guards won't slip or slide off of your child's elbows mid-trail. That alone raises the odds that your child will want to wear them. Available in a cool black and white color combination, they'll match all of your young rider's other gear. The white inner liner consists of bio-foam that not only provides plenty of padding in case of a fall but is also vented, allowing for maximum airflow. Sweat is less likely to gather under your child's elbow pads, even on the hottest days. Combined, both pads weigh a mere seven ounces, making them among some of the lightest mountain bike gear out there. The level of protection is high, thanks to the exterior shell. Plus, the fit is spot-on, simply because Fox designed them for young riders. These elbow guards easily tick all of the boxes.
Leatt 3DF 5.0 Jr. Elbow Guard – Kids
Another pair by Leatt, one of the best-known names in the mountain bike protective gear game, the 3DF 5.0 Jr. elbow guards are made exclusively for kids. Some of the many safety features include the use of 3D Airfit foam padding that can withstand a big impact while remaining lightweight and breathable and an Aramid outer layer that keeps scrapes at bay. These elbow guards come in a cool black color with the Leatt logo in a contrasting stark white, and the ultra-slim profile makes them comfortable to wear on longer rides. There are silicone grips at the wrist and upper arm, ensuring that the compression sleeve portion (which is made of moisture-wicking fabric) doesn't slip out of place mid-ride. Very lightweight, the pair combined comes in at 350 grams or three-quarters of a pound, ensuring that they won't add much to the overall heft of your child's protective gear. Plus, these elbow guards meet the EN1621-1 safety certification and even come with a manufacturer's warranty.
https://mtbwithkids.com/wp-content/uploads/2020/04/best-mtb-elbow-pads-2020-900.jpg
470
900
Brett
https://mtbwithkids.com/wp-content/uploads/2016/05/logo-mtbk-400-300x157.png
Brett
2020-04-08 13:14:23
2020-05-02 17:11:17
Elbow Pads For MTB Kids