Bikes For Kids 4-5 Years Old: Have you been searching for the best bike for your 4 or 5 year old?  You've come to the right place! Our list of the top 5 bikes for 4-5 year olds includes bikes suitable for beginning riders to young rippers.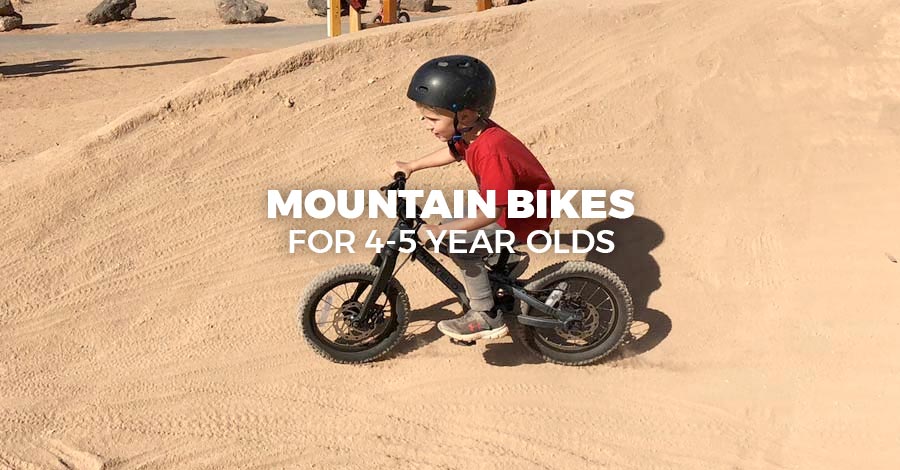 You'll find loads of "kid's bikes" online, most of which are heavy and hard to ride (or even dangerous) due to ill fitting components (especially brake levers). Our list of best bikes for 4-5 year olds only includes bikes that were specifically designed for small riders. For each of our featured models, special attention was paid to the weight of each bike. We also considered the  design of the components to improve the chances that your child can maneuver safely and confidently. These two aspects can have a hue effect on enjoyment of  riding.
Above all, remember that fit is of utmost importance for safety and fun. Even if your kiddo is comfortable pedaling, they should feel comfortable straddling the bike with both feet on the ground. Check the listed stand-over height against your rider's inseam measurement (length of the leg, measured on the inside from crotch to ankle) to be sure you've got the right size. Note that kids on the taller side might fit better on a 20 inch wheel bike.
Here is an overview of our top five 16-inch wheel bikes for 4 or 5 year old kids
Check out the comparison table at the end of the article to see all the size, cost and other data in one place.
Is your young mountain biker ready to tear up the trails? If so, check out the amazing Prevelo Zulu Two. This 16" wheel bike was designed with high quality components to provide the best performance and fit for mountain biking kids. Surprisingly, the Prevelo Zulu Two features a lightweight 60mm travel airfork with adjustable rebound, lockout and compression to help smooth out the bumps.In addition, the front and rear disc brakes will help your little ripper control speed comfortably and stop safely. In conclusion, Zulu Two is definitely one of the best mountain bikes for kids 4-5 years old.
Buy this kids' mountain bike from:
| | |
| --- | --- |
| Stand-over Height | 16.5 inches |
| Drivetrain | Single speed |
| Frame Material | Aluminum/Alloy |
| Brakes | Tektro hydraulic disc |
| Claimed Weight | 17.95 lbs |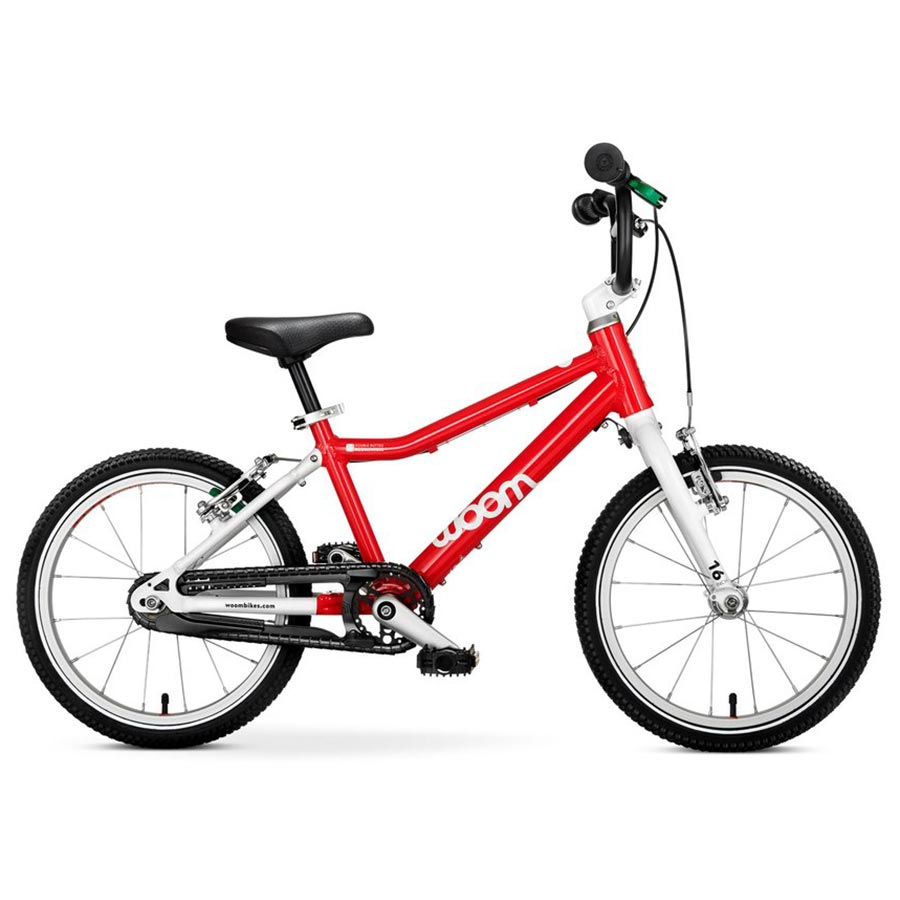 The Woom 3 is a lightweight, high-performance package for your growing rider. Specifically, this bike was designed to have a low center of gravity to help your kiddo to further improve their riding skills. Additionally, the Woom 3 has a front and rear V-brake for easy sopping and speed control. Woom designed the 3 for kids 41-47 inches tall. Importantly, everything on this bike is designed with kids in mind. This includes the long wheel base for stable riding, the optimized geometry for an upright riding position, and the narrow pedals and the length and width of the Woom cranks are purposefully designed to match the ergonomics of a child.
Buy this kids' bike from:
| | |
| --- | --- |
| Stand-over Height | 16 inches |
| Drivetrain | Single speed |
| Frame Material | Aluminum/Alloy |
| Brakes | V hand |
| Claimed Weight | 12.7 pounds |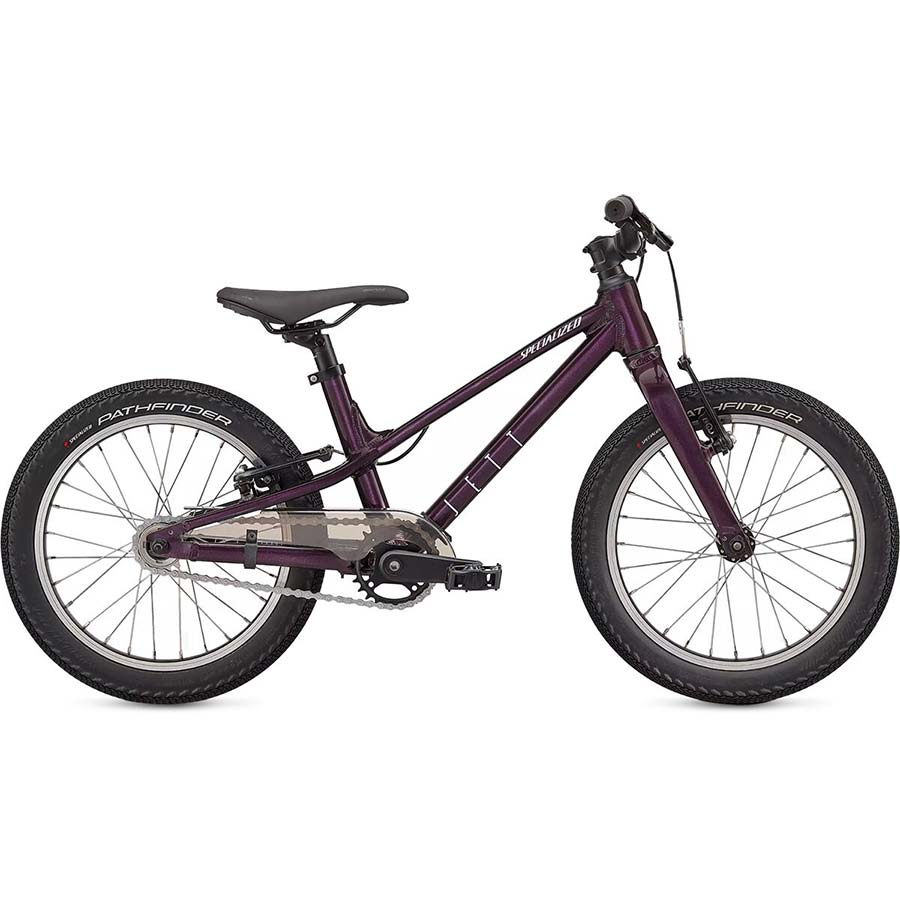 Specialized
Jett 16 Single Speed – Kids' bike
The Jett 16in Single Speed Bike is designed to conquer the ever-growing challenges that accompany kids' growth spurts. That's why Specialized designed this bike with child-specific touchpoints that withstand the development of our little shredders. Longer seat posts and adjustable handlebars let us dial in that perfect fit, even as they grow. And, with an all-new A1 aluminum frame, alloy fork, and Pathfinder tires, this bike is one of the lightest on the market so they can pick it up when our hands are full.
Buy this kids' bike from:
| | |
| --- | --- |
| Stand-over Height | 16.5 inches |
| Drivetrain | Single speed |
| Frame Material | Aluminum/Alloy |
| Brakes | V-brakes |
| Claimed Weight | 15.2 lbs |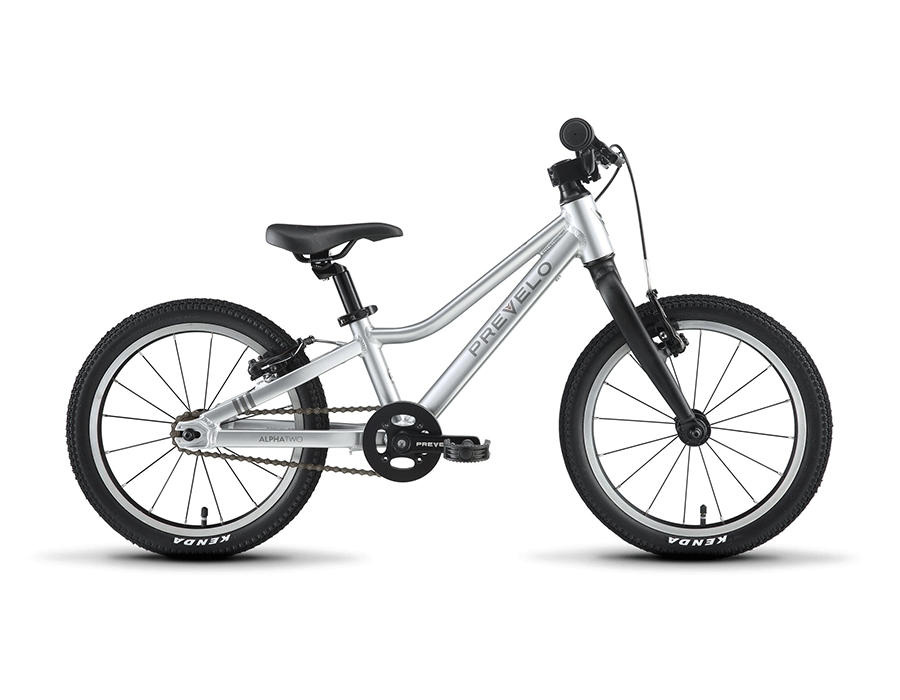 Prevelo Alpha 2 – 16″ kids bike
The 16″ Alpha Two is the perfect bike for kids whether they are just learning to ride or are mastering the trails. It has many great features. First, it comes with a bonus short seat post for additional height adjustment.  Second, Prevelo has confidence-inspiring low and narrow geometry. Prevelo geometry keeps the rider low, balanced, and in control. Third, Lightweight 6061 aluminum frame with custom formed tubing. Fourth, front and rear v-brakes with small reach brake levers.
Buy this kids' bike from:
| | |
| --- | --- |
| Saddle Height | 17.7 inches |
| Drivetrain | Single Speed |
| Frame Material | Aluminum/Alloy |
| Brakes | V-brakes |
| Claimed Weight | 14.5 lbs |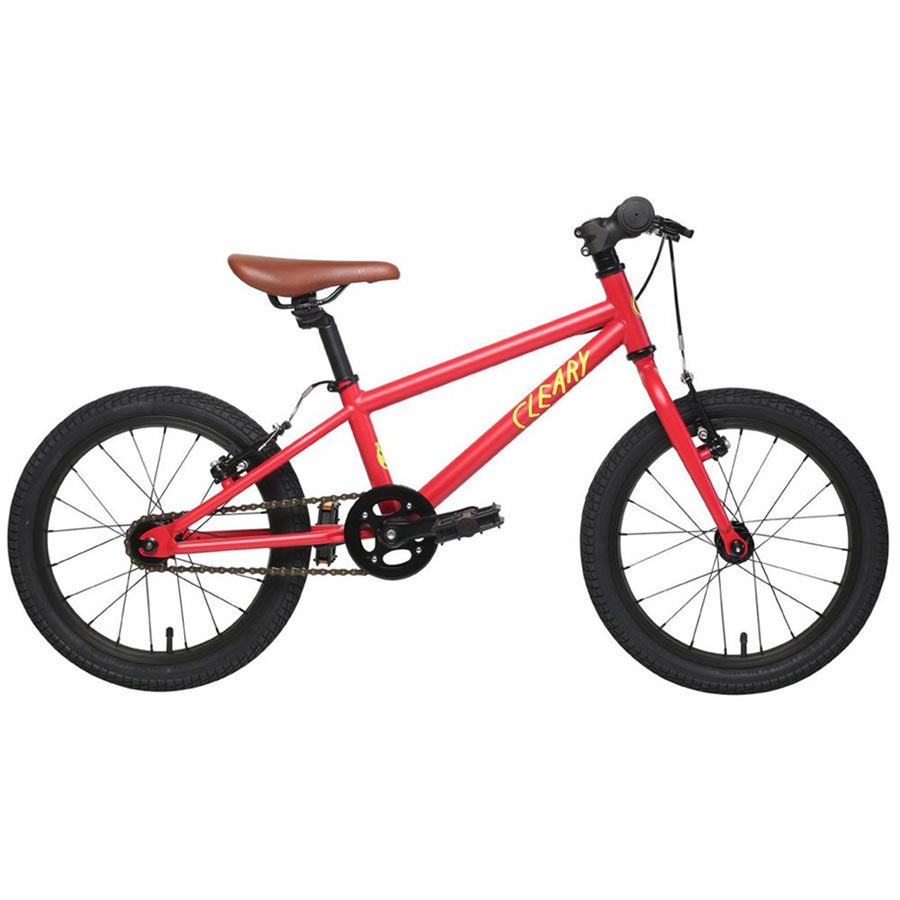 Cleary Hedgehog 16 Single Speed
The Cleary Hedgehog 16" single speed is an excellent choice. Firstly, this is a light weight kids bike that weighs just 16 pounds. Secondly, the Hedgehog includes front and rear child specific hand brakes with a freewheel rear hub. Thirdly, the child-specific geometry centers your rider's weight between hands and seat, creating a stable, agile bike. Fourthly, the seat, grips, handlebars and brake levers were designed for small riders. Finally, the flip flop rear hub enables two freewheels to be mounted at once, and a cog range from 13 teeth to 18 teeth to adjust to your local terrain.
Buy this kids' bike from:
| | |
| --- | --- |
| Stand-over Height | 16.5 inches |
| Drivetrain | Single speed |
| Frame Material | Steel |
| Brakes | V brakes |
| Claimed Weight | 16 lbs |
Comparison chart: Best 16-inch wheel bikes for 4 and 5 year olds 
| | | | | | |
| --- | --- | --- | --- | --- | --- |
| | ClearyHedgehog 16Single Speed | PreveloZulu Two | Woom 3 | Specialized Jett 16 | PreveloAlpha 2 |
| Stand-over Height | 16.5 inches | 16.5 inches | 16 inches | 16.5 inches | 17.7 |
| Drivetrain | single speed | single speed | single speed | single speed | single speed |
| Frame | steel | aluminum alloy | aluminum alloy | aluminum alloy | aluminum alloy |
| Brakes | V brakes | hydraulic disc | V brakes | V brakes | V brakes |
| Claimed Weight | 16 pounds | 17.95 pounds | 12.7 pounds | 15.2 pounds | 14.5 pounds |
https://mtbwithkids.com/wp-content/uploads/2016/05/nov2020-4-5yo-bikes.jpg
470
900
Traci
https://mtbwithkids.com/wp-content/uploads/2016/05/logo-mtbk-400-300x157.png
Traci
2022-03-14 01:02:44
2022-12-10 19:41:45
The Best Bikes For Kids 4-5 Years Old