Bikes for Kids 3-4 Years Old: There are lots of kids bikes available online. However, many of these bikes are super heavy with cheap full-sized components which make them hard to ride safely. MTBwithkids recommends choosing a bike designed specifically for 3 and 4 year old riders. Our list of best bikes for 3-4 year olds includes balance bikes, pedal bikes and bikes that are designed to transform from balance to pedal bikes. These bikes all have 14-inch wheels and span experience and skill levels from true beginners to little rippers.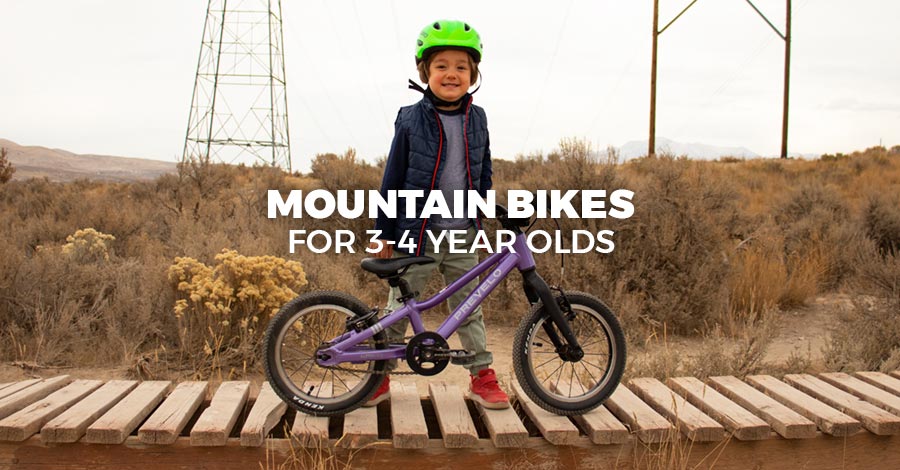 Balance bikes
If your 3-4 year old is just starting to ride, we'd highly recommend choosing a 14-inch wheel balance bike for their first bicycle. Balance bikes are an excellent first step to help your kiddo develop the coordination to balance and steer without having to think about pedaling. When choosing a balance bike, it's important to be sure that the minimum seat height is low enough. Your kiddo should be able to sit on the seat with both feet touching the ground. You'll want to measure your child's inseam length to determine minimum seat height and then look for a balance bike with the largest diameter wheels that will accommodate your child.
Pedal bikes
If at 3 or 4 years old, your little rider has already mastered the balance bike, there are a few manufacturers designing 14-inch wheel kids bikes that are well made, lightweight and fun to ride.
Note: kids on the taller side may fit on a 16-inch wheel bike, so you might want to check out our list of Best 16-inch bikes  before making a purchase.
Here is an overview of our top five 14-inch wheel bikes for 3 or 4 year old kids. 
Check out the comparison table at the end of the article to see all the data in one place.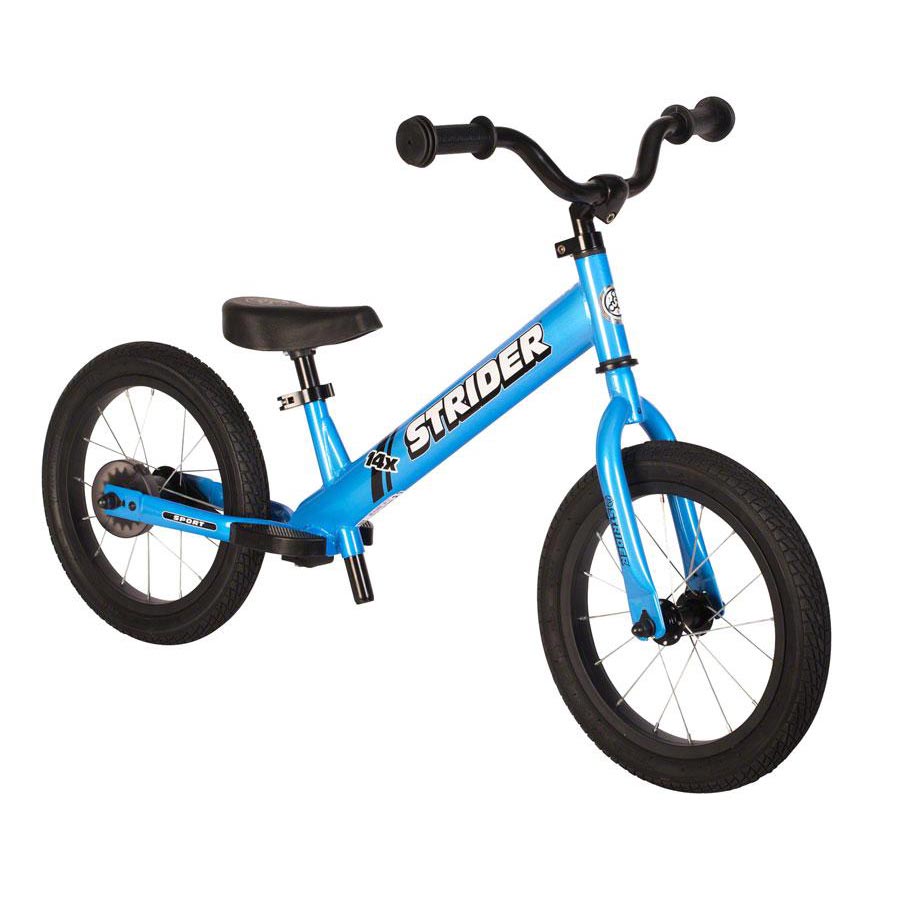 Strider 14x Sport Balance Bike
The Strider 14x Sport is an amazing bike that designed to grow with your child. Firstly, the 14x comes with a fully adjustable seat and handlebars to grow with your growing kid.  The 14x starts off as a balance bike, which helps riders gain confidence and balancing ability. Importantly, once your kiddo is ready to pedal, just attach the Easy-Ride Pedal Kit. Converting the 14x from balance bike to pedal bike is quick and easy. The Strider 14x Sport will fit riders 37-49 inches tall (Inseam (16-23 in). This is one of the classic bikes for kids 3-4 years old.
Buy this 14″ wheel kids bike from:
| | |
| --- | --- |
| Saddle Height | 16-23 inches |
| Drivetrain | Balance Bike |
| Frame Material | Steel |
| Brakes | None |
| Claimed Weight | 12.5 pounds |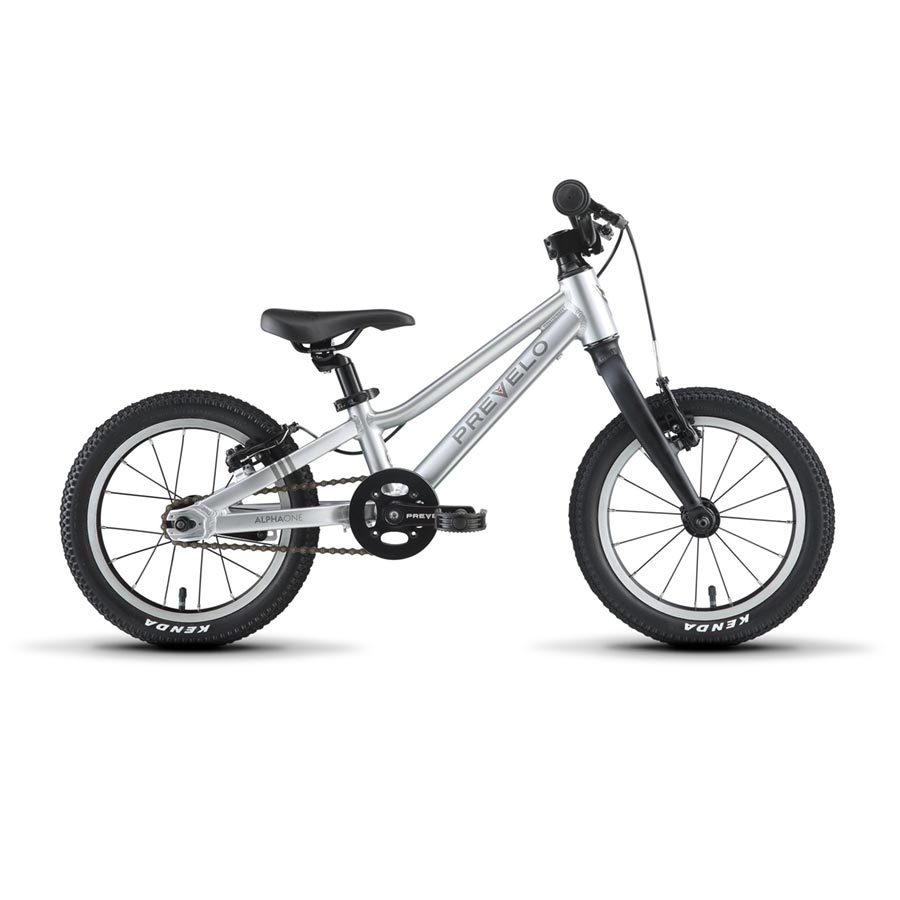 Prevelo Alpha One – 14″ wheel bike
The 14″ Alpha One is the smallest pedal bike in the Prevelo lineup and fits most 3 to 4.5 year olds. The Alpha One is packed with features to get little riders off to the right start. Firstly, Prevelo included confidence inspiring low and narrow geometry. Secondly, this lightweight bike is made of 6061 aluminum frame with custom formed tubing with an aluminum alloy fork with chromoly steerer. Finally, stopping is easy with Tektro front and rear v-brakes with small reach brake levers and a rear coaster brake (removable with optional freewheel kit). You will appreciate this kids bike!
Buy this 14-inch wheel kids' bike from:
| | |
| --- | --- |
| Saddle Height | 15.6-17.5 |
| Drivetrain | Single speed |
| Frame Material | Aluminum/Alloy |
| Brakes | Tektro aluminum V-brakes & coaster brake |
| Claimed Weight | 14.4 pounds |
The Woom 2 was developed specifically for kids that are new to or have only recently begun pedaling. Importantly, this bike is designed with short cranks and a low bottom bracket to enable your child to put their feet on the ground without losing balance. The Woom 2 is a great transition from balance bike to pedal bike and enables fast learning. Woom 2 was designed to fit kids 37″-43" inches tall. A separate freewheel kit is available for purchase.
Buy this 14-inch wheel kids' bike from:
| | |
| --- | --- |
| Saddle Height | 16-19 inches |
| Drivetrain | Single speed |
| Frame Material | Aluminum/Alloy |
| Brakes | Coaster and v-hand brakes |
| Claimed Weight | 12 lbs 3 oz. |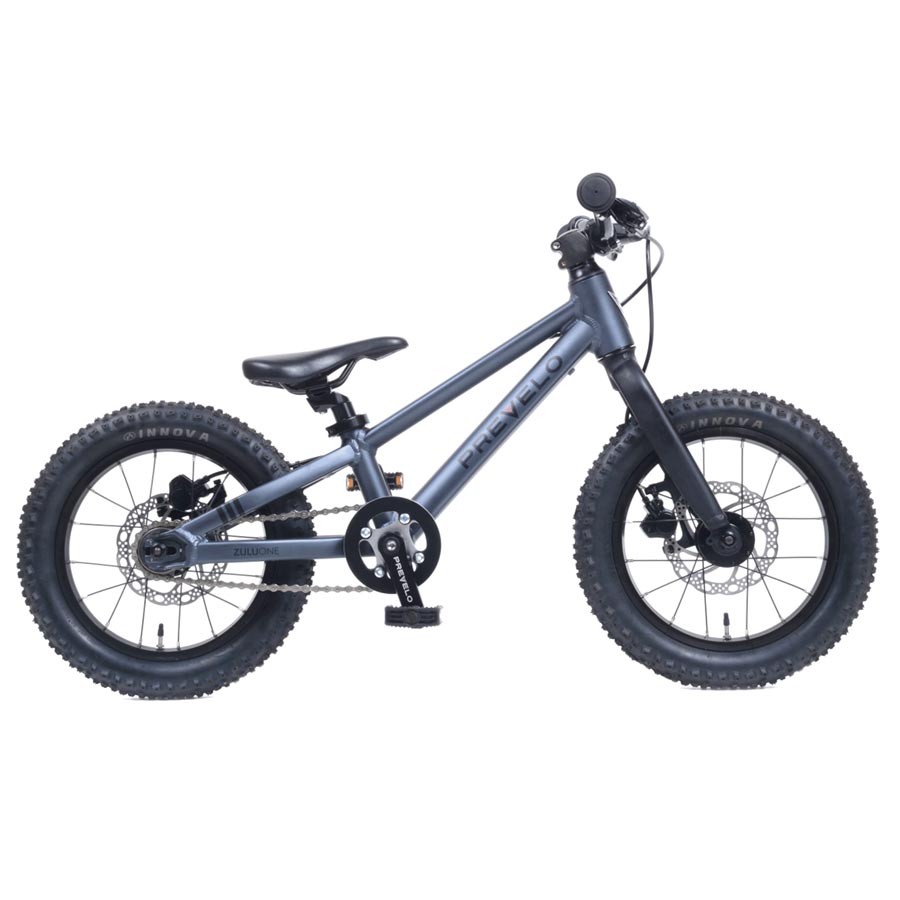 Prevelo Zulu One – 14″ wheel bike
This bike has to be seen to be believed. It is truly one of the bikes for kids 3-4 years old. See our Prevelo Zulu One Review for photos of this bike in action.  The Prevelo Zulu One packs high performance mountain bike features into a tiny 14-inch wheel size package. Each component is carefully chosen to provide the best performance for young riders ready to mountain bike with mom and dad.
Specifically, the Prevelo Zulu One comes with front and rear disc brakes! Your kid will be safely able to modulate speed and stop quickly when needed. In addition, this amazing little machine features a lightweight 6061 aluminum frame and BOXT™ rear stays and forged rear dropouts. Additionally, this 14" bike ships with a bonus short seat post. This adds options for height adjustment. All things considered, you can't go wrong with the Pevelo Zulu One.
Buy this 14-inch wheel kids' bike from:
| | |
| --- | --- |
| Saddle Height | 16-25 inches |
| Drivetrain | Single Speed |
| Frame Material | Aluminum/Alloy |
| Brakes | Tektro hydraulic disc |
| Claimed Weight | 15.9 lbs |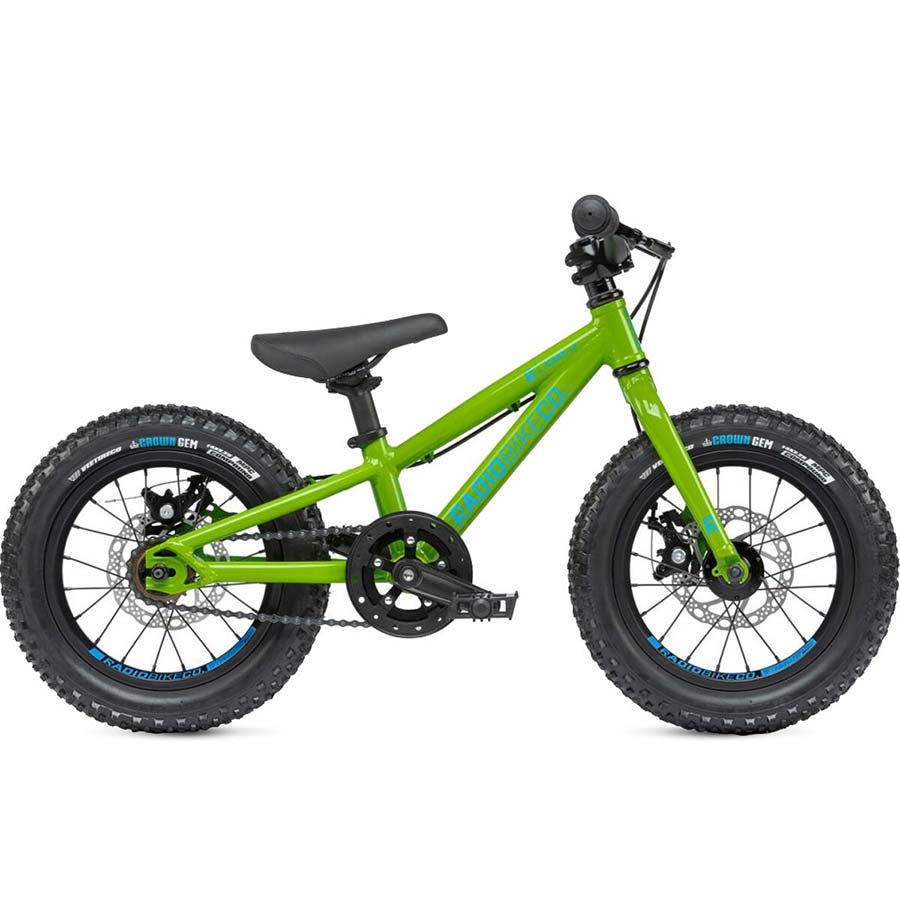 Zuma 14-inch Mountain Bike – Kids'
Radio Bike Co. has designed a great 14-inch wheel mountain bike to get your young rider on the trail. The Zuma 14-inch bike is optimized for first-time riders. This bike has kid-sized geometry to help your rider feel comfortable on the trail. The Zuma's rugged tires offer serious grip. Importantly, the mechanical disc brakes ensure your little ripper has enough stopping power when they start keeping up with you on descents.
Buy this 12-inch wheel kids' bike from:
| | |
| --- | --- |
| Saddle Height | ? |
| Drivetrain | Single Speed |
| Frame Material | Aluminum/Alloy |
| Brakes | Mechanical Disc |
| Claimed Weight | 15.8 lbs |
Comparison chart: Best 14-inch wheel bikes for 3 and 4 year olds 
| | | | | | |
| --- | --- | --- | --- | --- | --- |
| | Strider14x SportBalance Bike | PreveloAlpha One | Woom 2 | PreveloZulu One | Radio Bike Co. Zuma 12 |
| Saddle Height | 16-23 inches | 15.6-17.5 | 16-19 inches | 16-25 inches | ? |
| Drivetrain | balance bike | single speed | single speed | single speed | single speed |
| Frame | steel | aluminum alloy | aluminum alloy | aluminum alloy | aluminum alloy |
| Brakes | none | V brakes and coaster | V brakes and coaster | hydraulic disc | mechanical disc |
| Claimed Weight | 12.5 pounds | 14.4 pounds | 12.2 pounds | 15.9 pounds | 15.8 pounds |
https://mtbwithkids.com/wp-content/uploads/2016/05/nov2020-3-4yo-bikes.jpg
470
900
Traci
https://mtbwithkids.com/wp-content/uploads/2016/05/logo-mtbk-400-300x157.png
Traci
2022-03-14 01:04:42
2022-12-10 19:32:25
Best Bikes for Kids 3-4 Years Old