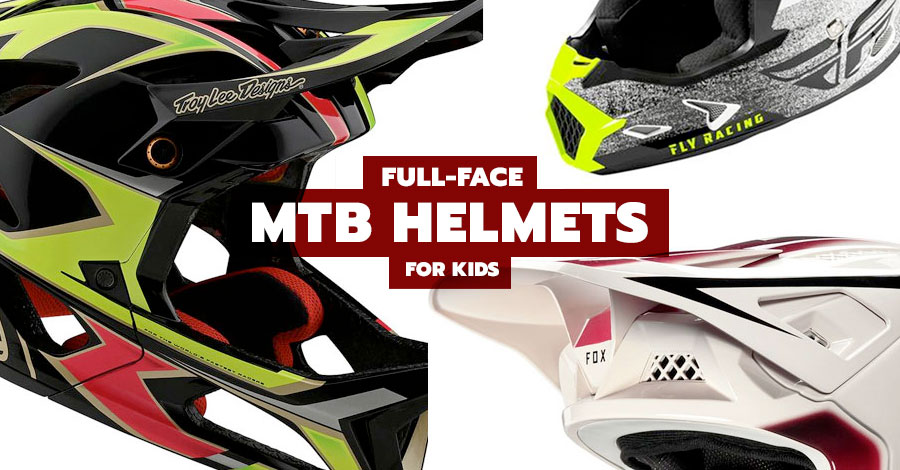 Full-face mountain biking helmets for kids: A proper fitting helmet keeps your children safe while they're riding the trails. A full face mountain biking helmet can offer improved protection. These full face mountain biking helmets for kids are far more advanced than the ones that emerged ten years ago. They are lighter. Hard outer shells with molded interiors made of advanced foam polymers are designed to cushion blows to the head. Yet, the proper fitting helmet is comfortable to wear. On top of that, the helmets featured here come in an array of colors and sizes, all of which should placate even the most meticulous kid, even as the safety features – such as MIPS make mom and dad happy.
Kali Protectives Zoka Full-Face Helmet – Kids'
Your young rider will love the Zoka Full-Face Helmet. The Zoka is a great choice, whether they're tackling new trails, enjoying downhill laps, or racing BMX. Its full-face design offers optimal protection, including EN 1078 and CPSC certifications for safety. The adjustable moto-style visor lets them find their perfect tilt. The anti-odor pads keep everything fresh. This helmet comes in sizes that will fit heads that are 19.7 inches to 20.9 inches.  The Kali Protectives Zoka also comes with additional padding if your kiddo likes a snugger feel. One of our favorite full-face mountain biking helmets for kids.
100% Status Jr. Downhill/BMX Youth Helmet
The 100% Status Jr. Downhill/BMX Youth Helmet is designed for safety. Its exterior consists of lightweight fiberglass, making it comfortable to wear. The interior, most of which is made of EPS foam, also has a removable liner that can be tossed into a washing machine for easy clean up after riding on a hot day. The cheek pads and chinstrap liner are also removable and washable, ensuring that no matter how messy things get, the helmet will look as good as new.
Speaking of the way the helmet looks, it's available in three color combinations: Kelton Blue, DDay White, and Black Meteor. There are three different sized outer helmets to choose from, youth small, youth medium, and youth large, and the interior section comes in two different sizes for a snug fit. The visor is completely adjustable, and it screws into place so that it won't come loose while your child is riding. On top of this, the helmet is compatible with a number of different emergency release systems. One of our favorite full-face mountain biking helmets for kids.
Fox Racing Youth Rampage Full Face Helmet

There's a reason by the Fox Racing Rampage Youth Helmet has such an important (and winning) pedigree – it combines safety features with lightweight construction in several snappy colors, such as atomic punch, indigo and olive green. Available in sizes youth small an youth large, the Rampage Youth leaves no safety "stone" unturned. There's liquid in between the inner EPS foam lining and the outer shell, protecting the brain from impacts. The magnetic visor is designed to detach during a crash, thus keeping landings from being even more damaging.
The helmet comes with mesh screens protect the face from insects and kicked up debris while riding, and there are intake and outtake ports located at various points to allow for plenty of comfortable airflow. Speaking of comfort, the inner liner is completely washable, and it wicks away moisture.
7 Protection M1 Youth Full Face MTB Helmet

Doe your kiddo race BMX, rip the downhill, or love to get big air? If so, this might be the helmet for them! The M1 Youth Helmet provides full face protection for BMX racing or when your favorite shredder hits the bike park. This full-face helmet has a lightweight polycarbonate shell.  The large eye port offers an optimal field of vision. Additionally, seventeen air vents make for high breathability. The M1 Youth full-face helmet was thoroughly tested beyond CE, CPSC, and AS standards.
MTB Helmets For Kids

Make sure your kids have proper, well-fitting head protection.
Knee Pads For Kids
Knee pads are another level of protection for young riders.
Hydration Packs For Kids
Is your kid big enough to carry their own water and supplies?
SixSixOne Reset Youth MIPS Full Face Helmet

If you're looking for maximum protection for your young mountain biker, consider a full-face helmet. Full-face helmets are perfect for downhill mountain biking, BMX racing and some enduro riding. The SixSixOne Reset Youth MIPS Helmet brings MIPS technology to a full-face helmet with a budget-friendly price-point. The MIPS E2 Brain Protection System provides a low friction layer designed to reduce rotational motion transferred to the brain from angled impacts to the head. First, the helmet features a lightweight ABS shell. Second, it features large angular vents for enhanced air intake and heat exhaust. Third,  the large sculpted eyeport provides great vision and goggle compatibility.
What Is MIPS? What Does MIPS Do?
MIPS, which is short for Multi-Directional Impact Protection System is found inside of helmets designed for mountain biking and other pursuits. You can tell which helmets come with a MIPS system because they have a yellow dot on them, usually on the back, that often contains the system's initials.
Why is MIPS important? The system kicks in during a crash, protecting the brain from rotational forces, particularly during angled impacts. These rotational forces are dangerous because they can tear brain tissue, leading to swelling, bleeding, and increased pressure. According to studies, most crashes lead to an angled impact, yet many traditional (non-MIPS) helmets aren't tested for them. As a result, preventable brain injuries can occur, which is why it's best to wear a MIPS helmet.
The system consists of a BPS, or Brain Protection System, usually hidden behind additional padding. The system allows the head to move inside of the helmet during a crash. When your head is stationary and unable to move, all of the rotational force produced by the crash is transferred to the brain. With MIPS, these forces are dampened, thus preventing brain injuries.
https://mtbwithkids.com/wp-content/uploads/2020/04/full-face-helmets-for-kids-900.jpg
470
900
Brett
https://mtbwithkids.com/wp-content/uploads/2016/05/logo-mtbk-400-300x157.png
Brett
2022-05-26 16:11:24
2022-06-10 23:13:48
Full Face Mountain Biking Helmets For Kids