Are you searching for the best mountain bikes for 11-14 year old kids? A new bike can increase your kid's confidence and stoke! We have listed our favorite bikes with 26in, 27.5in, and 29in wheels and low stand-over heights to fit 11-14 year old mountain bikers.
Here is an overview of our top 10 mountain bikes for 11, 12, 13 or 14 year old kids. Check out the comparison table at the end of the article to see all the size, MSRP and other data in one place.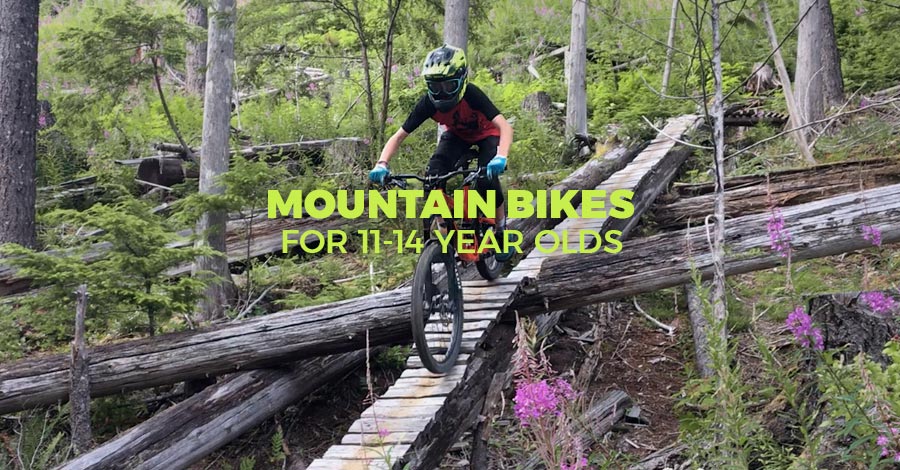 The Revolver HT 3 mountain bike features the lightest and stiffest XC frame ever constructed by Norco. Without a doubt, the Revolver HT3 is Norco's ultimate XC trail riding bike. The Revolver is light enough to allow for great maneuverability yet sturdy enough to hold up to even the roughest cross-country terrain.  Above all, its aggressive XC Race geometry will have your teen surging up climbs as every ounce of energy is transferred through to the rear wheel.
Buy this XC mountain bike from:
Procaliber 6 is a fast cross country mountain bike and the most affordable MTB model with IsoSpeed—a decoupler at the top tube/seat tube junction that provides additional compliance on rough courses. IsoSpeed gives you a unique and substantial advantage over a traditional hardtail, because it cuts down on the trail's fatiguing bumps and delivers a smoother, faster ride.
Buy this XC mountain bike from:
MTB Helmets For Kids

Make sure your kids have proper, well-fitting head protection.
Knee Pads For Kids
Knee pads are another level of protection for young riders.
Hydration Packs For Kids
Is your kid big enough to carry their own water and supplies?
The Range A1 is built to suit the preferences and demands of enduro riders. Importantly, the components add speed and reliability to each ride, no matter how rugged the trail. The Range A1 features 160mm of travel from the RockShox Super Deluxe Coil Select+ rear shock. Coupled with a RockShox Lyric Select+ fork with 180mm travel. Your burgeoning teen can feel like the master of the trail each time they hop on the bike. This unique bike will provide the ride of a lifetime each time that they take it out to the trail.
Buy this 27.5″ mountain bike from:
Santa Cruz Tallboy A D Complete
The Santa Cruz Tallboy is a bike of all trades and is perfect for kids that are burgeoning into teenagers. This lightweight short-travel mountain bike in an excellent trail or race bike. It is made from a lightweight and dependable aluminum alloy to ensure that it stands the tests of the trails without being too heavy. This model is the most affordable ticket to getting out the trails on a Santa Cruz full-suspension mountain bike. As a result, it's perfect for growing teenagers that are looking to progress their MTB skills and push harder.
Buy this 29-inch wheel mountain bike for teens from:
Santa Cruz 5010 A R Complete
The Santa Cruz 5050 R is a bike meant for fun above all other things. It doesn't matter if you are flying through doubles or slogging your way through some backcountry, this is a bike that is tough and lightweight. Due to the 27.5" wheels, 130mm of travel front and rear, and an NX Eagle 12 speed drivetrain, this is a mountain bike for riders who value agility.  Without doubt, your growing teenager will be able to shred the trail confidently on this playful mountain bike.
Buy this 27.5 inch mountain bike from:
Those lightweight carbon bikes are all fine and well, but this is the aluminum bike that you've been looking for when it comes time to rock the trails. The Ibis Ripmo has a full aluminum frame, however, it is lightweight and incredibly fast. This mountain bike will hold up to even the roughest of settings. Significantly, the premium features that come on this bike put most of the others in the industry to shame and will be a preferred choice for your teens. What's more, Ibis bikes have a distinctive look that you teen will love.
Buy this 29″ wheel enduro/trail mountain bike from:
When looking to spend some quality time outdoors with your growing teenage son or daughter, there is no quicker way to get close to them than to hit the biking trail together. The Juliana Furtado Carbon mountain bike is the perfect bike for the situation. Basically, the bike's geometry is suited very well for a boy or girl who is on the shorter side, but ready for a premium mountain bike. Additionally, It maintains a light weight, allowing for better maneuverability in tighter spaces while allowing for maximum speed. Soon your young teen will be ripping up the trails like a pro with this quality mountain bike.
Buy this 27.5″ wheel enduro/trail mountain bike from:
The Trailcraft Maxwell 26 is one of the best mountain bikes for 11-14 year old kids. To begin with, at just 25 pounds, this full-suspension mountain bike is extremely lightweight. Of course, the Trailcraft Maxwell 26 will provide confidence thanks to one of the best builds in the industry. When your teen is grinding to the top of an epic climb or roaring down a steep decline, they'll feel comfortable because the Maxwell 26 is built to handle all situations. Summing up, this is a bike that will make them feel like they are the master of the trail every time they head out. See our full review of the Trailcraft Maxwell 26.
Buy this 26″ wheel enduro/trail mountain bike from:
Comparison chart: 10 Best mountain bikes for 11, 12, 13 or 14 year olds 
https://mtbwithkids.com/wp-content/uploads/2019/11/nov2019-11-14yo-bikes.jpg
470
900
Traci
https://mtbwithkids.com/wp-content/uploads/2016/05/logo-mtbk-400-300x157.png
Traci
2019-11-03 15:08:42
2021-03-04 15:47:04
The Best Mountain Bikes for Kids 11-14 Years Old