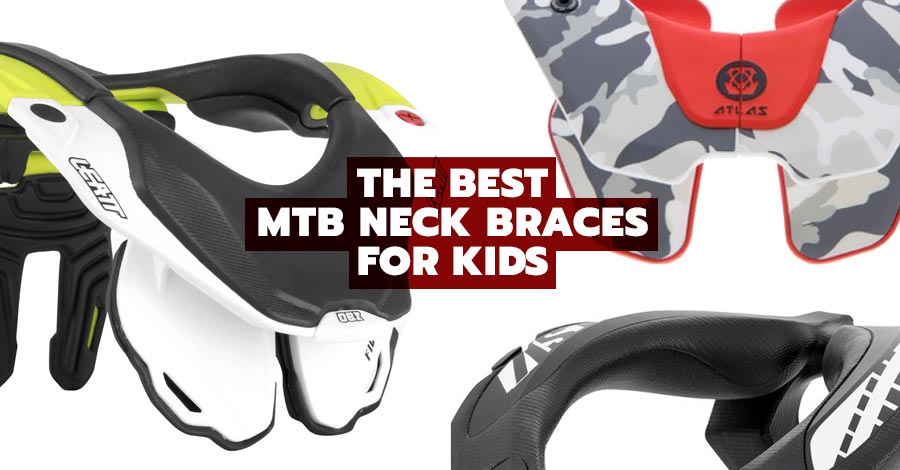 Neck Braces For MTB Kids: Neck braces are an often overlooked part of any young mountain biker's gear. They are designed to fit between the base of the helmet and the shoulders, preventing the neck from making any sharp movements in case of a fall. Most mountain bikers usually don't wear neck braces unless they plan on doing difficult features or bike park laps. Of course, it helps that the newer models are lightweight to wear, as well as brightly colored, making them less cumbersome and more enticing. When it comes to safety gear, you can never be too careful – especially when young riders are involved. These five neck braces can help prevent spinal cord damage by letting the neck move, but not in an extreme manner. Thanks to these neck braces for kids, those damaging and sharp forward, backward, and sideways movements that occur in a crash are much less likely to happen.
Neck Braces For Mountain Biking Kids Comparison Chart
| | | |
| --- | --- | --- |
| Product | MSRP | Buy from |
| Leatt 3.5 DBX Neck Brace - Kids' | $199.99 | BTO |
| Atlas Prodigy Neck Brace - Youth | $224.99 | BTO |
| Leatt - 5.5 Neck Brace GPX Junior (Youth) | $299.99 | BTO Sports |
| Atlas - Tyke Neck Brace (Kids) | $199.00 | BTO Sports |
| Alpinestars Youth Neck Support | $127.46 | Amazon |
Leatt 3.5 DBX Neck Brace – Kids

The Leatt 3.5 DBX neck brace for MTB kids gets its inspiration from adult versions, only on a scale designed to fit kids. This brace is lightweight, weighing a mere one pound, 1.6 ounces, so it won't weight the rider down at all. With that said, don't let its weight fool you, because this neck brace is extremely protective. It slides around the neck and fastens with the push of a button, which locks it into place. Double-barred segments go down the back and over the chest, providing plenty of neck support. The exterior is made of a hard shell PC, while the interior consists of polyamide-reinforced EPS. Since this fits over the shirt, you don't have to worry as much about the comfort of the interior portion of the brace, although the ergonomic design and a little bit of padding prevent chafing. On top of the numerous safety features, this neck brace look great as well, thanks to the main aqua-colored and bright red logo.
Leatt 5.5 DBX Neck Brace – Kids

For young riders who enjoy taking chances on the trails, or parents who are want to ensure that their children are properly protected, there's the Leatt 5.5 DBX neck brace. Constructed of fiberglass-reinforced nylon and designed to cover quite a bit of the shoulders and upper torso, this neck brace leaves nothing to chance. The front section resembles football pads, while the back section includes a removable thoracic strut that protects the spine. This neck brace has a built-in emergency release system, making it simple to remove in case of a fall, after the emergency services personnel arrive, of course. Injected foam padding, as well as its fairly light weight, mean that your child will be more likely to wear the neck brace since it won't weigh them down or cause any uncomfortable chafing. The available color combination consists of a bright green with plenty of white and black, making it easy to match with the rest of their gear.
Atlas – Tyke Neck Brace (Kids)
Atlas is one of the newer companies in the field of mountain bike protective gear, and they certainly make their presence known, thanks to the style and features on their Tyke Neck Brace. With several different colors to choose from, including white, black, camo, red, aqua, and orange on equipment that is built with ultra-flexible polymer construction, it's easy to see why Atlas is making such an impact. This neck brace has a split-flex frame, allowing for plenty of protection and flexibility at the same time. It has an easy-open release system for those moments when it needs to come off in a hurry, and it weighs a mere two pounds. The Tyke Neck Brace for MTB kids is designed solely for young kids between the ages of five and nine, and it fits over their chest protectors and under their helmets with ease. There's a reason why Atlas is becoming even more popular with mountain bikers – they know how to strike the balance between fit, style, and function.
Atlas – Prodigy Neck Brace (Youth)
The Atlas Prodigy truly lives up to its name. Created as the perfect stepping stone for teens and small women, the Prodigy bridges the gap for all those "in-between" growing young bodies searching for the best equipment. Features include a body-hugging frame shape to reduce brace movement and improve fit/range of motion, a simplified Easy Open release system, strong and stiff long-travel front suspension, back supports that appear smaller but increase surface area and an innovative wireless tether for longevity. Everyone deserves proper fitting equipment, even at those awkward "in-between" size stages in life. The Atlas Prodigy is engineered to be proportionately sized while maintaining all of the game-changing features that make the Atlas family of braces the best in the world. Enjoy growing up by moving through the Atlas Brace family and maintaining the experience you know and love combined with the peace of mind that comes with wearing a neck brace.
Alpinestars Youth Neck Support
One of the better-known brands when it comes to mountain bike safety gear, the Alpinestars Youth Neck Support was designed specifically for young riders. Available in two different colors, including cool black and white and bright florescent yellow and black combinations, these neck braces look as nice as they fit. The safety features, including a rear stabilizer system that protects the back of the neck, help prevent major injuries. Made of an injected polymer compound that's been impacted tested for the utmost performance, these neck braces certainly aren't fooling around. The underside of the neck brace for MTB kids consists of a comfortable EVA foam that's also lightweight. Over time, it will form to fit your child's shoulder, chest, and back perfectly, adding yet another layer of protection. Even with all of these safety features, the Alpinestars support weighs a mere 1.32 pounds. Between the light weight and the comfort foam lining, your child will be more inclined to wear the brace, which is the entire point.
https://mtbwithkids.com/wp-content/uploads/2020/04/best-mtb-neck-braces-2020-900.jpg
470
900
Brett
https://mtbwithkids.com/wp-content/uploads/2016/05/logo-mtbk-400-300x157.png
Brett
2022-04-01 18:59:03
2022-06-03 20:55:10
Neck Braces For MTB Kids