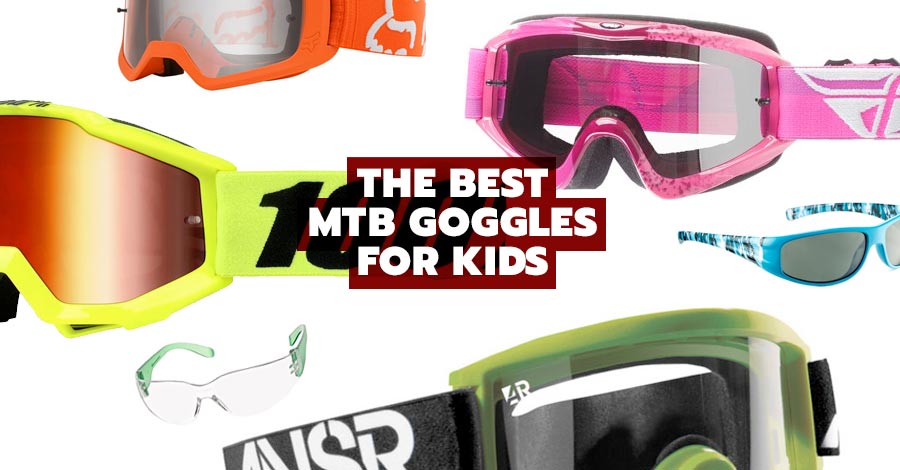 Goggles For MTB Kids: Helmets aren't the only pieces of safety equipment that kids should wear while mountain biking. Goggles or other eye protection are an important option, too. Not only do they protect the eyes by keeping dirt and other debris, like bugs, from getting in – but they also make it easier to see while riding. Sun glares can be distractions on mountain trails. Thankfully, goggles and safety glasses that include darkened lenses help prevent those types of incidents as well. Finally, there's the style component. With pairs available in several different colors and designs, young mountain bikers can easily find a pair that protects their eyes and looks impressive, making them more likely to wear goggles along with their other safety equipment. When choosing the best goggles for your young mountain bikers, it's important to keep all of these things in mind.
Mountain Biking Goggles For Kids Comparison Chart
| | | |
| --- | --- | --- |
| Product | MSRP | Buy from |
| Answer – Apex 3 Goggles (Youth) | $23.96 | BTO Sports |
| Fly Racing – Zone Goggle (Youth) | $31.96 | BTO Sports |
| Fox Racing Main Stray Goggles | $29.95 | Competitive Cyclist |
| Fox Main II PC Prix Goggles (Youth) | $49.95 | Jenson |
| 100% ACCURI Youth Goggles | $45.00 | BTO |
| Gateway Safety 3699 Colorful Starlite Gumballs Safety Glasses (Pack of 10) | $17.50 | Amazon |
Answer – Apex 3 Goggles (Youth)

Answer's Apex 3 Goggles are designed to be both stylish and functional. With a handy elastic strap featuring the company logo and a thick piece of shatter-resistant flexible polyurethane framing holding the lenses in place, it's easy to see why many young riders choose this model over others. Available in several different colors with mirrored lenses, these goggles are the answer (pun intended) to many safety equipment questions. The goggles were designed with young riders in mind, and comfortably fit the face, thanks to an open-cell foam lining. The Apex 3 Goggles lining covers the back of the frame, where it wicks away sweat and conforms to the rider's head, allowing for the ultimate level of protection.
Fly Racing – Zone Goggle (Youth)

Both stylish and protective, the Zone Goggles from Fly Racing meet your rider's needs. The lens has an anti-scratch and anti-fog coating, ensuring that they'll be able to see the trail clearly. Plus, these polycarbonate lenses are sturdy and provide a good level of protection as well. The straps that fit over the head come with three separate non-slip silicone patches that help keep them in place. Paired with the double buckle strap, these goggles are easy to adjust and stay put once they're on properly. Plus, lens replacement is easy, thanks to the pre-installed posts. Not only do these goggles provide plenty of protection, but they're also quite stylish. The frames have a high-gloss coating that comes in color combinations like aqua and yellow, pink and white, and orange and red. The snappy graphics on the frames compliment the custom-woven elastic straps, making quite a statement.
Fox Racing Main Stray Goggles – Kids
The Fox Racing Mainstray youth goggles are a great value mountain bike goggles. Ounce-for-ounce, the Main Stray Goggles are the best value on the market, and feature Fox's Variable Lens System (VLS). VLS makes your goggles compatible with both standard lenses (stock) and injection molded lenses (sold separately) within the same frame. With an expansive viewport, triple-layer foam, and tear-off lens functionality, they are a heavy hitter and light on the wallet.
Fox Racing Youth Main II PC Prix Goggles
The Fox Main II PC Prix Goggles defy expectations of youth goggles. They feature an expansive viewport, triple-layer foam, and a clear injected lens. The large viewport offers your young mountain biker unparalleled vision.  The Lexan lens offers excellent UV protection, keeping your kid's eyes on the prize with all the clear views and protection they need. The non-slip silicone strap makes sure the Fox Main II PC Goggles stay glued to your young ripper's face and prevent any slipping while they ride.
100% ACCURI Youth Goggles
With all of the safety protections available to adults, only on a scale designed for young riders, the 100% ACCURI Youth Goggles help your child make a statement on the trails. The mirrored lenses (available in either red or yellow with matching frames) are more than just stylish – they also protect the eyes from flying dirt and bugs, while making it easier to see in multiple light conditions at the same time. The frames themselves are both flexible and durable, made of urethane, with a 45mm silicon coated strap for security and comfort. The lenses consist of Lexan, making them lightweight, while the anti-fog coating is great for helping rider's see on even the hottest days. Even better, the lenses are easily replaced with many of the brand's other options, allowing you to swap the mirrored ones out for clear, gray, or even rose-tinted ones, depending on the light conditions. ACCURI really thought of everything.
Gateway Safety 3699 Colorful Starlite Gumballs Safety Glasses (Pack of 10)
A wrap-around lens and standard frame make this set of safety glasses stand out from the pack. The clear lenses make it very easy for kids to see where they're going on cloudy days or at dusk when a shaded polarized lens simply won't do. In addition, bugs and debris won't end up near the eyes, thanks to the sturdy lenses. The best thing about choosing a pack of safety glasses over a single pair is that you can stash them anywhere. Put an extra pair in your young rider's hydration pack, leave one in the glove compartment of your car, keep another with the extra gear, and so on. Each set of these safety glasses come in ten different colors, including red, blue, and yellow. The lenses wrap around the temple region for extra protection, and the frame's small size makes them ideal for young children who need a way to protect their eyes on the trails.
https://mtbwithkids.com/wp-content/uploads/2020/04/best-mtb-goggles-2020-900-v1.jpg
470
900
Brett
https://mtbwithkids.com/wp-content/uploads/2016/05/logo-mtbk-400-300x157.png
Brett
2020-04-03 19:51:05
2022-05-31 22:43:59
Goggles For MTB Kids