NOTE:
Due to COVID-19 and stay-near-home guidelines, kids' bikes have become very popular and a lot of manufacturers cannot keep inventory. You may wish to see our
Kids Bikes For Sale - August 2020
post.
Hitting the trails with your 8-11 year old? If your rider isn't quite big enough for a full sized mountain bike, but is ready to graduate from a 20-inch wheel bike, a 24-inch wheel bike may be the perfect middle ground. 24-inch bikes can last your kiddo 2-3 years and can definitely take your kid to the next level. Check out our list of best mountain bikes for 8-11 year old boys and girls below.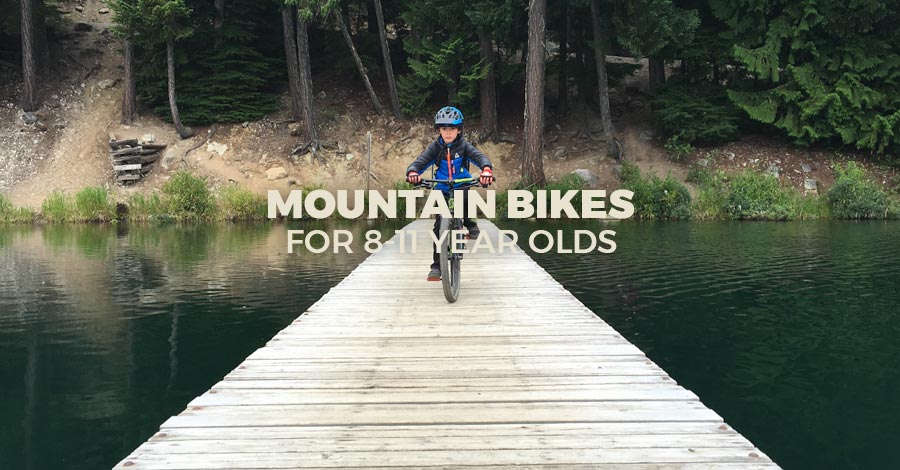 Importantly, before you shell out the money on a new mountain bike for your kid, you'll want to be sure that your kid can straddle the bike with both feet flat on the ground (for beginners) or on tip toe (for more advanced riders). Get a good stand-over height measurement by measuring your child's inseam.
Additionally, we recommend that you look for a bike that has the biggest wheels available for your kid's stand-over height. Firstly, bigger wheels roll more easily over obstacles on the trail. Secondly, a bike with larger diameter wheels will be more stable and more efficient for longer rides than smaller wheels because they require less effort to keep their momentum going. Kids on the taller side may fit on a 26-inch wheel bike, so you might want to check out our list of  best mountain bikes for 11-14 year old kids before making a purchase.
Here is an overview of our top ten best mountain bikes for 8-11 year old boys and girls. These mountain bikes all have 24-inch wheels. Check out the comparison table at the end of the article to see all the size, cost and other data in one place.
The Norco Fluid FS 1 24 has been totally redesigned for 2020. Certainly, its Fox and X-Fusion suspension package is ready to handle anything your little shredder can ride. Additionally, the Maxxis Minion DHR/DHF tires and a 100mm dropper help make this bike a solid choice for your gravity minded pre-teen. Finally, you can order direct from Norco! On the fence about whether your mtb kid is ready for a 24-inch wheel? The newly modeled Norco Fluid FS 1 20 sports 20-inch wheels and a 80mm dropper post.
Buy this kids' 24″ mountain bike from:
Marin Hawk Hill Jr 24″ Bike 2020
The Marin Hawk Hill Jr. 2020 makes shredding possible for young riders thanks to a fun, full-suspension bike that doesn't cost an arm and a leg. With an aluminum alloy frame, it creates the kind of snappy feel that is great for enjoying techy single track. Your child will enjoy mountain biking every time that they hop on their Hawk Hill Jr. – a great introductory mountain bike for any young shredder.
Buy this 24-inch kids' mountain bike from:
MTB Helmets For Kids

Make sure your kids have proper, well-fitting head protection.
Knee Pads For Kids
Knee pads are another level of protection for young riders.
Hydration Packs For Kids
Is your kid big enough to carry their own water and supplies?
Marin Bayview Trail 24″ Disc Bike 2020
The Marin Bayview Trail features a frame that is constructed of aluminum alloy and features quality Shimano disc brakes. Markedly, some components are size-appropriate, like the smaller-sized brake levers. The drivetrain is a 7-speed and has a simple grip-shifters. Another key point is that the suspension allows for smoother rides over intermediate terrain. The Marin Bayview Trail 24 even features a bash guard. By and large the Bayview Trail is a solid choice for an entry-level kids' mountain bike.
Buy this 24″ kids' mountain bike from:
Cleary Bikes Scout 24in Bike
The Cleary Bikes Scout 24 is hardtail mountain bike for kids. Cleary's highest goal is to get kids comfortable on their bikes. Subsequently, they design bikes that ensure  a balanced, responsive ride for kids. Particularly, the Scout 24 is a good fit for kids who are ready to get off the pavement and start pedaling the single track. Significantly, the hydraulic brakes and junior-sized levers will build confidence. Additionally, the 1×10 drivetrain is sure to allow your young rider to increase her/his mtb skills.
Buy this 24″ kids' mountain bike from:
You can fuel your youngster's growing love for mountain biking by introducing them to the Meekrat 24in 5-speed mountain bike. Its steel alloy frame construction is built to last at a price-point which will appeal to a lot of families. The bike's build features Tektro hydraulic brakes and a Shimano drivetrain. The Meerkat fits riders with 22 to 30in inseams. As a result, this is one of the best mountain bikes for 8-11 year old boys and girls.
Buy this 24″ kids' mountain bike from:
The old saying goes that "you get what you pay for". Unquestionably, you get one of the best trail riding kids' mountain bikes in the business if you buy the Maxwell 24. Your mtb kids can dominate any kind of trail thanks to this full-suspension bike. With attention to detail, all of the components used on this Maxwell 24 are of the highest caliber and kid-sized.  Never worry about the quality that you are getting with the Trailcraft Maxwell 24. Without reservation, these bikes get our highest recommendation.
Buy this 24″ kids' mountain bike from:
Transition's affinity for the trails of the pacific-northwest is embodied in the brand's Ripcord – a full-suspension mountain bike for kids. Once the front and rear air suspension are dialed-in, your kiddo with will be ready for everything from Galbraith to Gooseberry Mesa. The Ripcord is lightweight with high quality components. To be sure, this is a premium mountain bike for kids who are eager to ride the bike parks and advanced single track.
Buy this 24″ kids' mountain bike from:
The Rocky Mountain Reaper is a design that allows your young mtb enthusiast to send it big and pedal on demanding trails. It's a full-suspension kids' mountain bike that allows you to switch out the 24-inch wheels for 26-inch wheels. On account of this versatility. you can keep the bike in the family for an extended period of time.
Buy this 24″ kids' mountain bike from:
Comparison chart: Best 24-inch wheel mountain bikes for 8, 9, 10 or 11 year olds 
https://mtbwithkids.com/wp-content/uploads/2019/10/nov2019-8-11yo-bikes.jpg
470
900
Traci
https://mtbwithkids.com/wp-content/uploads/2016/05/logo-mtbk-400-300x157.png
Traci
2019-10-28 02:47:36
2020-08-27 13:51:14
The Best Mountain Bikes for 8-11 Year Old Boys And Girls