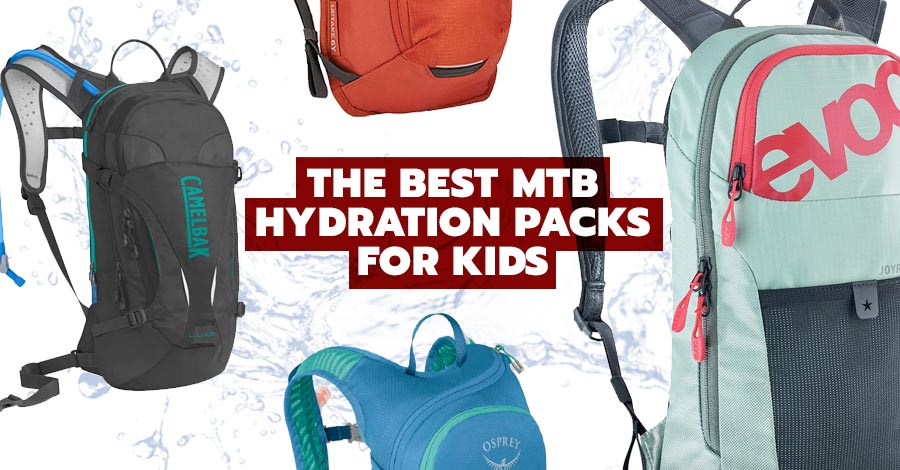 Hydration Packs For MTB Kids: Riders of all ages must stay hydrated while out on the trails, but even more so for kids, who are more likely to be affected by high temperatures if they don't drink enough water while on the trail. Water bottles just don't hold enough liquid for long rides. Plus, most kid's mountain bikes aren't quite big enough for additional mounts, like the ones that hold single water bottles. That's where hydration packs come into play. These packs are similar to backpacks. They fit on the back, secure into place with straps, and hold hydration bladders with plenty of room for water.
Hydration packs for adults come in sizes that are too big and unwieldy for most kids, making it tough for younger riders to reap their benefits. In order to find one that works, you need to check out these models. Designed specifically for younger riders, the overall scale fits perfectly and comfortably on their backs. Most hydration packs for kids have smaller built-in bladders, although they still hold more liquid than several water bottles. Check out these five to see which one will work best for your young rider.
Hydration Packs For MTB Kids Comparison Chart
| | | | |
| --- | --- | --- | --- |
| Product | Hydration Capacity | MSRP | Buy from |
| Evoc Joyride Hydration Backpack for Kids | 2L | $60.00 | Backcountry |
| CamelBak Mini M.U.L.E. Kids Hydration Backpack, 50 oz | 50 oz | $50.00 | Amazon |
| Osprey Moki Hydration Pack - 1.5 Liters - Kids' | 1.5L | $55.00 | REI |
| Thule Youth Uptake Hydration Pack | 2.5L | $69.95 | Moosejaw |
| CamelBak L.U.X.E. Hydration Pack - Women's | 3L | $109.95 | EVO |
CamelBak L.U.X.E. Hydration Pack – Women's

One step above the aforementioned CamelBak Mini M.U.L.E. the CamelBak L.U.X.E. Hydration Pack is designed for women but might be just the right size for teenage riders. This backpack comes in solid black with a green CamelBak logo and includes a similar rubber straw and sipper setup as the kid's version. The main difference is the size. The pack weighs a mere 590 grams (a little over a pound) when empty, and it can hold three liters of water – quite a difference over the kid's model. Plus, the interior capacity is a total of 11 liters with just cargo, or seven liters with the water bladder, allowing your teen to tote around plenty of gear and other supplies along with their water. The rubber straw has a magnetic trap that keeps it in place while riding, as well as a leakproof lever. The adjustable straps keep it securely fastened, and it fits a torso range of 15 to 19 inches in diameter.
CamelBak Mini M.U.L.E. Kids Hydration Backpack, 50 oz

CamelBak products opened in 1988, and they remain one of the best-known creators of hydration devices, like this one, the CamelBak Mini M.U.L.E. Kids Hydration Backpack. The built-in reservoir, complete with a long plastic tube that has a sip-able end, holds 1.5 liters of water – enough for a lengthy ride on the trails. With many colors and patterns to choose from, including atomic blue, azalea, black with red flames, "camelflage," and even a snappy red with racing checks, your child will want to stay hydrated. The backpack has a back panel made of breathable mesh, as well as a front pocket that's big enough to hold the essentials, like a cell phone. Reflective straps and strips of fabric provide security, as does the built-in safety whistle. The CamelBak fits kids with torsos ranging between 12 and 16 inches in diameter, and the straps are fully adjustable, helping it fit securely in place. One of our family's favorite hydration packs for MTB kids.
CamelBak Bite Valves

If you have young chewers, it may be wise to pick up a pack of these.
Evoc Joyride Hydration Backpack for Kids, 2L

Available in two different color combinations – olive green with red accents and Sulphur yellow with a neon blue fade, the Evoc Joyride Hydration Backpack for kids is both functional and stylish. The backpack is the same as those designed for adults, only on a smaller scale, making it comfortable for kids to wear while riding their mountain bikes. The backpack holds bladders of up to two liters in size, as well as many other things, like cell phones and cameras, thanks to an additional fleece inside pocket. There's even a mesh outside pocket that's just the right size to hold some plenty of additional rolled up gear. The pack is made of lightweight performance fabric with a breathable back, and a detachable hip belt, as well as two permanent backpack-like straps keep it securely in place. According to the specs, this hydration backpack works best for kids aged seven through twelve.
Osprey Moki Hydration Pack – 1.5 Liters – Kids'
Although the Osprey Moki Hydration Pack only comes in one color combination – a light blue with green accents, it has a sleek profile that's unlike the other models. This hydration pack holds 1.5 liters, or 50 fluid ounces of water, ensuring that your child will have plenty of water to drink while riding. The reservoir sleeve zips open and closed for easy access to the water reservoir. Adjustable padded straps are comfortable and hold the pack securely to your child's body, preventing it from slipping around while they ride. Extra features, like a strap that's designed to hold a blinking safety light or reflector, provide safety for evening and early morning rides, while the lightweight mesh fabric panel and included harness make the pack very portable. On top of the main compartment that holds the water reservoir, there are two additional pockets to hold gear and essentials. Plus, the Osprey is made of bluesign materials that are good for the environment.
Thule Youth Uptake Hydration Pack
The Thule Youth Uptake Hydration Pack was designed to be incredibly user-friendly. With a HydraPak reservoir that holds up to 2.5 liters of water attached to the ReTrakt magnetic hose system (that's also hands-free, by the way) it's very easy to take a sip of water without slowing down. There are two colors to choose from, a dark aqua blue with lighter blue accents and a red-orange with black details. Both have adjustable mesh straps that are strong and breathable at the same time. Reflective trim makes it easier to spot riders in low light conditions, and the 12 total liters of storage space hold many different forms of gear and other necessities, thanks to the expandable compression panel that gets larger when needed. This hydration pack comes with a built-in waist strap for extra security, and the foam harness and back panel are very comfortable.
https://mtbwithkids.com/wp-content/uploads/2020/03/best-mtb-hydration-packs-900.jpg
470
900
Brett
https://mtbwithkids.com/wp-content/uploads/2016/05/logo-mtbk-400-300x157.png
Brett
2020-03-30 13:56:34
2020-05-02 17:31:48
Hydration Packs For MTB Kids