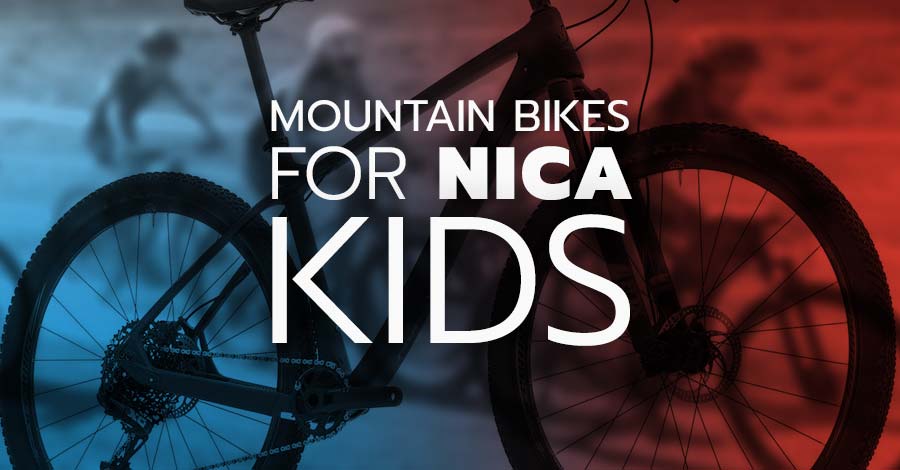 Mountain Bikes for NICA Racers – Your little mountain biker isn't going to be so little much longer. If those years of waiting for her or him to keep up with you have not already gone by, don't blink. It will happen fast.
As your kids get older they will continue to enjoy outdoor adventures and learning new skills on their mountain bikes with your family. However, since friends will become increasingly important in your pre-teen/teen's life, you'll want to be sure that your mountain biking activities include friends.
Hardtail Mountain Bikes for NICA Riders | Full-Suspension Mountain Bikes for NICA Riders
You may have already heard about the National Interscholastic Cycling Association (NICA). Founded in 2009, NICA develops interscholastic mountain biking programs for student-athletes across the United States. American kids in grades 7-12 may have the opportunity to join a NICA mountain biking team. Participating on a NICA team leads to making new mountain biking friends and having even more fun on bikes.
As of 2018, NICA has 25 state and regional leagues. This totals over 6,450 coaches who are working with over 14,500 student-athletes from nearly 800 high schools in the United States. Since 2009, participation in NICA has grown 30 to 40 percent each year. There is an element of competition and racing. However, the purpose of NICA is to support student-athletes in the development of strong body, mind, and character through their efforts on the bike. NICA is a great experience for young riders. Here are 10 bikes that may work for your young rider as they become a NICA racer.
Hardtail/Front-Suspension Mountain Bikes for NICA Riders
Pivot LES 29 Carbon Race X01 Eagle
The 2018 Pivot LES 29 Carbon Race X01 is a cross-country hardtail that combines efficiency with smoothness. These characteristics will help your racer build skills and keep up with the competition. Importantly, Pivot created a super light frame (2.8 lbs including drop outs) to minimize athlete fatigue. They use leading edge carbon fiber and proprietary hollow-core internal mandrel construction design. In addition, Pivot added Boost spacing and ultra-stiff Boost wheels to keep the energy transfer steady,.
The LES also features Pivot's patented Swinger II dropout system. This innovative system which enables you to run both 29" and 27.5"+ wheels. Presently, you can choose to go the traditional shifting route or opt for Shimano's Di2 electronic shifting. Pivot's innovative Pivot Cable Port System ensures that all cables, housing, wires and batteries are neatly tucked away for  weather and impact resistance. The LES is available in sizes S- XL for riders between 5'4″ and 6'7″ with a minimum stand-over height of 28.5 inches. In conclusion, the LES 29 is one of our favorite bikes for NICA riders.
Diamondback Overdrive 29C 1 Carbon
The Diamondback Overdrive 29C 1 Carbon is a great lightweight race ready bike that's surprisingly affordable. Overdrive 29C 1 Carbon has some impressive components. Firstly, a RockShox Recon Gold RL fork with 100 mm of travel will smooth the bumps. Secondly, the Shimano hydraulic disc brakes will help your racer effectively control speed. Thirdly, the simple SRAM NX single-ring drivetrain will keep 'em moving. Fourthly, the big 29 inch wheels will help maintain speed and easily roll over technical features. Here's a bonus – the stock wheels are also tubeless compatible. The nifty Diamondback Overdrive 29C 1 Carbon is available in S-XL and should fit riders ranging from 5'4" to 6'4″ with a minimum stand-over height of 30.5".
Santa Cruz Highball CC X01 Bike 2019
The Highball CC X01 is the leading carbon hardtail race bike in the Santa Cruz line up. Santa Cruz fine-tuned the Highball CC X01 to be light and fast. By using lighter, stronger, and more expensive carbon fiber, Santa Cruz made the Highball CC as stiff and strong as their C-level frame, with significant weight savings. The frame has room for three water bottle cages for those extra hot race days or long explores out on the trails. The internal cable routing creates a sleek appearance while protecting the cables from the elements. Importantly, this also helps keep the bike shifting smoothly.
The Highball comes with SRAM's elite XO1 Eagle Drivetrain complementing a 12-speed gear range. Your racer will have the the gears they need to climb and descend with speed. Conversely, the Highball's, hydraulic disc brakes (SRAM Level TLM) will slow your racer down quickly and safely. Fox Float Performance Elite suspension will smooth out the chop, and can handle larger obstacles with ease. Race Face wheels and Maxxis Aspen tires provide the traction and confidence needed to charge technical single-track and high-speed corners. As with all Santa Cruz bikes, the Highball CC X01 includes a lifetime frame and bearing warranty for original owner. The Santa Cruz Highball CC X01 is available in S-XL. The Highball CC X01 should fit riders ranging from 5'1" to 6'1 with a minimum stand-over height of 27.8 inches.
Ibis DV9 X01 Eagle Bike 2019
This bike made our  list of best bikes for NICA riders for a multitude of reasons. .Ibis designed this lightweight carbon hardtail for maximal versatility. Your NICA rider can race this bike on one day and head out to explore the trails the next. The DV9 was inspired by CEO Hans Heim's XC racing daughter. His two design goals were maximal versatility and a price-tag affordable enough to pay for it with a summer job. The 2019 Ibis DV9 X01 Eagle Bike has a sophisticated 2.65 pound full-carbon frame. Firstly, it can be customized with 100 to 120mm suspension travel. Secondly, the frame geometry is slacker than traditional XC bikes which means this bike won't hold you back on more technical trails. Thirdly, the DV9 frame boasts two water bottle cage mounts, versatile cable ports and boost hub spacing. Finally, the threaded bottom bracket allows tire clearance for up to 2.6″ wide tires.
This bike has great components. Importantly, the X01 Eagle version of the DV9 comes with a SRAM X01 Eagle 12-speed drivetrain. This drivetrain provides an ultra-wide gear range so your rider can climb tough hills and accelerate on the flats. Conversely, Shimano XT hydraulic disc brakes provide plenty of stopping power. Ibis's 938 aluminum wheels come with Schwalbe Nobby Nic 2.6″ wide tires that are tubeless ready. Ibis DV9 X01 Eagle is available in S-XL and should fit riders ranging from 5'0" to 6'6 with a minimum stand-over height of 27.4 inches.
Orbea Alma M30 29″ Bike 2019
The Orbea Alma is a light cross-country carbon hardtail that retains rider comfort for long and technical rides thanks to Orbea's 4×4 Technology. The Alma incorporates a fourth member into the front and rear triangles. This creates a quadrangle, which deflects impacts at the joints, while providing a comfortable yet stiff frame.
The 2019 Orbea Alma M30 features frame updates that provide a lower center of gravity to increase stability, a lower front end for better traction on steep and loose climbs, and shorter chain-stays that allow you to maneuver through technical sections with confidence. In addition, the internal Direct Cable Routing provides a sealed inner wire for the length of each cable. The Orbea Alma 29 M30 is stocked with the RockShox Reba RL Air fork which features 100mm of suspension travel. The SRAM NX Eagle drivetrain provides you with a big 11-50 1×12 gear range. The Orbea Alma M30 29″ is available in S-XL and should fit riders ranging from 5'1" to 6'6 with a minimum stand-over height of 28.1 inches.
Yeti SB100 Carbon GX Comp Bike 2019
The Yeti SB100 Carbon GX Eagle Comp Bike is a full suspension carbon mountain bike that will help your racer attain new heights and descend from those heights quickly and safely. The SB100 frame features newly redesigned Switch Infinity for 100mm of travel and allows space for a bottle cage and longer dropper seatposts. The frame also has internally molded carbon tubes inside the frame so cable routing is easy.
This bike has some awesome components. Firstly, the SB100 Carbon GX Comp Eagle edition includes a Fox Performance 34 SC fork with 120mm of travel and a Fox Performance DPS rear shock. Secondly, the drivetrain features a GX Eagle 12-speed shifter and an X01 Eagle 12-speed rear derailleur. Thirdly, the crankset is an X01 Carbon Eagle crankset with a 30 tooth cog and is paired with a SRAM 1275 Eagle 10-50T cassette that provides excellent range for climbing and descending. Fourthly, the Shimano XT brakes provide dependable stopping power. Finally, the Yeti SB100 comes with DT Swiss M1700 wheels with a Maxxis Aggressor 29″ x 2.3″ tire on the rear and a Maxxis Minion DHF 29″ x 2.3″ tire on the front The Yeti SB100 is available in S-XL and should fit riders ranging from 5'3" to 6'2 with a minimum stand-over height of 28.5 inches.
Santa Cruz Blur C S Bike 2019
The 2019 Santa Cruz Blur is true XC race machine designed with podiums in mind. With a frame coming in at just 4.54 pounds, the 2019 Blur is the lightest full suspension Santa Cruz frame. The carbon frameset includes VPP (virtual pivot point) suspension design to create a bike that is ultra-efficient. This bike also includes a dual remote lockout for the fork and shock so your racer can maintain top efficiency. The Blur C S comes with a Fox ultra-light step-cast 32 Performance fork effortlessly smooths out the trail in front of you. In addition, the Float Performance DPS rear shockwith 100mm of rear VPP travel offers the perfect amount of forgiveness over the bumps.
The SRAM GX Eagle 12-speed drivetrain gives you the gear range to climb the steepest mountains and sprint the descents. Importantly, SRAM level TL brakes give you incredible stopping power and modulation. The 29" wheels roll over everything in your path and provide exceptional rolling speed. As with all Santa Cruz bikes, the Blur C S includes a Lifetime frame and bearing warranty for original owner. The Santa Cruz bikes Blur C S is available in S-XL. This will fit riders ranging from 5'1" to 6'1 with a minimum stand-over height of 28.4 inches.
Salsa Deadwood NX1 29+ Bike
The Salsa Deadwood NX1 29+ is a short travel full suspension rig based on the Split Pivot Spearfish/Horsetheif platform. The Split Pivot rear suspension eliminates unwanted suspension movement during acceleration and braking for maximum traction and pedaling efficiency while racing. The Deadwood includes a RockShox Recon RL 120mm travel fork and RockShox Monarch RT3 Debonair rear shock.
The deadwood aluminum frame is designed for ample tire clearance. Rear tires can range from 2.6 in. to 3.0 in., in widths of up to 45mm rims via Boost 148 spacing. The frame geometry pairs slack trail bike style geometry—68° head angle and 45mm BB drop—with travel amounts usually reserved for steep race bikes. 6066-T6 aluminum stays create a strong, lightweight frame. Salsa Deadwood NX1 29+ is available in S-XL and should fit riders ranging from 5'6" to 6'2″ with a minimum stand-over height of 28.4 inches.
Niner Jet 9 RDO 29er
The Niner Jet 9 RDO 29er's updated trail geometry powers up climbs and rips down descents. The Race Day Optimized (RDO) carbon frame construction gives Niner precise control over where material is and where it isn't. This enables the engineers reduce weight where it's not needed while ensuring stiffness and durability at key areas of power transfer.
The 2019 JET 9 RDO comes with 130 millimeters of front travel and the included dropper post allows you to clear out some cockpit space so you can maneuver the bike easily on descents. The CVA suspension is designed specifically around 29-inch wheels to keep the big-wheel platform balanced between taut under power and supple while rallying over rocks and roots. New internal tubes for easier cable routing and maintenance. The SRAM GX Eagle 1×12 drivetrain offers a massive range of gears. The 2019 JET 9 RDO is available in XS-XL with a minimum stand over height of 26.5 inches.
Pivot Mach 429
Pivot's 2018 Mach 429SL Carbon 29 Race X01 Eagle Complete Mountain Bike is a perfectly dialed full suspension ride built for speed. The Mach 429SL has 100-millimeters of DW-link suspension to eat up obstacles. The 2018 Mach 429SL has stretched out rear-axle geometry and the flexibility to swap a 29" wheelset out for a plush 27.5+ hoop. A bonus for when your kid is not racing and wants to head out to explore backcountry trails. The Mach 429 SL lightweight frame is made from Pivot's hollow-core carbon fiber – engineered for maximum structural strength, with minimal material. The frame is backed with Pivot's new 10-year warranty.
The Mach 29SL boasts a Fox Float DPS Kashima coated shock . This shock has been fine-tuned specifically for this frame which offers settings that are designed to offer you a plush feel when heading downhill, with control over damping for fast climbs. It uses a Fox 34 Performance fork that offers 120mm of travel to match the rear shock. When paired with the Fox Float DPS in back you'll find it soaks up blows and smooths out any ride. The Mach 29SL compiles an assortment of GX Eagle and X01 Eagle components for a massive gear range and snappy shifting. The Mach 29SL is available in S-XL with a minimum stand over height of 27.7 inches
https://mtbwithkids.com/wp-content/uploads/2018/10/mountain-bikes-for-nica-kids-feature.jpg
470
900
Traci
https://mtbwithkids.com/wp-content/uploads/2016/05/logo-mtbk-400-300x157.png
Traci
2018-10-31 20:29:04
2019-12-08 16:30:04
Ten Great Mountain Bikes For NICA Kids