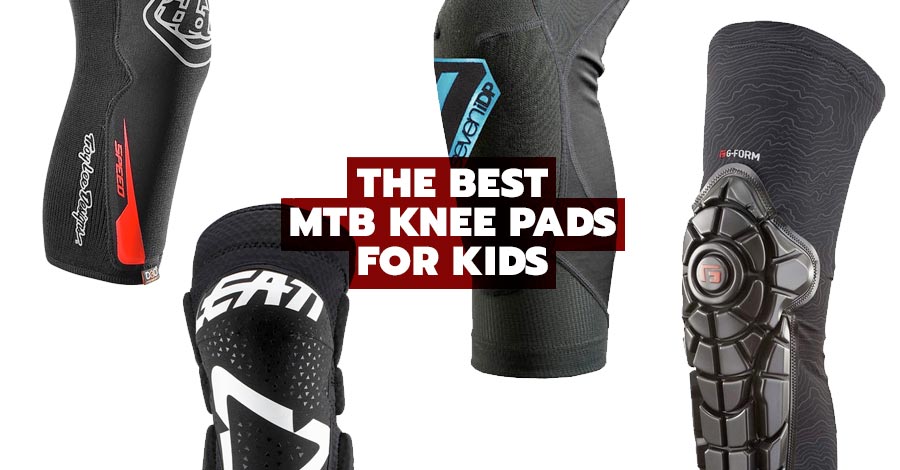 Our favorite mountain biking knee pads for kids: The six different knee pads for kids reviewed here, all have one thing in common – they are specifically built for young mountain bikers. Many use the same technology as adult mountain bike knee pads, only on a smaller scale. The features, from the level of protection to things like the use of breathable fabrics, are the same. However, these knee pads will fit your children properly.
When it comes to safety gear, the fit is incredibly important, since levels of protection can be lost when things like knee pads are too large. Are you ready to find your child's next set of mountain bike knee pads? One of these five might just do the trick. Want to use your elbow pads on the kids' knees? Try it. You may already have a good solution at home.
Mountain Biking Knee Pads For Kids Comparison Chart
| | | | |
| --- | --- | --- | --- |
| Product | Best for | MSRP | Buy from |
| Fox Racing Launch D30 Knee Guard - Kids' | Enduro, Downhill, Freeride | $74.95 | Backcountry |
| G-Form Pro X3 Knee Pad - Youth | Cross-Country, Trail | $51.96 | Competitive Cyclist |
| G-Form Rugged Knee-Shin Guard - Kid's | Cross-Country, Trail | $79.98 | Backcountry |
| Leatt 3DF 5.0 Knee Guard - Kid's | Enduro, Downhill, Freeride | $69.99 | BTO |
| Seven iDP - Transition Knee Pad youth | Cross-Country, Enduro | $59.99 | Competitive Cyclist |
| Troy Lee Designs - Speed Knee Sleeve (Youth) | Enduro, Downhill, Freeride | $49.00 | BTO Sports |
Fox Racing Launch Pro Knee Guard – Kid's

Available in all black, except for the trademark white fox silhouette logo, the Fox Racing Launch Pro Knee Guard allows your kids to make a positive impact on the trail in more ways than one. These knee guards have two hook and loop straps, one at the top, the other at the bottom, allowing for a customized, yet comfortable fit. Made of a lightweight neoprene fabric that's breathable, yet strong enough to provide a good first layer of protection, these pads are comfortable to wear no matter the temperature on the trails. Right at the knee, there's an embedded plastic cup that protects the joint and absorbs the force of the fall. It's built to withstand an impact, keeping your child's knee as safe as possible. There's also a layer of built-in Kevlar (yes, the same material used in bullet-proof vests) that provides plenty of protection as well. Sleek and anatomically correct, these knee guards are a force to be reckoned with.
G-Form Rugged Knee-Shin Guard – Kid's

If your kids need a little extra protection on the trails or prefer a single device that covers both their shins and knees at the same time, then you'll love the G-Form Rugged Knee-Shin Guard. Living up to its name and purpose, these knee pads extend from the upper thigh to the ankle, with a hard-shell protective area ranging from right above the knee to the bottom of the shin, protecting an entire swath of the leg. Compression fabric – not fasteners – hold the guard comfortably in place, and make it machine washable. The protective guard is very flexible, allowing your child freedom of movement while riding, but at the same time, it's designed to harden upon impact, preventing injury. These knee guards are CE-certified and meet a number of safety requirements. Plus, the fabric wicks away moisture and includes a breathable mesh panel at the back of the knee.
MTB Helmets For Kids

Make sure your kids have proper, well-fitting head protection.
MTB Shorts And Pants For Kids
Comfortable, purpose-designed apparel for your groms.
Hydration Packs For Kids
Is your kid big enough to carry their own water and supplies?
G-Form Pro X3 Knee Pad

The G-Form Pro-X3 Knee Guards are built with proprietary SmartFlex technology that hardens on impact. These pads are flexible while we're riding but extra strong during those learning moments. The moisture-wicking fabric sheds sweat quickly to keep your rider comfortable and dry. The silicone grip keeps the pads comfortably in place.
Leatt 3DF 5.0 Knee Guard – Kid's

The Leatt 3DF 5.0 Knee Guards come in one size and fasten with a hook and loop that's easily adjustable. The snappy black and white color combo matches everything from mountain bikes to other protective gear, ensuring that your young rider will look nice and be safe while on the trails. Lightweight, these protective pads come in at a mere 400 grams (that's .88 of a pound, for the record), so they won't weigh your child down in an uncomfortable manner. This doesn't mean that the pads are light on safety however, as they include an abrasion-resistant outer layer, as well as inner impact foam that cushions blows. On top of that, the foam is ventilated, preventing moisture, like sweat, from building up and becoming uncomfortable. This keeps the pad securely in place as well. The cuffs are designed to help them in place while riding, and the odor-resistant fabric ensures that the guards won't smell up your car after a long ride.
Seven iDP – Transition Knee Pad youth

With two different sizes to choose from – youth small/medium and youth large/extra-large, as well as a compression fit fabric with built-in four-way stretch mesh and a base layer of poly and spandex, the Seven iDP Transition Knee Pads will fit kids of all sizes. These pads come in black with the Seven iDP logo in blue right below where the knee hits. Unlike other knee guards, this pair covers most of the leg, ranging from mid-thigh to mid-shin, with the protective layers of foam located in the knee region. The double-layer custom foam is designed to conform to your rider's legs, making them comfortable to wear, as well as less likely to slip mid-ride. On top of this, the foam is breathable, keeping the knee pads lightweight while allowing for plenty of airflow. When off, these knee pads roll up and are easy to stash in a gear bag.
Troy Lee Designs – Speed Knee Sleeve (Youth)

Made by one of the best-known names in the business, the Troy Lee Designs Speed Knee Sleeve is designed specifically for young mountain bikers. Troy Lee, son of motorcycle racer Larry Lee, opened up the business in 1981, giving them almost 40 years' worth of experience in creating protective equipment for mountain bikers and other athletes. What does this mean for you? It means that these knee sleeves are among the best on the market. Available in two different sizes, either youth medium or youth large, these knee guards come in a snappy black and white combination with some red accents. They have silicone gripper bands that keep them comfortably in place, as well as 360-degree seamless comfort. You won't have to hear your kids complain about uncomfortable seams ever again. As far as safety is concerned, the D30 padded insert and abrasion-resistant cover provide plenty of protection.
Keeping your kids safe during mountain biking requires the use of multiple types of protective equipment – including knee pads. These pads, also called knee guards, are designed to handle many different bumps, from those that occur while riding too close to trees and rocks, to the ones that happen when your young one falls off of the bike. You need to find the right knee pads that are designed with young riders in mind since the circumference of their legs are often smaller. Adult pads won't fit properly and may slip or slide down mid-trail, causing plenty of problems.
https://mtbwithkids.com/wp-content/uploads/2020/03/best-mtb-knee-pads-900.jpg
470
900
Brett
https://mtbwithkids.com/wp-content/uploads/2016/05/logo-mtbk-400-300x157.png
Brett
2022-05-28 22:26:11
2022-06-21 01:58:47
Mountain Biking Knee Pads For Kids