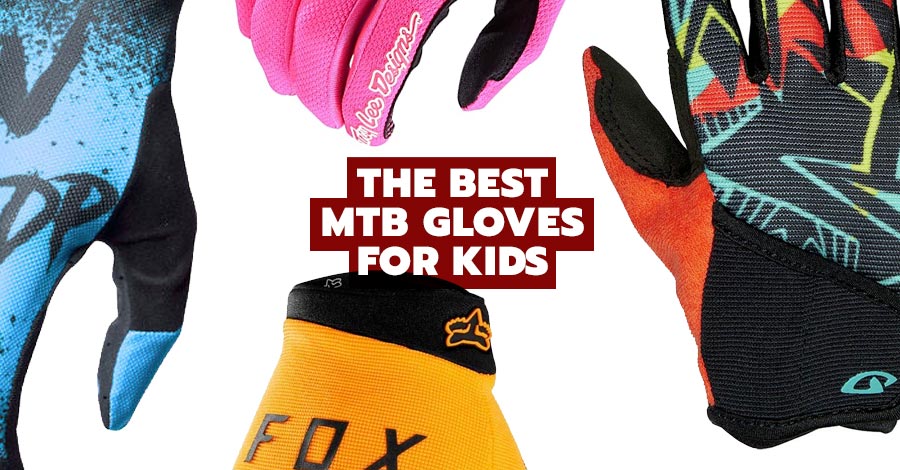 Mountain Biking Gloves For Kids – Mountain bikers of all ages, yes, including kids, wear gloves for a multitude of reasons. They protect the hands in case of accidents and falls. Gloves help your young riders grip the handlebars, providing plenty of needed support. In addition, gloves keep your hands warm on cold days and wick away sweat on hot ones. Extra protection against random tree branches and bushes that appear at just the right height on the trails is yet another reason. Basically, gloves are important. The best pairs are stylish, comfortable, made to fit small hands, and provide all of the required levels of protection. It may seem like the perfect pair is hard to find, but it's out there. The ones that we've reviewed here are all contenders, so keep your specific needs in mind and check out what these pairs have to offer.
Mountain Biking Gloves For Kids Comparison Chart
Fox Racing Dirtpaw Glove – Kid's

Your young rider charges harder than most adults on the trail. Fox's Dirtpaw glove delivers adult-sized features and protection for their hands, so they can keep riding all summer long in comfort. The soft palm offers padding for protection, while the breathable upper keeps hands cool on warm days. A touchscreen-compatible fabric ensures they can also text home when they're finally on their way down the trail.
Giro DND Jr II Youth Bike Gloves

Available in four different sizes (youth extra small through youth large) and six colors and patterns, it's easy to find a pair of the Giro DND Jr II Youth Bike Gloves that your child will want to wear. Color choices include black, black with a purple abstract floral pattern, and even pink and red camo. On top of style, these gloves include a number of important safety features and high tech components, like silicone fingertips that are compatible with smartphone screens. The knuckles have flex zones for comfort, and the reinforced fingertip sections are incredibly sturdy. The gloves are made of a breathable material that wicks away moisture while stretching (another comfort factor) at the same time. Plus, they slip onto the hands, leaving your child with few excuses not to wear them.
MTB Helmets For Kids

Make sure your kids have proper, well-fitting head protection.
Knee Pads For Kids
Knee pads are another level of protection for young riders.
Hydration Packs For Kids
Is your kid big enough to carry their own water and supplies?
Dakine Prodigy Bike Gloves – Kids

The Prodigy Bike Gloves by Dakine come in solid black, making it easy to match them with the rest of your child's gear. In addition to the two sizes available, youth large and youth extra-large, these gloves include a number of comfort fit measures. They fasten at the wrists with a handy hook and loop closure, keeping them snugly in place no matter how bumpy the trails may be. In addition, the palm is made of a synthetic material that allows for breathability while enhancing the gloves' gripping power. The back features a nose wipe section (for those with on-trail allergies), and plenty of stretchy, breathable fabric for comfort. Plus, the fabric contains odor control technology, so you won't have to wash them so often.
PEARL iZUMiMTB Glove – Kids'
Getting your grom on the trail is one of life's most rewarding things, but there's no doubt that they'll take inevitable tumbles from time to time. You'll have them suited up with a helmet and pads, no doubt, but don't forget to have them slip on a pair of the Pearl Izumi MTB Glove for Kids before hitting the trail. These low-profile gloves give the coverage they will need to avoid the sting of rough rocks and whipping tree branches on their hands, without adding so much padding that they'll struggle to get a grip on the bars. The feature a breathable back of hand, with polyester and elastane that stretch, and pull away moisture, while a reliable palm stands up to hours on the bike, and offers solid grip for the ride.
GiroDND Jr. II Gloves – Kids'
Giro's DND Jr. II Gloves for kids have many of the same features of the adult-specific gloves that carry the same name. As adults, we're grateful that the little guys didn't keep the DND Jr. IIs' four-way stretch, breathable mesh uppers to themselves. The same goes for the durable and ergonomically appointed AX Suede synthetic leather palm. After all, if these technologies hadn't trickled down to us, we wouldn't enjoy the same unimpeded bar feel that our kids do when they ride with their DNDs. If they keep sharing their tech with us, then maybe someday we'll help them preserve their dignity by teaching them what the soft wiping surface on the thumb is for. Maybe.
Seven iDP – Transition Gradient Glove (Youth)
A low-profile design and full, four-way stretch fit make the Seven iDP Transition Gradient Gloves a great option for kids who don't want to wear a bulky pair of gloves while riding. Without sacrificing comfort or protection, these gloves are designed in a manner that will make even the pickiest young rider happy. The color combinations, ranging from red, blue, or graphite gray with the company logo "airbrushed" across the top of the hands, make them cool to wear. Sizes include youth small through youth large, and the stretch fit and lack of fasteners make them easier to wear. Padded fingers and palms provide just enough coverage without being bulky, and the sleek, streamlined look will pair nicely with other types of gear.
Specialized LoDown Glove – Kids'
Just like mom and dad's gloves, the LoDown Glove offers a lightweight and comfortable feel to improve bar control and keep your young ripper feeling confident on the trail. Stretch nylon moves with you and wicks moisture, while a suede palm with LifeLine construction keeps them gripped to their bars.
Zoic Clutch Cycling Gloves – Kids' – Primal
Perfect for your little cycling adventurer, the Zoic Clutch cycling gloves offer amazing fit, durability, control and new touch sensors for their favorite electronic devices.
FreeMaster Full Finger Gel Cycling Gloves
Designed for women, but in sizes that will fit older girls and teens, the FreeMaster Full Finger Gel Cycling Gloves are comfortable and attention-getting. The palms of the gloves feature a material that's anti-abrasive, providing plenty of protection, as well as anti-slip and anti-shock, thanks to built-in pads. The thumb section is made of wick-able terry cloth, while the other fingers contain a capacitor material designed to allow for plenty of smartphone use without having to remove the gloves mid-ride. Sizes include small, medium, and large, all with a hook and loop wrist fastener. With a whimsical butterfly and flower design, as well as pink accents, your young rider will make an impact on the trail in these gloves.
https://mtbwithkids.com/wp-content/uploads/2020/04/best-mtb-gloves-2020-900.jpg
470
900
Brett
https://mtbwithkids.com/wp-content/uploads/2016/05/logo-mtbk-400-300x157.png
Brett
2020-04-02 13:48:25
2021-02-23 02:54:17
Mountain Biking Gloves For Kids