Looking for the best  12-inch bikes for kids? These 12-inch wheel bikes are made for the smallest riders. Our list includes only balance bikes. Why? A balance bike is an excellent first step to help your kiddo learn balance and steer on two wheels. No pedals means that your rider will have an easier time learning to balance and will build confidence quickly. For more info on balance bikes check out The Glory of Balance Bikes.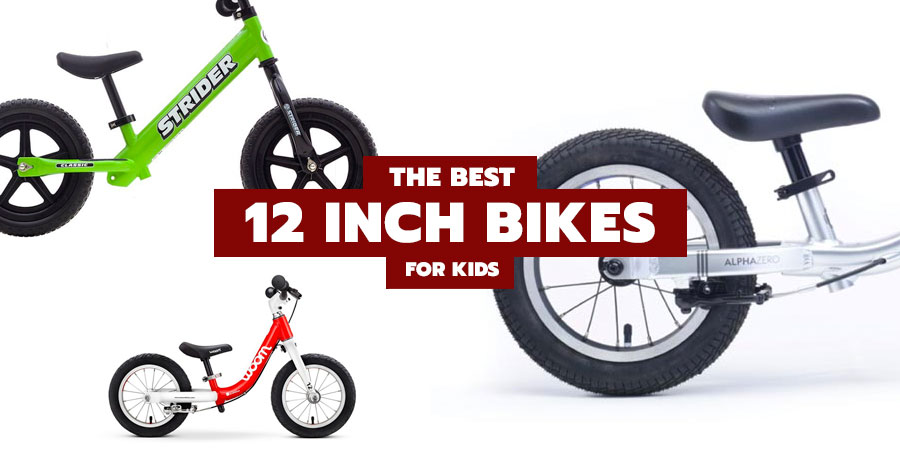 12″ Wheel Balance bikes
If you are looking for a first bike for your 1-3 year old, we're true believers in the magic of the balance bike. Balance bikes are the best first step to help your kiddo develop the coordination to balance and steer without having to think about pedaling. Most important, be sure to choose a balance bike that will fit your little one. Be sure the minimum seat height is low enough for your kiddo to sit on the seat with both feet touching the ground. First, measure your child's inseam length to determine minimum seat height. Then look for a balance bike with the largest diameter wheels that will accommodate your child.
Note: Taller 2-3 year old kids may fit better on a 14-inch or even 16-inch wheel bike. Check out our lists of Best 14-inch bikes and Best 16-inch bikes before making a purchase.
Here is an overview of our top five 12-inch bikes for 1, 2, and 3 year old kids
Check out the comparison table at the end of the article to see all the size, weight and other data in one place.
Prevelo Alpha Zero – 12-inch balance bike
The Alpha Zero balance bike is a great ride to help little ones learn balance before they jump on a pedal bike. Firstly, the Alpha Zero features a lightweight 6061 aluminum frame. Secondly, the Alpha Zero comes with Tektro rear v-brakes with small reach brake levers. This will help your kid learn to brake before they learn to pedal.
As expected, Prevelo goes the extra mile to engineer bikes for kids to be confidence inspiring, easy, and fun to ride as possible. Above all, Prevelo bikes feature low minimum seat heights and low bottom brackets. This geometry places the rider close to the ground (lowering the center of gravity) to help kids feel more confident, learn easier and ride better.
Buy this balance bike from:
| | |
| --- | --- |
| Saddle Height | 11.5in - 15.6in |
| Drivetrain | Balance Bike |
| Frame Material | 6061 Aluminum/Alloy |
| Brakes | Rear V-Brakes |
| Claimed Weight | 8.5lbs |
Strider 12 Classic Balance Bike
The Strider 12 Classic is the traditional entry-level balance bike. There are no unnecessary bells and whistles on this simple and durable 12-inch bike for kids. The Strider Classic 12" balance bike is lightweight to help make learning to ride easier for first time balance bike riders. Importantly, the Strider classic utilizes basic characteristics as the top-selling Strider 12" Sport at an affordable price for the budget-minded family.
Buy this balance bike from:
<!–– next button ––> <!–– next button ––> <!–– next button ––>
| | |
| --- | --- |
| Saddle Height | 11in |
| Drivetrain | Balance Bike |
| Frame Material | Aluminum/Alloy |
| Brakes | None |
| Claimed Weight | 6.7lbs |
Hornit Airo 12 Kids' Balance Bike
Hornit designed the Airo 12-inch bike for kids to be user-friendly and safe. Firstly, the frame has integrated footrests with grip tape to let your little shredder experiment with coasting. Secondly, the aluminum rims and air-filled rubber tires are durable and provide lots of traction. Thirdly, the neoprene-padded stem prevents harsh impacts. Finally, this bike comes in a wide variety of colors, so you can deliver the goods in their favorite shade! The recommended inseam is 11.8 inches – 18.1 inches. Your kiddo will love the look and feel of this balance bike.
Buy this balance bike from:
| | |
| --- | --- |
| Saddle Height | 12 inches+ |
| Drivetrain | Balance Bike |
| Frame Material | Magnesium |
| Brakes | None |
| Claimed Weight | ? |
Woom 1 Balance Bike – 12-inch wheels
The Woom 1 Balance Bike features a high quality and light weight frame and components. Most importantly, the Woom 1 has an extremely low step-through height and an adjustable seat height to fit the smallest riders. Specifically, Woom designed this bike for ages 18 months-4 years or height 32″-39″. In addition, the Woom 1 comes with high quality V-brakes to enable easy braking at an early age.
Buy this balance bike from:
| | |
| --- | --- |
| Saddle Height | 10.2in - 14.5in |
| Drivetrain | Balance Bike |
| Frame Material | Aluminum/Alloy |
| Brakes | V-brakes |
| Claimed Weight | 7.4lbs |
Kikstnd 12-inch Balance Bike
The Kikstnd Balance Bike is built with a lightweight aluminum alloy frame and a durable steel fork. This 12-inch bike for kids boasts grippy twelve-inch rubber pneumatic tires. It also has a soft cushioned seat for superior comfort and ride quality. The 12-inch tires and small frame size are best suited for kids ages 2 through 4. The seat height can be adjusted from 13 to 17 inches allowing the bike to fit properly for several years as your child grows.
Buy this balance bike from:
| | |
| --- | --- |
| Saddle Height | 13-17 inches |
| Drivetrain | none |
| Frame Material | Aluminum/Alloy |
| Brakes | none |
| Claimed Weight | ? |
Comparison chart: Best 12-inch wheel bikes for 1, 2 or 3 year olds 
| | | | | | |
| --- | --- | --- | --- | --- | --- |
| | PreveloAlpha Zero | Strider 12 ClassicBalance Bike | Hornit AeroKids' Balance Bike | Woom 1Balance Bike | KikstndBalance Bike |
| Saddle Height | 11.5-15.6 inches | 11 inches | 12 inches | 10.2-14.5 inches | 13-17 |
| Drivetrain | balance bike | balance bike | balance bike | balance bike | balance bike |
| Frame | 6061 aluminum alloy | aluminum alloy | aluminum alloy | aluminum alloy | aluminum alloy |
| Brakes | rear V brakes | none | none | V brakes | none |
| Claimed Weight | 8.5 pounds | 6.7 pounds | ? | 7.4 pounds | ? |
https://mtbwithkids.com/wp-content/uploads/2022/06/Best-12-inch-bikes-for-kids.jpeg
470
900
Traci
https://mtbwithkids.com/wp-content/uploads/2016/05/logo-mtbk-400-300x157.png
Traci
2022-06-18 14:53:32
2022-06-20 22:41:43
Best 12-inch Bikes For Kids