Moab Mountain Biking Trails for Kids/Beginners – Moab is home to some of the best mountain biking trails on the planet! But before you take on The Whole Enchilada, Slickrock Trail, Captain Ahab, and others with your small kids or beginner mountain bikers – you gotta start small and start safe. This list Moab trails for kids is made up of our favorite beginner mountain bike trails in the area.
Moab Trails for Kids = Family Mountain Biking Fun
One of the best things about mountain biking in Moab is that there is plenty to do. In fact, you can introduce your kids to mountain biking with one of these short rides and hike surreal desert landscapes on the same day. As  your children's mountain biking skills increase you can return to Moab and go on longer, more technical rides. Without doubt, Moab is a great place to spark a love for mountain biking.
Jurassic Trail

Area: Klondike Bluffs | Distance: 3.2 miles one way 
A perennial favorite of Moab trails for kids, the Jurassic Trail is a beginner-friendly smooth singletrack trail with very little elevation change. This hardpacked dirt trail skirts the edge of a mesa. The Jurassic Trail is located in the Klondike Bluffs mountain biking area, a network of 50+ miles of singletrack located 20 minutes north of Moab.
Getting Started
The Jurassic trail begins half a mile north of the south parking area. This trail can be reached via Inside Passage (single track but more climby) or on the 4×4 Klondike dirt road (boring but flat).
Jurrasic Trail Overview
The Jurassic Trail is a smooth singletrack trail with almost no elevation change. Jurassic follows the edge of the mesa to the west of the Copper Ridge road. There are no difficult climbs (7% max grade). Above all, there is nothing technical to make beginners uncomfortable.
We'd recommend this trail for beginners since there are no technical challenges. For that reason, intermediate riders might choose to opt for the Dino Flow trail found in the same area. Dino Flow will add a bit more technical challenge.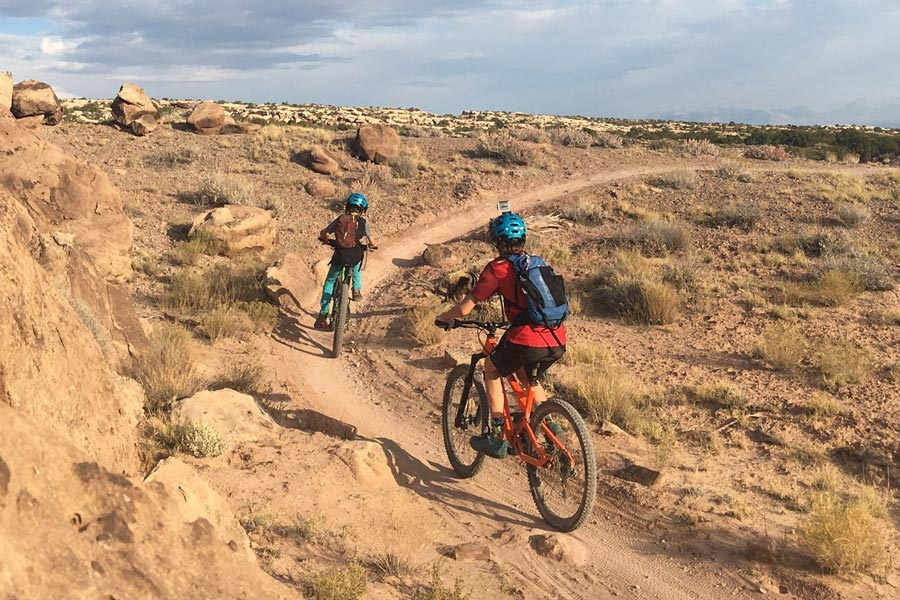 Getting To Jurassic Trail In Moab, Utah
The Jurassic Trail is most easily accessed from the South Klondike Trailhead in the Klondike Bluffs area. To reach the trailhead from Moab, drive north on Hwy 191 for 16.0 miles to the signed junction for Klondike Bluff Road. Turn right onto Klondike Bluff Road and continue 2.9 miles on the unpaved road to the South Klondike Trailhead. NOTE: There is no water available in the area, so be sure to plan ahead!
The Great Pyramid Loop

Area: Dead Horse Point – East side trails (Intrepid Trail System) | Distance 4.2 miles 
The Great Pyramid Loop is perhaps the most scenic trail in our list of Moab trails for kids. The Intrepid Trail System was designed for riders of differing skill and fitness levels. The Great Pyramid Loop is a fun loop for families with beginner riders who have some experience riding on dirt. The Great Pyramid is technically easy and mostly flat with some gentle climbing on first half of the loop, so you get to end on a downhill.
Getting Started
The trail system starts at the north end of the Dead Horse Point visitor's center parking lot. After a short length of two-way trail (Intrepid), it forks into a loop. Of course, this trail can be ridden as an out and back if you decide to turn around at any time.
The Great Pyramid Loop Overview
The Great Pyramid Loop (Intrepid – Great Pyramid- Raven Roll) is easy to follow. You'll find signs at each intersection and rocks and logs define the trail. The trail is mostly well-packed dirt with a few rock and very short sand sections. There are no true technical areas to speak of. However, you'll come across a few small rock steps (2-5″ in height) that true beginners might choose to walk over. Although the trail has great views, it is more than 50 feet away from the cliffs so parents can relax while biking with kids. Be sure to take the time to hike out to the marked overlook points (Colorado River Overlook and Pyramid Canyon Overlook) along the trail.
NOTES: Dead Horse Point altitude is around 6000 feet. As soon as you arrive at the trailhead, you may notice the elevation. Thus, it's usually at least 10 degrees cooler there than in Moab. Importantly, there are bathrooms and water available in the visitors center at the trailhead and at the group picnic site. The Great Pyramid Loop trail flows well and is a super fun ride. All things considered, riders of all ability levels will enjoy this loop.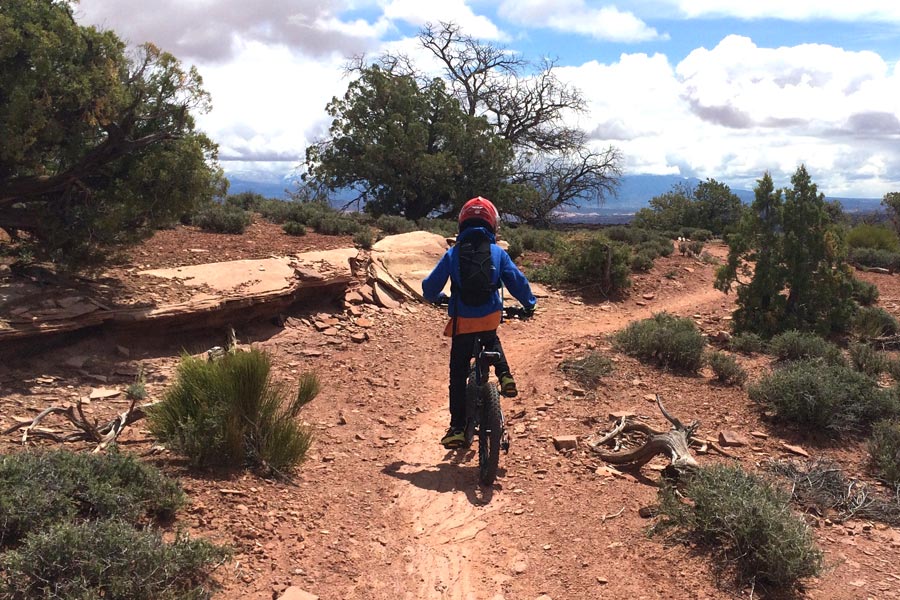 Getting To The Great Pyramid Loop Trail In Moab
About 10 miles north of Moab, turn west off Highway 191 towards Canyonlands National Park on Highway 313. Drive 14 miles and turn left toward Dead Horse Point. Four miles later, pay your entry fee. At this time, $15 per car, significantly higher than most Utah state parks. Then drive another two miles to the visitors center. The trailhead is at the north end of the parking lot.
Lazy-EZ Loop

Area: Moab Brand Trails System Distance | 3.1 miles 
Take note that this ride is best suited for competent beginners and intermediate riders. A fun loop for competent beginners and early intermediate riders. This loop is a bit more challenging than the Bar M trail for beginner riders who are hoping for a little bit of challenge. The Lazy EZ Loop is a 3-mile singletrack loop made of two different trails – Lazy is the eastern trail and EZ is on the west. This loop has is designated as a one way loop, which makes for less trail congestion.
Prepare for around 150 vertical feet of mild climbing.
Getting Started
To get to the start of EZ/Lazy, take the double track Short Loop 1/10 of a mile from the main parking area. This loop is designated as a one-way ride starting with EZ, so take a right at the trailhead.
Lazy – EZ Overview
EZ offers nice views of the Wingate cliffs to the west. EZ trail skirts the edge of a small ridge and is mostly smooth hardpacked dirt with a few slick rock sections. There are a few rock outcrops that are mellow enough for beginners to ride with little concern. After about 1.5 miles, you'll come to the Lazy Trail.
In comparison, Lazy has more downhill than up and is fun to ride. From Lazy, you'll enjoy views of the La Sal Mountains and Arches National Park The loop travels over rolling desert terrain. Whats more, you'll be treated to long views into Arches National Park to Balanced Rock, the Windows and the Klondike Bluffs. This trail is fun! Accordingly, we especially enjoy the swoopy downhill section near the end.
Get out there and enjoy the ride! The Lazy-EZ loop is a nice trail for riders of all skill levels. Beginner riders will find it mildly challenging. In conclusion, not only is Lazy EZ a nice loop in itself, it also accesses other trails so you can extend your ride if you choose.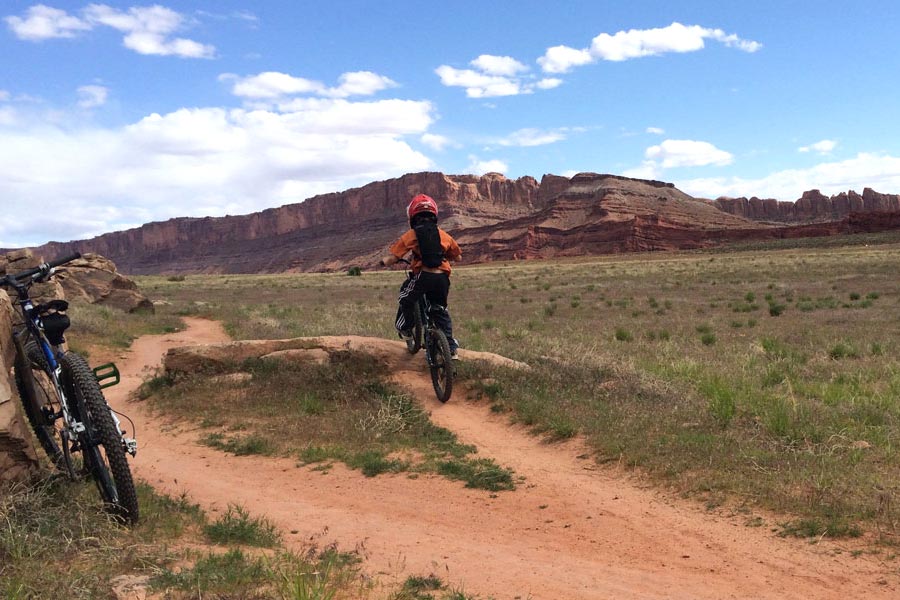 Getting To The Lazy EZ Trail In Moab
To get to the Moab Brand Trails System, drive 7-miles North of Moab on Highway 191. Turn east onto a gravel road – opposite from the Gemini Bridges turnout. You'll see Bar M signs advertising a cowboy dinner. After getting off the highway, immediately turn right and continue down the road as it curves left into a dirt parking lot. The ride begins here.
Bar M Loop

Area: Moab Brand Trails System North of Moab | Distance: 8 miles 
This ride is best suited for true beginners and intermediate riders who would like a warm-up ride. Bar M Loop is a super easy well signed mostly double track ride with beautiful desert scenery. There is hardly any change in elevation. Many families ride this trail, including baby trailers and trail-a-bikes. The loop is eight miles long, but does have several escape trails throughout the area in case you need to get back to the parking lot quicker than planned.
Bar M Overview
Firstly, the east side of the loop has a few non-technical slickrock spots to play around on. Secondly, it's a great area to give true beginners a taste of what slickrock riding is all about. In addition, there are also a few short downhill sections to get the amazing feel of flowing effortlessly through the desert on your bike. As soon as you get here you can pick up speed and blast down through the sand and stone to see what your bike is capable of. Fear not though, there's nothing technical on this trail.
Surprisingly, the views also become more dramatic as you can see Arches National Park in the distance. Keep an eye out for spur trails that lead to overlooks for even better vistas.
Overall, the ride consists of mellow singletrack with a few low-threat technical sections for beginners to test their mettle (but if anything is still too hard, there's no shame in walking.) Despite these few rocky spots, overall the path is smooth, well marked, and excellently maintained. To conclude, this is an amazing trail system for beginning riders and one of our top 5 Moab trails for kids.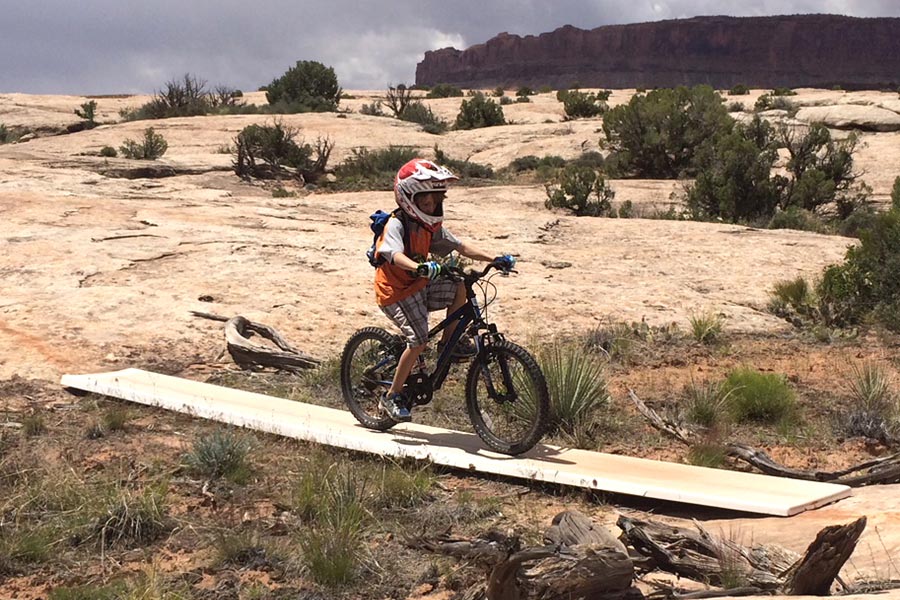 Getting To The Bar M Loop In Moab
To get to the Moab Brand Trails System, drive 7-miles North of Moab on Highway 191. Turn east onto a gravel road – opposite from the Gemini Bridges turnout. You'll see Bar M signs advertising a cowboy dinner. After getting off the highway, immediately turn right and continue down the road as it curves left into a dirt parking lot. The ride begins here.
Moab Canyon Pathway and Highway 128 path (paved)
Importantly, the Moab Canyon Pathway follows the former path of Highway 191. This path has been re-paved and extended so it forms a nice paved bike path from the north end of Moab to Highway 313. Connecting to this trail at the Colorado River is the paved path along State Route 128.
Moab Canyon Pathway
The Moab Canyon Pathway is a great for a couple reasons. Firstly, this trail can be ridden as a destination in itself or as a connection to Brand Trails, Gemini Bridges or Highway 313. The path begins at the pedestrian/bike bridge that crosses the Colorado River on Highway 128, just north of Moab. Additionally, the super smooth blacktop snakes through 2 miles of the red rock canyon to the entrance of Arches National Park. The path continues past Arches National Park for another 6.5 miles, and 525 vertical feet of climbing, crossing under Highway 191 to the beginning of Highway 313.
Since this paved, parents can pull their babies behind their bikes in trailers. In addition, riders of all ages can enjoy the pathway, even if it is just for a leisurely stroll. Kids can try their new bikes on the flat sections on either end, since only the middle 4 miles have noticeable grade.
Mountain bikers may choose to use the paved bike path for direct access to the multiple trails at the Moab Brands Trail System and Gemini Bridges area (near mile 6). Undoubtably, this will add a great warm-up on pavement to the trail ride. From there, mountain bikers can access unlimited miles of dirt and slickrock routes including the Sovereign Trail, Bartlett Wash and Monitor & Merrimac areas.
Summing up, the Moab Canyon Paved Path is one of the most scenic bikeways around. It connects the Courthouse Wash trailhead near Arches National Park with Highway 313 that leads to Canyonlands National Park. Additionally, along the way, the trail provides access to the Bar M trails and the Mag 7 trails (Gemini Bridges).
As has been noted, the Moab area has lots of fun for the whole family. With this in mind, we hope this list of Moab trails for kids is helpful in planning your family mountain biking trip to Moab. What have we missed?  We'd love to have you contact us on Facebook or Instagram and share your favorites.
Check out the MTB with Kids Destinations and Trails page for more ideas on family adventures.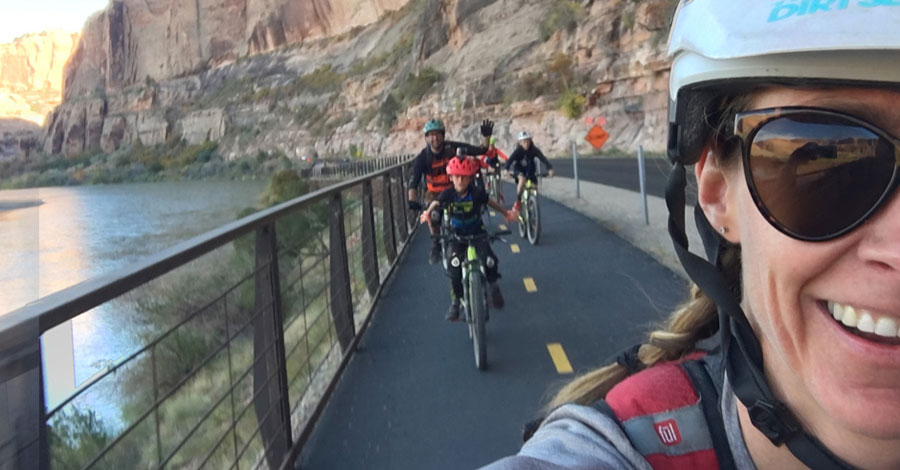 https://mtbwithkids.com/wp-content/uploads/2018/12/moab-trails-feat900x470.jpg
470
900
Traci
https://mtbwithkids.com/wp-content/uploads/2016/05/logo-mtbk-400-300x157.png
Traci
2020-10-12 00:25:08
2022-11-15 03:47:56
Moab Mountain Bike Trails For Families, Kids And Beginners