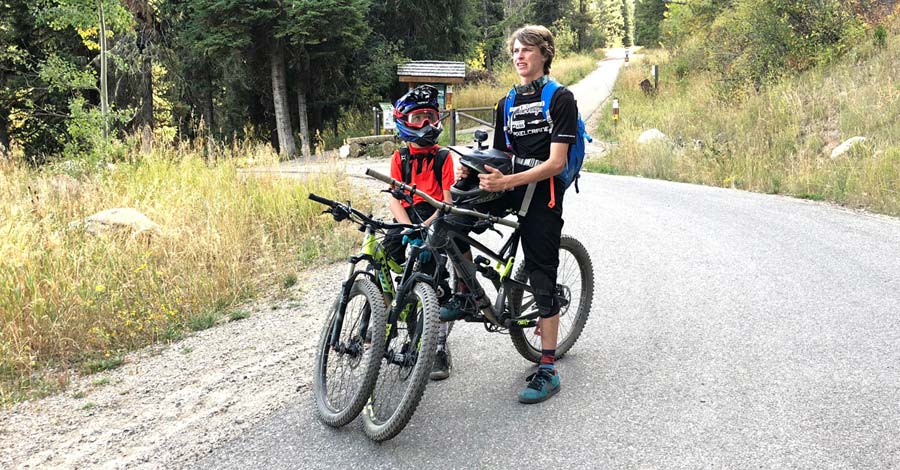 Mountain biking with your kids is fun, challenging and healthy. We all want our kids to love being out in nature on their bikes – but that enjoyment is dependent on having the right equipment. Choosing the best mountain bike for your kid can be difficult. Here's our list of things to consider so you can choose the right kids mountain bike:
When It Comes to Kids' Mountain Bikes – Fit Is It!
There are many variables to weigh, but in our opinion, getting a mountain bike that fits your child is the most important element. Proper fit directly affects ease-of-use and safety. Although the temptation is understandable, we don't recommend buying a bike for your son or daughter to grow into. If your kid cannot safely ride the bike, because she can't reach the ground or comfortably squeeze the brakes, the financial "value" decreases dramatically. You'll minimize crashing and increase fun by choosing a bike that fits your kid. Make sure you consider:
Stand-Over Height: Regardless of wheel size, your kid should be able to straddle the bike with both feet flat on the ground.
Seat height: Your child needs to be able to touch the balls of her feet on the ground while seated on the saddle.
Reach: Your kid should be able to comfortably reach the handlebars with elbows slightly bent when sitting on the seat. Handbrakes should be easily reachable and squeezable while seated.
Mountain Biking Ability/Experience
Although many bikes are marketed for kids of certain ages, age has nothing to do with selecting the right bike. At the same age, some kids may be able to balance, steer, pedal and brake, while others will still need time to work on balance alone. Knowing your child's physical ability will help you choose the right bike for them.
Bike Weight
The first 20-inch bike our son rode was as heavy as my adult bike. When you consider the ratio of the weight of the bike to a kid's weight, many kids' bikes are more than one-half the rider's weight. Weight makes a bigger difference to the enjoyment and control of a child's bike than an adults, because kids are smaller and not as strong. We recommend buying as light a bike as you can. Luckily, more bike manufacturers are making lightweight bikes for kids.
Brake Options For Kids' Mountain Bikes
Coaster brakes can make it easy to slow down or stop by back-pedaling. On the other hand, coaster brakes add weight and your child will still need to learn to use a hand brake when they move to the next size bike. Many kids' bikes have a hand brake in addition to coaster brakes or just left the coaster brake off altogether in favor of hand brakes. Having both coaster brakes and hand brakes can be useful if your kid isn't strong enough to only use hand brakes, but you want to get them started on learning how. Some bikes that have coaster brakes also have a freewheel option so you could take it to the shop to get rid of the coaster brake once your kid is fine with just using their hands. Once your kid starts riding real trails, disc brakes can help them with increased control and stopping power.
Suspension Options For Kids' Mountain Bikes
If you mountain bike with a bike with suspension, you most likely appreciate the way it benefits your riding. Although many kids (and parents) like the looks/idea of a bike with a front shock, we recommend a rigid fork – unless your kid is hucking big drops. Unfortunately, the suspension on most low to mid range kids mountain bikes is cheap, heavy and ineffective. Kids often don't have enough mass to really compress a front shock. If your kid is riding the kind of gnarly single-track that would justify adding the weight of a shock to their bikes, you may need to look into purchasing a shock and swapping out the one that came with the bike unless you're looking into the high end bikes with the best components.
Gears. How Many Is Too Many? Too Few?
For true beginners or those riding mostly in their neighborhoods, single speed bikes are great! Single speed bikes are easier to manage, lighter, and less likely to need mechanical fixes. Once you start to get on a trail with climbing and descending, gears can greatly increase the fun and decrease the work of getting up hills. You'll see kids' bikes with up to 27 gears which is both confusing and heavy. In our opinion, a 1x with 7-9 gears is enough to give your kid the range to make it up steep hills and still pick up some speed when its flat.
Shifters: Grip Shifters Vs. Trigger Shifters
It's surprising how many gear shifters on kids bikes are difficult to operate. Look for child-sized components that can be operated easily by small hands. Kids have differences in motor skills and strength. We recommend you take you child to a bike shop to try out the different types of shifters. Our oldest son was able to use grip shifters easily, but our youngest struggled with the twist shifters and greatly preferred the trigger shifters.
Dropper Posts
This won't apply to all young mountain bikers, but if you have a dropper on your mountain bike, you understand the difference in can make in your confidence and ability to climb, descend and maneuver on trails. There are not many kids' mountain bikes that come with droppers. We added a used dropper post to our 11 year old's bike last year and it made a HUGE difference in his riding.
Should You Buy A New Or Used Mountain Bike For Your Child?
There are many websites for buying and selling bikes, it's not a bad idea to check them out. You might find a deal! Even if you buy new, consider the re-sale value when purchasing a kids' mountain bike. When our kids were racing BMX, we often purchased a higher quality used bike for $300 and re-sold it for $200 after they grew into the next size. This resulted in us getting a much better value than purchasing a cheap bike for $100.
Local Bike Shop Or Big Box Store?
If you're purchasing a new mountain bike for your child, we highly recommend purchasing from your local bike shop. A bike purchased in your local bike shop will have been built by a pro who will ensure it is safe. And if you've never tried to dial in V brakes, you'll know that it's something you'll be happy the experts will do. When you have questions, the experts can give specific advice for choosing the best bike your child.
Ready To Find The Best Mountain Bike For Your Kid?
Check out our kid's mountain bike database. This database allows you to filter kids' mountain bikes by wheel size, manufacturer, cost, brake type, suspension options, standover height, shifter type, and other variants to help you find the best mountain bike for your kid's needs!
https://mtbwithkids.com/wp-content/uploads/2018/03/ten-things-to-know-when-buying-a-kids-mountain-bike-v3.jpg
470
900
Traci
https://mtbwithkids.com/wp-content/uploads/2016/05/logo-mtbk-400-300x157.png
Traci
2018-03-29 03:50:00
2018-11-05 20:23:26
10 Things To Know Before Buying A Kid's Mountain Bike