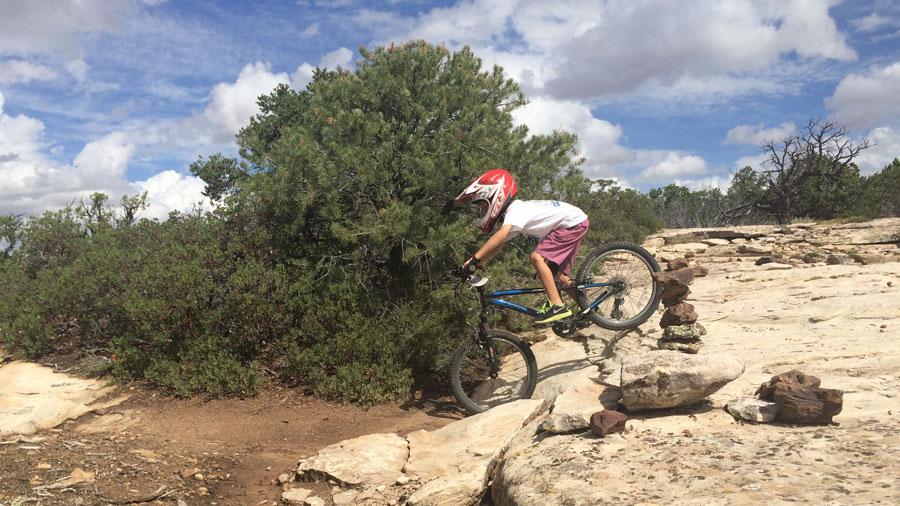 Tips for mountain biking with kids – Your kid is finally old enough/big enough to start riding a real mountain bike with you. Welcome to the club! It has taken years for you to get here. We are excited for you and your family. Now what?
Be aware that getting your kids to like mountain biking and ride with you can be a big investment and a long, arduous process. If your kids dig it right-off-the-bat, congratulations. You're a long way ahead of most families.
Our family has already gone through the tough stuff with getting our kids started on mountain bikes. We're not experts and it was not always easy. We have made many, many mistakes. There have been buckets of tears and a few total melt-downs – mostly but not solely from the kids.
Some of the things we've learned the hard way as our family has gained experience mountain biking are contained in the articles below. Click a link to read our tips for mountain biking with kids.
1. Set The Foundation And Ride Often
2. Have The Right Mountain Bike And Gear
3. Prepare To Ensure Success
4. Don't Get Hangry
5. Choose Trails Wisely
6. Recognize Hard Work
7. Enjoy The Journey
https://mtbwithkids.com/wp-content/uploads/2017/04/getting-started.jpg
506
900
Traci
https://mtbwithkids.com/wp-content/uploads/2016/05/logo-mtbk-400-300x157.png
Traci
2017-04-26 00:48:59
2020-05-08 16:25:07
Top 7 Tips for Mountain Biking with Kids