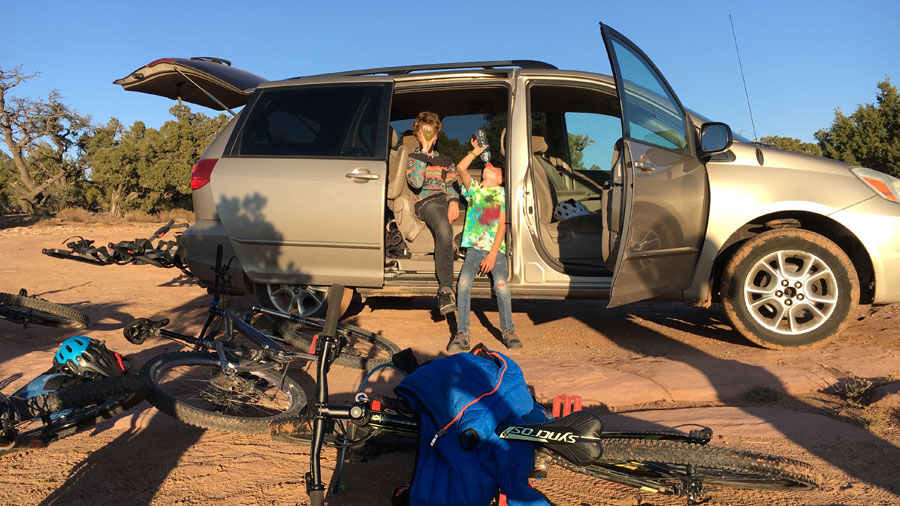 Have you ever "hit the wall" on a mountain bike ride? If so, you know how you feel like you have no energy, that you cannot pedal any more – like a car running out of gas. This happens to kids, too – and it happens to kids earlier because they have less energy stores in their muscles. Providing snacks for mountain biking kids is important if you want to enjoy your family ride. Your child will run out of energy more quickly than you, especially if you have a good level of fitness.
Hitting the wall or bonking is a condition caused by the depletion of glycogen stores in the liver and muscles, which leads to sudden fatigue and loss of energy. In kids, hitting he wall can start with whining and quickly progress into a total meltdown. Proper nutritional timing is like putting gas into your tank. If you wait until the tank is empty, it is too late! The way to head this feeling off is to make sure to have enough snacks to sustain your kid's glucose levels throughout the ride.
Healthy Snacks – 
We have learned (the hard way) to never leave for a mountain bike ride without kid friendly snacks. Fruit (fresh or dried), nuts, granola/energy bars and string cheese are healthier options. Break out the snacks at least once per hour. (Sooner if the trail is tough, or if you sense impending whining). Here are a few of our current favorites:
Trader Joes Dried Flattened Bananas – These look like peeled bananas that have been left out for too long. The first time I bought these, our kids were a bit put off by the looks. Once they braved a taste, the kids were hooked on these ultra sweet treats! Our kids enjoy rolling their own banana fruit roll ups when we hand out pieces on the trail.
Bare Natural Apple Chips – These yummy apple chips are thin, crunchy and flavorful. There are several varieties. Our kids loved them from the first bite. The only negative is that they are a bit pricey.
Stretch Island Fruit Leather – These fruit leathers are a family mountain bike staple. They are flat and packable with the added bonus of no artificial colors or flavoring. There are many flavor varieties, so kids can choose (although they taste relatively similar to me).
Our kids love the Honey Stinger Stinger Waffles – Since we only eat them on the trail, they retain their appeal.
Treats – 
CANDY! Although we generally try to limit the amount of sugar and candy our kids eat, we often make an exception for mountain bike rides. There is a lesson to be learned from the power of the treats that are given out after every kids' soccer game – leave the kids with a "sweet" memory of the experience. You may want to have certain fun foods that you only eat on mountain bike rides. This keeps them special. Even better, let your kids pick out their own special snacks for mountain biking.
Picnic Lunch – 
For longer rides where there may not be an exciting "destination", a picnic lunch can be just the ticket. Planning a mountain bike picnic lunch does not have to be difficult. A few sandwiches, fruit and a juice box and you have a destination right in your backpack.
Water – 
Anytime children mountain bike in warm/hot weather, you'll want to make sure they do not get dehydrated. Your kid will be more susceptible to dehydration in especially hot and/or humid weather, if he/she is overweight or unused to vigorous activity or isn't well rested. You can help your kids by encouraging them to drink plenty of fluids before and during rides, and taking regular beverage breaks — even if they aren't thirsty.
Go to: MTB with Kids Tip #5  Choose Trails Wisely
https://mtbwithkids.com/wp-content/uploads/2017/04/bring-food.jpg
506
900
Traci
https://mtbwithkids.com/wp-content/uploads/2016/05/logo-mtbk-400-300x157.png
Traci
2017-04-26 00:41:15
2019-11-27 00:19:34
Don't Get Hangry! Our Favorite MTB Snacks for Kids