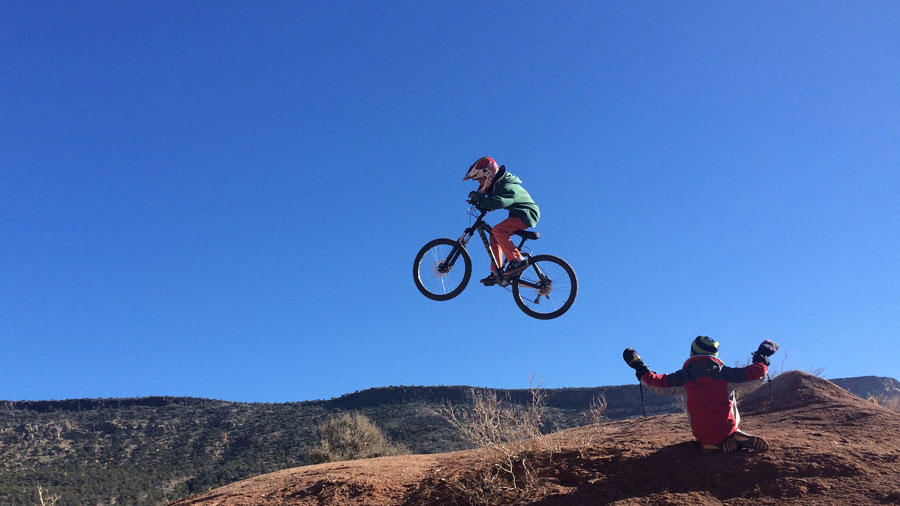 Parents who love mountain biking, hope to help our own kids love mountain biking. How do we do this?  When our kids were very young and just starting the sport, we never knew if we would finish the ride with our kids crying and complaining or laughing and asking to do it again. We did some research on encouragement and praise and started trying some of the recommendations that we found.  Here's some of what we learned.
Parents are Powerful
Kids want to be recognized for their accomplishments and hard work – especially by their parents. In order to foster intrinsic enjoyment of mountain biking, it's important to use the right language when praising our kids. Repeating a single phrase like "good job" is not effective and can backfire because repetitive praise can sound disingenuous. Here are some tips to show your kids that you noticed their mountain biking efforts and help them to recognize their improvement and accomplishments.
Praise The Process, Not The Person
Research shows that kids praised for their efforts rather than their abilities tend to choose tasks that are more challenging and are more interested in learning new ways to achieve success. Try to take note of what your kid does well on the trail and remark on the process.
Instead of "You are such a good climber", say "You worked hard to get up that steep hill, nice climbing!"
Instead of "You are fast!" try "You're riding faster around the corners today, you are gaining great bike control"
Emphasize Effort And Strategy While Your Kid Is Mountain Biking – Not The Outcome
Part of the fun of mountain biking is the effort and strategy involved. Each ride presents new challenges and kids have to figure out how to best handle them. If you can point out the ways that your kid is dealing with these mtb challenges, you can increase their confidence, which can encourage them to keep trying.
"I saw how you stood up to push to the top of that hard climb, good work!"
"You found a good way to steer around that root"
"I noticed that you're getting off your bike to walk when you feel uncomfortable. Riding within your ability zone is very important – way to go!"
Non-Verbal Signs Of A Job Well Done
High fives and fist bumps demonstrate approval. You can even come up with your own special ways to celebrate successes – like a secret high five/knuckles combination that is only known by you and your kids.
Keep It Real
Don't inflate praise – you kid will spot a false compliment a mile away. Recognition doesn't need to be glowingly positive to work. You can completely leave out judgement on whether you think something is "good" and just let your kid know he/she has your attention. Using the phrases: "I noticed" or "I see" are two ways to do this.
"I noticed that you are riding right in the middle of the trail."
"I see that you're riding in a middle gear"
or "I saw you get your bike over that big rock"
Effective praise can help your child recognize his/her accomplishments and boost confidence on and off the bike! This is just one step to help our own kids love mountain biking.
Go to: MTB with Kids Tip #7  Enjoy the Journey
https://mtbwithkids.com/wp-content/uploads/2017/04/recognize-good-work.jpg
506
900
Traci
https://mtbwithkids.com/wp-content/uploads/2016/05/logo-mtbk-400-300x157.png
Traci
2017-04-26 00:24:14
2019-12-12 02:08:18
Parents Can Help Develop Kids' Love of Mountain Biking