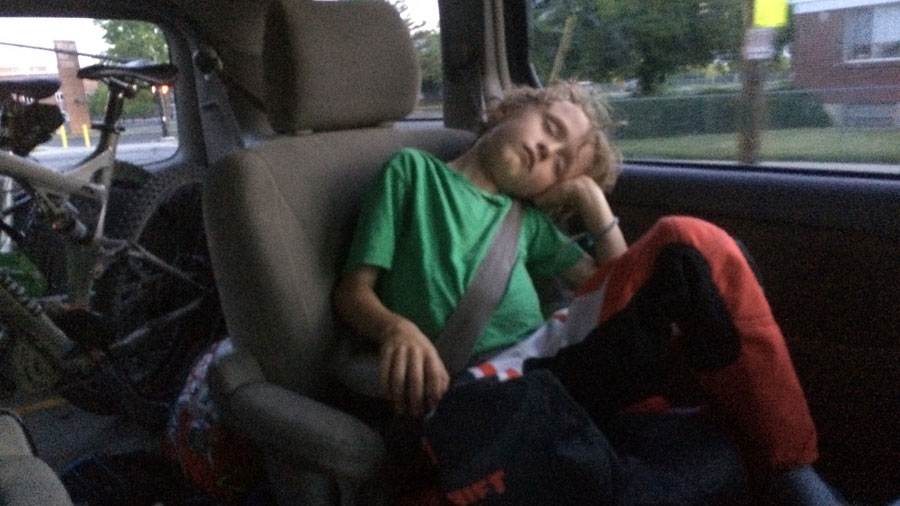 Make mountain biking fun for kids! If you had to drive to get to your mountain bike ride, the ride home is still part of the ride in your kid's mind. Taking a few steps to make the ride home enjoyable can make the memory of a bad ride better and a good ride, great!
Re-Fuel – Bring a cooler with cold drinks for the ride home. Chilled fruit and veggies are great for the way home. You know that food tastes great after hard, physical work. Take advantage of this opportunity and try to balance the junk you fed them on the trail with some healthy, delicious food.
Connect – Take the time to chat with your kid about things that he/she did especially well or really enjoyed on the mtb ride. If the ride was challenging for your child, acknowledge them for there perseverance. Don't forget to mention that you really enjoyed your time together.
Get comfortable – Bring extra clothes and socks for the ride home. If it's late, they can change into their pajamas and cover up with blankets for the ride home. Our kids like to change into their slippers in the car!
Relax – Sometimes, it's just nice to chill. Play some good music or listen to a book on tape. We listen to a LOT of books on tape while traveling to and from mountain biking rides. Here are some links to information about some of out favorites:
Audio Books We Like, Volume 01
https://mtbwithkids.com/wp-content/uploads/2017/04/ride-home-2.jpg
506
900
Traci
https://mtbwithkids.com/wp-content/uploads/2016/05/logo-mtbk-400-300x157.png
Traci
2017-04-26 00:15:38
2019-12-12 02:19:26
Mountain Biking with Kids is a Journey, Not a Destination