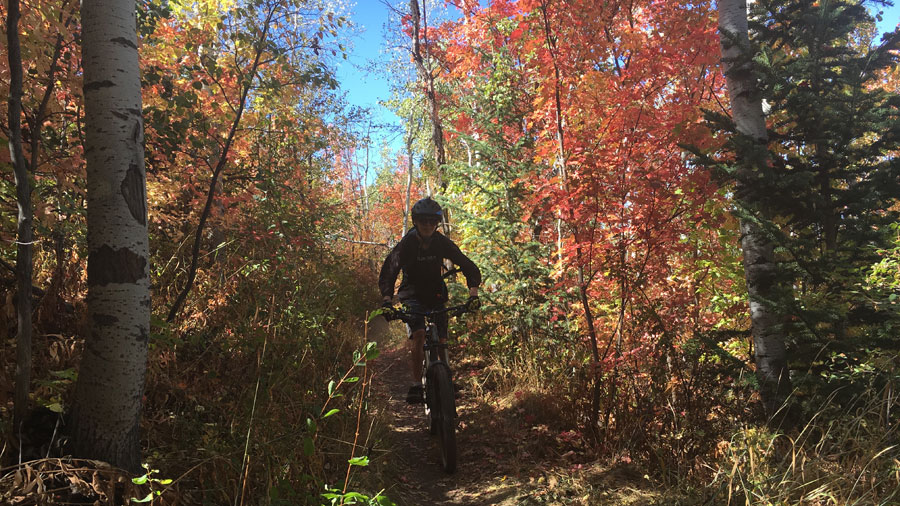 We don't believe that over-spending for a kids bike is the way to have a good experience. However, having proper kids mountain bike gear: a bike that works well, appropriate clothing for the weather and a helmet that fits properly is essential to helping your your rider build confidence and ride happy.
The Mountain Bike
Mountain bikes for kids have changed quite a lot over the last few years. For some sizes and builds, the options for your children's bikes are almost as plentiful as bikes for mom and dad. Several manufacturers now make premium quality mountain bikes for kids that are full-suspension, lightweight, and feature top-of-the-line components.
Size –  Since kids are always growing, its hard to always keep them in the right bike size, but bike fit matters a lot when mountain biking. A comfortable stand-over and seat height is probably the most important for comfort and safety. If your kid can't comfortable put his feet down when he/she needs to, it adds a level of fear to the ride that is unnecessary. When in doubt, err on a smaller bike. Remember that the larger the wheels the easier to roll over the bumps. Look for a bike with the biggest wheels available on a frame that will fit.
Weight – Kids bikes tend to be heavy. If your kids bike is half her weight, it will be understandably difficult to ride uphill. Can you even imagine riding a bike more than half your weight? When possible, choose a lighter bike with a good frame.
Components – Trigger shifters if possible. Grip shifters are difficult to twist while riding a dirt trail. Quick release skewers if possible. Disk brakes can make a huge difference.
Our kids mountain bike database allows you to filter kids' mountain bikes by wheel size, manufacturer, cost, brake type, suspension options, standover height, shifter type, and other variants.
Mountain Biking Helmets
The helmet is a hugely important piece of kids mountain bike gear. The helmet should fit well and be comfortable. Like kid specific mountain bikes, kid's bike helmets have improved and increased in number over the past few years. We recommend trying on several helmets to find one that  your kid will want to wear.  Check out our Bell Super 2R review.
Appropriate Clothing
First Aid Kit
Check to make sure your first aid kit is kid friendly. Some insect repellents and sunscreens in first aid kits are too harsh for children's skin. Supplement your kit with these items for kids:
Sunscreen
Children's Tylenol and/or ibuprofen (ask your physician for sample packs)
Liquid antihistamine
A lot of adhesive bandages (many different sizes and colors)
Plenty of Anti-bacterial wipes
Epipen if your child has allergies
Accessories
Wow, is it nice to have your kid be able to carry some of their own supplies.
Go to: MTB with Kids Tip #3  Prepare to ensure success
https://mtbwithkids.com/wp-content/uploads/2017/04/right-gear.jpg
506
900
Traci
https://mtbwithkids.com/wp-content/uploads/2016/05/logo-mtbk-400-300x157.png
Traci
2017-04-26 00:18:54
2019-11-28 21:00:04
How to Choose the Right Kid's Mountain Bike and Gear