Are you considering mountain biking the Whole Enchilada with kids? The Whole Enchilada is widely recognized as one of the best mountain bike rides in the world. It is located near Moab, Utah. Depending on your research and where you start the ride, you will see its distance is anywhere from 26-35 miles. The long end of this includes an approximate 5 mile section where you pedal back to your car on roads and paved bike paths. The ride is composed of different sections. If conditions allow, you will start at the Burro Pass section and descend through the Hazard County Section, Kokopelli Section, Porcupine Singletrack Section, and the Porcupine Rim Section. If you do this ride in its entirety, you will begin in an alpine environment at an elevation of over 11k feet with aspen groves and stream crossings. At the end of the day, and 7k feet vertical descent – you are back in the desert.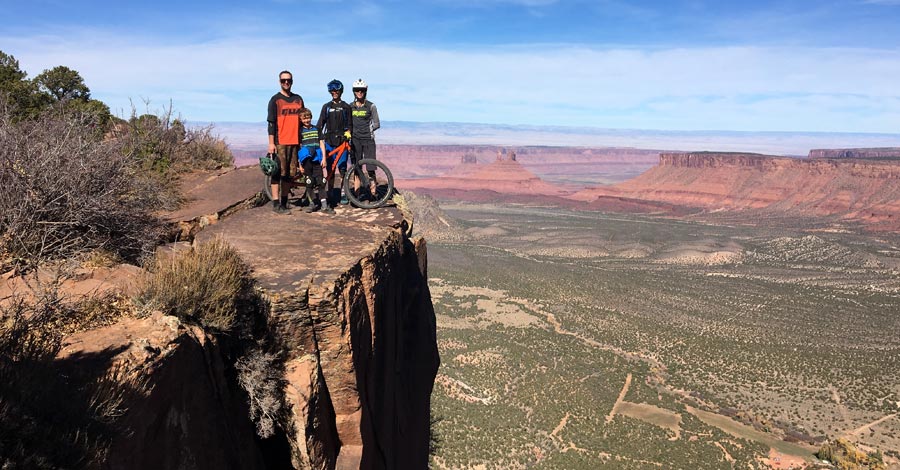 NOTE: We rode The Whole Enchilada on October 22nd and even though Burro Pass was technically open, we did not start at the top. Due to recent moisture at the higher elevation, sections of the trail were icy and the local shuttle companies collectively determined that it was not safe. We were dropped off at the top of the Hazard County zone. That's ok by me. NOT riding on ice is one of my favorite things. I guess we'll have to do it again next year.
Wait – You Haven't Done The Whole Enchilada Before?
I'm a 40-something mountain biking dad living in Salt Lake City and this was my first time riding The Whole Enchilada. What is my problem? Believe me, it's a long list.
A few years ago, I decided that my first time riding this iconic trail would be with the entire family. How could it not be? If I was to do this ride without my family it would be like me taking a solo trip to Hawaii in the dead of winter. I am not kidding. This is how it would go: I would come back to Salt Lake City all tan and give the kids some crummy sea shells. Then I'd tell them how I started drinking at 9 in the morning, jumped off cliffs right into the ocean, swam with sea turtles as big as my desk, etc. Yeah – this would just not fly. We all ride. And, we all ride together. Mountain biking the Whole Enchilada with kids was clearly the only way to go.
To prep for the ride, I got some advice from my step-brother Erik and bike shop friend, Steve. They've both ridden the trail more than once and told me to bring plenty of water because it's a long day out on the bikes. Erik said he ran out of water one time and had to ask for some along the way. Steve told me he didn't bring enough food once and had a rotten time. You gotta bring the right clothes, too. No one wants to be hot or cold and have over 25 miles to go. I've also heard horror stories involving mechanical mishaps and injuries on this trail. Bashed derailleurs and cables, shredded tires, bent wheels, concussions, smashed wrists and broken collar bones were almost expected as part of the ride.
IMPORTANT: If you're considering mountain biking the Whole Enchilada with kids, we stress that an adventurous adult with both good fitness and at least intermediate mountain biking skills pre-ride the Whole Enchilada. This way, you can properly gauge your younger riders' fitness and skills to see if you will have a successful outing. You can just do the lower sections of the trail solo in order to assess if those in your group will be safe and have a good time. You should also closely examine the embedded map to get an understanding of the elevation.
How To Overpack For Riding The Whole Enchilada
I knew my role on the ride would be that of the Sherpa after considering some of the dreadful things noted above. The comfort and safety of my clientele are paramount. If conditions allow- we will achieve our goals of summiting and return to base camp in tact. If my clients don't enjoy the adventure, I don't get return visits. On most long mountain bike rides with the family, I usually bring a normal sized hydration pack with a 2 liter bladder, lunch, a couple of energy bars, some tools and a spare tube.
This time around I overpacked on purpose. A 30L Backpack. You read that right. When I Googled the brand and model, the autosearch didn't return 'daypack". It said 'backpack'. If push came to shove, I could have attached a sleeping bag and bivouac to the thing. It's absolutely huge.
Here is a list of everything I put in the pack.
3L water bladder
1 extra 25oz stainless steel water bottle
1 12oz energy drink
Rain jacket
Long sleeve dry fit shirt
Knee pads
Elbow pads
First aid kit
Plastic tire irons
2 spare tubes
Multi tool
Small roll of utility tape
Energy bars and other snacks
A ham sandwich with cheese, lettuce, mayo and mustard
Extra USB battery for phones and cord
Bike light
This thing weighed a ton. I deserve a stupid medal. Literally, a "Stupid" medal. The best part about this is that in order to save weight, I took the car key off my key ring and left the other 8 keys in mini van. Pure. Genius.
Everyone in my family has a proper full-suspension mountain bike with tubeless tires and a dropper. We all have helmets with removable chin bars.
Riding The Whole Enchilada With A Ten Year Old
My biggest concern was riding with my 10-year old. Don't get me wrong, he's a skilled kid. He can do a lot of technical moves I won't even try. But you have to agree that 10 is on the young side for this one. Take a close look at the embedded map and you'll see there are a few demanding climbs. His resume is pretty good, though. Prior to our Whole Enchilada trip, he did about a 23 mile all-mountain ride from Silver Lake Lodge in Deer Valley to the bottom of the PCMR's Canyons base area. He's also done the Wasatch Crest a couple of times. He definitely has the chops. This was his longest ride and I just wanted the experience to be a good one.
When we finished the last leg of dirt and hit the pavement for the ride back into town, he finished the ride like a boss. There is a bike path that follows the Colorado River for a bit. We even have this section of pavement on our list of best Moab mtb rides for families and beginners.
Hydration Packs For Kids
Is your kid big enough to carry their own water and supplies?
Trail MTB Helmets

Now that you have a young mountain biker, get a lid on that kid.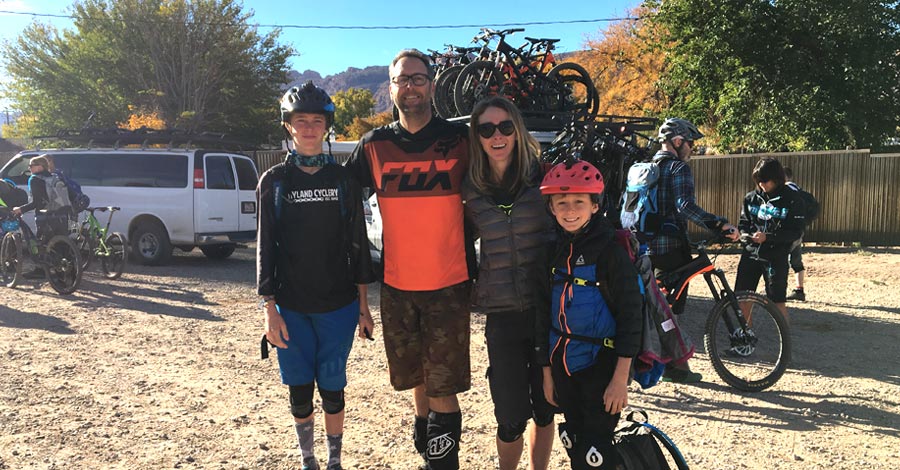 Getting Started For The Day
We had to be at the shuttle drop off at 9:45 on Sunday morning. This was Bike Church at its finest. People from around the world sharing a common faith and knocking something big off the bucket list. There were riders from as far away as Australia and the United Kingdom. It always makes me happy how this wonderful activity brings us all together.
After our driver got all the bikes loaded, we were off. We headed out town and headed southeast for a few miles and then made the left turn onto La Sal Loop Road. The drive up into the mountains was great. Think about it. You start off in beautiful, red rock Moab and make the way up to a true alpine environment. The sage bushes and red dirt magically transforms to pine trees and granite right before your eyes. The elevation gain will make your ears pop a couple of times as you're whisked to the trailhead.
As mentioned above, we started at the Hazard County section due to ice up higher at Burro Pass. I was keen to bring along some cash so our youngest could tip our driver and tell her thank you on our family's behalf. We were finally on our way.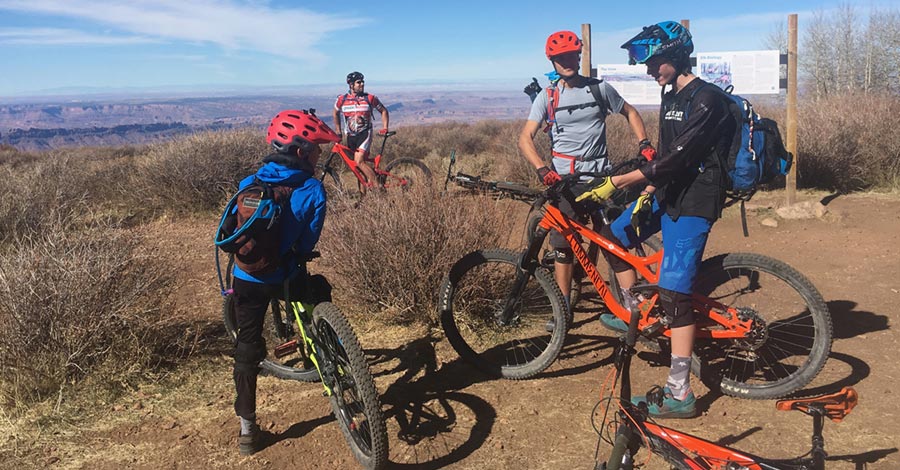 Hazard County Section
This section of the ride started off on single track and it quickly led to a bit of a climb. There were a couple of stretches where we had to get off our bikes due to the grade and/or terrain and walk. This took about 15 minutes of climbing to get to where the first downhill section began.
As you start downhill, it's hard not to stop and just look around. You're cruising along at elevation and marveling at the expansive palate of colors ahead. We rode this in October and our immediate surroundings were composed of greens and yellows. But off the range in the distance, you could see the massive vistas my home state is famous for. Riding this section of trail is kind of trenched and rutted, but most of it is still wide enough you don't have to be concerned about clipping a pedal. There are switchbacks and rock gardens. Nothing too technical, but you have to be an intermediate mountain biker to take on this initial section of The Whole Enchilada. Our youngest handled this part of the trail with ease.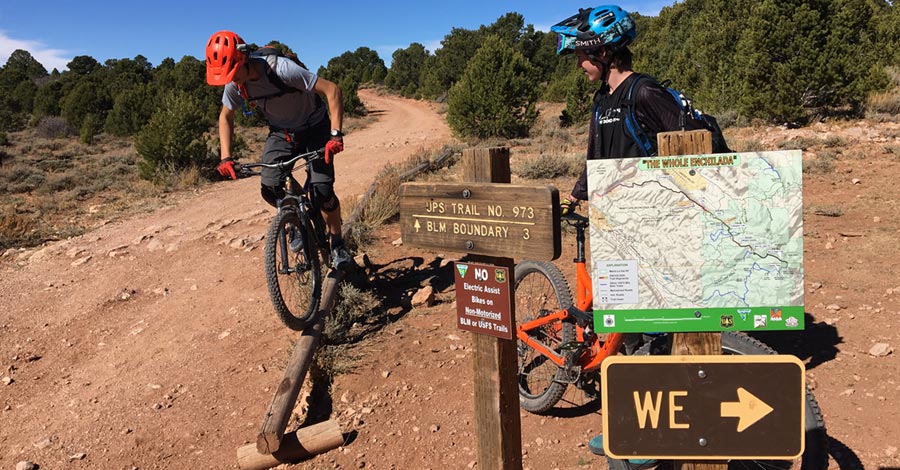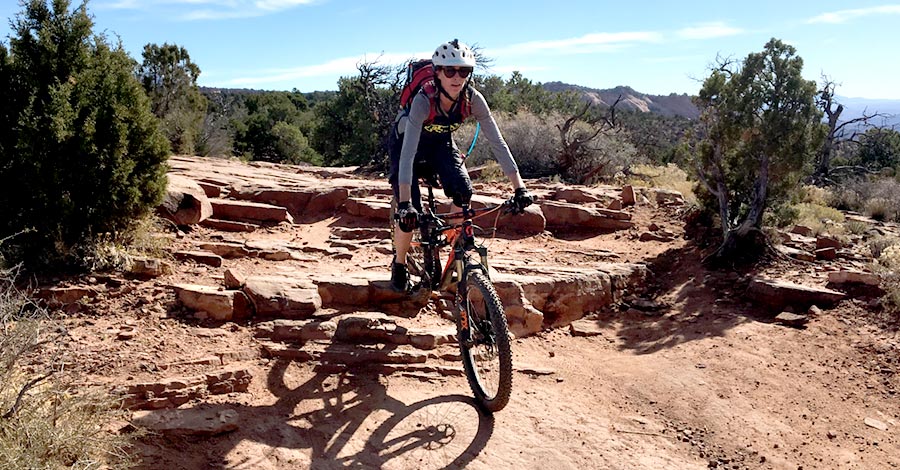 Kokopelli Section
Nothing out of the ordinary here. This section of trail is mainly wide dirt and double-track. Its purpose is to play the role of a connector and transition you to the Porcupine sections. There's a small climb in this zone. Overall, it's pretty easy going and nothing technical.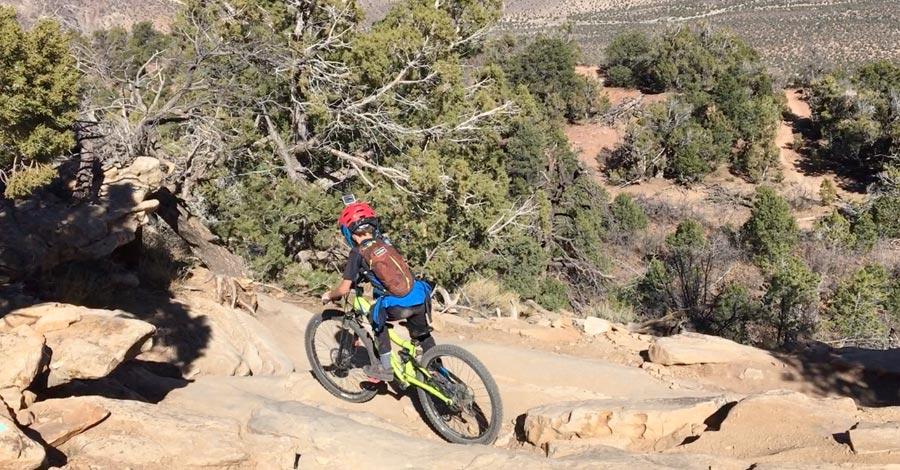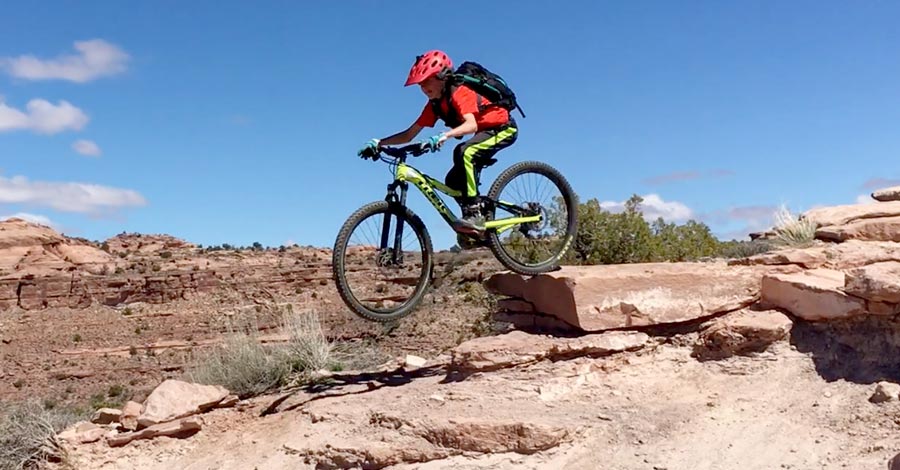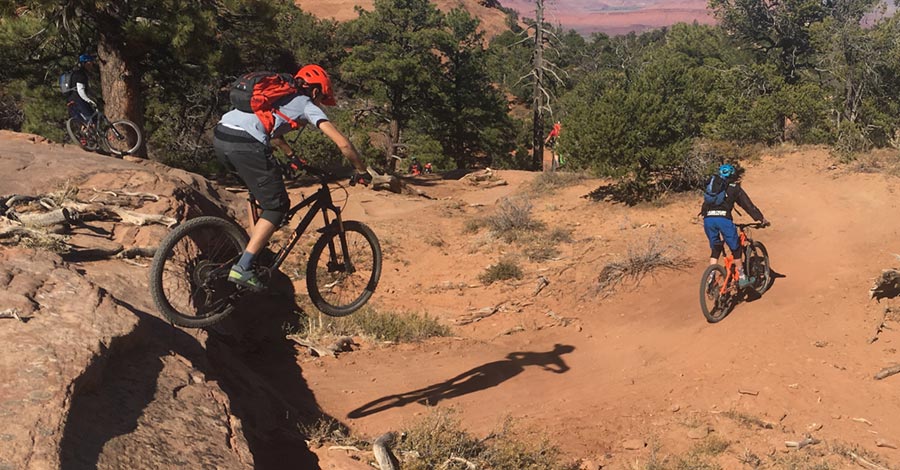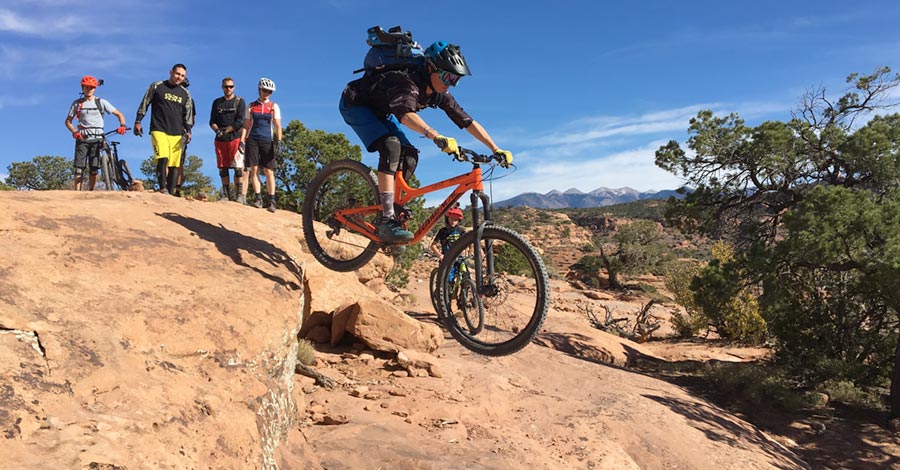 Upper Porcupine Singletrack (UPS) And Lower Porcupine Singletrack (LPS) 
This is where the fun really started for us. You're out of the alpine environment and on top of a big sandstone slab more popularly known as southern Utah. Enjoy the mileage as you work your way across terrain that defines this trail. There are several technical sections that you can session over and over. You will find drops and playgrounds for jibs. There are a few tricky climbs, too. I had to walk my bike several times.
Being elevated above the Colorado River along the very last singletrack section is stunning. Before you know it, you're at the level of the river and headed back into town.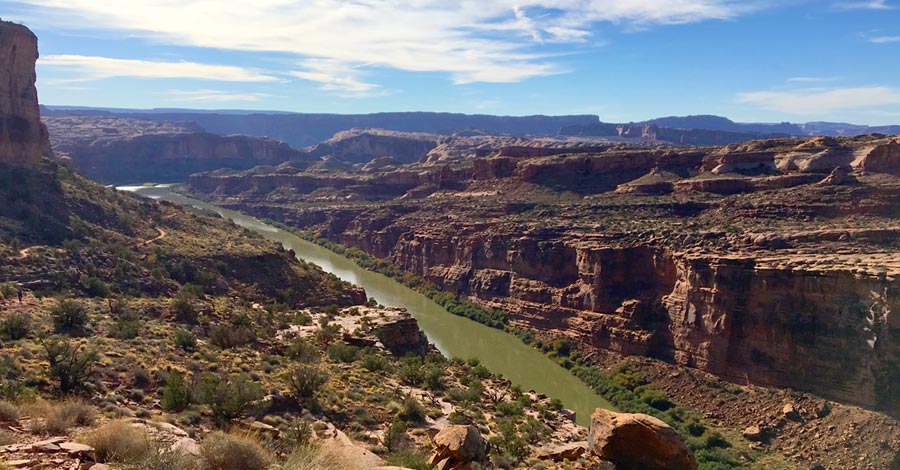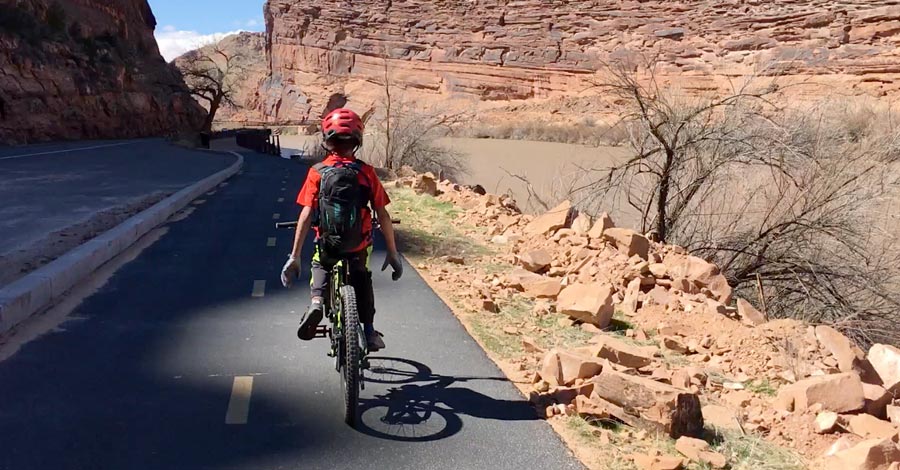 This Is An Epic Mountain Bike Ride For Your Family 
Our ride took just under eight hours and we really soaked up the experience. We took a lot of breaks for resting, eating, and staying hydrated. The sun was out and the wind was calm so the kids could session climbs, drops and jibs. If you're fortunate enough to give this ride a shot with your family, it's could easily be one of the best experiences on the bikes your clan will ever share together. It's as difficult as it is fun and we'd like to hear from you on our Instagram post if you've done the ride with your family.
https://mtbwithkids.com/wp-content/uploads/2020/04/whole-enchilada-featured.jpg
470
900
Brett
https://mtbwithkids.com/wp-content/uploads/2016/05/logo-mtbk-400-300x157.png
Brett
2020-04-18 23:24:02
2022-11-15 03:44:19
Mountain Biking (most of) The Whole Enchilada With Kids