It's important to be able to see where you're going no matter where you are – but especially when you're riding down a trail during dusk or at night. Not only do these lights help you see the path in front of you, but it also makes it easier for others to spot you – making the chances of a painful collision much less likely. The Bontrager ION Pro RT/Flare RT Light Set takes care of both of these issues.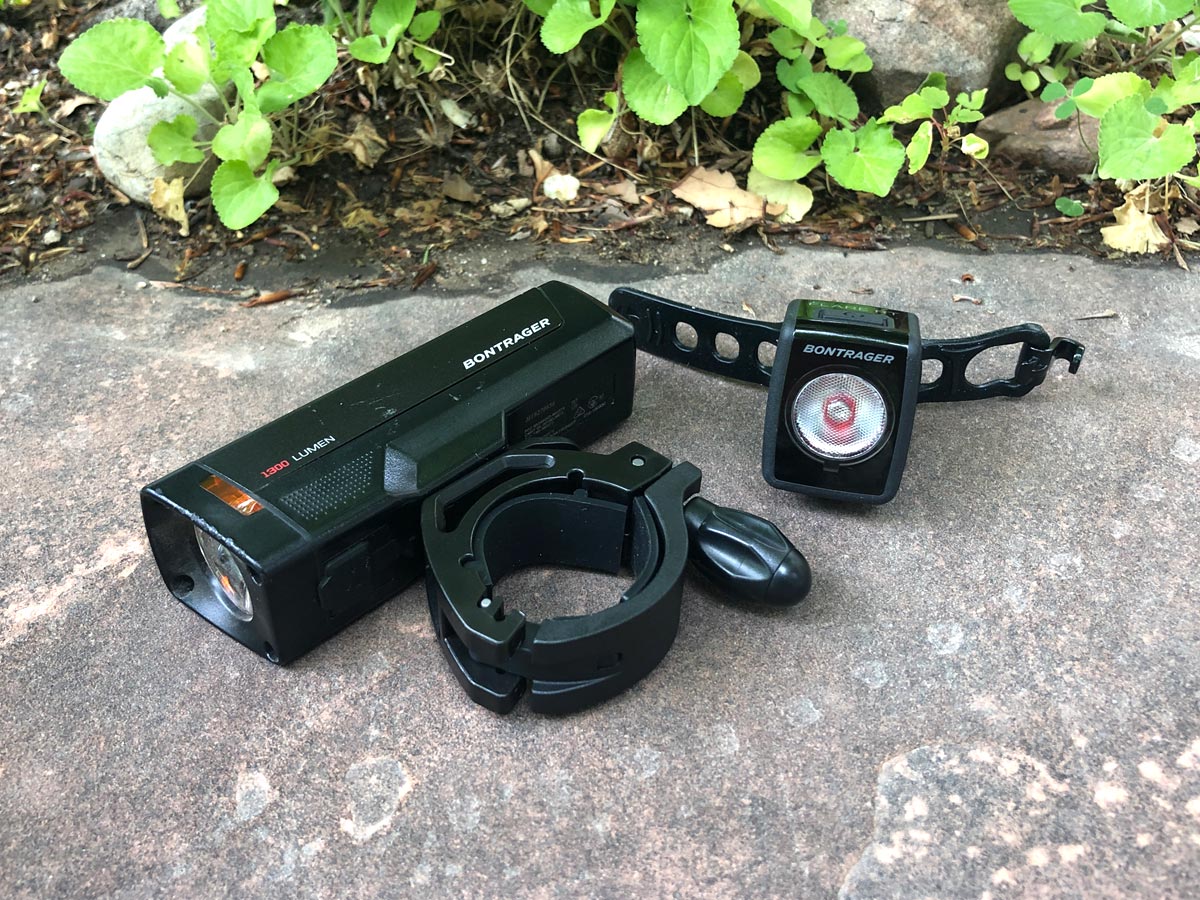 Consisting of two different types of lights, the Ion Pro RT and the Flare RT, the set attaches to two different parts of the bike in order to keep you safe. The Ion Pro RT fits on the handlebars, where it illuminates the path in front of you with a wide enough light to cover the width of just about every path and trail. The Flare RT, designed to go on the back of the bike, fits below the seat and flashes behind you so that anyone coming up from the rear realizes that you're there. However, both can be mounted on a helmet as well, giving you the flexibility to arrange them as needed. A lot of night riding mountain bikers swear by having a powerful light on their bars, and their helmets for an even greater/brighter night ride.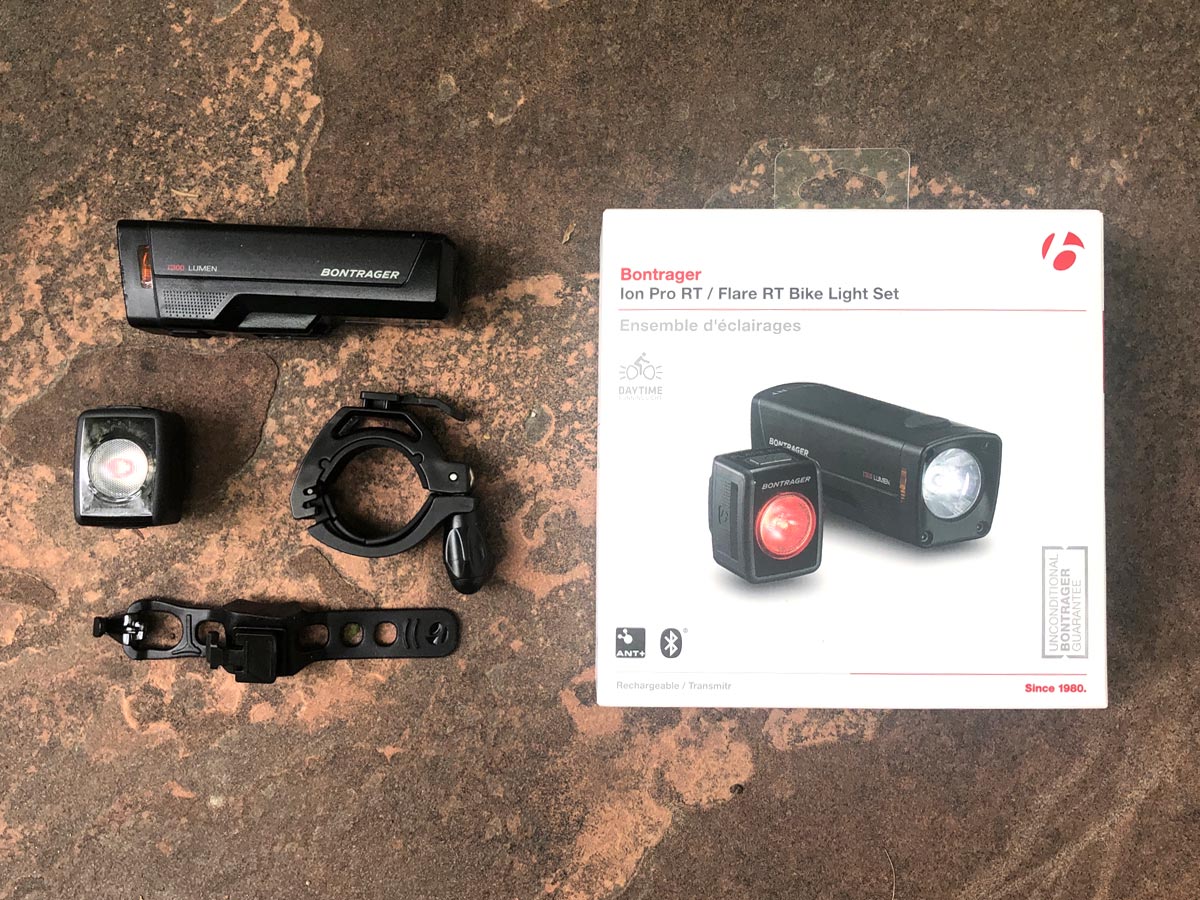 Both lights are easy to recharge, thanks to handy included USB cable. Just remove the lights from their mounts, and bring them inside. The mounting system is easy to use, and holds the lights in place no matter how many bumps you encounter on your ride, while at the same time, they slide out easily so that you can recharge them as necessary. The batteries are a sturdy, rechargeable 4800 Li-Ion that provide up to six hours of power when the lights are set to low. On high, they last for an hour and a half, while when set to flashing they last for 26 hours.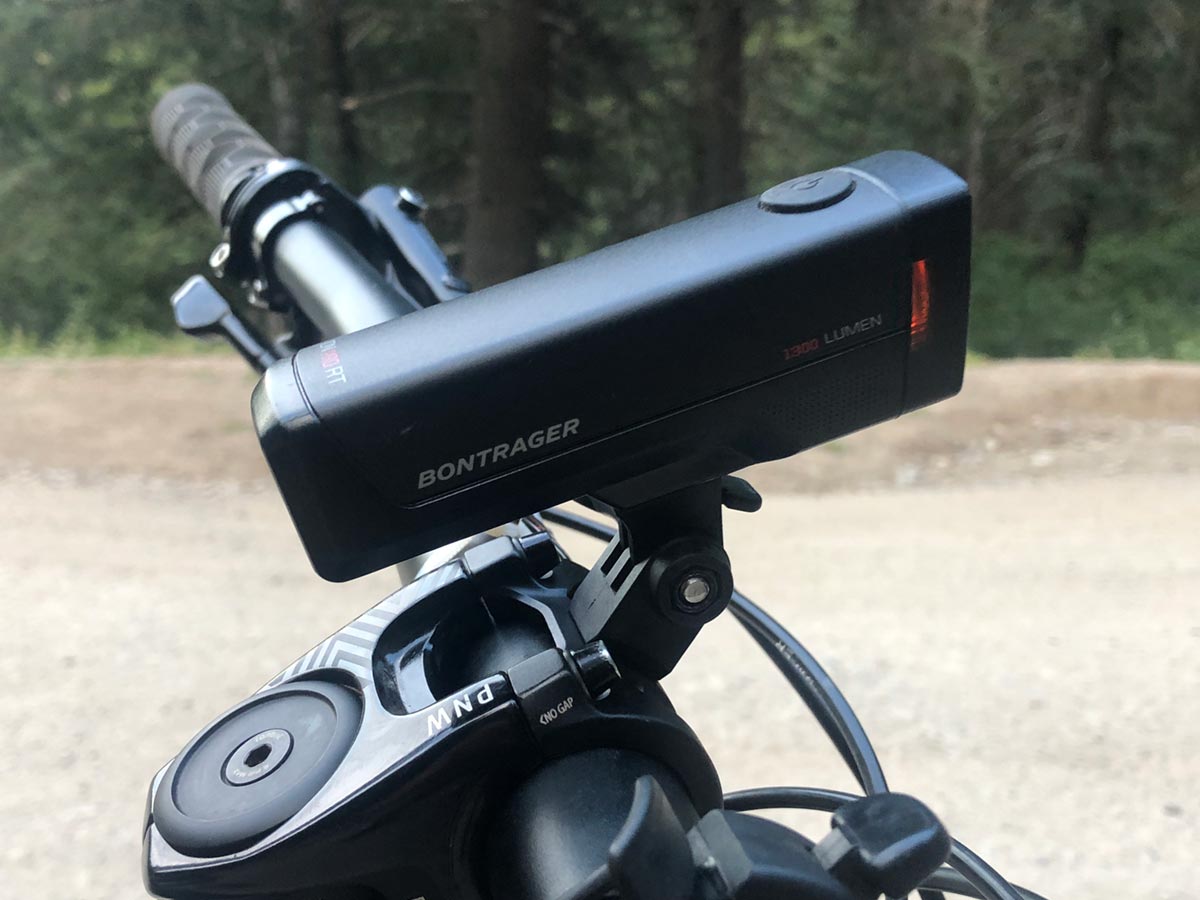 When it comes to visibility, the Pro RT and the Flare RT contain LED bulbs that produce enough light to make them visible up to 2 kilometers during the daytime, and they can be set to flash in an array of patterns that you can set to provide the ultimate protection based on your exact circumstances. Their maximum light output is 1300 lumens, which is pretty powerful. You can control the lights, as well as monitor their battery life, with your Bontrager ANT+ or Garmin device. This makes it easy to switch their flash pattern while you're in the middle of a ride, without having to get off of your bike.
We've used our Bontrager Ion Pro RT/Flare RT Light Set quite a few times and they've been great. Use them in the daylight as well for additional visibility. Be sure to keep them in your hydration pack or hip bag in case your ride goes longer than expected. We even used the Ion Pro when setting up camp when a traditional headlight has not been handy. When riding on trail behind our youngest, the red flashing tail light was so bright, it was distracting and we had to turn it off. This not only makes this light set great for mountain biking, but it's also optimal for road biking and commuting. Your experience and age don't matter when it comes to fun and safety. Be sure to include the Bontrager Ion Pro RT/Flare RT Light Set as one of your essentials.
https://mtbwithkids.com/wp-content/uploads/2016/05/bontrager-ion-lights-featured.jpg
900
1200
Brett
https://mtbwithkids.com/wp-content/uploads/2016/05/logo-mtbk-400-300x157.png
Brett
2020-10-12 20:41:48
2020-10-28 15:03:19
Bontrager Ion Pro RT/Flare RT Light Set Review