Mountain Biking Bellingham
Cascadia's backwoods are home to some of the best mountain biking in the country. Tall old trees, mossy granite, exposed roots, and dirt that deserves its own seat on the periodic table are what you are here to see. This is a sample of some of the best family friendly mountain biking trails in Bellingham, Washington.
Bellingham is just thirty minutes south of the Peace Arch border in to Canada. The town is also headquarters for Evil, Kona, and Transition bike companies. We have the luxury of having friends who live in the area – and through their generosity of playing tour guides, our family has experienced some of the best riding in the region.
Galbraith Mountain Trail Map
Examine the embedded map and you'll see that the Galbraith mountain biking trails mimic a Paris street map. If you can spend a few days here, you'll reap the rewards. You can ride the north of the mountain or the south. The south side is most popular because that's where most of the trails are accessed. Park on Samish Way just west of Galbraith Lane. An early arrival in the day will guarantee parking. If you have a hitch mounted tray rack, be sure to move it in upright position. This is so you maximize the available space for vehicles to maneuver in a parking area with limited space. If the lot is full, you can park on the side of the road, but make sure your car is completely off the road.
Parking: Google Maps
Who It's For: balance bikes through advanced mountain bikers
Galbraith is privately owned and as mentioned above, the WMBC (Whatcom Mountain Bike Coalition) is the trail organization responsible for preserving the relationships that keep the area accessible. The WMBC also creates new trails, maintains the existing trails, and is also responsible for the majority of the fundraising. Bellingham's mountain biking community is among the best and strongest in the nation. Citizens put in the volunteer hours and pony up the dough to make things work.
We can't write about everything on Galbraith, but we strongly encourage you to explore and plan your family's bike rides based on your abilities and levels of interest. Always keep in mind that when you're riding with your kids, it's not your ride. It's your job to keep the itinerary fun and safe. Carefully cross Samish Way to get on Galbraith Lane / Pipeline Road. Once you've crossed the road, head north.
You get to earn your turns on Galbraith. There are no lifts, paid shuttles, or self-shuttling. Check the weather and bring appropriate clothing. Plan ahead and be sure to have space in your pack for your kids' extra clothes, additional food and water, whatever they need to make the ride a success. Always keep in mind that you're responsible for creating positive experiences for your young riders.
Beginner Trails On Galbraith Mountain
Once you're on Pipeline Road, continue north to the southwest zone of the mountain. Here you'll find trails like Bunny Trails, Little Dipper, Art's Trail, and more. You can make loops from these trails that use Pipeline Road as the main corridor. You can get creative and make a route that resembles a figure-eight. Clock-wise or counter-clockwise, out-and-back and so on. You could even incorporate a couple of blue/intermediate trails like Pony Express or Mole Trap if your group is up to the task. Galbraith can keep everyone in your family pedaling and interested.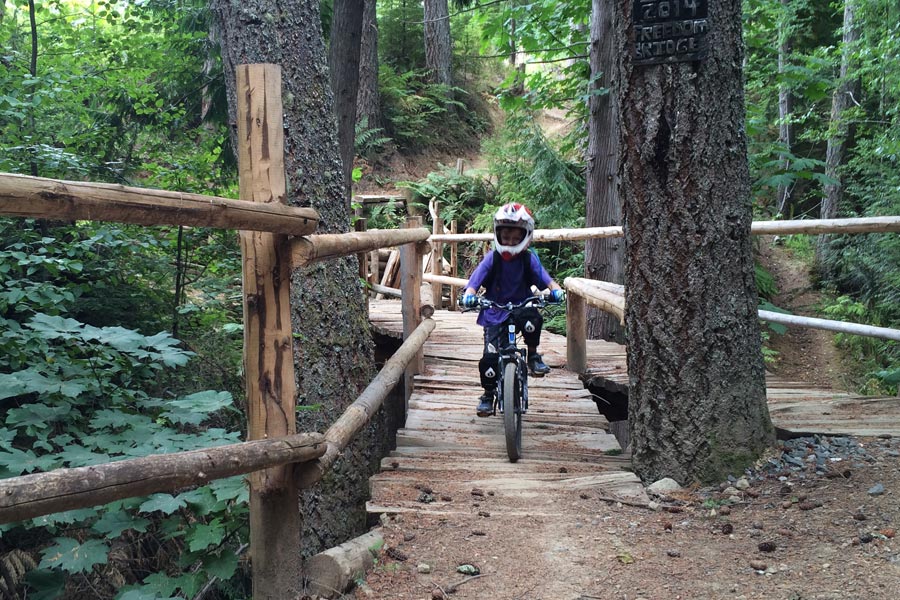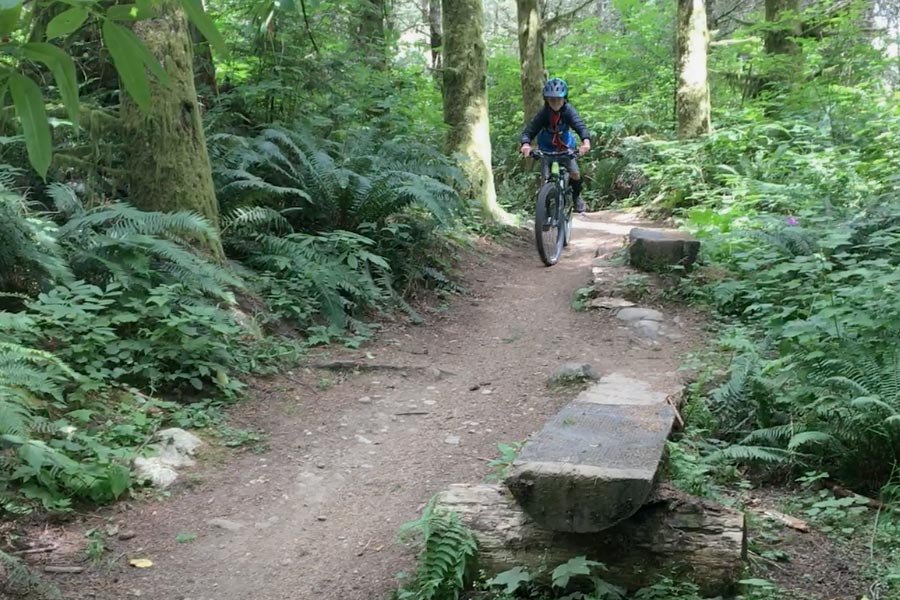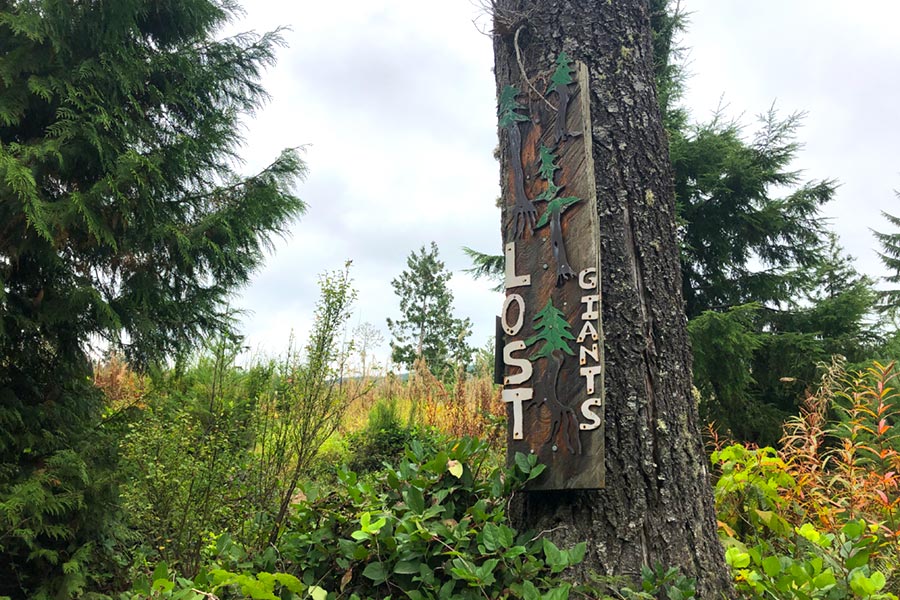 Evolution, Unemployment Line, And Atomic Dog
These three trails are for adventurous intermediate riders through advanced riders. There are steep, elevated features; jumps and drops. Link these three trails together by pedaling to where Evolution starts. From the south parking lot on Samish Way, here's how you get there: Cross Samish Way. Go north on Pipeline Road / Galbraith Lane and continue on Last Call. Cross Pipeline and get on Lost Giants. Take a right on Dog Patch. When you reach Towers at the end of Dog Patch, take a left on Towers. Get on RD 2300 at the intersection and take a left on Three Pigs. At the next intersection, get on Huff and Puff. At the end of Huff and Puff, go right and meander to the start of Evolution.
Evolution starts off fine and well, and the first challenging move is a sweeping left turn on to a wood feature that leads into a long, elevated laddered log. We have nothing like this in Utah and I'm always enamored with this feature. I'm not good enough to ride into the start of it yet, but I always like seeing it. Once you're on the log, it's well over 30 feet long and roll off sends you into another ramp with steep roll-down. From there, it's hooting and hollering through more features and jumps. The trail ends on the Towers access road. Take a left on Towers. Pass the Pump Track trail and you'll arrive at Unemployment Line.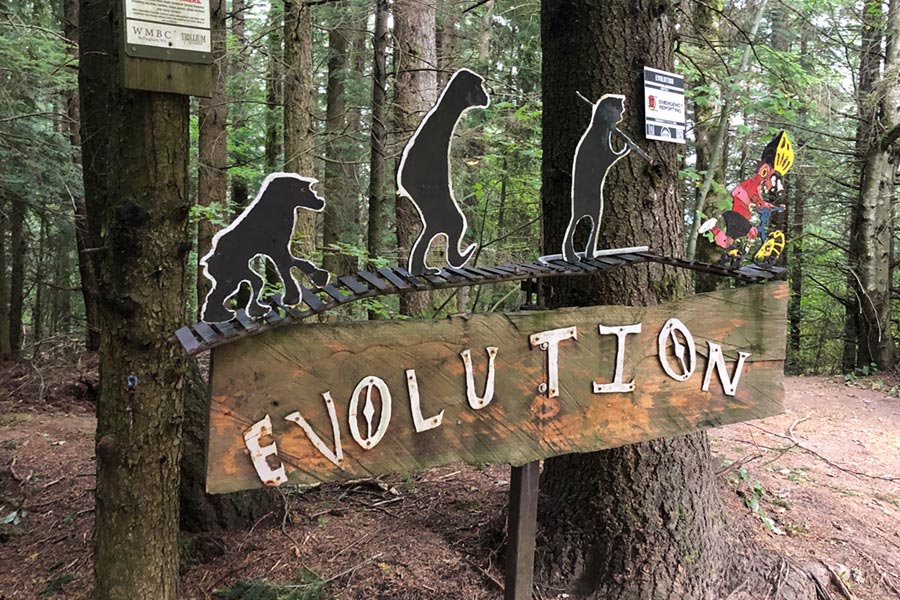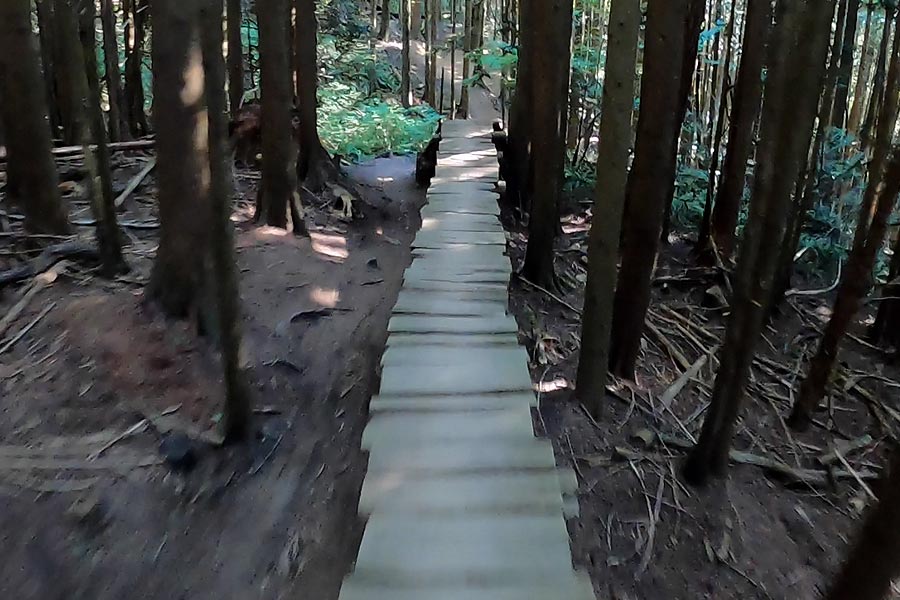 The start of Unemployment Line was rebuilt a couple of years ago and it's more of an art installation opposed to the drop-in of a mountain bike trail. When you see it in person, you'll understand. The trail is only 3,800 feet long and it's rated intermediate, but riders with good jump skills will get to enjoy it the most. There are a couple of berms on this trail that rival the Daytona Speedway. Unemployment Line ends on RD 2300. Take a right and pedal over to Atomic Dog.
Atomic Dog is another intermediate rated trail that will leave everyone in your group barking with joy. The features aren't as big as Unemployment Line, but the flow of the trail is top-shelf. Keep your speed and you can clean a step-down, step-up which is one of the trails biggest moves. The trail ends at the intersection of Gate and Switch and Towers. From here, you can head back to the car, or prep for another lap on the mountain.
Mohawk is an advanced trail riddled with jumps and berms. It was built by a group of diggers known as The Shire Crew. Follow them on Instagram at @shire.built. The jumps at the bottom of Mohawk are world-class, if you or your kids have the skills to ride these – they look like a lot of fun. Our oldest and a couple of his friends where able to experiment and unlock the entire line. Get to the top of Mohawk by pedaling to the top of Huff and Puff. Take a right.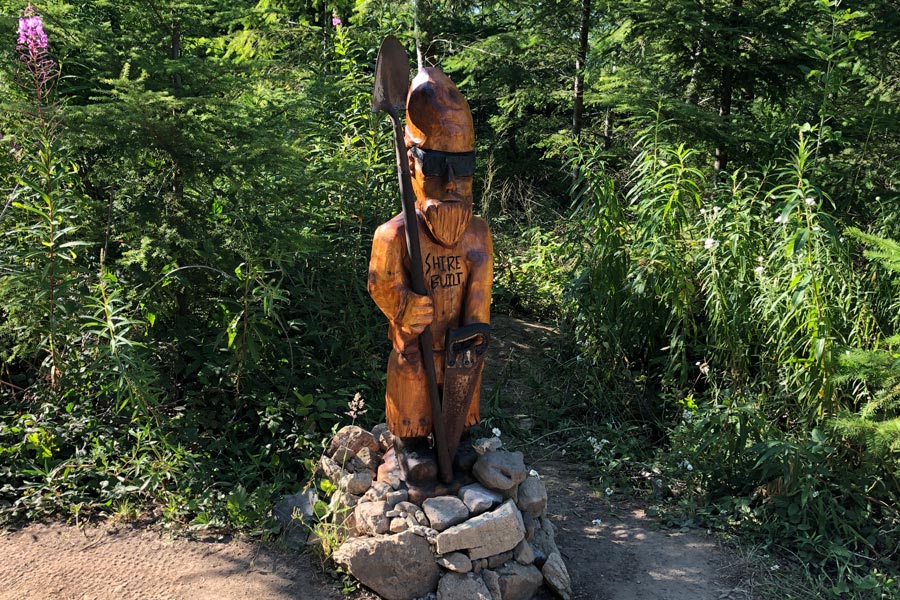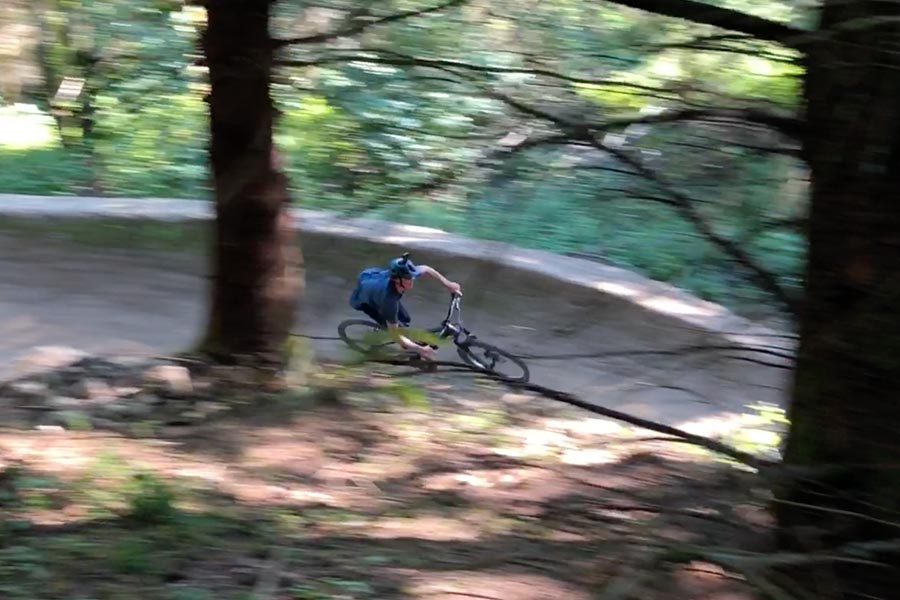 Galbraith Mountain Is Big
There's about 80 miles of trails packed into this zone. If you're in town for more than a couple of days, you'll get to find what works best for your family when you add mountain biking on Galbraith to the mix. We've been on several more trails here, but your experience will be your own and there is plenty to choose from. If you're not from the area, you'll be pleased to find that most of the climb trails are in shaded trees and they're not straight up. Our youngest made it to the Evolution trail when he was 9 years old. Every rider is unique and Galbraith can accommodate everyone who likes to mountain bike.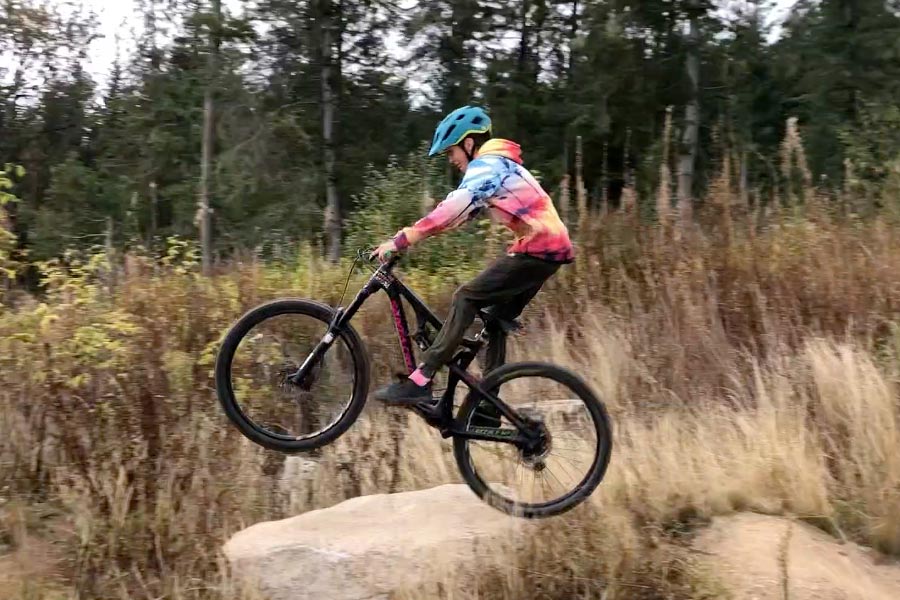 Located near the west-central zone of Galbraith Mountain are the Cedar Dust Jump Lines. There are four trails rated from easiest to most difficult: Green, Blue, Black, and Expert.
Do laps and improve your skills; carefully working up from one line to the next. The Green line has tables where novice and beginning riders will learn to build speed and get their wheels off the ground. The Blue line has a couple of drops and doubles. The Black and Advanced lines have gaps.
People come to Galbraith just to ride these jumps for hours on end. They're just another good reason to plan a trip and get this mountain biking destination off your bucket list.
Opened in September of 2020, Blue Steel is a jump line composed of 7 BIG features. The line was designed and constructed by pro Nico Vink in partnership with Transition Bikes. Prior to dropping in on the jumps, you'll see a sign with "Tips From Nico" that can help you complete the jumps in one piece.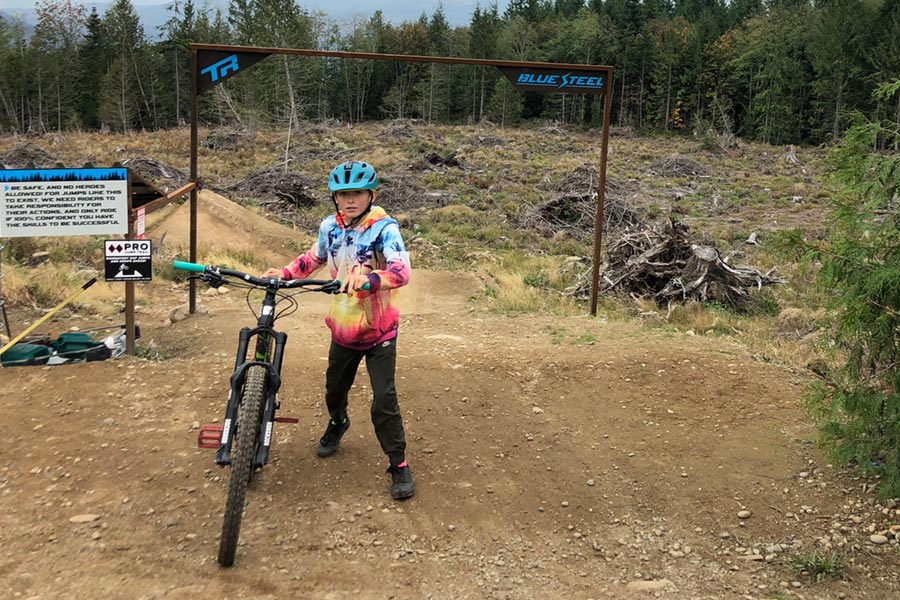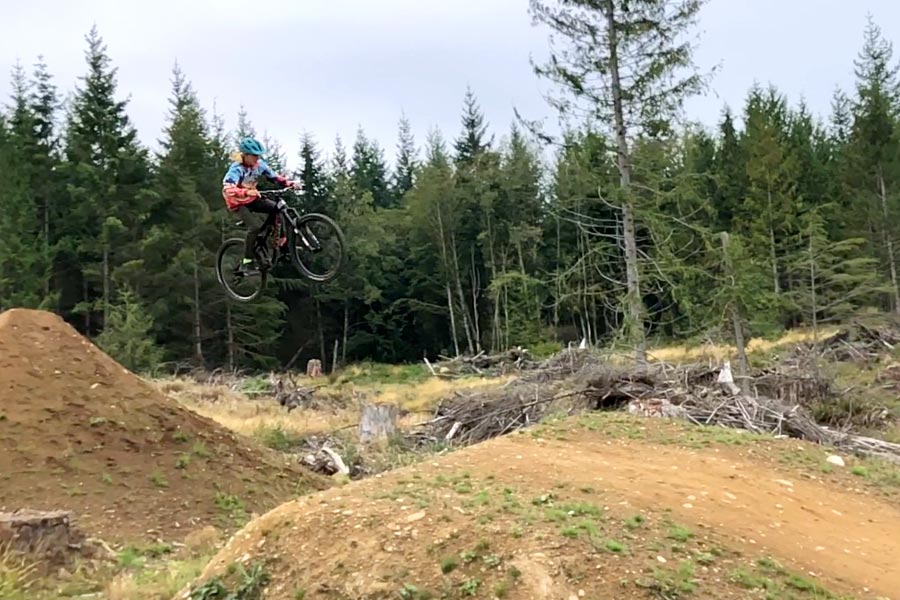 Chuckanut Mountain Trail Map
Our family has only ridden a couple of trails on this mountain and they're very challenging. I'm not ashamed to admit that I walk a few features because I don't have the skills to get down them on my bike. If I put in the work at build up my skills, maybe I'll be able to clean 'em when we return. On the other hand, our kids were able to ride from top-to-bottom when they were 13 and 9 years old. Gauge your family's skills properly. Play it safe and have a rider in your group with at least strong intermediate skills pre-ride these in order to ensure a good time for all.
Double Black Diamond And Double Down
The route we describe here is a shuttle ride. Chuckanut Mountain is south of Bellingham. When you approach the mountain on Chuckanut Drive turn on to Hiline Road. Hiline will merge into Cleator Road. Keep going until you reach the viewpoint where you can see the ocean far, far below. Cleator Road is three miles long. If you park facing the road, ride or hike up the Double Black walk up for a few hundred yards. Double Black Diamond will begin on your right.
Double Black Diamond is a mile long and it's wonderful. Exposed steppy roots and switchbacks, narrow lines through trees adorn Double Black Diamond. In my opinion, the toughest move on this trail is short bumpy strait with roots that leads into left turn. I have to dab it with a foot to get through. The rest of the trail is composed of similar goodies. Double Back Diamond ends at the Fragrance Lake Road. Cross it and you'll begin Double Down.
I don't enjoy Double Down as much as Double Black Diamond, but that's only because I can't ride it all. There are roots on off-camber slopes and tricky rock sections. On our most recent trip, I was able to do a section for the first time and that made me feel like a pro. Double Down has a couple of optional features that easily qualify as expert. One is a rock drop that carries riders about a dozen feet from leap to landing. Another is a booter that launches qualified riders through the uprights of a couple of tall, thin trees. Score!
When you reach the bottom of the Double Down trail, merge on to the Fragrance Lake Road and head south. This is where you get picked up by your shuttle, at the Lost Lake Parking Lot. On one side of the lot, there is 15 minute parking so you can avoid paying the day use fee.
Bellingham Waterfront Bike Park Map
Pump tracks and skills parks are great because everyone can enjoy them. Young 'uns on balance bikes, moms on dirt jumpers, dads with bmx bikes, and groms on hardtails can all have a good time at the pump track. Access the Bellingham Waterfront Pump Track via Granary Road or West Laurel Street. The area is marked by old red-orange tiled storage tanks remaining from a paper processing plant. There's plenty of parking and space to work on your cornering, jumping, etiquette, diction and vocabulary.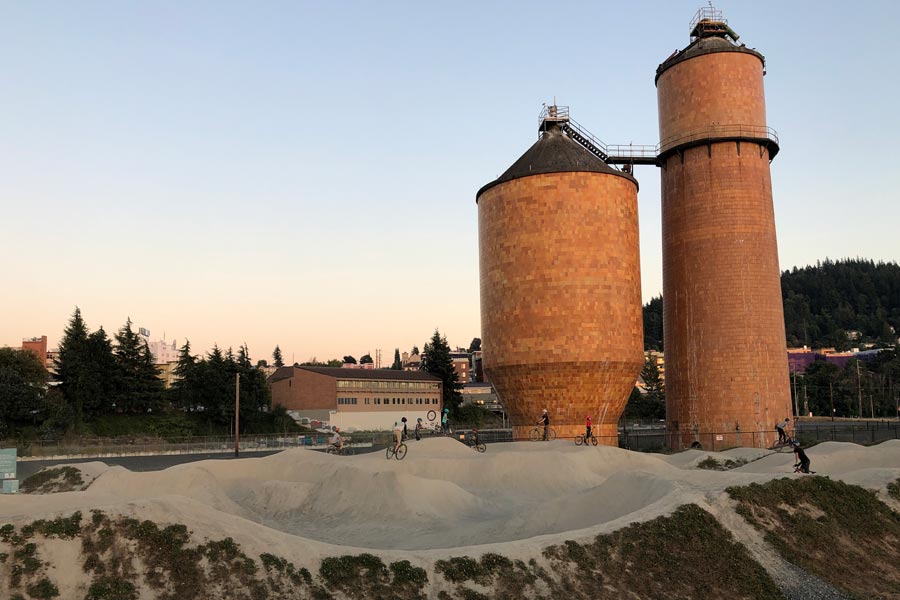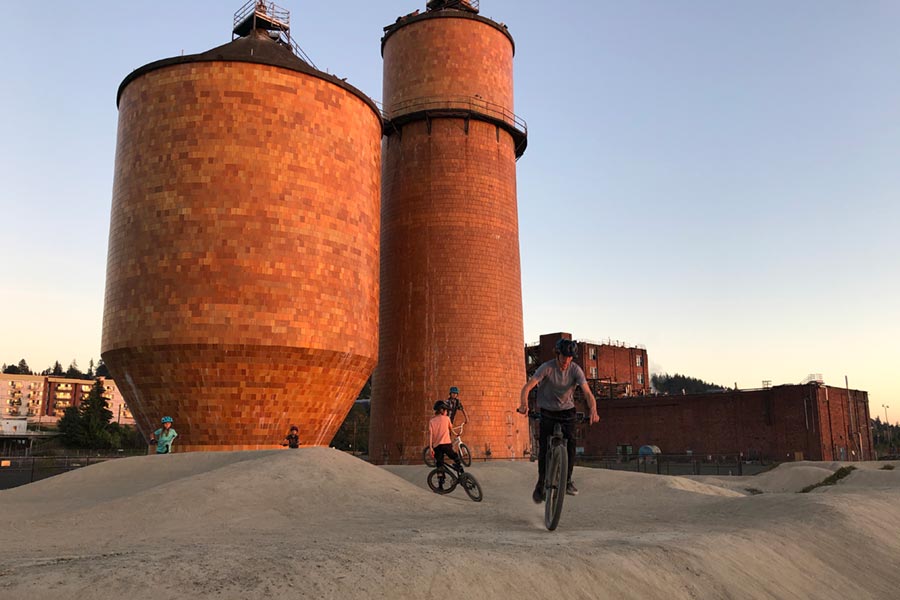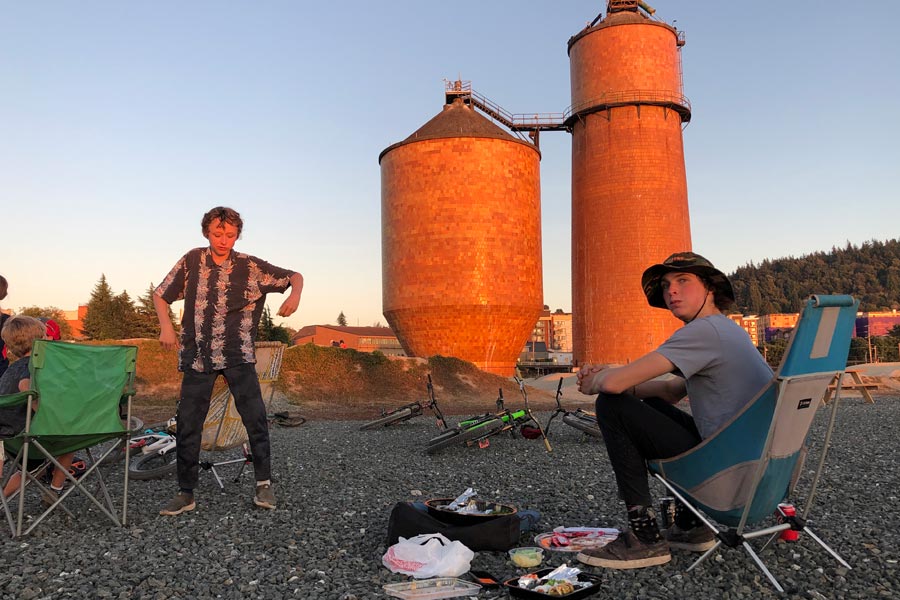 Location: Google Maps
Who It's For: strong intermediate and advanced mountain bikers
Chanterelle Trail And Brown Pow
This area is home to the multi-use climb trail Chanterelle and the downhill romp Brown Pow. When ascending Chanterelle, be conscious of hikers and trail runners. Be on your best behavior and yield to foot traffic. If you have a bell, the Chanterelle trail is where you want to use it. This route can be busy on the weekends and we had several hikers thank us for using our bells. For our family, coming from dry and dusty Salt Lake City, climbing the three miles on close-to-sea-level Chanterelle is nothing short of pleasant. There are a few road crossings where you can take a break. At the top of the lower section of Chanterelle, there's an overlook where you have a wide open view of Lake Whatcom.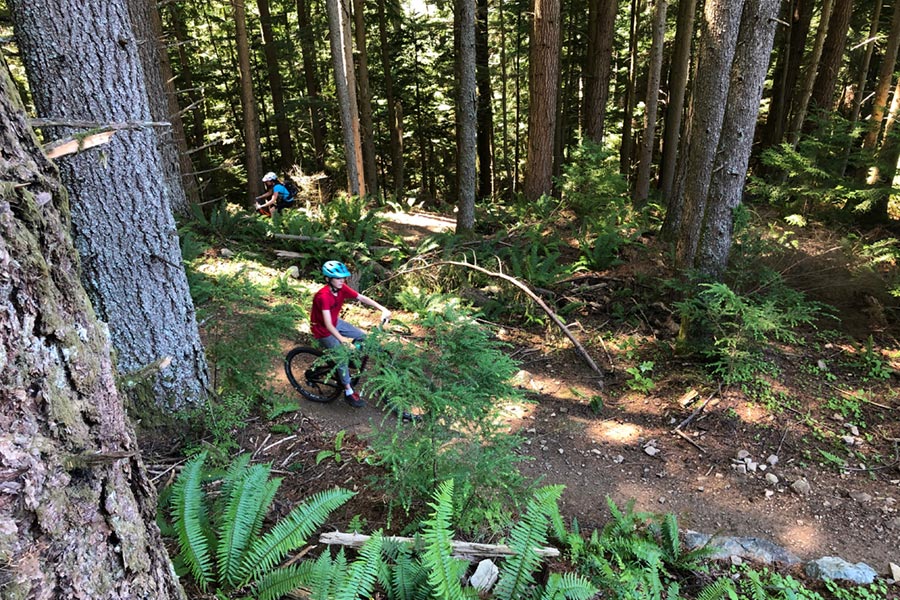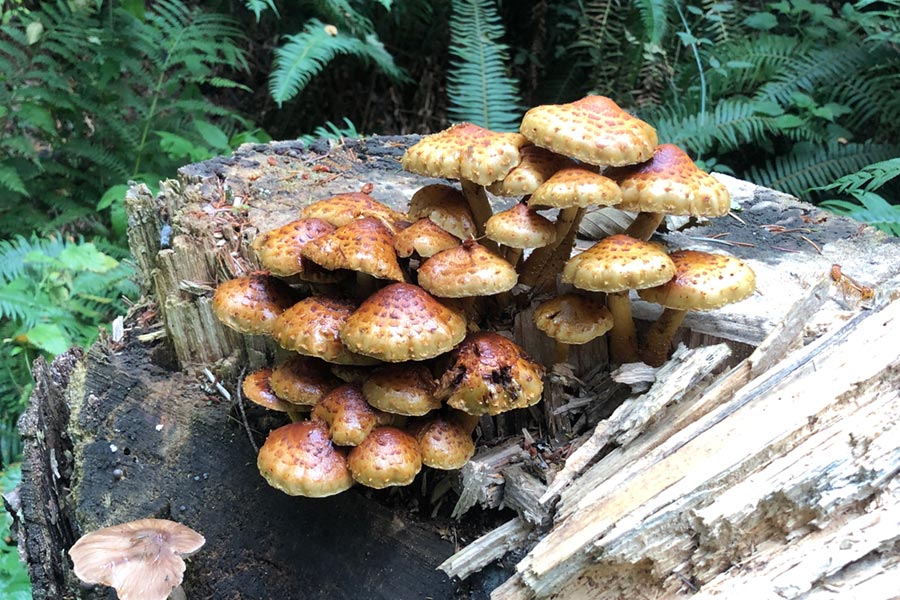 When you start Brown Pow, it's on the stunning side and sans rock slabs – it embodies what makes the PNW famous for mountain biking. Compared to what we normally ride in Utah, the dirt can be considered tacky – even in blown out corners.
Near the bottom of Brown Pow there's a couple of spaced out roots with small drops that warrant the trail's advanced rating. An eager intermediate rider will enjoy the trail no problem even though he/she may have to hop off the bike and walk a couple of sections. Put this ride on your to-do list if you have more than a couple of days in town. It's worth it. If you're visiting in the heat of summer, a jump in the lake on the way back to the parking lot is a no-brainer.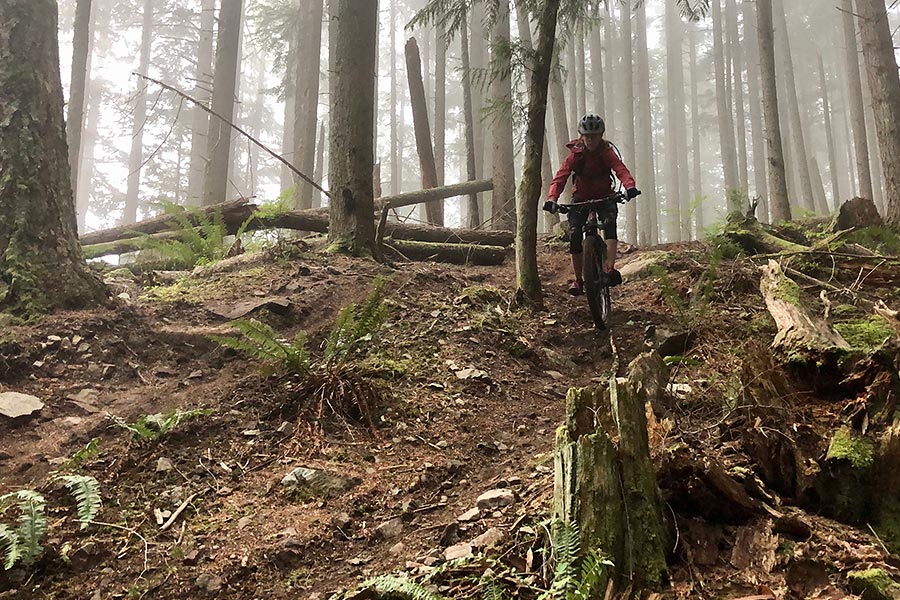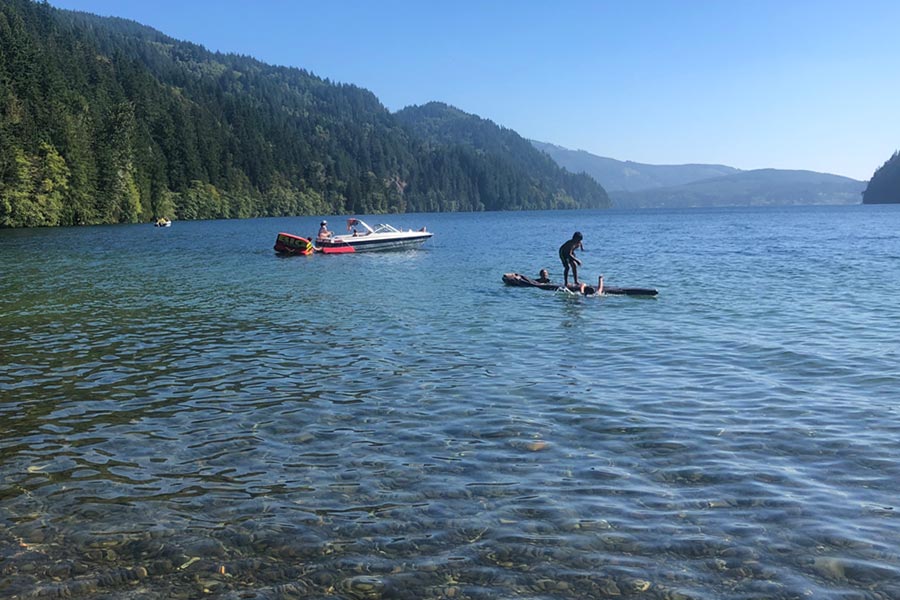 https://mtbwithkids.com/wp-content/uploads/2020/11/mtb-with-kids-bellingham-featured-v1.jpg
683
1024
Brett
https://mtbwithkids.com/wp-content/uploads/2016/05/logo-mtbk-400-300x157.png
Brett
2020-11-24 01:08:57
2022-11-15 03:30:38
Mountain Biking In Bellingham With Kids