Woodward Park City is to an action sports kid as what Wonka's Chocolate Factory is to Augustus Gloop. So much so that your kids may just passively fall into the river of awesome and need to be retrieved by the staff at the end of your session. Several years in the approval process, relocation, another approval process, and finally making – this latest addition to the Woodward properties is everything a kid who cannot hold still could have hoped for. The venue is located near Parley's Summit, just 20 miles from downtown Salt Lake City via I-80. Upon arrival you notice the main building with outdoor plaza, a lift, and a north facing slope ripe for action sports.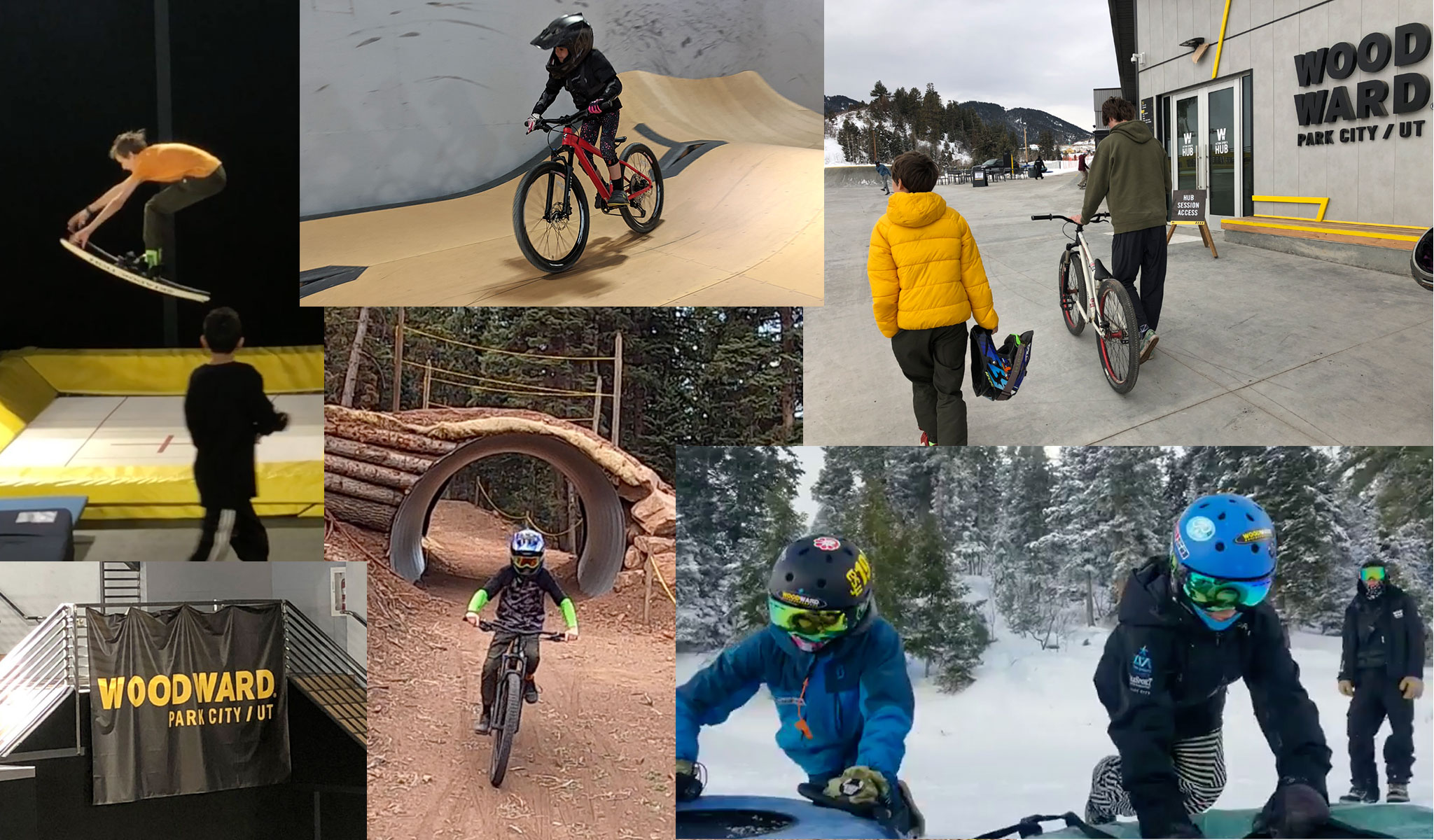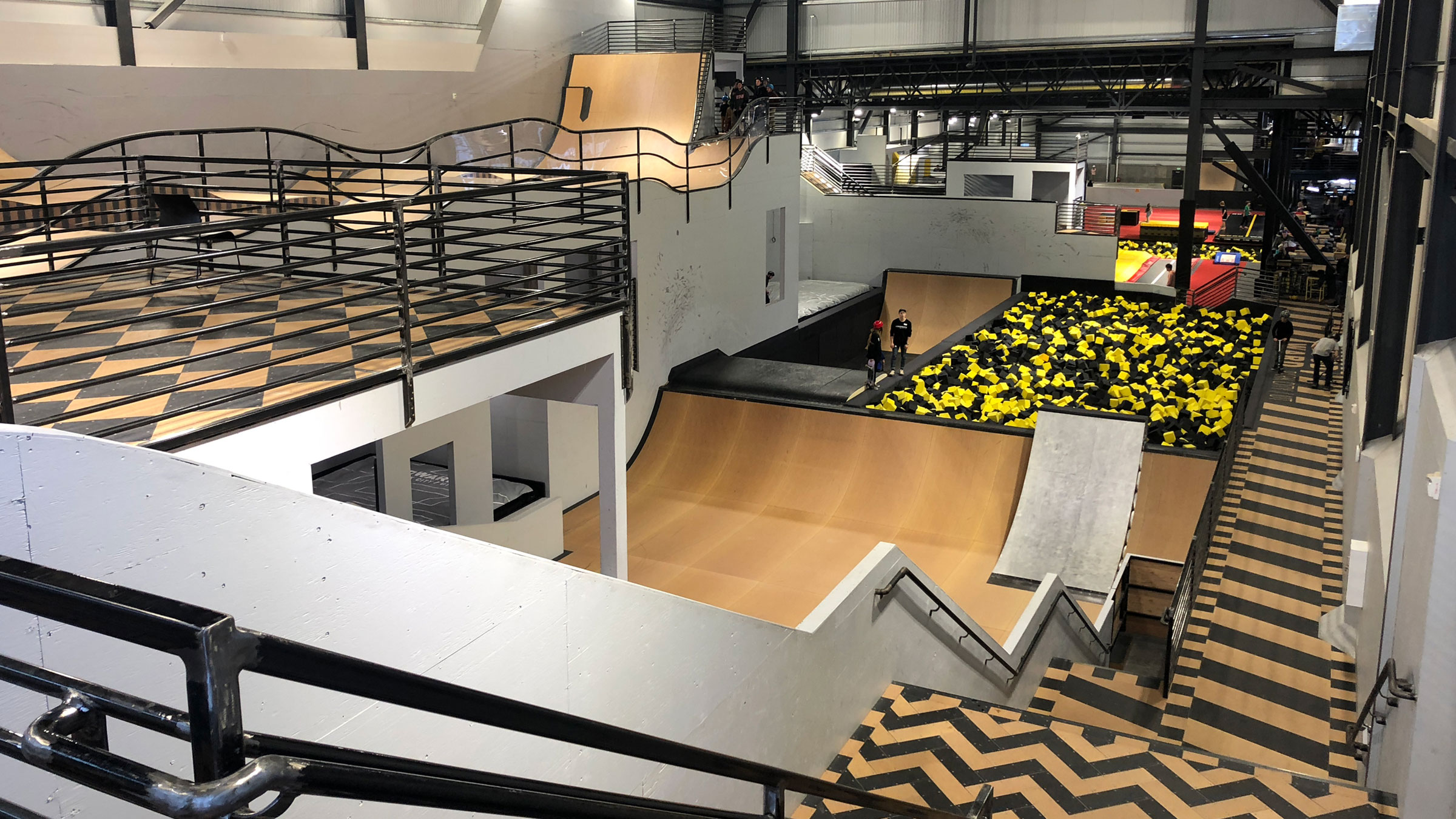 When you approach the building from the lot, you cannot help but get excited. It doesn't matter if you're just playing the role of sherpa and spectator. You see just how big the property is and all the work that went into shaping the trails, constructing the plaza and making this a true destination. Upon entering the building, the guest services and check-in counters are on your right. Reusable wristbands are issued with an embedded chip that gets scanned when you enter a zone or get on a lift. The wristbands also let staff know when an attendee's session has expired.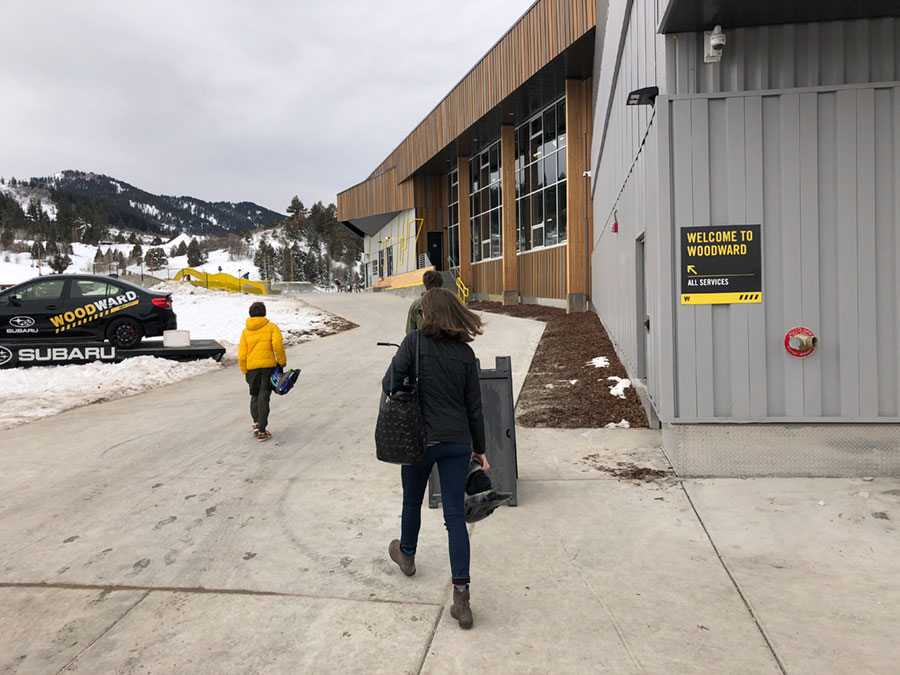 Here Is An Overview Of What Woodward Park City Has To Offer
Indoor / Sports Hub
Skate park
Trampolines with foam pits

*

and parkour zone
Mini Mega Ramps with foam pit and resi-mat
Mini Ramps, 1 with air bag
Digital Media Center

*

Spectator zones
Food and beverage services
Outdoor
Skiing and snowboarding terrain park
Tubing hill
Mountain biking
Skate plaza
Pump track
Dirt jumps
Connector path – a ribbon of blacktop

¼ mile asphalt pump track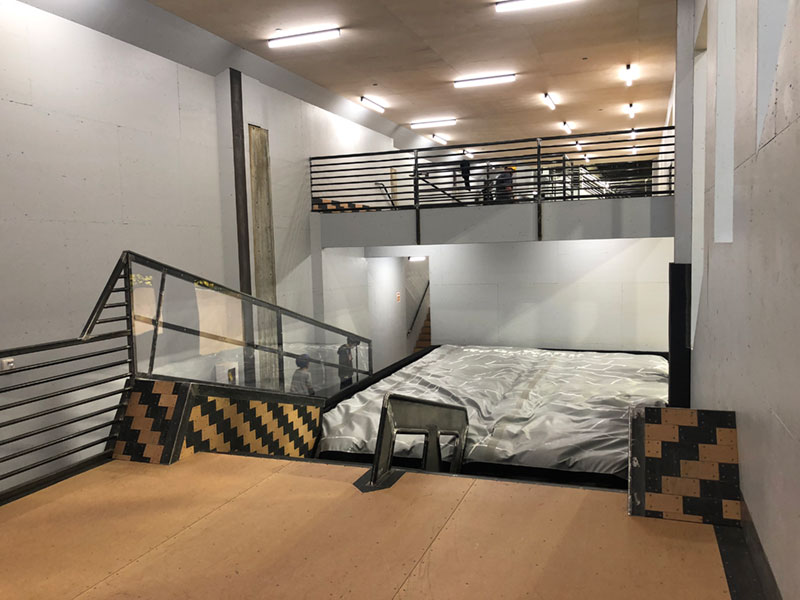 First Time Safety Orientation Course Experiential Tour
Every first time visitor who desires to enjoy the the indoor offerings will have to take a brief Experiential Tour session. This only lasts about 10-15 minutes and during the course, guests are instructed to be aware their surroundings, how to enjoy each area at Woodward Park City, the proper way to queue up for a feature and announce "Dropping in!", how to tuck-and-roll, and other basic skills. If you or your kids have skate park or bmx experience, this is just a well-packaged presentation focusing on how to educate everyone; and help keep you and other guests safe. This is included and is a part of your first 90 minute session. Once completed – you're all set!
Woodward hires experts for each of the park's activities. They are always available for questions and assistance. Part of the Woodward experience is the Zone Coaching, where coaches own their zones and are not only there to make sure everyone stays safe, but available to assist with tips and tricks you may be working on! You can even book private lessons if there's a skill you want to improve one-on-one or move through areas of the hub you'd like to session.
We ran into a friend of ours who went to grade school with our oldest son back in the day and he was a scooter instructor. Not a bad gig for a high school kid.
Local pros and athletes with advanced skills and teaching know-how guide you and your kids through proper techniques in order to raise your abilities.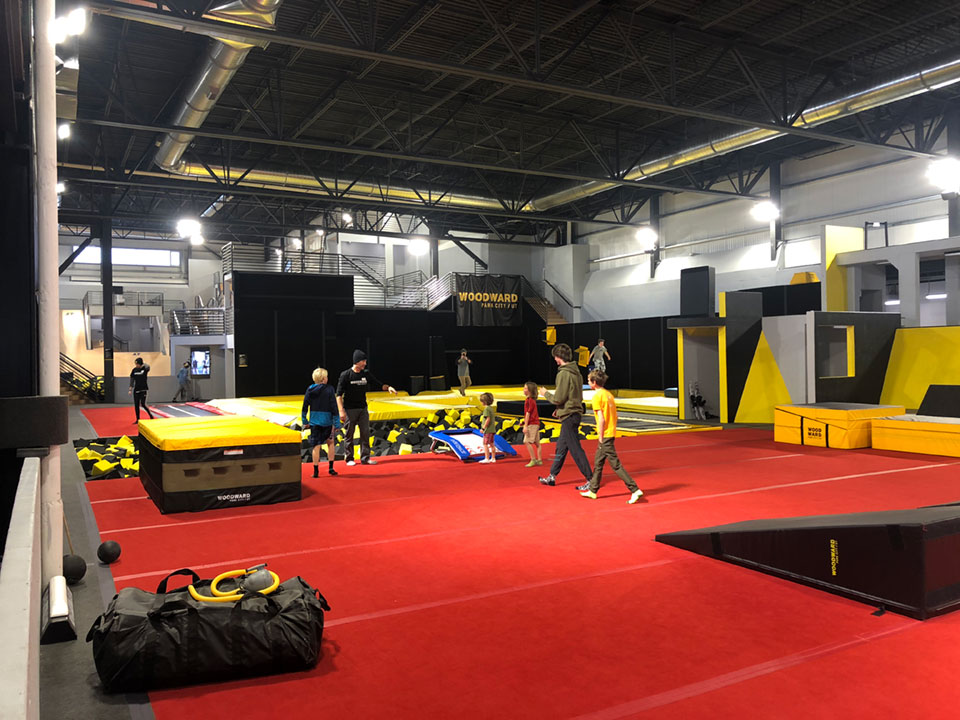 Watching The Kids Throw Down
If mom and dad aren't participating, no problem. Indoor spectator zones are available. You can watch your kids from these areas as they enjoy the bike ramps, gymnastics area, indoor concrete skate/bmx area. Free Wi-Fi is available, so if you have the ability to actually zone-out and work from a laptop while your children have the time of their lives, have at it. Large windows allow spectators to keep warm/cool as they identify their loved ones flying down the mountain outside in spring, summer, fall or winter.

Mountain Biking At Woodward Park City
Our first experience mountain biking at Woodward Park City was epic! The trails were only a couple of months old and the construction of new trails was in-progress.
We took a few laps at the bike park on the Hot Laps quad and even though there's only about 350 feet of elevation, the trails are very well planned and the terrain varies. The venue even accommodated a local, lift-served enduro race last summer. The mountain is currently laced with a few great trails and the property is big enough to build more. Beginners through experts will enjoy the bike park's trails, pump track, dirt jumps, paved connector trail and plaza.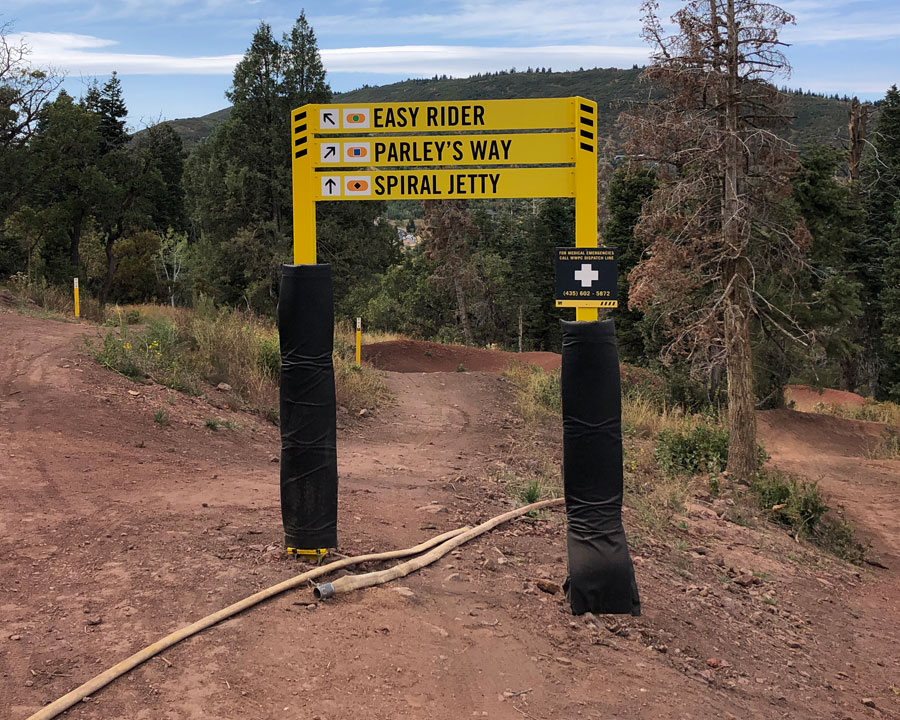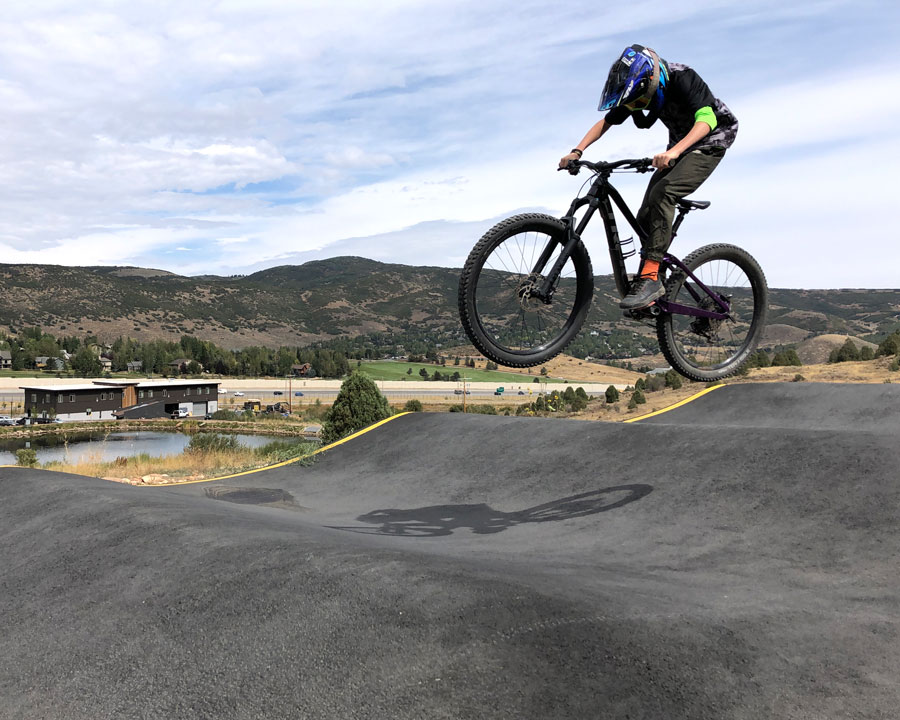 The trails Easy Rider and EZPZ are rated as a green and they are designed to get beginning riders comfortable with downhill mountain biking. If you've never done this type of riding before, be ready to take it slow and pull off the trail if you or someone in your group needs a break. There is also a "Start Park" warm up area to assist new riders get comfortable with bike park style riding prior to getting onto the lift. You may get some arm pump and tired legs after just a partial lap.
Once Easy Rider/EZPZ have been mastered, move on to the intermediate trail, Parley's Way. This line features doubles, table jumps, and a few small step-downs. The berms are built up a bit taller on this trail so you can maintain speed while cornering. The new sections on both of the green and blue trails are more like a skate park on the hill – offering several different line and feature choices keeping it interesting and allowing for progression throughout the day.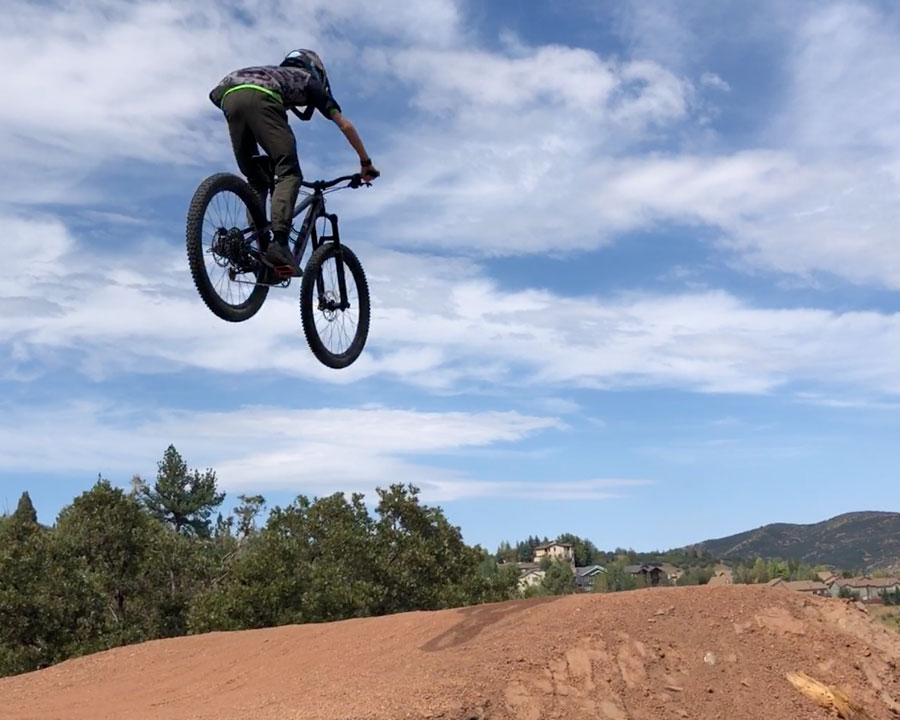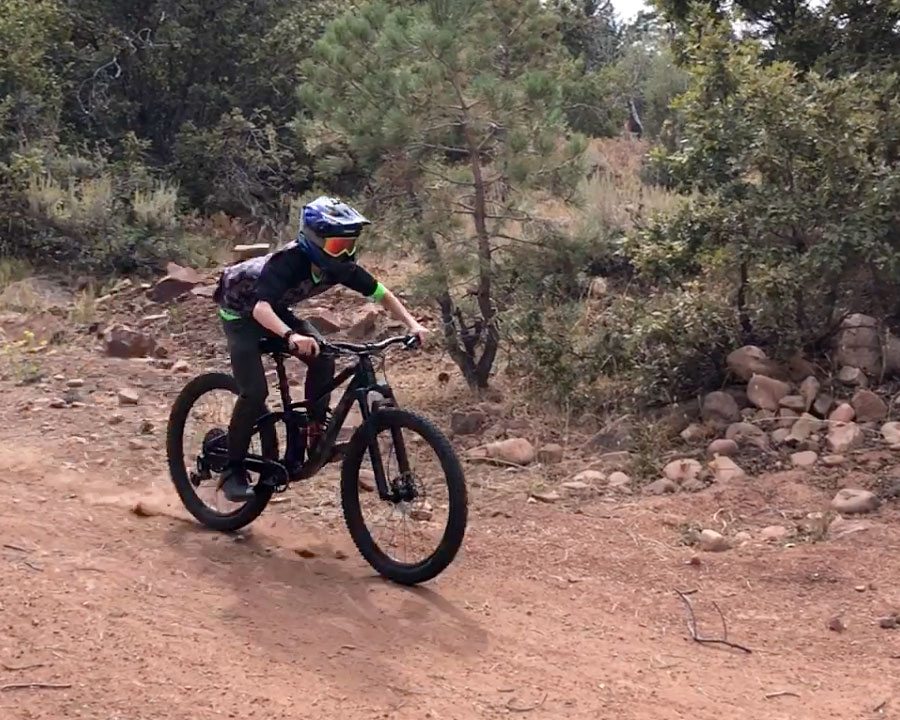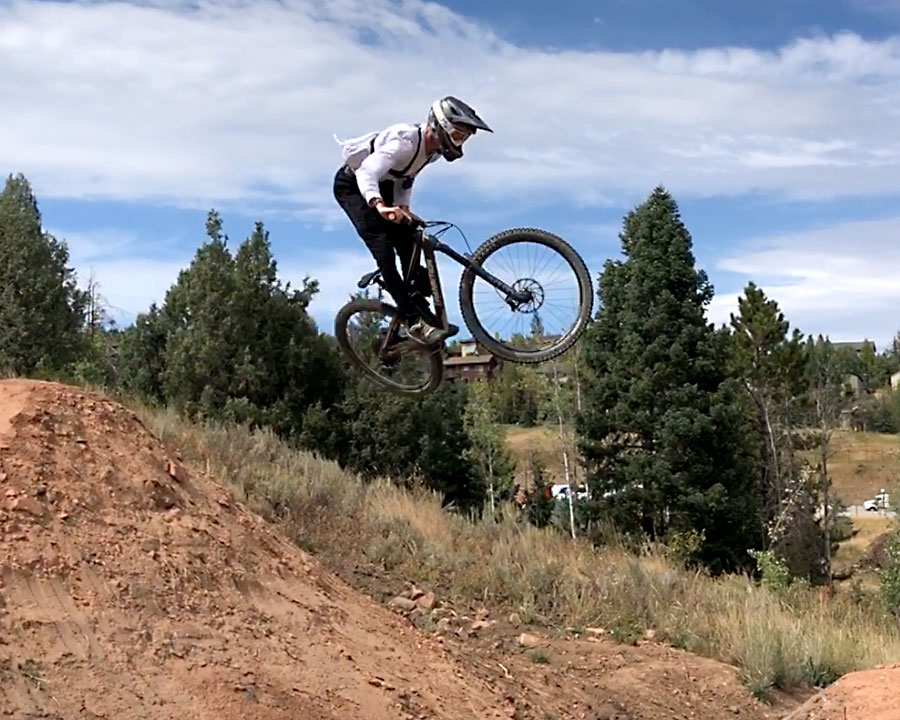 Next up is the advanced trail, Spiral Jetty. Bigger jumps mean riders must possess a bigger bag of skills. A couple of the tables at the top of the track can send you pretty high up, but it's the optional PRO jump line at the bottom half that's composed of the BIG jumps. There are big consequences to these because when you hit them at speed, you can easily be over 8 feet off the deck and soar through the air over 25 feet. If you have the skills, check them out and give them a go.
Enjoy the outdoor pump track. Learning how shift your body weight to maintain and gain speed as you keep the wheels on the ground is an important skill to have. Progression on the pump track transfers over to trail riding and jumping. Once you're comfortable on the pump track check our the jumps. The dirt jumps are at the east end of the property and several different lines are available. You can progress your skills from beginner to pro, as you successfully send one jump at a time.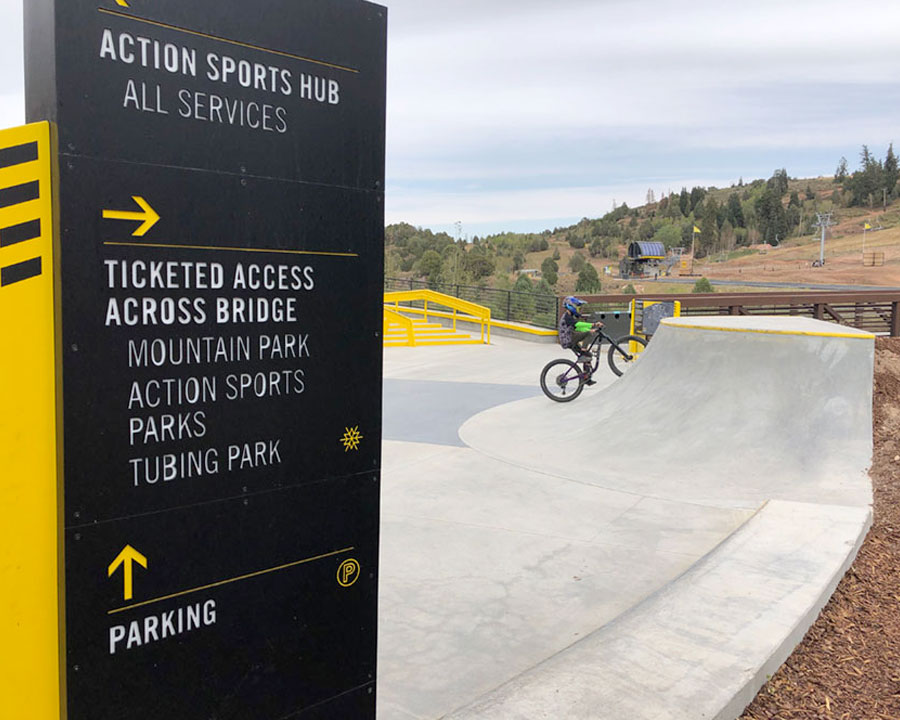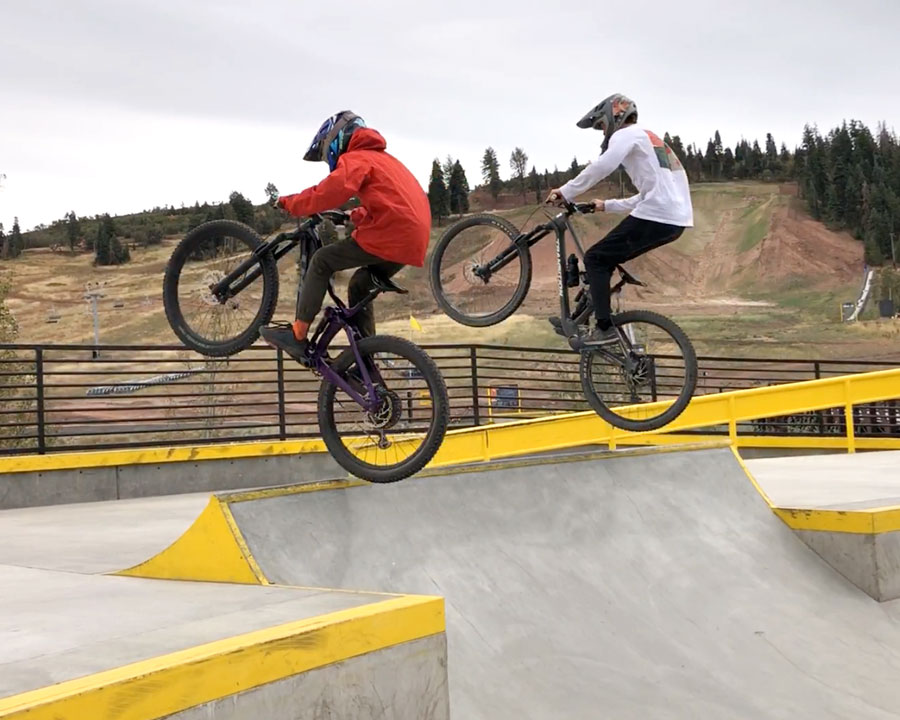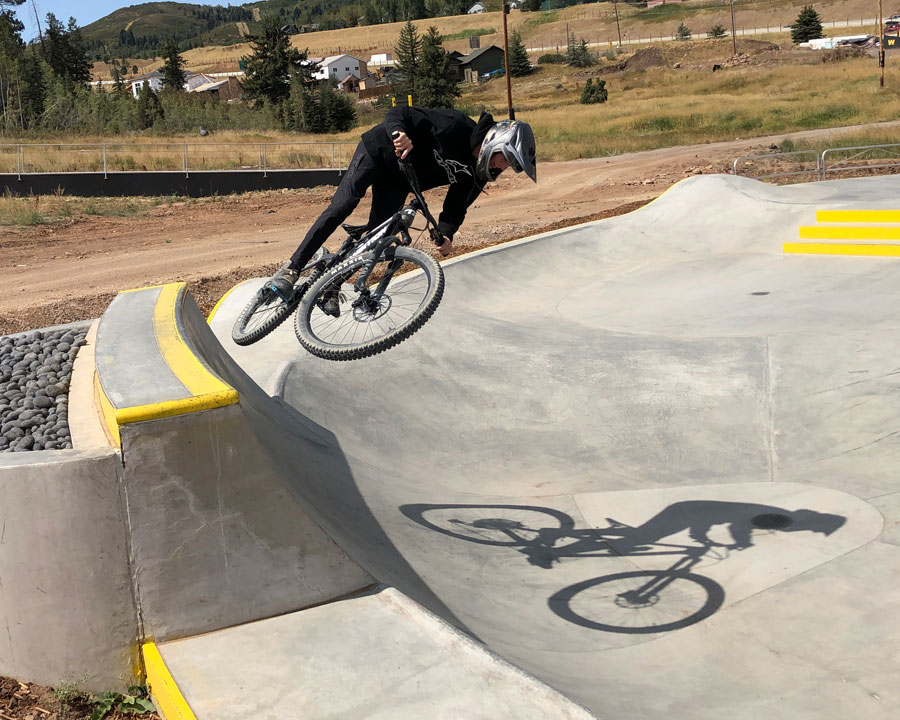 Woodward Park City has 2 outdoor concrete skate parks – the Central Plaza and across the bridge, the W Plaza. Each has different grades, lips and features. Last, the connector trail is like a straightened out blacktop pump track. It's an undulating ribbon of asphalt where you can practice your bike control and jumping. It is ¼ mile long and a great way to warm up as well as keep in shape.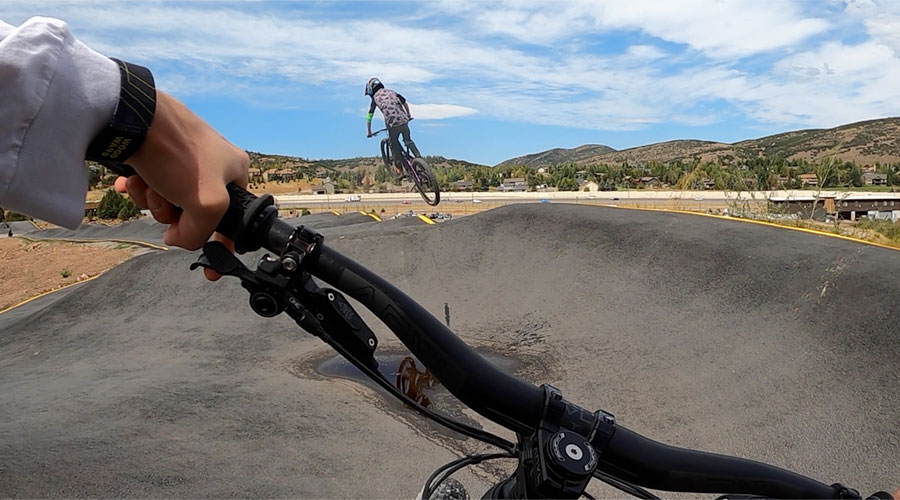 Indoor Biking At Woodward Park City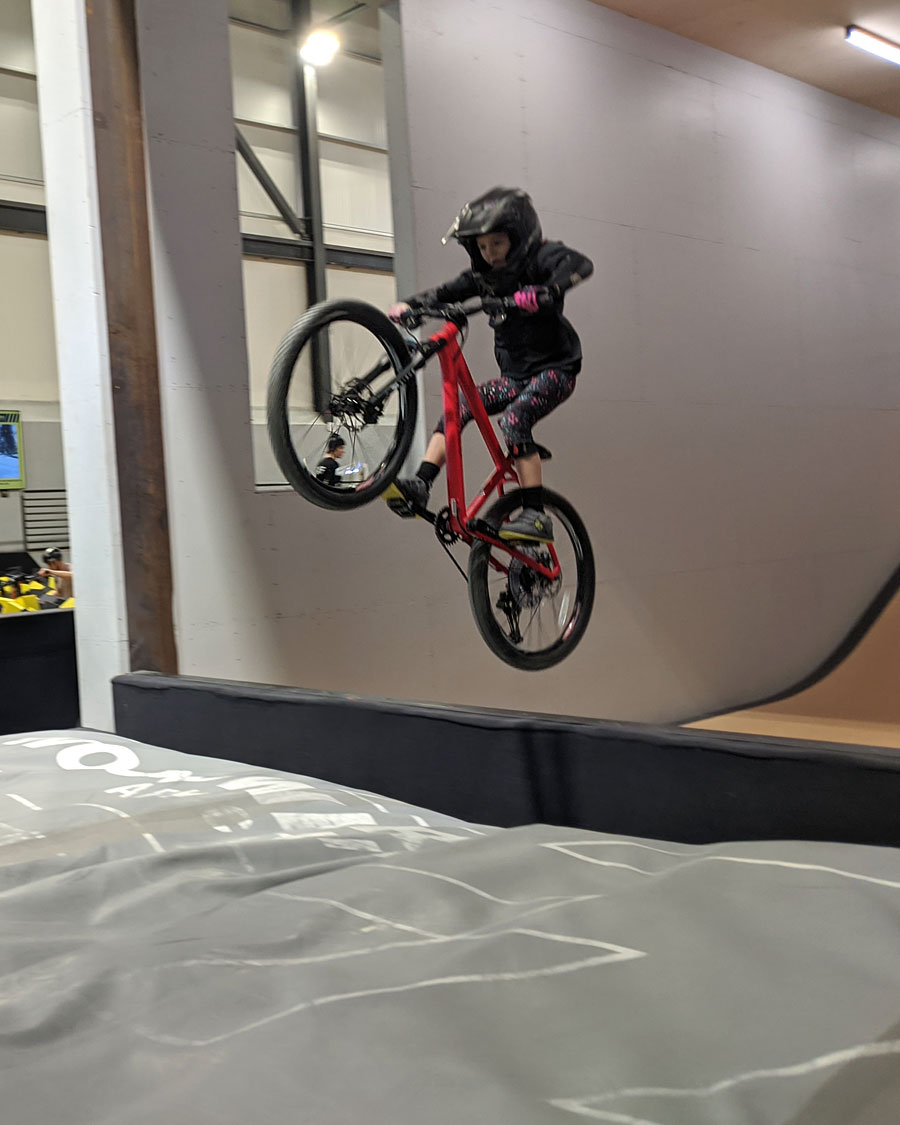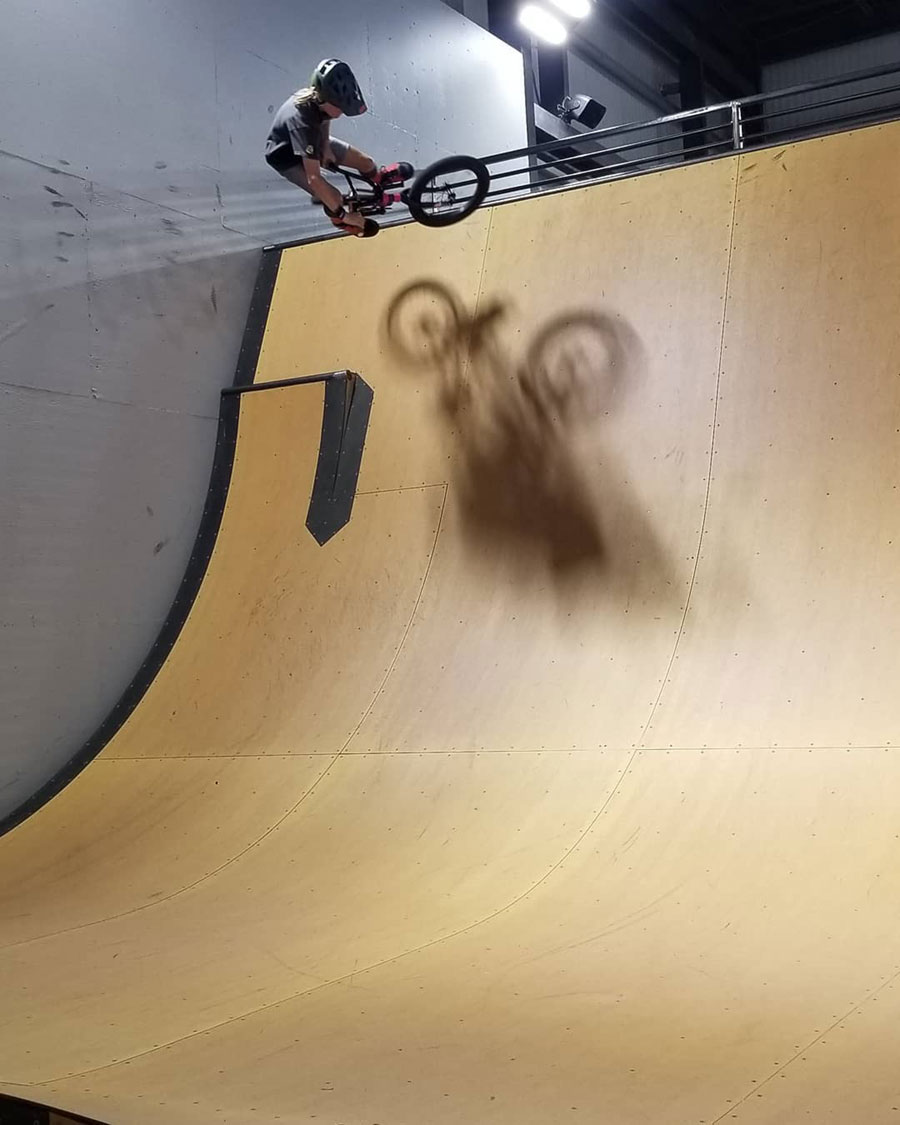 Inside the facility, biking features abound. There is an indoor pump track with quarter pipes on the second level of the building. The pump track is parallel to the large indoor ramps with jumps.
Your weapon of choice doesn't have to be a bike. Skateboards, scooters, inline skates, Woodward's patented Park Boards and Park Skis (snowboard simulators and skis with wheels) are sent down the ramps with riders of all ages and abilities on board. The finales for these jumps are a resi mat and a giant foam pit*. It's a lot of fun just to hang in the observation area and see what tricks people will throw in this area. There is a room with a medium size jump and an air bag for those not ready for the larger ramps previously mentioned. On the east end of the facility is large concrete indoor skate/bmx zone. Rails, stairs, bowls and step-ups/step downs are the perfect features for the freestyle bmx crowd.

Dynamic Pricing At Woodward Park City
Woodward Park City has so many pricing options, you have to visit their website to learn about them all.
Yes, grandma. Adults are welcome to rip it up, too.  Join Adult Shred after hours when they kick all the kids out for adults only on Thursday evenings from 7:30-8:30pm. 18+ only please!
Group lessons are available for for ages 4 and up.  Private lessons are offered for all ages.
Kids age 6 and under always require adult supervision by a member or ticketed adult. Ages 4-6 have access to our indoor Action Sports Hub, Mountain Park, and tubing lanes. Ages 1-3 have restricted access to Woodward Park City:
Hub Sessions: 9am-10am Weekends, 10am-11:30am Weekdays
Tubing: Limited to snow play areas.
Choose how you play!
Woodward can facilitate everything from membership subscription passes ( similar to a gym or Netflix) to one-time visits. New this season, Woodward has launched 4 different Membership options.  The All Access pass gives members similar access to what they offered before with auto renew. This includes some pretty amazing perks like 2 buddy passes a month, access to Woodward Copper Barn and the Woodward Tahoe Bunker, one free SnoGO Bike lesson and rental, discounts on summer camps at Woodward Park City, Woodward Tahoe, Woodward Pennsylvania and Woodward West. Also 15% off MTB , ski and snowboard group lessons. There is also Mountain Park outdoor pass only. This also comes with some of the perks mentioned, and is all access to the Hot Laps Chair, Mountain Park, Outdoor Action Sports Parks and the MTB trails.
The new one-month pass options offer either All Access or access to the Mountain Park [outside only] valid 30 days from date purchased, these passes do not come with the perks.
Rental equipment is available in the lower level of the facility and full-size mountain bikes are available when in-season. There are two eateries on site with locally sourced ingredients. The Hive is the main cafeteria with the usual and some unusual fare. The Grind is more sophisticated and offers tastes to the more adult palate, along with adult beverages of all kinds, making Woodward the perfect place for a date night.
We know what you're thinking now: Is there a gift and gear shop? You bet there is. Get a t-shirt, warm hat or gloves, cool shades, hoodie, or other souvenir.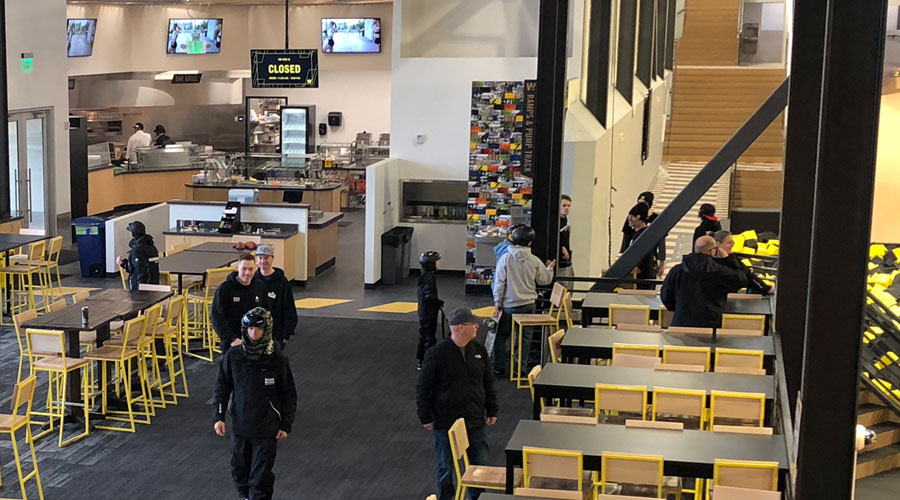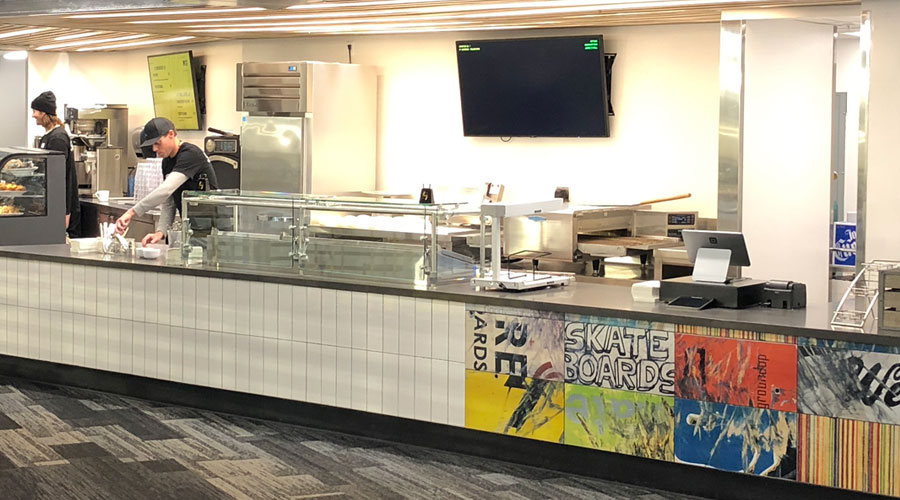 Skiing, snowboarding, and tubing take place when the weather shifts from fall to winter. The resort fires up the snow making equipment as soon as the temperatures remain steady in order to supplement what nature can provide. Skiers and snowboarders are elevated to the top of the venue by the quad lift and a magic carpet gets tubers to the top of the hill on the west side of the resort. Woodward Park City boasts Utah's longest tubing runs. For skiing and snowboarding, the north side of the mountain is adorned with rails, on-off boxes, gap jumps, and rollers. Additionally, the resort builds up some big senders and a massive half-pipe.    
Don't Overcook It – Patrol And First Aid
Be sure to play it safe and perform within your abilities. Yes – accidents happen, but extend your sports seasons by exercising your risk-management skills in partner with your athletic skills. Due to the nature of action sports, on-site medical personnel are always present and available to evaluate and assist if needed. Alert an employee if you see someone in need.
Woodward Is Designed For Action Sports Progression
It doesn't matter if it's gymnastics, freestyle skiing, in-line skating, snowboarding, downhill mountain biking, etc. Woodward Park City is designed for action sports athletes to improve their skills. An athlete's performance relies on a combination of physical and mental abilities. And, Woodward has the instructors, features and terrain for those ready to improve their style, ride with confidence, jump higher, go faster, or simply have fun. Woodward is open year-round, so it doesn't matter if your sport is in mid-season or mud-season. There's always something to do at family-friendly Woodward Park City.
https://mtbwithkids.com/wp-content/uploads/2020/11/woodward-collage-featured.jpg
1200
2048
Brett
https://mtbwithkids.com/wp-content/uploads/2016/05/logo-mtbk-400-300x157.png
Brett
2022-11-02 15:18:56
2023-02-26 15:10:44
Woodward Park City