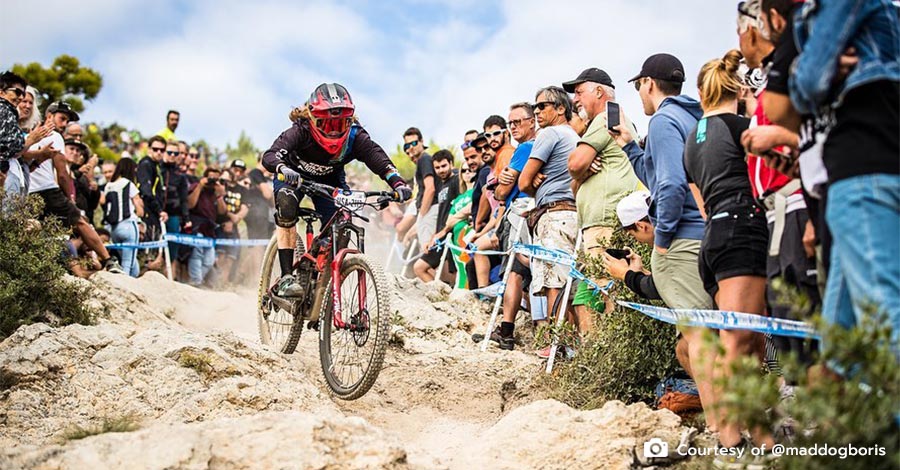 Anna Newkirk had several podiums last year in the women's junior downhill category through the 2019 UCI World Cup series including a win at Ft. William. This year, she's moving up to the elite classification and will be competing against the fastest women on the planet. As part of the Young Guns Racing Team based in Europe, this American is ready for launching into a season full of opportunity and excitement.
Follow Anna Newkirk on Instagram @annanewkirk_
Anna Newkirk is sponsored by: Canyon Bikes | Maxxis Tires | DT Swiss
Note: this story originally mentioned an ankle injury that was from an interview with another athlete. That erroneous text has been removed. Anna is healthy and ready to go.
Can you tell me a bit about growing up in Salt Lake City?
I was born in Salt Lake and I grew up there racing BMX. We used to go ride at Rad Canyon a lot and we tried to race every race. My brothers and I raced a lot of national BMX races in the US.
Tell me about how your parents supported you over the years?
They've always been my biggest supporters. Always helping me when I need and introducing the bikes in the first place. Especially just supporting me in general, mental support. Always believing in me. They've definitely been the biggest part of my whole racing career.
Do you have dual citizenship and can you speak German?
I don't have dual citizenship yet. I'm working on getting my Swiss passport, but yeah, I am fluent in German and Swiss German.
How did you transition from BMX to downhill?
I think it was just a natural thing that happened – mainly because of my little brother, actually. When we lived in the US I remember my first mountain bike. It was a Marin with 20 inch wheels. I did a little bit of mountain biking there, and then moved to Europe and we didn't really have a lot of options of riding BMX or racing BMX. My brother started riding downhill and mountain bikes and I thought, "Well, he's doing it, I'm also going to start doing it." I started riding downhill bikes mainly through my brother.
Tell me a bit about your win in Ft. William last summer.
Yeah, that was a really cool experience. It was funny because the weekend itself at the beginning didn't start off really well. In practice I had a pretty nasty crash and I messed up the ligaments of my toe and I couldn't really put any pressure on it. I didn't know if I was even going to be able to race or ride. Then on qualifying or qualifying day, I was able to ride and it was all good. I crashed in my qualifying round again and hurt myself a little bit more. I guess on race day, everything just came together. I was super focused throughout the whole run – and even though there were still two riders left, I was just super stoked on the run. I didn't expect that I was going win. I remember sitting on the hot seat and looking at the time board. First, they were green. Vali Holl, she was ahead of me at the splits, and then they were red. From there, I was really nervous. I couldn't watch anymore. It was really a cool experience.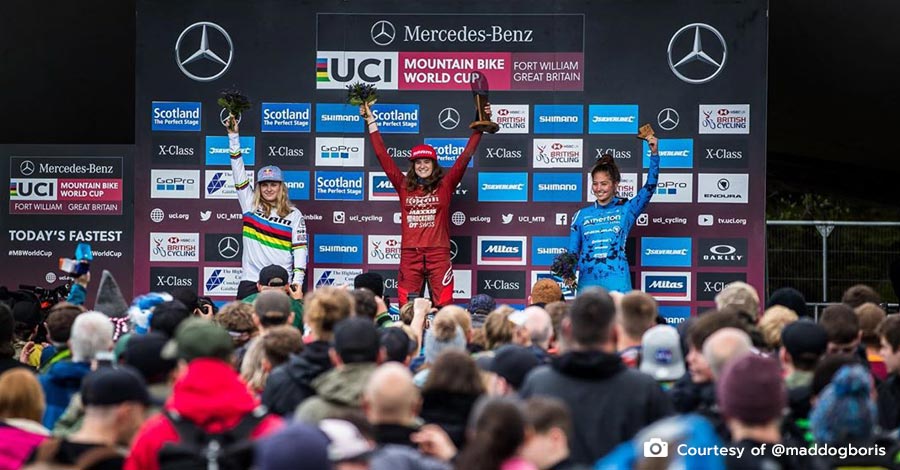 Do you have any other tracks that you really like other than Ft. William now?
I like a lot of the courses. I really liked the one in Croatia last year. Andorra is always fun. Les Gets is super fun. Mont Saint Anne was a lot of fun. So is Snowshoe. All of them. I guess I like all of them.
Do you prefer fair weather compared to riding in wet conditions?
Honestly, I didn't think I was very good in the wet, But in Ft. William, it was raining and it was really wet. I guess it just depends on the course. I wouldn't say I'm good or bad. It just is what it is.
Talk a bit about riding enduro with Isabella Naughton and Lauren Bingham in the Trophy of Nations last year.
That was really cool and a lot of fun. I was able to learn a lot from both of them about riding enduro and racing enduro. It was important to pace myself and not just to go all-out at the beginning. I wasn't as nervous when I was racing with them as I was at the first EWS I did in Zermatt. There, I was really nervous and I crashed almost in every single stage. Then in Finale at the Trophy of Nations, racing with them – I was a lot more calm. It was just a lot easier to do.
What have you been doing in the offseason? What are you working on differently than last year, if anything?
I don't think I've been doing that much differently from last year. Maybe some small things, but nothing that's like, "Oh, I'm in the elite category next year, so I have to do this and this differently." It's been mostly the same. On Monday, I don't do training. On Tuesday, I'll go to the gym in the morning, and then if I have enough time and enough sunlight, I'll go ride in the afternoon. Wednesday, I'll also go to the gym in the morning, and then I'll go ride in the afternoon and do sprints. On Thursday I'll go to the gym in the morning and if I have enough time and sunlight, I'll ride in the afternoon. Then on Friday, I do sprints and ride. Saturday and Sunday are just riding.
Do you have a personal trainer or just the team trainer? Do you train as a group or do you have individual workouts?
I work with a gym in Basel with them. It's called the Medical Fitness Center and I have a personal trainer there who helps me out in the gym. Mainly, the training and stuff, the gym workouts and sprints and stuff, I'll do by myself or with him. When I ride enduro, I'll either go with friends or groups, and sometimes by myself.
What do you enjoy doing when you're not on the bike?
I like hiking and climbing and just being in the mountains enjoying the sun, good weather
Are you a skier?
I used to be. I mean, I really enjoy winter sports, skiing and snowboarding, but it's really expensive – especially here in Switzerland. I haven't been in a really long time, but I'd love to get a pair of skis soon because I really enjoy doing it.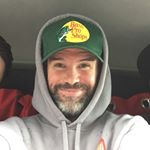 How do you handle it when things don't go your way when you know you could have done something better in a mountain bike race?
That's the worst, especially when you've just finished a race and you just think that you know and you just know that you could have done better. First, I'll just become disappointed in myself. I like to be alone for a bit, and then I guess afterwards, just reflect on the race and think what I could have done differently and what I need to change for next time.
Aside from the UCI stops, do you have any other events on your calendar that you're looking forward to?
I always look forward to the Crankworx stops. I don't know if I'll be able to make it to any events this year, but I really hope I'm able to hang out a lot of fun. Also excited for the EWS races in Val Di Fassa [Italy] and Petzen [Slovakia].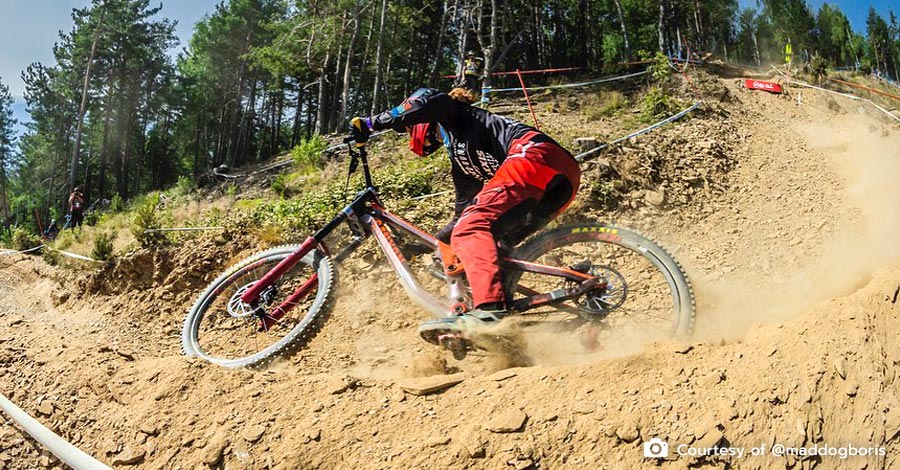 What do you want to earn or achieve this year?
I want to race as best as I can. Just mainly put down runs and earn results that I'm content with.
Based on your experiences, what would you like to say to parents who have kids that are getting into racing
I'd say don't put any pressure on your kid and never make your kid feel like they have to finish first or finish on the podium. If they don't, don't be disappointed. Never make your kid feel like they could disappoint you.
Tell me about your Young Guns Team? What you guys are about? What are your expectations and responsibilities are that go along with being part of the group?
The Young Guns Racing Team is all about just pushing young racers up to their second year in the elite category and World Cups. Just helping them out, giving them support, and trying to make them into the best rider they can be. I think it's really cool. I learned a lot last year. I had a really good time with everyone. One thing that I think is really cool about it all is they don't put any pressure on us.
https://mtbwithkids.com/wp-content/uploads/2018/02/anna-trophy-nations-v1.jpg
470
900
Brett
https://mtbwithkids.com/wp-content/uploads/2016/05/logo-mtbk-400-300x157.png
Brett
2020-02-25 20:49:37
2020-03-02 00:03:33
Anna Newkirk Interview