The Trailcraft Timber 26 is a premium hardtail mountain bike for kids who have grown out of a 24-inch wheel bike and are not quite ready for an extra-small adult sized bike with 27.5-inch wheels. When our oldest son was in this size range, we ended up purchasing a used older brand originally available in 2010 with 26-inch wheels. He fit the bike fine and used it as it was designed, but it was on the heavy side. The thing weighed over 30lbs and a lot of the time, he'd bonk and hit the wall when we were on rides between 5-10 miles. The MSRP for a complete Timber 26 build ranges from $1,699 USD to $3,399 USD
Compare any other kids' bike against a similar model in the Trailcraft line-up and you are going to notice that Trailcraft bikes are (A) lighter and (B) can be spec'd out with wheels and components that other brands just don't offer.
Our friends at Trailcraft have trimmed the Timber 26 down to less than 22lbs and it's perfect for kids who like to get on the pedals and rack up the miles.
Ginger and Brett Rosenbauer, the company's founders and owners really do care about making bikes that embolden young riders to have fun and build the foundation to become mountain bikers for life. Here is a video that will give you a glimpse into why they chose to start Trailcraft.
The proper ergonomics for a child are carefully considered and implemented for all the Trailcraft frames and this is on display with the Timber 26. It is meticulously designed to fit a younger rider though her/his geometric specs in the age range of 8-13; 4'6″-5′ tall; with a minimum inseam of 25″. Having the right size bike enables control [for safety] and comfort [for fun].
When our demo arrived, it was easy to assemble. Out of the box, you only have to…
Attach the front wheel
Attach the handle bars
Install pedals
From here, you can cut the bars, adjust the angle/spacing of the brake levers and shifter lever, set up the fork, adjust the height of the saddle, and inflate the tires properly. Do a bolt check to make sure everything else is good to go and you're set.
If you're not comfortable setting up the bike yourself, swing by your local bike shop and pay a small fee to have it done professionally.

STANDOVER HEIGHT
24 inches




Let's Geek-Out On The Geometry And Specs For The Trailcraft Timber 26
We received a Timber 26 with the Pro [Shimano] XT M8000 build and a 32t front ring. Here are the numbers for this build…
| | |
| --- | --- |
| Seat Tube Length-Center to Top | 338mm |
| Top Tube Length (Horizontal) | 525mm |
| Top Tube Length (Actual) | 533.8mm |
| Chainstay Length | 419mm |
| Bottom Bracket Height | 285mm |
| Seat Tube Angle (Actual) | 74º |
| Head Tube Angle | 68º |
| Wheel Base | 1026mm |
| Standover Height | 610mm (24 inches) |
| | |
| --- | --- |
| Frame | Double butted 7005 series aluminum tubing with a super stiff hydroformed down tube, tapered head tube, forged dropouts, and post-mount disc brake mount |
| Fork | Rock Shox Reba 26 |
| Headset | Trailcraft Precision Sealed Cartridge |
| Rear Derailleur | XT M8000 11 Speed GS |
| Shifter | XT M8000 11 Speed I-Spec |
| Brakes | XT M8000 |
| Cranks | Trailcraft direct mount 152mm; alloy spindle; 26, 28, 30, 32t Option |
| Bars | Trailcraft Pro |
| Grips | Trailcraft Lock-On |
| Stem | Trailcraft Superlight 85g |
| Post | Trailcraft 27.2 |
| Dropper | Optional. You can get a KS LEV Si 100mm dropper post pre-installed when you order your bike online for an additional fee. |
| Saddle | Trailcraft |
| Cassette | XT M8000 11-42 11 Speed |
| Wheelset | Stans Podium rims, Superlight hubs, 32 DB Spokes |
| Chainstay protector | Lizard Skins |
| Tires | Schwalbe Rocket Ron 26×2.1" |
| Weight | 21.75 pounds |
| MSRP | $2,324 |
The Timber 26 is a great looking bike with internal cable routing, water bottle cage mounts on the down tube, and it's available in several colors. You can choose from: blue, neon green, lava, orange, or turquoise. When you order online, you can also select a chainring with 26t, 28t, 30t, 32t.
Be sure to see all the build options for the Timber 26 on the Trailcraft website. You can even purchase just the frame. Or, the frame, fork, wheels, and cranks.
Additional Trailcraft Bike Reviews
If you're on the hunt for a full-suspension bike suitable for rougher terrain, you're going to want to take a look at additional Trailcraft offerings.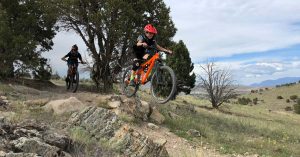 The Trailcraft Maxwell 26 is a great full-suspension bike for kids 4'7″ – 5'2″ tall. Our kid really liked getting loose on it.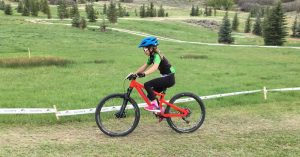 Wouldn't it be rad if there was a smaller version of this full-squish bike for kids? Click to see the Trailcraft Maxwell 24
Riding The Trailcraft Timber 26
We perched 2 different lads on the Timber 26 and each of them had good time riding the bike. To change things up a bit, our first rider was not an experienced mountain biker and we had to instruct him on how to change the gears, use the dropper and brake evenly. Nonetheless, he was very impressed with how easy it was to pedal uphill due to the bike's geometry and components.
After his second ride on the bike, he was able to build some confidence and ride across some narrow elevated terrain and techy stuff that was challenging on his first go.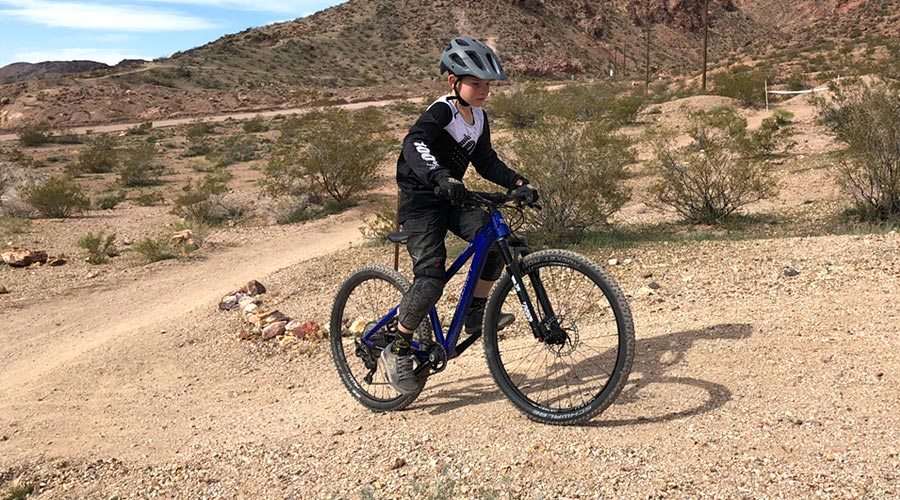 Intermediate through expert riders are going to know how to put a premium bike to use – and that was the case when our second rider got on the Timber 26. Coming straight off a downhill race, our rider fell in love with how light the bike was. He didn't pooh-pooh the hardtail configuration and he truly enjoyed climbing hills. The bike's short chainstays make it a responsive and stable machine, quick to abide by whatever the dude or dude-ette aboard wants to dish out.
The 26 inch tubeless-ready Stans Podium rims are an integral part of how the bike rides and handles. You simply cannot find a lighter, more responsive hardtail in this category.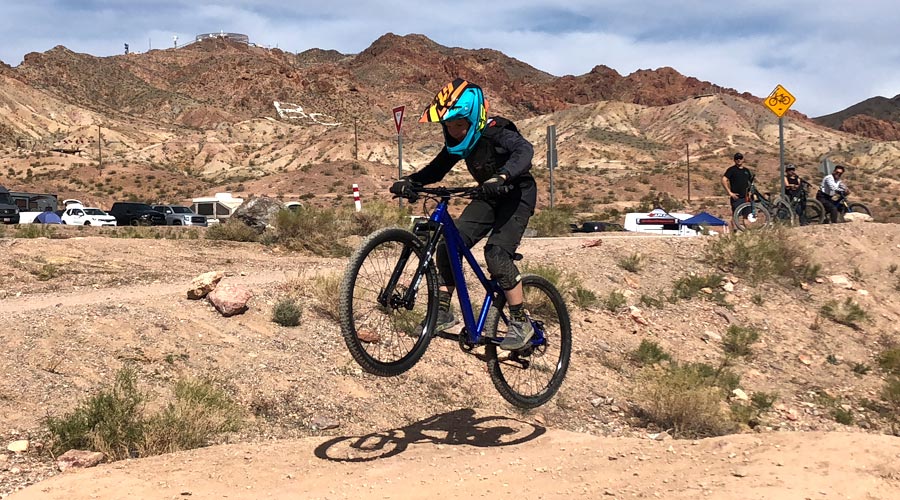 Getting the Trailcraft Timber 26 off the ground fit our second rider well. He threw the quick-shifting drive train into the right gear and railed into the pump track with ease. To really make things quick, take advantage of the lock-out on the air fork and firm up the ride. Your rider will really be able to "pump' the track when the suspension fork no longer sucks up the terrain.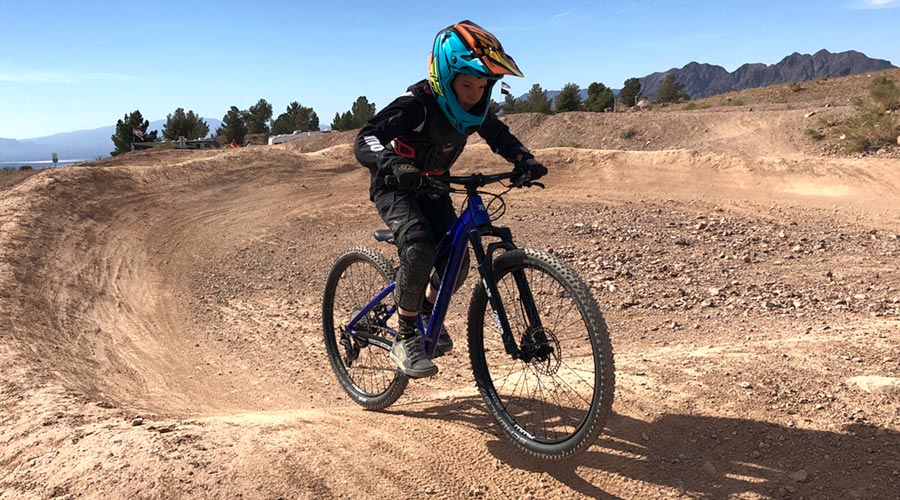 The optional KS Lev dropper for the Timber 26 may be a wise choice if your kid needs to get that saddle out of the way in a hurry. This is a hard-tail mountain bike that will suit a lot of kids no matter what type of terrain they like to ride. Need a XC race-quality machine? Check! Want to hit the dirt jumps? Check! Techy singletrack? Check! Ready to roll the pump track? Check!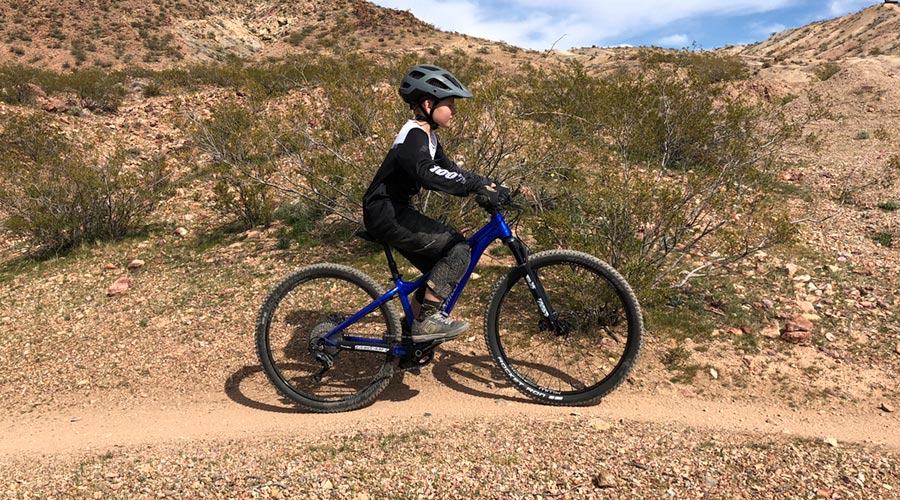 Transferring power to the drivetrain through the 152mm long cranks is easy-peasy. Add your own platform pedals or pedals with clips to claim every joule of energy. Although parents have been known to tinker with these bikes when they arrive, the Timber 26 comes standard with a set of well-suited Schwalbe Rocket Ron tires.
The Trailcraft Timber 26 Is A Great Bike
As with most Trailcraft bikes, options abound for the Timber 26… component group, frame color, front chain ring, optional dropper. If you want to start small and build up your own bike, Trailcraft offers a 'frame only' option for the Timber 26.
Don't hesitate when buying a Trailcraft bike for your kids. A quality, premium bike maintains its value. Our children have had bikes for just a season so we could make sure we have had the deck stacked in our favor when it comes to climbing hills and spending a long time in the saddle out on the trails.
The Timber 26 is not only a good climber, it's durable aluminum alloy frame is designed to take a beating. It's maneuverable and the bike's Rock Shox fork, Shimano components, and other youth-sized features are made to go on long rides, dirty dirt jumps, and sweet single track with family and friends.
https://mtbwithkids.com/wp-content/uploads/2020/02/trailcraft-timber-26-review.jpg
470
900
Brett
https://mtbwithkids.com/wp-content/uploads/2016/05/logo-mtbk-400-300x157.png
Brett
2020-02-28 20:26:23
2020-03-01 20:09:56
Trailcraft Timber 26 Review