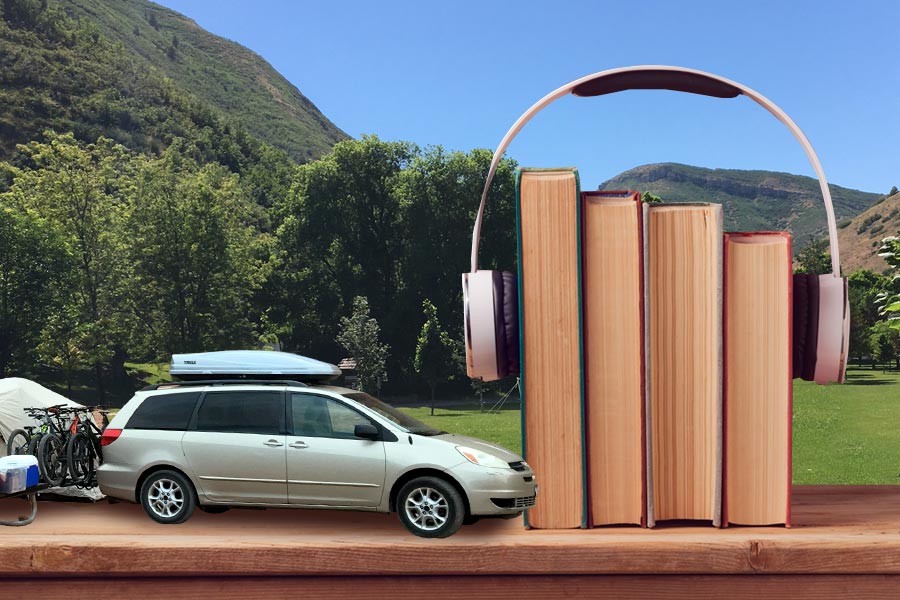 We're true believers in audiobooks for road trips with kids. Mountain biking with kids means a lot time in the car. Sometimes, it's several hours. As I'm writing this, we are on our way to St. George, Utah. My wife is driving and we are on southbound I-15. I affectionately call this route the "S-Z-C", or Southern Zion Current. This drive is about 320 miles and it takes us 5 hours. Some drives are shorter for us. Park City is only 30 minutes away from our house. And, some of our trips are much longer. Earlier this year, we drove from Salt Lake City, Utah to Bellingham, Washington in one day.
Less screen time is a good thing
Like most families, we try to limit our kids' screen time. We got rid of cable/satellite TV around 7 years ago and never looked back. Accessing movies on iTunes or RedBox works fine for us. And, one of my guilty pleasures is watching 70's and 80's bands perform live on YouTube. Look up The Midnight Special on YouTube and you'll see fantastic live performances by Blondie, KC And The Sunshine Band, ABBA, and Billy Joel – just to name a few.
We used to have a portable DVD player with two screens in the car, but as our youngest got to be around three years old, we just stopped bringing it on trips and started listening to books on CD. When our youngest was around four years old, he was old enough to complain about listening to books on CD. The conversation went something like this, "Uggggg. Not another story." About ten minutes later, this was followed shortly by peaceful snoozing for an hour or so at a time. Our complainer's older brother would always accept that time in the car meant listening to stories.
As a trip nears, we're always on the prowl for the next book on CD or series of audio books that will make the upcoming drive an atraumatic experience for all four of us.
Without further ado… here are some of the winners we have found so far. If you have some favorites your family has enjoyed, please tell us in the comments below. Why do all these titles begin with the letter "S"? I have no idea. It's just coincidence.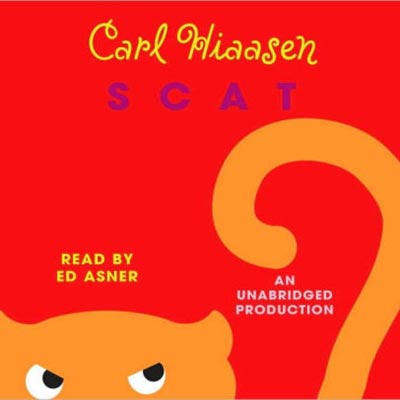 Scat
Comedy and mystery are entwined in Carl Hiaasen's, Scat. The story is narrated by Ed Asner – the actor mostly known for the voice of Carl from Pixar's UP and the Mary Tyler Moore Show. Bunny Starch is a biology teacher feared by her students. She disappears after a school trip to Black Vine Swamp.
The children are relieved and when the Principal tells the students that Mrs. Starch left due to a family emergency, Nick and Marta aren't buying it. The pair of amateur sleuths team up and trust that the classes delinquent, Smoke is involved. On their journey of discovery, Nick and Marta find that a lot of bad things are happening at Black Vine Swamp. They meet Twilly an eco-avenger claiming to be the nephew of Mrs. Scratch. They learn that there are panthers in the swamp and the Red Diamond Energy Company are drilling in the area. Nick and Marta pair up with Smoke, Twilly and Marta to save the panthers and the swamp from the company proving that very different people can come together for a common goal. Books by Hiaasen are definitely some of our audiobooks for road trips with kids.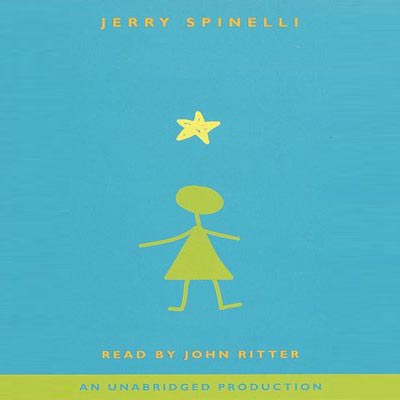 Stargirl
Protagonist Leo Borlock becomes intrigued by the mystery of Stargirl in Jerry Spinelli's narrative of teenage nonconformity. Stargirl Caraway is the new girl dressed in odd clothing from different eras. She sings Happy Birthday to every student and is perceived as fake by the most popular girl in school. As time passes Stargirl is embraced by her classmate's thanks to her place on the cheerleading squad but this is short lived and she is once again shunned due to her differences.
When Leo begins dating Stargirl he realizes that he too is being shunned and tries to change her. Stargirl begins going by her real name Susan and even as she tries to conform she realizes that fitting in doesn't matter. That her efforts to be "normal" are in vain and that she has betrayed herself by not being Stargirl. When she returns to her usual self Leo breaks things off with her unable to deal with the shunning. During a school dance, Stargirl is once again a star in the school but her time at Mica Area High School has come to an end and she moves away without saying goodbye. Instantly recognizable, John Ritter reads Stargirl like a father putting his daughter to bed.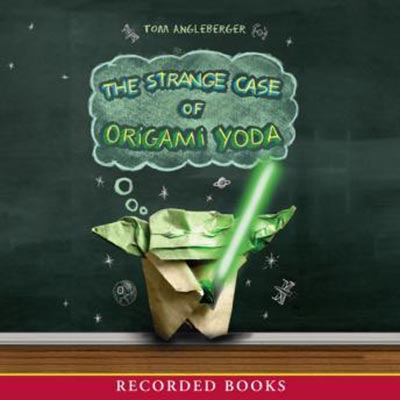 The Strange Case Of Origami Yoda
The Strange Case of Origami Yoda is a clever story of a young boy that brings his imagination to life for others. Great things come in small packages and sixth grader Dwight is a small package with a big personality. He is an odd boy at McQuarrie Middle School who creates an Origami Yoda and proceeds to give advice to his classmates. Many students are convinced that Origami Yoda is real and fellow sixth grader Tommy sets out to prove this with the help of his friend Kellen who illustrates the project.
Bully Harvey is not convinced of Yoda's existence and attempts to disprove Origami Yoda's connection to the force. Inspired by a real life Origami Yoda and the unique writing associated with Star Wars, Author Tom Angleberger tells his own unique tale about a young outcast you intrigue the mind of students with his Origami Yoda. The story is narrated by Mark Turetsky, Greg Steinbruner, Jonathan Ross, Julia Gibson, and Charlotte Parry.
https://mtbwithkids.com/wp-content/uploads/2017/09/audiobook-review-01-500px-v1.jpg
600
900
Brett
https://mtbwithkids.com/wp-content/uploads/2016/05/logo-mtbk-400-300x157.png
Brett
2017-09-06 19:37:11
2019-11-28 20:38:41
Three Audiobooks You May Enjoy On Your Next Mountain Biking Trip With Kids