26-inch wheel mountain bikes were the standard back when we first started mountain biking back when dinosaurs ruled the earth. There are not many companies making 26-inch wheel bikes anymore, but if you can find one, it might be a great fit for your pre-teen or teen rider. If your rider isn't quite big enough for a full-sized mountain bike but is ready to graduate from a 20-inch or 24-inch wheel bike, a 26-inch wheel bike may be perfect. 26-inch bikes can last your rider 2-3 years and can definitely take your kid to the next level. Check out our list of best 26-inch mountain bikes for kids below.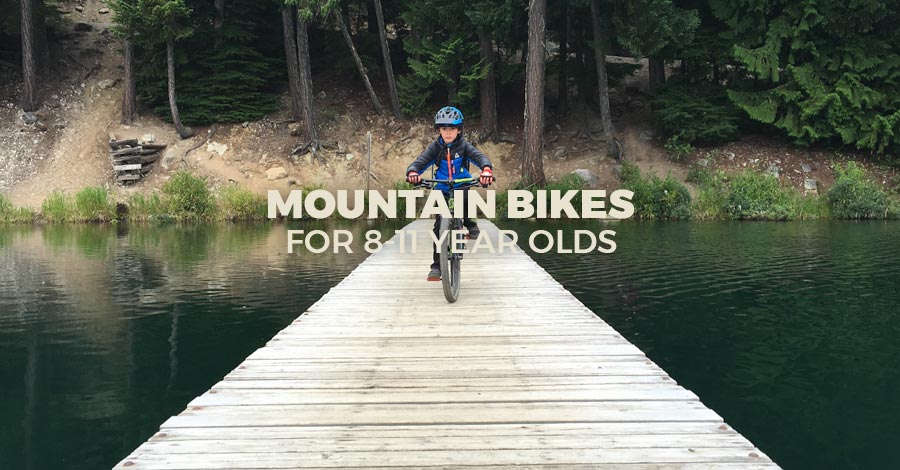 Importantly, before you shell out the money on a new mountain bike for your kid, you'll want to be sure that your kid can straddle the bike with both feet flat on the ground (for beginners) or on tip toe (for more advanced riders). Get a good stand-over height measurement by measuring your child's inseam.
Additionally, we recommend that you look for a bike that has the biggest wheels available for your kid's stand-over height. Firstly, bigger wheels roll more easily over obstacles on the trail. Secondly, a bike with larger diameter wheels will be more stable and more efficient for longer rides than smaller wheels because they require less effort to keep their momentum going. Kids on the taller side may fit on a 27.5-inch wheel bike, so you might want to check out our list of  https://mtbwithkids.com/enduro-bikes-for-kids/ and https://mtbwithkids.com/ten-great-mountain-bikes-for-nica-kids/before making a purchase.
Here is an overview of our top ten best 26-inch mountain bikes for kids.  Check out the comparison table at the end of the article to see all the size, weight and other data in one place.
Woom OFF AIR 6 – Kids' 26-inch mountain bike
The Woom OFF AIR 6 is a super-light and durable 26-inch mountain bike for kids. Tough terrain is no longer an intimidating obstacle but instead a fun challenge to overcome. The special chainring ensures that the chain stays in place no matter how rough things get. A love of cycling becomes a passion for mountain biking. This 1×9 bike has a great gear range for easy climbing and fast flats. The Woom OFF AIR 6 weighs only 24.3 lbs (without pedals). The SRAM components will keep your kiddo riding for days. PromaxDisc hydraulic disc brakes will keep them in control.
Buy this kids' 26″ mountain bike from:
Co-op Cycles DRT 1.0 26″ mountain bike
The DRT 1.0 is a 26-inch mountain bike for riders 4'9″ to 5′ tall who are ready to ride some singletrack. The Co-op Cycles DRT 1.0 features 26 in. wheels, a versatile 3 x 7 drivetrain, and the solid stopping power of hydraulic disc brakes. The SR Suntour suspension fork's aluminum lower is lightweight and provides 100mm of travel for a smooth ride. Shimano rear derailleur delivers smooth and precise gear changes. Tektro hydraulic disc brakes deliver reliable stopping power on or off-road, regardless of weather conditions.
Buy this 26-inch kids' mountain bike from:
MTB Helmets For Kids

Make sure your kids have proper, well-fitting head protection.
Knee Pads For Kids
Knee pads are another level of protection for young riders.
Hydration Packs For Kids
Is your kid big enough to carry their own water and supplies?
Zuma 26in Mountain Bike – Kids'
Radio Bike Co. offers the Zuma 26in Mountain Bike for kids. The Zuma is crafted with a lightweight feel and comfortable geometry that suits young riders well. Crafted with a lightweight aluminum frame and fork, the Zuma is highly durable for the aspiring rider. We like that this bike features components from Promax, KMC, FSA, and VEE Rubber, which are all optimally chosen for young riders. A comfortable geometry keeps them balanced over their ride and improves stability and handling for increased confidence.
Buy this 26″ kids' mountain bike from:
Giant STP 26 Complete Mountain Bike – Kids'
Giant STP 26 Complete Bike is a fantastic starter bike for younger riders building confidence on the dirt, whether that's hitting the pump track, the trails, or simply taking a rip around the neighborhood. It's light, durable, easy to ride, and comes with a 120mm RockShox Recon RL fork that provides plenty of squish when they pick up speed over roots and rocks. Tektro M275 hydraulic disc brakes to keep things firmly in control when the trail gets rowdy.  You can trust the Giant STP 26 Complete Bike to stoke the fire within every time they ride.
Buy this 26″ kids' mountain bike from:
Marin Rift Zone Jr Kids' Mountain Bike
Marin designed the Rift Zone Jr 26-inch mountain bike, to provide young shredders with a fun full-suspension bike. Built around Marin's Multi-Trac suspension system, the Rift Zone Jr. is Marin's most playful and fun youth full suspension bike to date. The bike's light aluminum frame creates a snappy feel that is equally at home on rolling hills as it is on steep downhill singletrack. Firstly, the 120mm X-Fusion Velvet and X-Fusion O2 Pro rear shock provide a supple and smooth ride. Secondly, the Deore 1×11 drivetrain provides all the gears you need to make it up the steepest climbs.  Thirdly, Shimano hydraulic disc brakes provide incredible stopping power when descending those steep chutes. Finally, the bike is rounded out with Marin Tubeless Ready wheels for fewer flats and incredible traction. Marin's Rift Zone Jr is one of the best mountain bikes for kids who are ready for a full-suspension bike.
Buy this 26″ kids' mountain bike from:
Nukeproof Cub-Scout 26 Race Mountain Bike (Deore) 2022
The Cub-Scout 26 Race is a 26-inch mountain bike designed with geometry that takes inspiration from Nukeproof's adult sized enduro bikes. Engineered to offer stable, agile and comfortable all-terrain performance for younger riders, Nukeproof has equipped it with a 120mm-travel Manitou Markhor suspension forks, a Shimano Deore 10-Speed groupset with a wide-ranging 11-46T cassette and powerful Clarks Clout hydraulic disc brakes. It also rolls upon Boost Nukeproof Neutron Tubeless Ready wheels wrapped in Tubeless Ready large volume 2.5" Maxxis Minion DHF tires. The Cub-Scout 26 has been designed from the ground-up as a proper mini-hardtail mountain bike. It has been designed to allow kids to learn the ropes of riding, inspire confidence on the trails and act as the perfect platform for progression.
Buy this 26″ kids' mountain bike from:
Trailcraft is known for designing some of the best mountain bikes for kids. The Maxwell 26 starts right around 26 pounds in our ELITE level build with best in category components.  That's right, just 26 pounds and the PRO AXS level build is even lighter! This is a fun, playful, super flickable bike for all types of mountain bike riding.  The Maxwell 26 is built for next level riding with some key geometry features designed specifically for young riders. The Maxwell 26 features a Horst link suspension design which is active under braking and very plush over both small bumps and bigger hits.  Short yet stable 420mm chainstay length and a 1082mm wheelbase is the perfect 26″ trail bike for riders coming off a 24″ bike.
Buy this 26″ kids' mountain bike from:
The Rocky Mountain Reaper is a design that allows your young mtb enthusiast to send it big and pedal on demanding trails. It's a full-suspension kids' mountain bike that comes with all the bells and whistles. This bike includes a RockShox Recon Gold and a RockShox Monarch R shock each with 130 mm travel, to soak up the bumps and keep your kiddo rolling. The Reaper delivers full-sized trail bike levels of competence and composure in a kid-friendly package.
Buy this 26″ kids' mountain bike from:
https://mtbwithkids.com/wp-content/uploads/2019/10/nov2019-8-11yo-bikes.jpg
470
900
Traci
https://mtbwithkids.com/wp-content/uploads/2016/05/logo-mtbk-400-300x157.png
Traci
2022-06-20 17:17:54
2022-06-22 20:55:28
Best 26-inch Mountain Bikes for Kids