Most of the time my kids wear loud socks covered in tacos, flying fish or pugs wearing party hats. But if they wanted to attack the whoo-de-doos with Euro-style, they'd tuck the tootsies into Bontrager's black Race Crew Cycling Socks. They're techno-socks: well made, thin and quick to wick away foot sweat.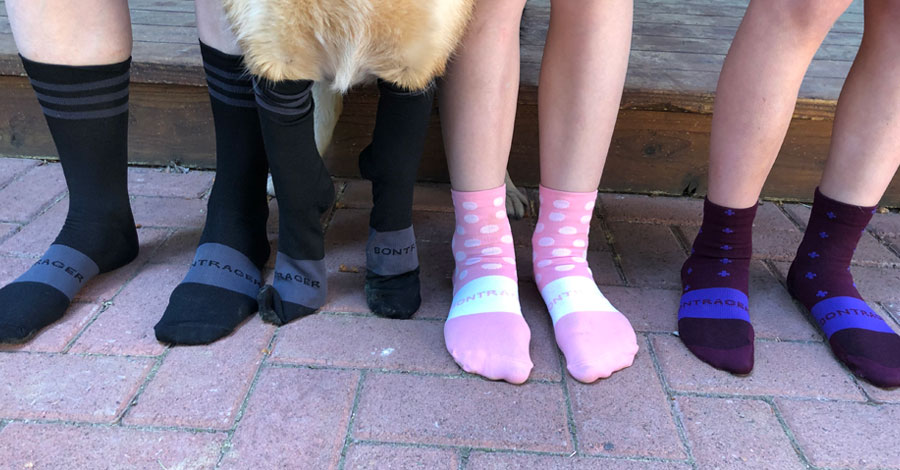 Of course, it's not like any tween TikTok fiend is going to be caught doing the Renegade in black mid-calf socks, ever. Fortunately, Bontrager also has their Race Quarter Cycling Socks in 15 shades and patterns, with "Ride Bikes Have Fun Feel Good" on the inside the cuff for inspiration. The "pink frosting" color with white polka dots on a light pink background were deemed cute, and the "mulberry" version, which is a dark purple with lighter purple crosses on it, received a thumbs up.
Both versions of the socks have a fitted feel, with the Bontrager logo across the top and compression around the arches. Though soft, they have little stretch. My 14-year-old found the size large calf-height socks too tight for his men's size 10/Eu 43 paddles, but they fit my women's size 8/Eu 39 feet very well. Size small in the quarter socks was a perfect fit for my 11-year old, who usually wears a women's size 7/Eu 38.
Nice points are the solid fabrication and flat toe seams. The 5-inch tall crew socks are also available in 3-pair packs of black, bright yellow and white, but, laundry-chief MTB mom speaking here, there is a considerable benefit to stain-hiding shades. The 2.5-inch quarter socks are only available one pair at a time, so you might have to pick up a few sets to avoid the dreaded one-sock-has-gone-missing syndrome.
The socks are an easily-washed mix of 95 percent nylon and 4 percent spandex. Ideally, they're supposed to be washed in cold water with no bleach and tumbled on low. For people who do laundry according to real-world busy parent standards, the socks have not frayed, shrunk, developed holes, or changed color despite being washed in hot water and run through the dryer. So far, the socks have not retained smelly foot stench, though they have yet to experience the Petri test of being peeled off after a muddy ride and stashed under a car seat for a few weeks.
https://mtbwithkids.com/wp-content/uploads/2020/07/bontrager-socks-featured.jpg
470
900
Cassie
https://mtbwithkids.com/wp-content/uploads/2016/05/logo-mtbk-400-300x157.png
Cassie
2020-07-08 16:27:56
2020-07-15 20:27:25
Bontrager Cycling Socks Review