Our family has been camping together for over 15 years. When the boys reached the ages where we could introduce bikes, new experiences and fun produced a synergistic effect that was second-to-none whenever we hit the road. In this article, we're going to let you know about some of our camp gear essentials when we load up the van instead of booking a room.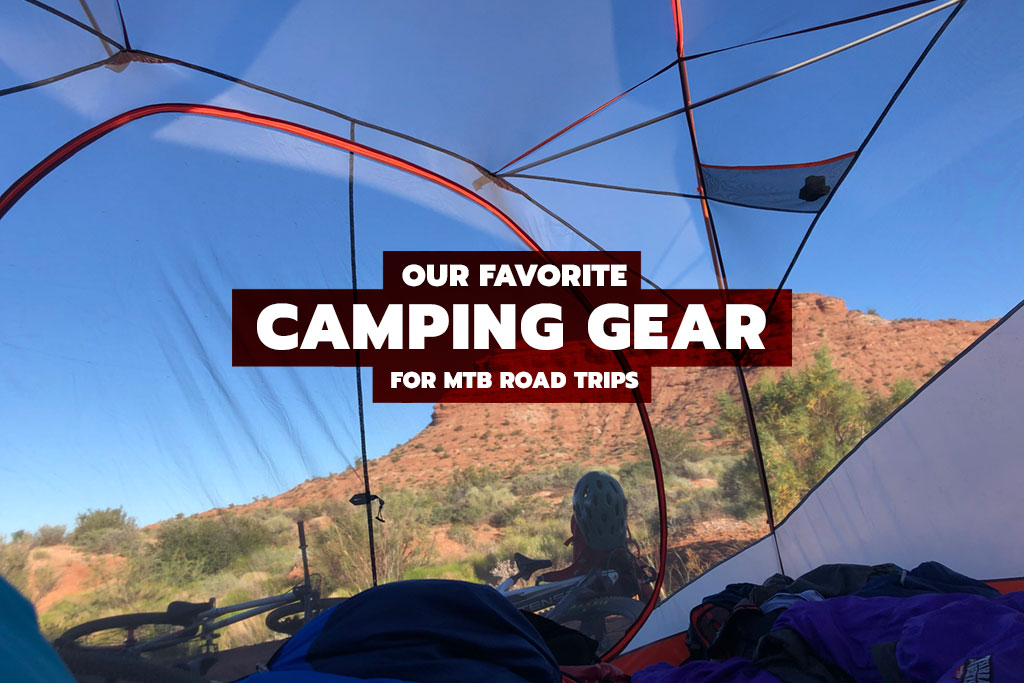 Marmot Limestone Tent: 6-Person, 3-Season
Our old tent had a few tears, a couple of busted zippers and bent poles. Instead of getting all these things repaired we opted for the Marmot Limestone 6-person 3-season tent. Even though there's only four of us, we really like the extra available space for storing additional gear in the tent. We've used it well over a dozen times over the the last couple of months and it has held up very well. We can easily transport it in our roof rack on the van (shown below) and it sheds the rain very well. Working it into the stuff sack can be a bit of a challenge so you have to make sure you compress and roll it tight.
Coleman Even-Temp Propane Stove, 3-Burner
What does one do when you forget the stove for a 3-day car camping trip with the kid's mtb team over a holiday weekend? You hustle your butt back to the closest town and buy whatever they have available. We lucked out and got the last stove in the store. The surface area for this Coleman camp stove is big enough for our small griddle as well as a medium-sized saucepan. If you have safe-cracking sensitive fingers, you can carefully dial the burner knobs to control the flame to a nice simmer. This Coleman stove is easy to clean and store, too.
Marmot Trestles 15 Sleeping Bag
A good night's sleep is an important part of a successful mtb camping trip. That's why our kids have the Marmot Trestles 15 sleeping bags. As the name implies, they're rated down to 15º F for comfort. The sleeping bags feature durable zippers and the mummy-style design helps keep the heat in on chilly nights. We've washed ours several times and the insulation and color has remained good as new. Mom has the women's version of this sleeping bag.
Eureka Super Cush Sleeping Pads
This season we replaced our old 4-inch thick foam sleeping mattresses with these Eureka! sleeping pads. You inflate them by pumping them up using a valve system in the built-in pillows and applying your body weight until the pad with built-in pillow is fully inflated. They are space-saving additions to our gear because the old rolled up foam pads took about 6x the space. The Eureka! Super Cush Sleeping Pads are comfortable, too.
Goal Zero Yeti 400 Battery And Nomad 50 Solar Panel
The Goal Zero Yeti 400 allows us to power the family's laptops and phones on the road without hotel/condo stays. A useful tip is to pick up the Goal Zero 12v car charging cable and you can charge/use the battery while you're driving. The battery allows us to get about 3 full charges on a laptop and over 20 smartphone charges. To test it out prior to our last big trip, I powered our flat screen TV and DVD player for over an hour. Do the research and make sure the battery you choose can power the item you want to use.
We paired our Yeti 400 with the Nomad 50 Solar Panel to harness the power of the sun to supplement charging when we weren't using the mini-van's power port. For solar panels, the bigger the better. Our foldable, easy to store/transport Nomad 50 has pulled close to 40 watts in direct sunlight. Multiple panels can be daisy-chained together to charge a battery faster.
Black Diamond Moji Lantern
We picked up a dozen of these during a Black Friday sale a couple of years ago. The kids use them for last-minute birthday gifts for friends. The soft glow of the light is perfect for using while cooking or evening tent games. They run on three AAA batteries and come in multiple colors.
We always get asked about our Helinox chairs and we love-love-love them. They're comfortable, durable, lightweight, easy to transport/store, and easy to assemble. They come in several colors so a lot of families can choose a separate color or pattern for each family member.
Jumbo Insulated Cooler Bag

This is just a basic item we like to use for transporting soft goods, bags of ice, food and beverages, laundry, whatever. When not in use, you can easily compress them and tuck them away in your vehicle to save space.
When camping, we lock our mountain bikes up next to the tent at night. We will either stack them by laying them down on each other, or use a nearby tree as an anchor. A Kryptonite chain lock is just one of the locks we use. We also use a cable lock and u-lock to wad up our bikes in a big ball of mtb love.
Our lockable Thule roof box increases our storage space dramatically. We can store our 10×10 canopy shade, 4 sleeping bags, 4 sleeping pads, tent, and hydration packs on the roof of the mini-van. There's no way we would be able to do a proper mtb car camping road trip with our family of four without one of these.
https://mtbwithkids.com/wp-content/uploads/2020/09/favorite-camp-gear-2020.jpg
683
1024
Brett
https://mtbwithkids.com/wp-content/uploads/2016/05/logo-mtbk-400-300x157.png
Brett
2020-09-30 23:28:44
2020-10-07 22:29:12
Camping Gear For Your Family Mountain Biking Road Trips