We were excited to get a pair of the Five Ten Freerider Contact shoes. Why? Simply because when our kids grow out of their mountain biking shoes, it induces quite a bit less wallet trauma versus growing out of a bike.
Our eleven year-old's last pair of Five Ten Freeriders served him well and we really wanted to get another pair. But, we needed a new pair of Freeriders quickly – and we could not get the same style in a larger size locally. In a jam, we glady paid the retail cost (for a women's size 6 which is about a 3.5 kids' size) because we are well familiar with the quality of Five Ten mountain biking shoes. These shoes will not fall apart. Our kid will outgrow them and we can sell them used.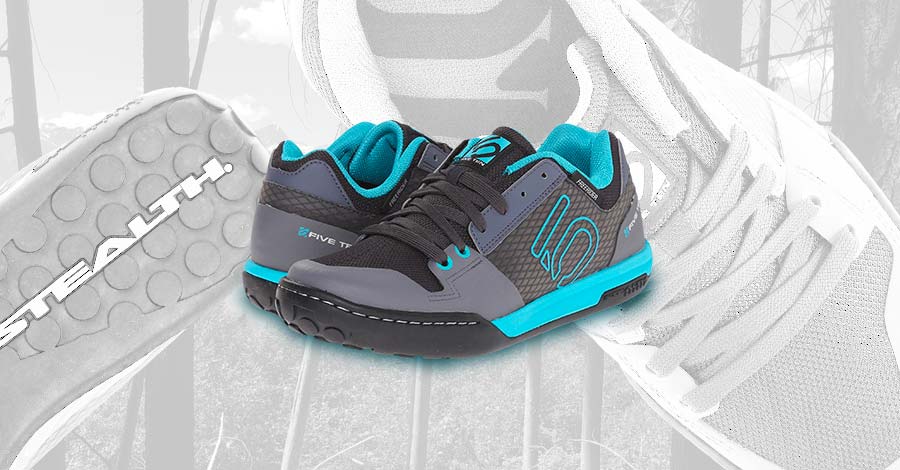 These Five Ten Freeriders Are Kids' Mountain Biking Shoes With Soul
Although they're designed and marketed towards women, our boy doesn't give a single shift click about that. Even I think they look cool. And, after trying on a few pairs, these were going to be a good solution for the season.
The links above are for affiliate partners. That means if you click on them and make a purchase, we earn a small commission. Read more here.
Sole Soul
The Five Ten Freerider Contact has a smooth outsole where the ball of your foot will be on the pedals. Five Ten states this design will prevent slippage. However, the entire sole isn't covered in this texture – the parts that are located under the heel and toe have a more traditional pattern. Similar to the first-gen Freeriders. Importantly, the entire sole is made of that wonderful Stealth® Mi6™ rubber. This translates into a shoe designed solely (no pun intended) for serious and hobby mountain bikers alike.
Grip on the Pedals
The grip is there when you need it, and the smooth section makes for a super-grippy pedaling surface. When I asked my son if he liked the smooth part of this shoe opposed to the other style, he said "It is a lot more grippy than my shoes with the small bumps on the bottom."
Warning!
Do not wear these shoes with inexpensive flat plastic pedals. They will slip right off and render the shoe useless. You have to pair these shoes with flat pedals featuring small metal pins extending from the pedal surfaces. There are examples of these recommended pedals above. This allows the surface of the shoe to almost absorb the pins and make a firm connection with the pedals. You have to be careful though, when your young one slips and takes a pinned pedal to the shin, it will cut their shin, bleed, and effing hurt. Ye've been warned.
The Five Ten Freeride Out On The Trails
Our test rider rode his bike hard for 14 days straight on some demanding terrain. He did not slip a pedal or complain about foot discomfort. We can't guarantee the same results for your womp rat, but mom and dad were glad that this was not a concern.
More About The Shoe's Build
These shoes are cool. Firstly, the entire profile of the shoe is low. Secondly, the toe cap is rubberized to provide protection. Thirdly, the entire upper section of the shoe is made of breathable and durable synthetic fabric with mesh sections to let in air. Finally, that fabric is also abrasion resistant.
The midsole of the Five Ten Freerider Contact is composed of a stiff, yet bendable compression-molded EVA (Ethylene Vinyl Acetate) material. Obviously, it protects the bottom of the foot from the pedal. Simultaneously, it's very easy to walk in these shoes, thanks to the somewhat bendable nature of the EVA.
Our Final Take On The Five Ten Freerider Contact
Overall, the Five Ten Freerider Contact mountain biking shoes are great for riders of all ages. Our youngest really likes his. Their unique outsole is purpose built for mountain biking and that super sweet Five Ten Stealth rubber helps keeps your feet from slipping off the pedals. With that said, they are keenly designed and comfortable enough for doing a bit of hike-a-bike on.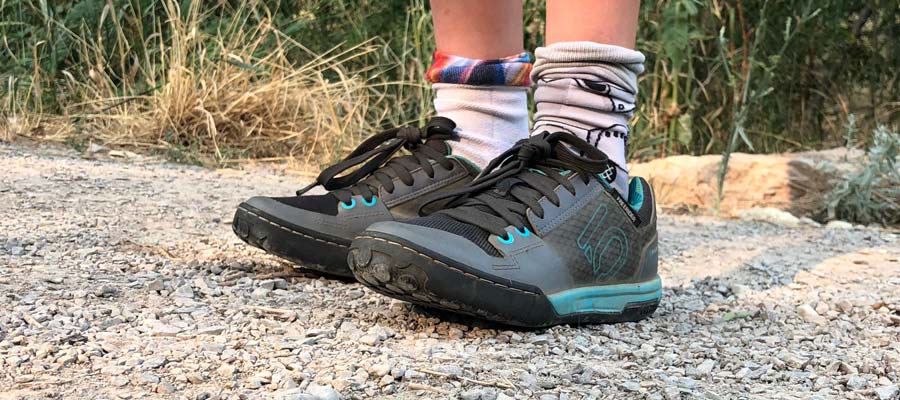 https://mtbwithkids.com/wp-content/uploads/2018/08/five-ten-freerider-contact-review.jpg
470
900
Brett
https://mtbwithkids.com/wp-content/uploads/2016/05/logo-mtbk-400-300x157.png
Brett
2018-08-04 17:57:07
2019-12-09 14:48:26
Five Ten Freerider Contact Mountain Bike Shoes for Kids – Review