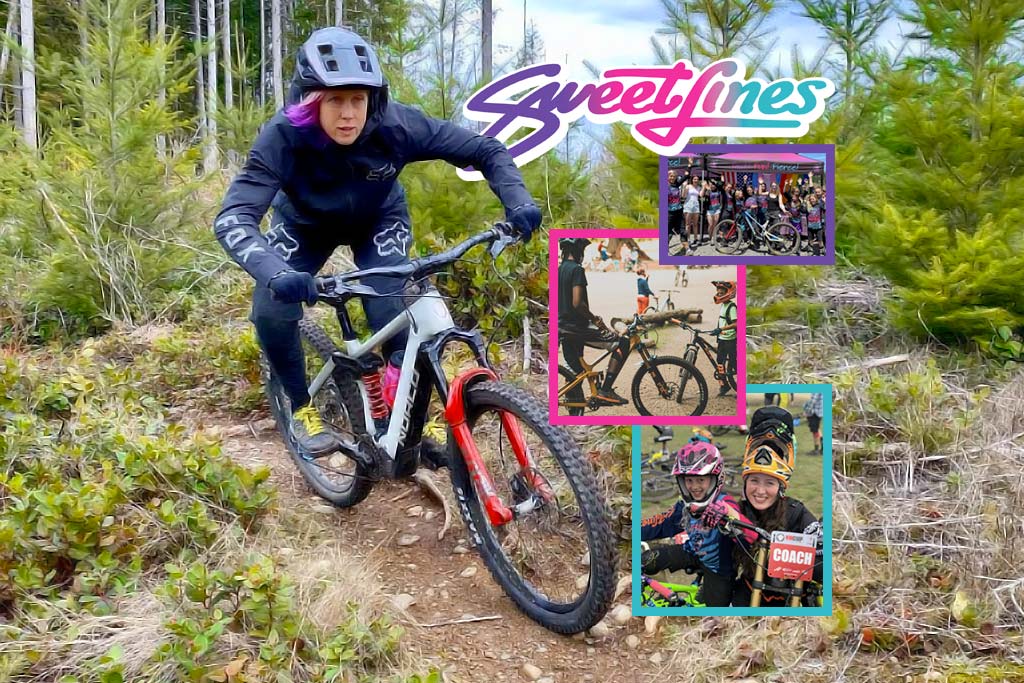 Kat's a true ambassador for mountain biking because her dedication to having young people experience the sport and progress their skills ranks her among the planet's MTB Royalty. Over the years, her Sweetlines clinics and coaching have enabled girls, boys, women and men to build confidence, create community, and promote stewardship through the sport. Kat operates most of her offerings at the Duthie Hill Bike Park in Issaquah, Washington.
Kat's 2021 clinic sign-ups start on February 1st. Visit the Sweetlines website for more information.

In the summer of 2018, our family was at the Duthie Bike Park for the first time and there were obviously kids' mtb camps going on. I recognized the Sweetlines tent and jerseys from social media and hoped the Sweetlines Owner, CEO and head Coach Kat Sweet was on-site. With her trademark pink and blue dyed hair, she was easy to spot at the middle compound of the bike park. When I got the chance to interrupt her day and say hello, Kat had already noticed one of our kids around the park and she invited him to ride in her coaches' jump jam at the end of the day.
Now, with the pandemic and racial tensions testing America's culture and politics – Kat has faced both of these challenges head on. For her clinics to take place during the pandemic, several measures had to be taken to comply with local regulations for crowd sizes and social distancing. Kat has always been about equality, but following the deaths of George Floyd, Breonna Taylor, Ahmaud Arbery, and many others, Kat chose to ramp up her efforts to make the sport more inclusive and level the playing field for children who are Black, Indigenous, People of Color between the ages of 6-14 to join the mtb community.
Since she started Sweetlines and Sweetlines Junior Racing, Kat and her fellow coaches have been able to mature their teaching skills for riders of all ages and abilities. For instance, they have created a vocabulary of terms that eliminates the technical mumbo-jumbo, but is still geared towards riders executing proper body position, cornering, braking, and other techniques.
When we most recently caught up with Kat, she told us about how she wants to make sure her clinics allow all to participate, what lies on the horizon in order for her clinics to continue during the pandemic, how her teaching has evolved, and more.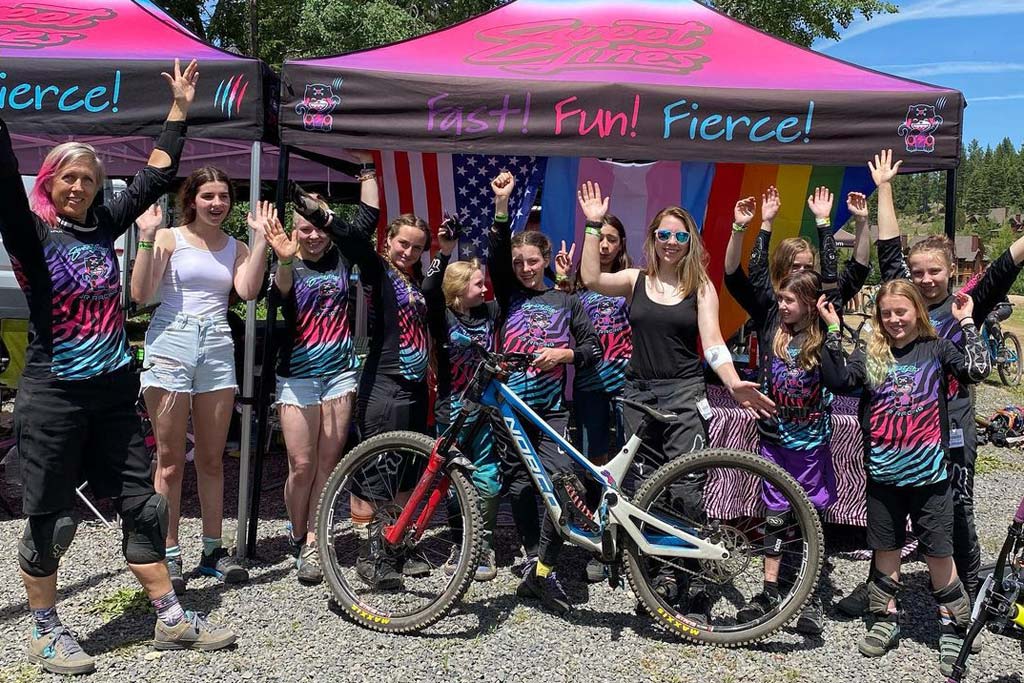 The world is a lot different than it was a year ago. The pandemic, race issues and inclusivity are dominating topics. Tell me how you're dealing with these issues based on your perspective, experiences and goals.
I just talked to a friend who is a transgendered woman, just finding out people's stories in the bike worlds and trying to come up with ideas on how to be more inclusive and more diverse. We could definitely do better. That's the biggest thing.
Are the people you're speaking with optimistic?
I've been talking to a lot of optimistic people. I have a lot of friends in the bike world who are people of color and so I've been having conversations with them and hearing their stories and ideas. If I want people of color in my community, I should talk to people of color and find out how to make that happen. So, I've just been having a lot of really great conversations with a lot of different people.
When can kids register for your summer camps?
My summer camps go live February 1st. They usually sell out by February 15th.
How do you make sure people sign up for the right clinic based on a rider's experience?
I'm pretty good at sorting kids and we ask a lot of preliminary questions to find out who's in what group. Actually, that reminds me. I need to check in with all the parents for the next camp to see if anybody's leveled up since they registered.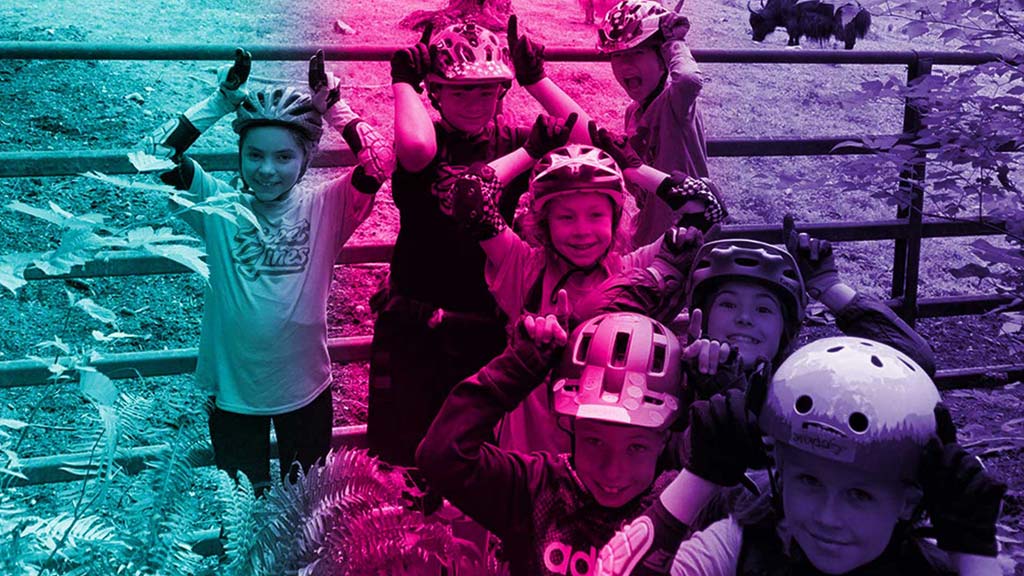 I watched your 2012 'If She Can Do It' video. It looks like it could have been made yesterday or last week. Have you changed anything significant as to how you coach?
Oh my gosh, yes. So, I honestly cringe a little when I see it. I think, "Oh, we don't use that terminology anymore." It has some really good info. But we've definitely updated pretty much everything that we teach. That movie has a lot of our old terminology and old ways of teaching. We've updated a lot of things, especially when it comes to jumps, drops and cornering.
For cornering, we've come up with the Five H's of cornering. So, you've got your Head, is always the first thing to look. For your Heart you're almost like paddling a kayak and you want your shoulders looking where you're going and you're slightly leaning in the direction you're going as well or dipping down. Then your Hands are going to lean the bike. Then, if you move down the body, you've got your Hips and your Heels. So, for the hips, you want your belly button looking where you're going and you want to counterbalance with your hips. And then for the heels, you're going to add some pressure at the apex of the turn to help give you traction and to help you cut out of that turn quicker.
When jumping, I always walk people through the pieces of the jump; explain the pieces of the jump, what to do where. And then I got away from the word preload because I found when people preload they use too much upper body and they try to bend at the waist and bend their elbows too much. If you watch really good jumpers or good jumpers, they're really using their whole body weight to press into their feet. So, I call it loading or stomping into the lip of a jump and really pressing your heels into the lip.
You're using your whole bodyweight to really press into it. You can think of it like a diving board. if I just walk out to the edge of the diving board and I just step off of it, not much happens, but if I press down with my whole bodyweight, the board's going to push me up into the air. I learned the diving board analogy from Shaums March and the BICP. Same thing with my feet on my pedals, if I press down into the bike, the bike comes up with me, and then I'm guiding it with my arms.

Do you come up with these techniques on your own and model it over time and practice, or do your other coaches assist with developing?
I love collaboration, I'm all about collaboration. So, the coaches that I work with, we all geek out over this stuff. We'll get together, "Okay, we like how we're seeing this. What should we change? What can we make better?" It's always a work in progress.
You coach youth and adult mountain bikers. Explain a bit about how you coach different age groups.
There are a lot of similarities. We really "kiddi-fied" our language a lot to make it fun and sometimes silly. My coaches have come up with some really good analogies of what movement is. Instead of saying modulate your brakes, because that's boring, we use smores braking. You don't want to smash your smore. You want to modulate, you want to gradually bring the graham crackers together before you bite it. So, things like that. It sounds really silly, but I think it's really fun. And once you have a visual of, "Oh, we're smores breaking." Or for little kids, we use things like for tall and low positions, we use Proud Puma and Pouncing Puma and it gives you that real, "Okay, I'm a proud Puma. I'm standing up tall. And now I'm a Pouncing Puma, I'm about to attack the trail." So, it makes it fun and it gives them a good visual of what that means.
For kids, you want to give them a couple of key words and then start practicing right away. With adults, I can give a little more detail. But I always try not to give too much at once and sometimes I'll layer it like an onion. I'll give them the first piece of cornering. It will be just leaning the bike side-to-side. Then I'll add in head hands and start turning a little bit. Then we'll add in the hips, make sure they get the bike leaning in the correct direction and the hips looking the right direction before we add in the heels. So, I'll do like one piece at a time. Sometimes they won't even get to heels till their next lesson or two lessons later. With kids, you just have to keep things really short and quick and get them moving quickly.
MTB Helmets For Kids

Make sure your kids have proper, well-fitting head protection.
Knee Pads For Kids
Knee pads are another level of protection for young riders.
Hydration Packs For Kids
Is your kid big enough to carry their own water and supplies?
When our kids were growing up, we had to keep things short and quick because of their physical limitations and attention span. Do you do the same thing?
We do our summer camps there all day. From 10:00 am till 3:30 or 4:00 pm, depending what age group they are. Our format is to do a little bit of skills and drills, go ride a trail, do a little bit of skills and drills, ride a trail, eat lunch, play games, try the pump track, do some more skills drills, go for a ride. We give them a little bit of the skills and the drills and the foundation, then go. The first day of camp is always the most skills and drills because you want to make sure they can brake and they can stand up on their pedals and use all the positions they'll need before you hit the trail.
Then you have to be really flexible. Every group is a little different. Some groups can handle more skills and drills. Some groups just really need to ride and burn some energy. So, my coaches are really good at reading their groups and figuring out the group dynamics and how things are working and what the group needs. And then two, we give them some ability to choose when they're ready to try a new trail or, "Oh, yeah, here's a good motivator to use unlocking as a key to unlocking the trail. We're going to do this skill drill and once everybody gets the skill, then we're going to unlock this feature on the trail."
They all have to work together to try to get everybody through the obstacle before you can progress. So, my coaches are super creative and fun and they come up with really great ideas like that. And then we do goal setting too. Such as, "Okay, we made it halfway up this hill, our first try. Look, there's a tree next to us. Our next time up this hill let's try to get past that tree by five feet. And then the next time we're going to try to get to that boulder up there." So, looking for the places where you can get a little bit farther up the hill. And then we also do GnarStars. We use GnarStars to reward the kids if they do something good or if they're supportive of other riders. And then two, if they make it all the way down lower boot camp, standing up on their pedals the whole way, you can get a GnarStar. So, 10 GnarPoints is a GnarStar, earn 10 GnarStars and they get a Kat-i-corn sticker. So, the kids all week long are trying to get to the Kat-i-corn stickers.
I've had so many great people that have worked with me over the years and come up with really fun ideas. I love bringing people together and collaborating and always making things fresh, and new, and exciting for the kids.

What are some of your favorite moments that you get to experience with students of any age?
I feel like the confidence that kids gain from mountain biking really translates into life and so even just for every level of kid, there's something they want to conquer. Whether it's just a front wheel lift or maybe another kid's trying to get a back wheel lift and the next kid's trying to do a bunny hop. Once they accomplish those goals, the smile on their face is just huge and they feel so proud that they did something that was really hard to accomplish. I love being a part of that and acknowledging them when they do try really hard. And it's not always easy. When they do accomplish something you can tell how stoked they are and I get really stoked for them.
Are there any young mountain bikers you've been working with who have shown up as a novice bike rider and over the years moved on to your Sweet Lines Racing Program?
Yes! So many. Oh my gosh. One of my great stories is L, coach L-O-L, Elena Runyan. She started with me when she was 12 years old. She showed up at camp, very new mountain biker and she had this fierceness in her and she just wanted to excel at mountain biking. So, she kept coming back for programs and asking lots of questions. She was just really driven and really proved herself over the years. Very quickly she became a mentor in my programs. Then she became an assistant coach. Then she became a coach. Now she's one of my lead coaches. She's also a professional downhill racer. She is a collegiate national champion. Elena is on my elite racing team now.
Next, we have Sydney Haberman, Syd Vicious is what we call her. She has been with me since she was probably 10 and she's 17 now. She's a Junior Expert racer and she has dreams of World Cup. She definitely has the mental piece, physical piece, and skills. I'm really excited for her future.
Julia Shred-ulia, she's been with me probably since she was eight. She's 14 now. She started doing tuck-no handers when she was 13. She's one of the best jumpers out there.
There's a big difference between being a good bike rider and a good racer. What are the things that you concentrate on in order to improve race results?
It's not just about riding a bike. There's a lot of ingredients involved in being a great rider and racer. So, taking lots of classes and building skill are super important. Of course, you want to have fitness. Fitness isn't just riding. It's not just having endurance or riding bikes, especially for downhill. It's also gym work. It's working on your fast twitch muscles. We've been doing workouts once a week through Zoom and then they work out on their own as well, especially my elite girls. So, we do fitness training. We've done some mental training too.
And with my Sweetlines Junior Racing girls, we had a book club through the COVID times and we spent two months working on this book called The Confidence Code for Girls. It gave a lot of examples and science and tools on how to build your confidence. That was great and really helpful for racing and for life in general. So, there's a mental piece of downhill racing. And then eating well, of course. Nutrition is huge, too. Knowing how to fuel your body before a race weekend, during a race weekend, after a race weekend.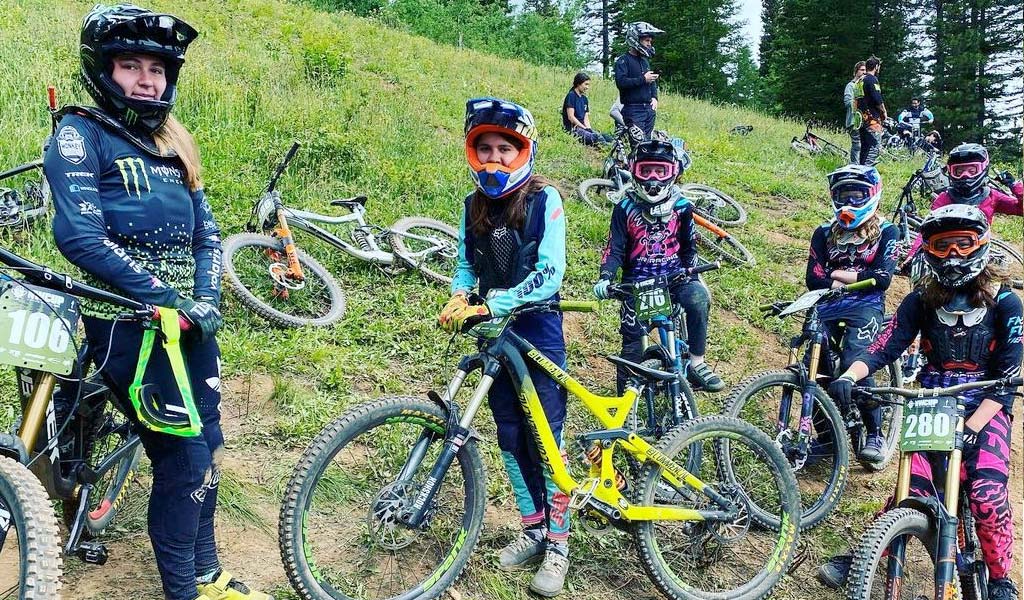 Is there anything else that you want people to know about you or your programs?
I have made a few "how-to videos" but they're similar to online curriculum. I have my sample stuff ready right now and I'm going to use it for coach training for my coaches. We'll create more and more videos that are for kids of all ages. They'll be very fun. Topics will include: gearing up, helmet fit – things like that. Then we're going to move into the basics of shred skills. You're going to have Tall And Low for one lesson, Bouncing, Stomping, Absorbing. I really want to try and make our teaching methods more available to a bigger audience.

https://mtbwithkids.com/wp-content/uploads/2021/01/kat-sweet-featured-1024-v1.jpg
683
1024
Brett
https://mtbwithkids.com/wp-content/uploads/2016/05/logo-mtbk-400-300x157.png
Brett
2021-01-29 17:26:39
2021-02-19 19:46:18
Meet Kat Sweet - Sweetlines Coaching And Junior Racing