Transition Bikes was born in 2001 and the company has grown to become one the industry's favorite brands among mountain bikers because of its ability to cater to riders within its region of origin and beyond. That's a beautiful thing when your testing grounds are one the world's best places to mountain bike. If your family is ready for rocks, roots and ruckus, you'll have to put the Transition Scout on the list for your kids' next bike. Get the build options, live pricing, and availability from the Transition Bikes website.
Who Is The Transition Scout For?
The bike is designed to get your family up, across, and down aggressive trails. Its 27.5inch wheels, low geometry and availability in a x-small frame size means the Scout will fit riders as short as 4ft 10in tall. Keep in mind that Transition is headquartered in Bellingham, Washington. The owners of the company live there and the Scout was created to thrive on the area's terrain and trails. The full-suspension bike was built for steep, loamy descents, roots, tight turns, and jumps.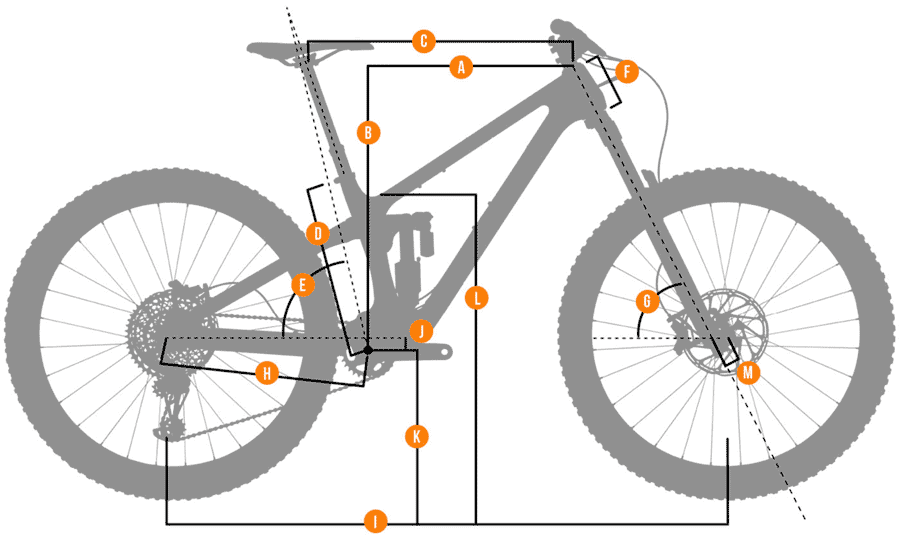 Updated Geometry For The V3 Scout
Billed as longer, lower, slacker – the SBG (Speed Balanced Geometry) for the Scout is its foundation for fun. Not everyone can dash through the trees or send freeride lines like Hannah Bergermann. That's why this generation of the Scout has angles and measurements suited for agility and stability at varying speeds.
| | | | | | |
| --- | --- | --- | --- | --- | --- |
| | X-Small | Small | Medium | Large | X-Large |
| A. REACH | 410 | 435 | 460 | 485 | 510 |
| B. STACK | 577 | 590 | 604 | 617 | 631 |
| C. EFFECTIVE TT LENGTH | 534 | 564 | 593 | 623 | 652 |
| D. SEAT TUBE LENGTH | 350 | 360 | 390 | 430 | 460 |
| E. EFFECTIVE ST ANGLE | 78.2° | 77.7° | 77.2° | 76.8° | 76.4° |
| SADDLE HEIGHT FOR EFFECTIVE ST ANGLE | 560 | 600 | 660 | 720 | 780 |
| ACTUAL ST ANGLE | 72° | 72° | 72° | 72° | 72° |
| SEAT TUBE OFFSET AT BB | 63 | 63 | 63 | 63 | 63 |
| F. HEAD TUBE LENGTH | 95 | 110 | 125 | 140 | 155 |
| G. HEAD TUBE ANGLE | 64.0° | 64.0° | 64.0° | 64.0° | 64.0° |
| H. CHAINSTAY LENGTH | 430 | 430 | 430 | 430 | 430 |
| I. WHEELBASE | 1153 | 1185 | 1217 | 1248 | 1280 |
| J. BOTTOM BRACKET DROP | 18 | 18 | 18 | 18 | 18 |
| K. ESTIMATED BB HEIGHT | 337 | 337 | 337 | 337 | 337 |
| L. STAND OVER HEIGHT | 665 | 665 | 673 | 686 | 698 |
| M. FORK OFFSET | 37 | 37 | 37 | 37 | 37 |
As with other bikes in the current Transition line-up, the Scout features acute angles along the length of the frame's tubes. This is achieved through the expanded polystyrene molds during the bike's fabrication and carbon lay-up process. We can't recall this design approach before. Aesthetics can be bound to one's own preferences, but in our opinion, it's kind of bold and different. And, it works.
Set up from the factory to run 140mm of travel in the back, the Scout is also compatible to run at 150mm. For most on a bike in this category, 150mm of travel in the front is plenty. On their website, Transition says you can swap out the fork for +/- 10mm but anything beyond that will affect the bike's handling.
Riding The Transition Scout – By Teagan Heap

My Scout it custom built. I have some super rad sponsors who make the best gear out there, so I started with a small frame.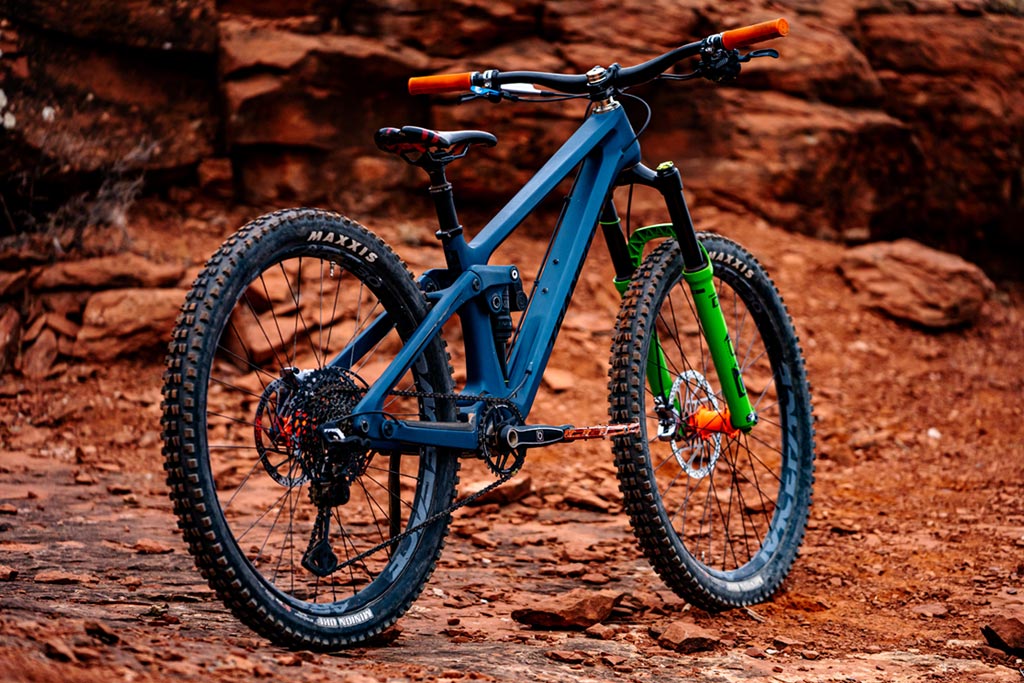 DVO takes care of my suspension and they custom built the internals to my weight and riding style. It's optimal to have suspension that works when you are a small human. A Deity stem with Speedway carbon bars, saddle, grips and pedals are on my Scout along with Maxxis tires. The TRP brakes provide a ton of control and power, which lets me run them really close to the bar. I also use their 12 speed drive train with a 32t Wolf Tooth sprocket.
Getting power from the pedals is done through 155mm Canfield cranks – pretty rad that they make such short cranks! I run Onyx hubs. They rooooollll for days. The engagement always being right there and not having any drag, especially when you barely weigh anything is something else. Headset and spacers are taken care of by Wolf Tooth, which is a super sick way to tie in all your colors. Plus, my dad likes the headset. Something about the dust seal keeping him from having to clean it all the time.
Even though the Scout hails from the PNW, it works all over the place. For this write-up, I put it though its paces in Sedona. We ended up picking some sweet exposed trails to ride with some slippy technical features. I've ridden there before on some of my old bikes, and the Scout was so much better. I'm beyond stoked on how sick it handles everything I throw at it.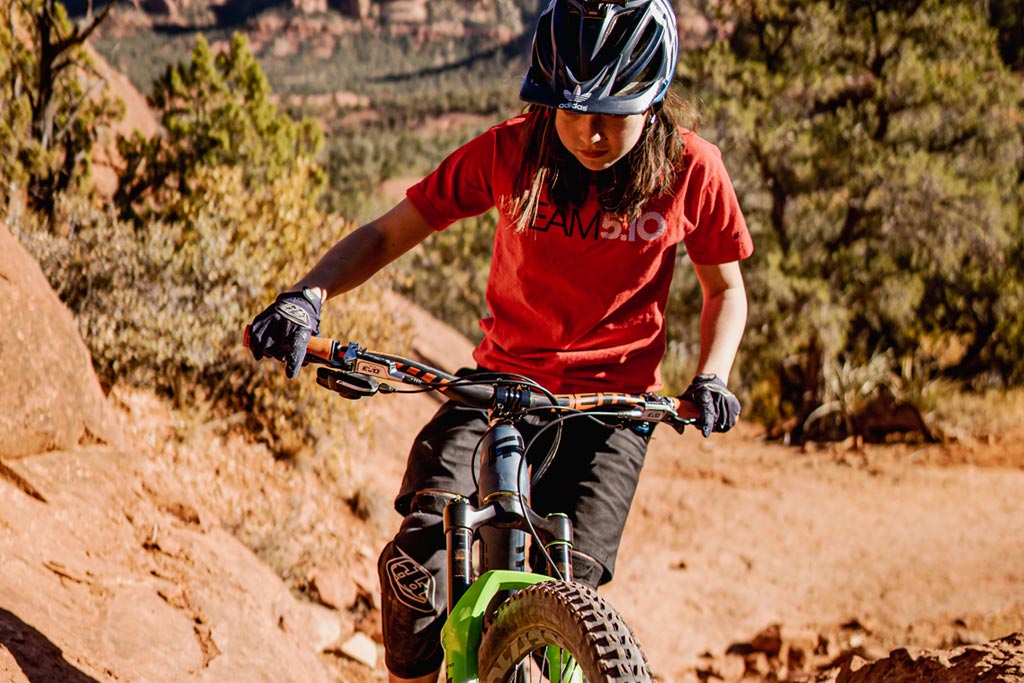 When choosing my trail bike for this pedal season I had a couple of choices from Transition and decided the Scout was the best option. The reason I chose to go with the Scout was due to it being slightly shorter travel, making it super efficient on climbs, while it still keeps a super slack head angle. For me, the bike needs to feel pretty close to my downhill bike. You never know when you're going to have to get sendy! A 29er is just too much wheel for my riding style and the longer travel trail bikes start to get too deep into the downhill bike category.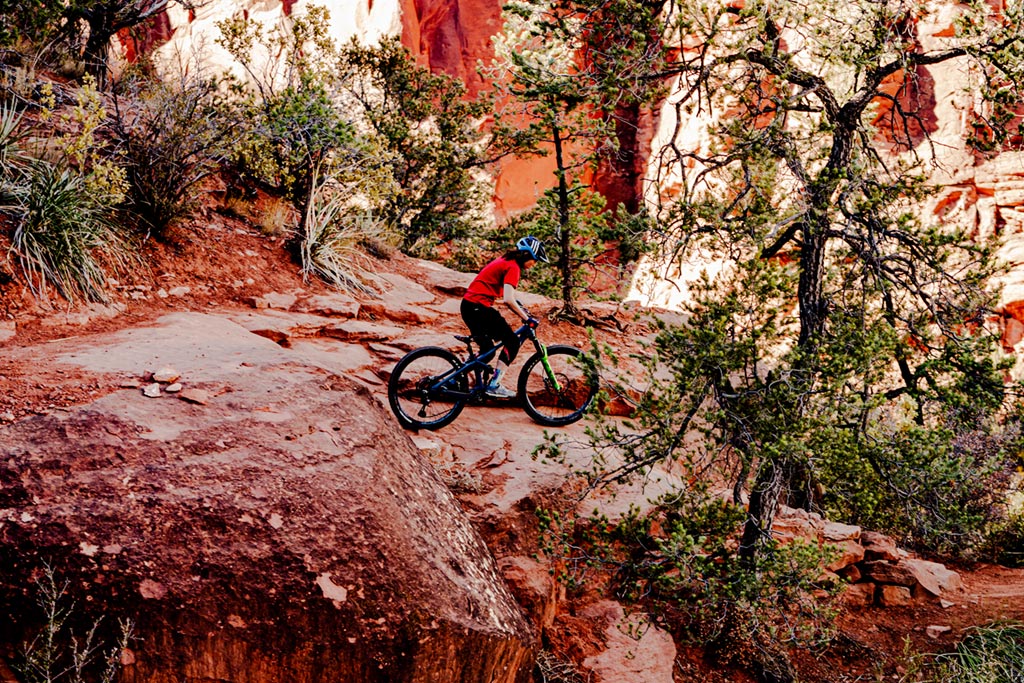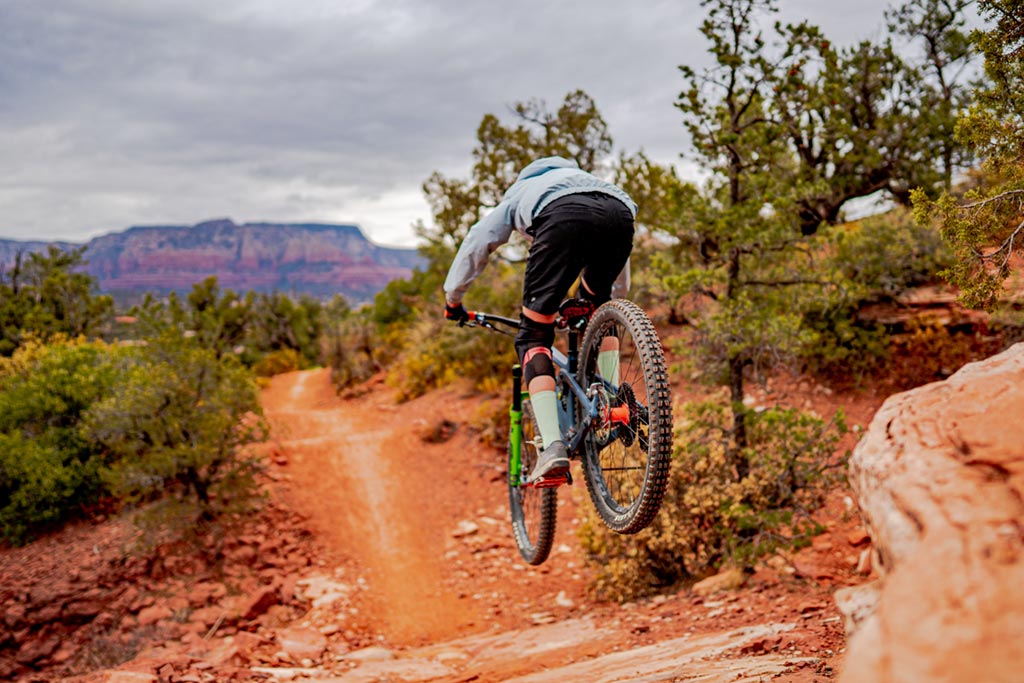 The Scout pedaled up very well making the techy climbs not as difficult and the steep bits easy – probably because of how slack the bike is! I have ridden this bike all over Bootleg as well. It's super poppy when you have to bunnyhop and miss rocks, or just bump jump a trail section for fun.
My Scout has a 175mm dropper post. I could probably have a 200mm because the seat tube on the Scout is designed to be long. This is so you can actually get your pedal height AND get the seat out of your way completely on descents! The Transition Scout is definitely my all-time favorite pedal bike. It lets me keep that DH fun but in a way that lets me pedal it everywhere, too.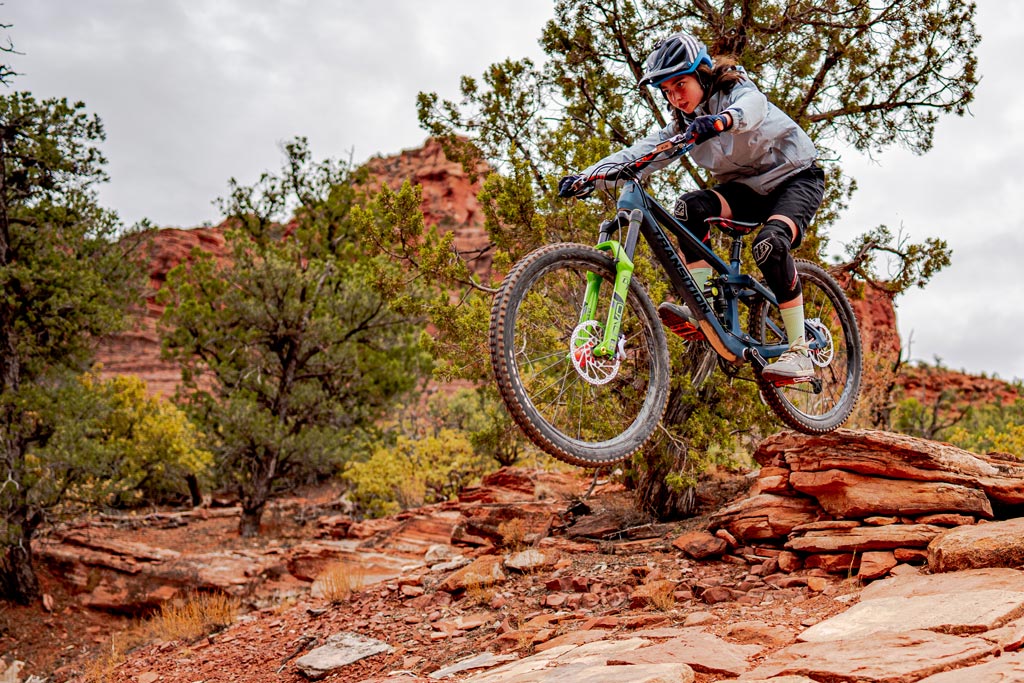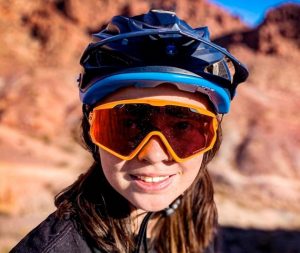 https://mtbwithkids.com/wp-content/uploads/2020/12/transition-scout-review-holding-bike.jpg
683
1024
Teagan and Brett
https://mtbwithkids.com/wp-content/uploads/2016/05/logo-mtbk-400-300x157.png
Teagan and Brett
2020-12-19 23:38:12
2021-02-19 19:45:31
Transition Scout Review