Mountain biking Bootleg Canyon with kids: Just 30 minutes southeast of Las Vegas lies Boulder City, Nevada. This small town sprouted from the desert as a result of needing to house contractors building the Hoover Dam. The construction of the dam was a WPA project from FDR's New Deal agenda enacted to bring the county out of the Great Depression.
Fast forward to the late 1990s and a local by the name of Brent Thomson spearheaded the trail building in the western mountains bordering the city. Along with the help of many friends, this trail network would become the Bootleg Canyon Mountain Bike Park. Unfortunately, Brent passed away in 2009 – but his love for mountain biking has evolved to become a unique destination for mountain bikers all over the world.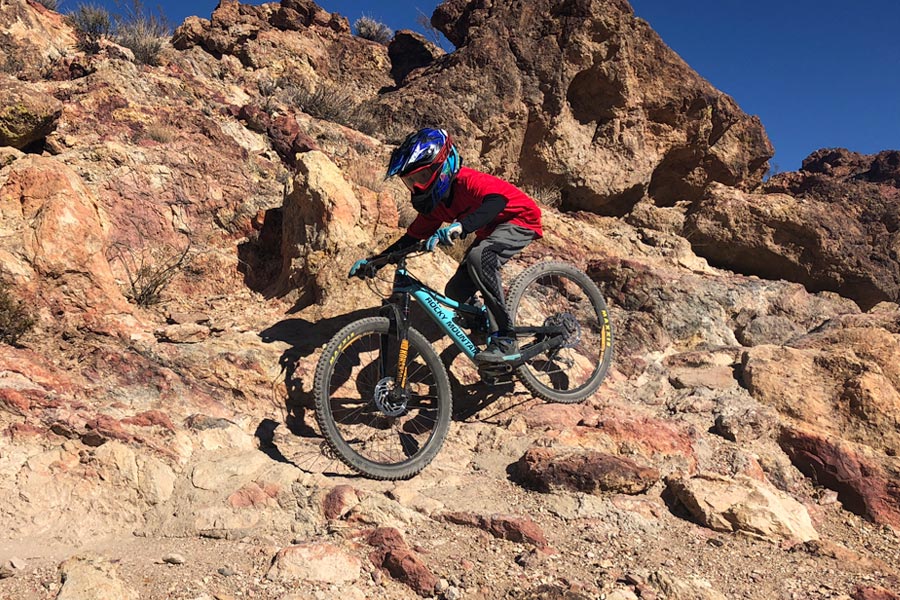 Helpful Resources For Bootleg Canyon Mountain Bike Park
Getting To Bootleg Canyon MTB Park
If you're approaching from the north, you'll have to go through Las Vegas on I-15. Once in Vegas, after exit 42 just hop on I-515/I-11 south and take that to Nevada Hwy 93.
Once in Boulder City, you access Bootleg by taking a left turn on Veteran's Memorial Drive and another left on Yucca Street.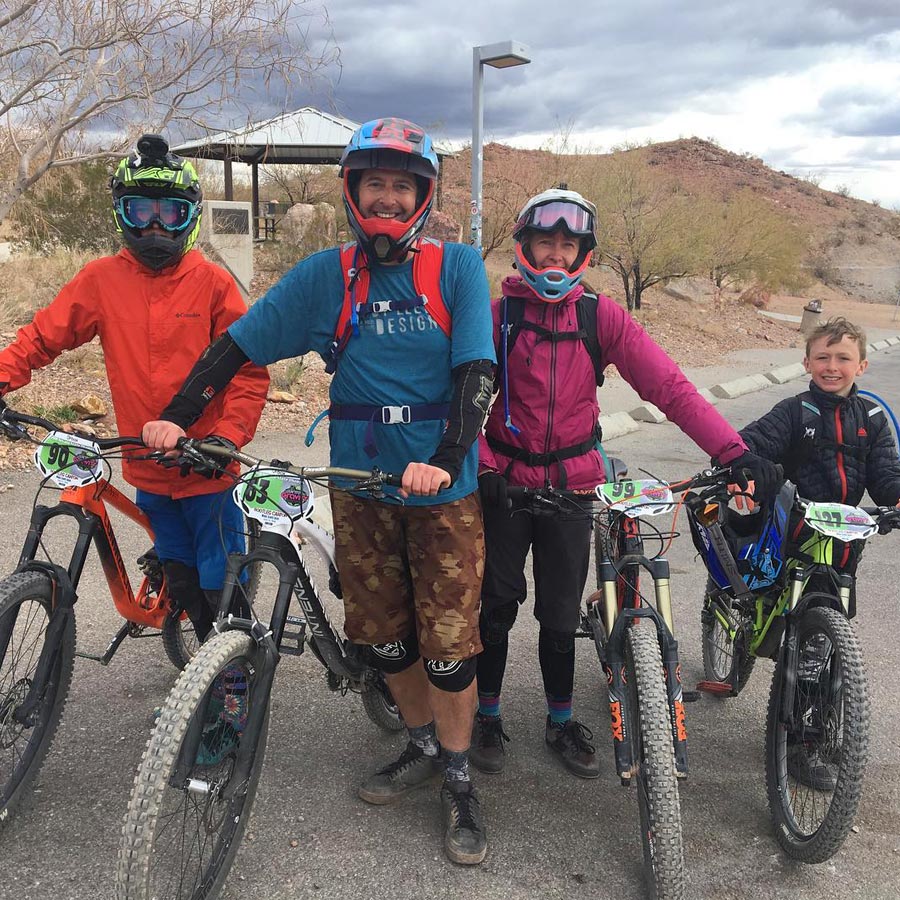 MTB Races & Shuttle Service
900 Canyon Road
Boulder City NV 89005
Website: www.bootlegcanyonracing.com
Check the website for several mtb races and events through the winter months.
Bootleg Canyon Mountain Bike Park Trail Map
Bootleg Is A Warm MTB Winter Wonderland
We visited Bootleg Canyon for the first time a little over 3 years ago as an escape from Salt Lake City's dreary and cold "Inversion" season. Inversion is a cleansed word describing SLC's pollution problem and this usually occurs in the months of January and February.
The novelty of being in the sun, enjoying 50º-60º temperatures, AND riding mountain bikes with the family in the dead of winter is strong incentive for loading up the mini van and hitting the road. More than once, the weather has been so favorable, we have camped at nearby Lake Mead in January and February. It can be windy at times with gusts reaching well over 20 mph. For optimal riding, be sure to check the weather in advance.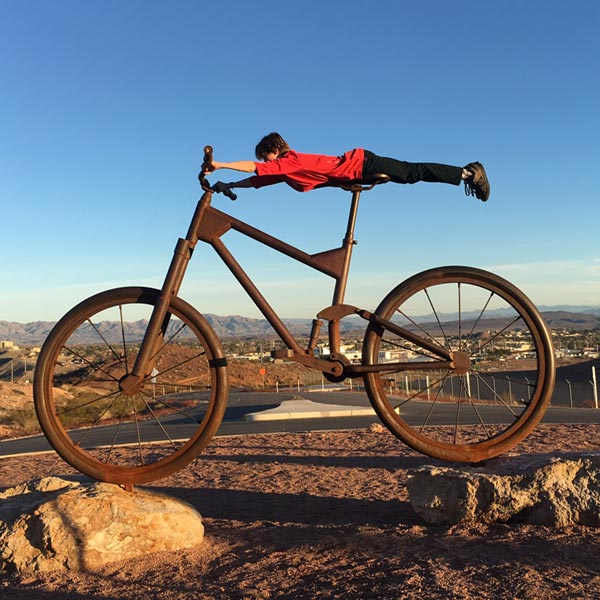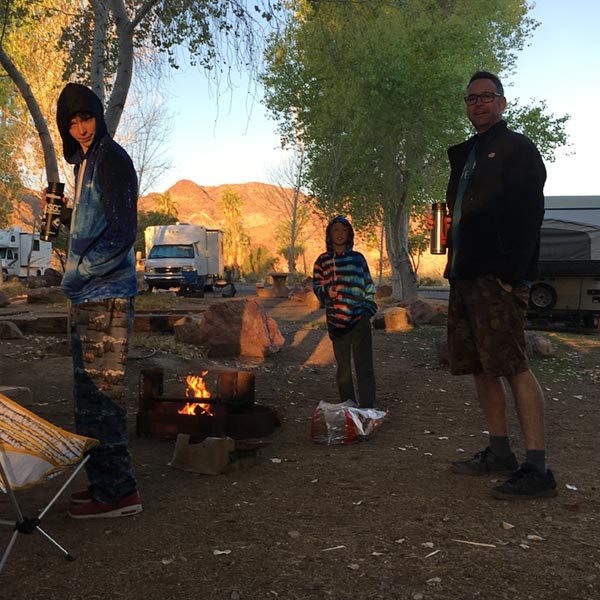 When you approach the zone via Canyon Road/Yucca Street from the "downtown" area, you're greeted by a wonderfully crafted metal mountain bike sculpture designed by a local shop by the name of Ornamental Iron Works. The bike is about 12 feet long x 8 feet tall. And, because it's a mountain bike, it featured faux full suspension. The sculpture is an appropriate preface of what's to come. Some of the trails at Bootleg require big-time skills.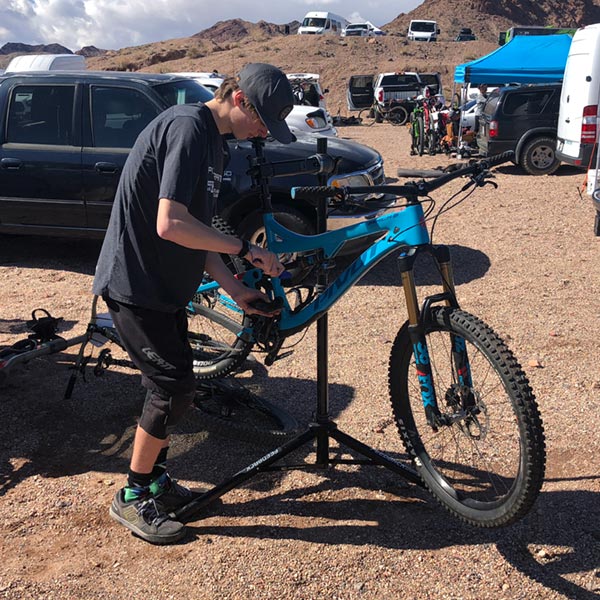 Be Prepared To Ride At Bootleg
Riding Bootleg Canyon Mountain Bike Park will make you better – but you better be prepared! The terrain can be steep, exposed, and sharp rocks grace almost every trail. Be sure your bike is in excellent working condition. You are going to need your brakes and suspension, so make sure they are ready to go. Make sure your tire pressure is correctly set – or at the very least, you will get a flat. You could also tear a tire, dent a wheel, or smash a derailleur.
For first time visitors, we recommend wearing a full-face or enduro helmet with removable chin bar when riding Bootleg. Gloves are also a must. Knee-pads, elbow pads, butt-pads, neck braces and chest protectors are also common protective gear at Bootleg Canyon. These should be a requirement if you are going to ride the downhill trails.
We would strongly recommend a full-suspension mountain bike for riding Bootleg. If downhill mountain biking is your specialty, there will be plenty to do.
Mountain Biking With The Family At Bootleg Canyon
There are no lifts to get you to the top of the trails. You can pedal, self-shuttle, or get a paid shuttle on most weekends. The graded, unpaved road from the base of the hill next to the restrooms and large parking areas is most commonly used to reach the top of the mountain. If you are going to the start of the downhill trails, you will hike-a-bike for about .25 miles up from where the graded road ends.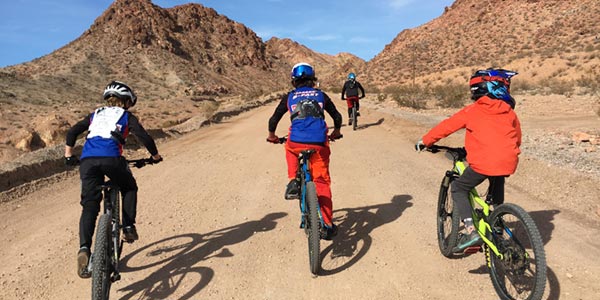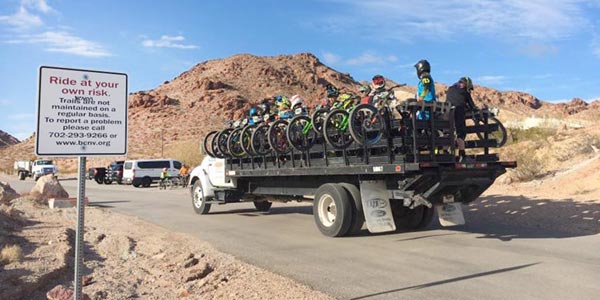 Some of the trails at Bootleg Canyon are challenging to say the least. If you are going to ride here with smaller kids, an adult with at least strong intermediate skills needs to pre-ride all the trails you intend to ride with the little ones. There is plenty to keep a young family busy, but it will be best if you plan ahead and make your itinerary based on your group's riding ability.
When you are at the top of the graded road, you can see Las Vegas. While looking at the city, the hike-a-bike trail to the downhill trails is on your left. And, the trail Boy Scout is towards your right.
There are options for getting warmed up when riding Bootleg with your family. To get acquainted with the dirt, take a ride on the trail Desert Cruise and return to the base area on the River Mountains access road/trail.
Boy Scout and East Leg
When you're ready to dial it up a notch, head up Red Mountain Access Road via pedal power or shuttle and try East Leg. Or, head to the top of Red Mountain Access Road and ride Boy Scout. Both Boy Scout and East Leg are gobs of fun and are rated as intermediate trails.
Boy Scout is one of our personal favorites because it's features consist of everything we like about riding mountain bikes in the desert: fast corners, challenging but passable technical sections, tough turns, narrow lines, and even a few climbs. When you ride this trail over and over, you're going to get better at mountain biking. You will ride it a little faster, clean a technical section with a bit more flow and finesse, transition to a climb in the correct gear, and so on.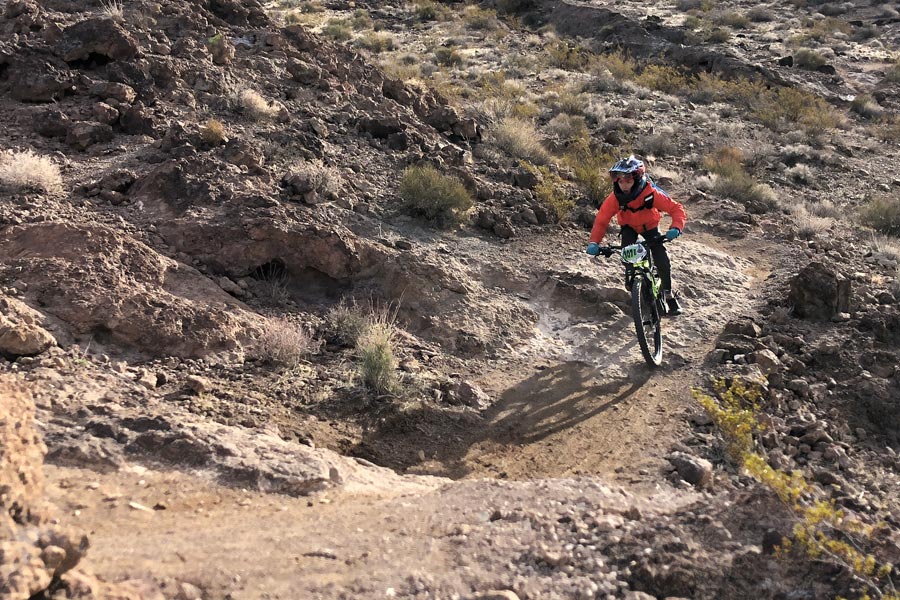 Inner Caldera, West Leg, Girl Scout, Mother
Other intermediate trails include Inner Caldera, West Leg, Girl Scout, Mother, and a handful more. Explore these trails. Have a good time riding in this Southwest mountain biking mecca. Similar to some experts no longer calling Pluto a planet, the IMBA once designated Bootleg Canyon as one of its EPIC rides. Once you visit and ride Bootleg in person, you can judge the retracted designation for yourself.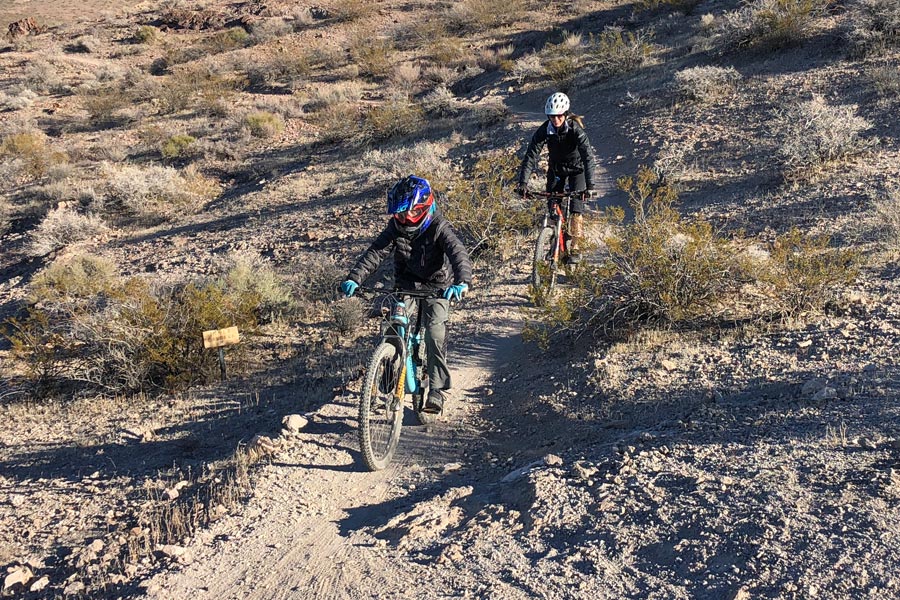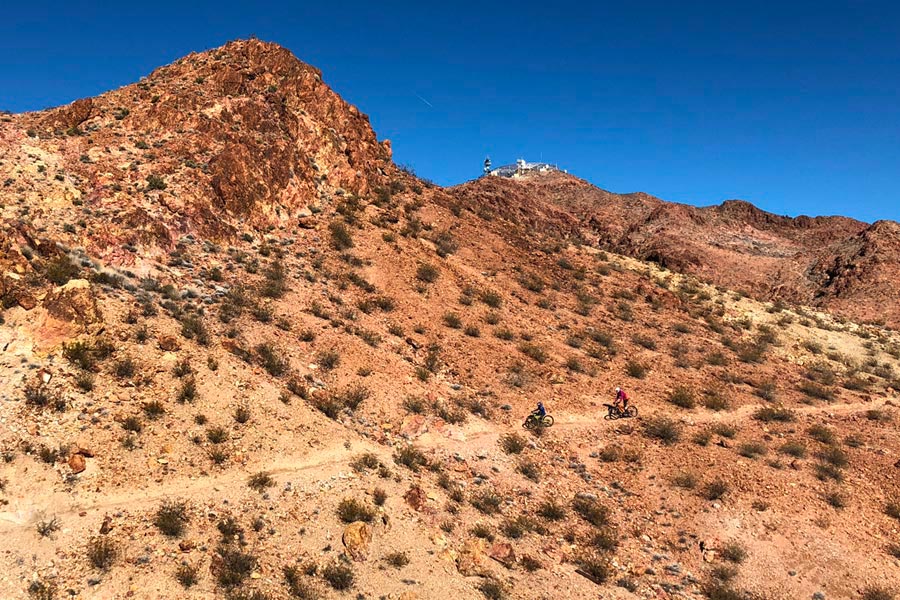 Downhill Trails
The trails Sidewinder, Snake Back, and Ginger are a few of the advanced downhill trails in the park. These tracks are tough. There's a reason why all the pictures of the downhill trails only feature the kids. Mom and dad just don't have the skills for these.
You get to the top of the downhill tracks by shuttling your downhill bike or pedaling your trail bike to the top of Red Mountain Access Road. Then, you have about a .2 mile hike-a-bike/pedal to the start zone. All the downhill trails split off of Sidewinder. If you can ride the fist 150 feet of Sidewinder, you're going to have a good time on these downhill trails. Again, ride within your skill-set and hunt out the downhill trails that make you happy.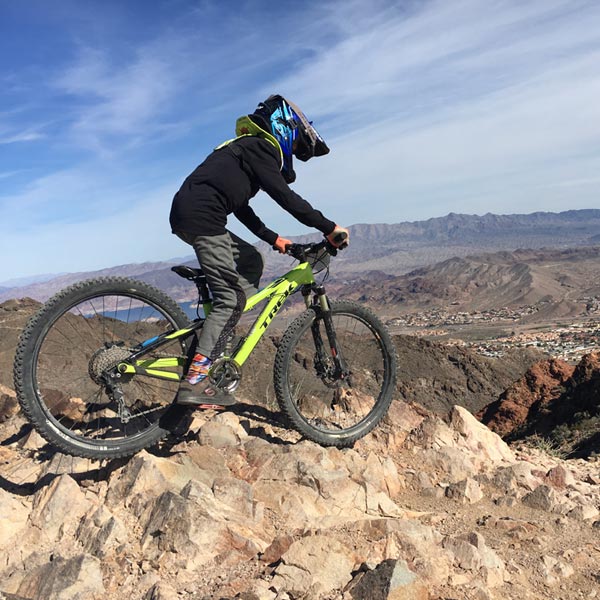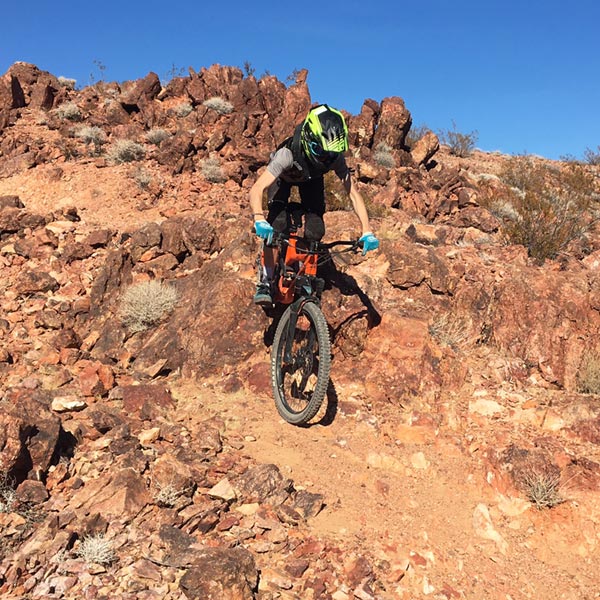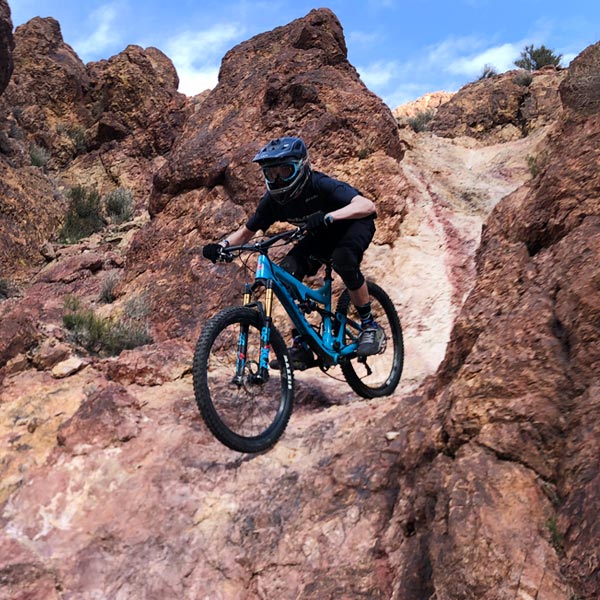 Racing At Bootleg Canyon Mountain Bike Park
In the months of January, February and March – you and the family can race at Bootleg Canyon. Enduro, Downhill and Dual Slalom races are offered to riders age 6 and up. "Downhill" Mike Scheur is the Race Promoter for the events and his team does a great job running the show.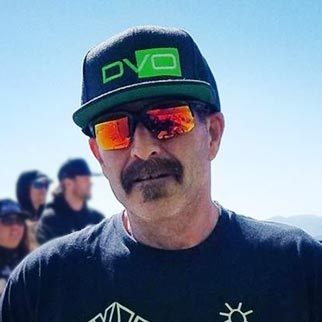 Downhill Mike, Says…
"Bootleg is great for families because there are so many there. If there was only one family at our events, it may be hard to convince others to come. However, these families seem to know each other and are very welcoming to new families just getting into the scene. They not only make you feel welcome and at home – but they are helpful as coaches and as resourceful as one can become for the sport and way of life."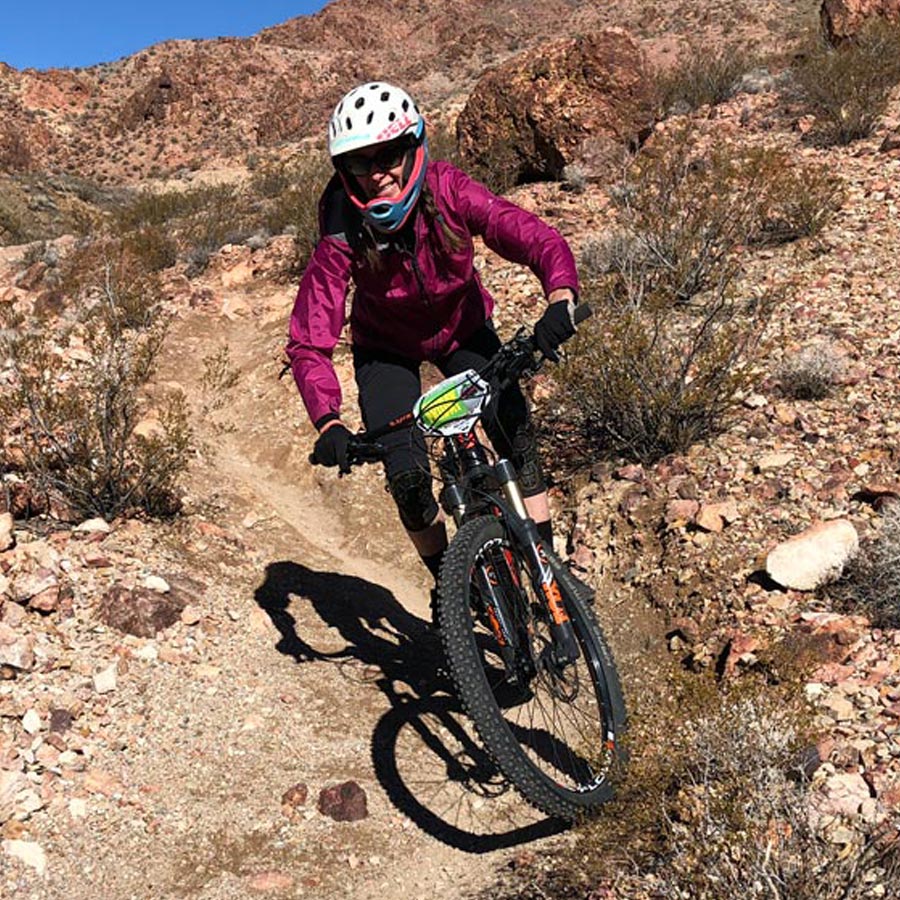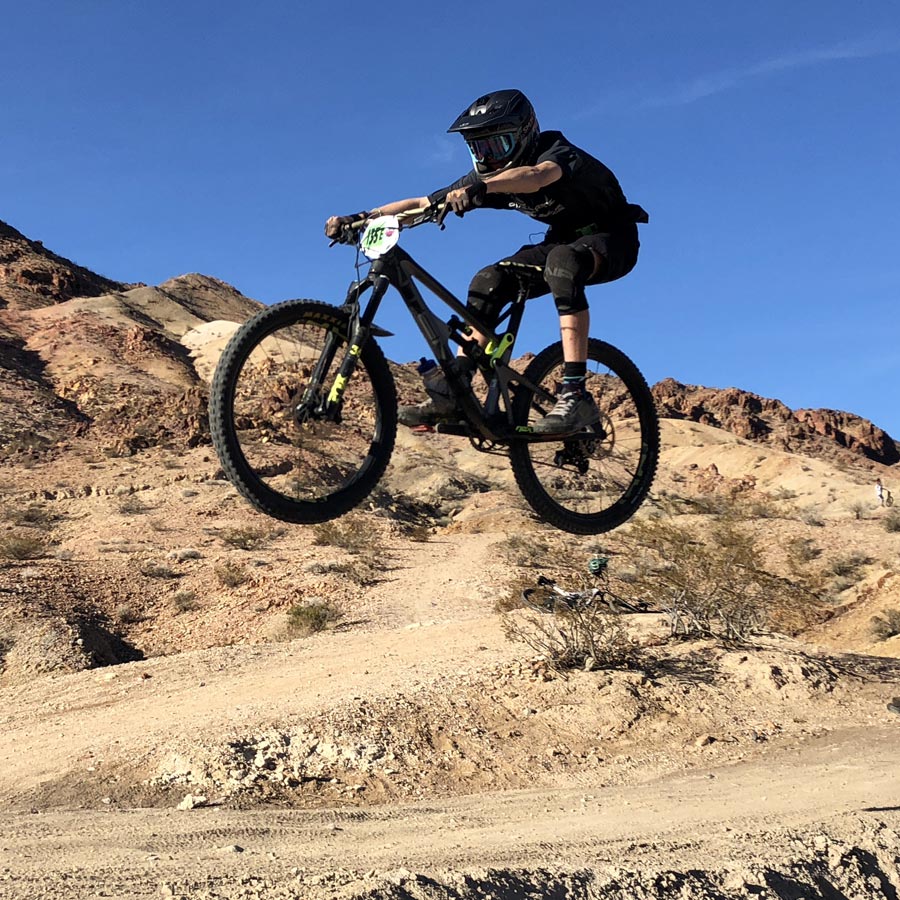 These races are a lot of fun and a great way to ease the winter-time blues. Last year, our whole family raced one of the enduro events. You may even see some of the pros. Mountain bike racers Rachel Strait, Logan Binggeli, Cody Kelley, and Mitch Ropelato often make appearances here to kick off their seasons. Even World Cup overall champion downhill rider Aaron Gwin shows up once in a while to get his groove on. For more information and registration, visit www.downhillmike.com.
Current Trail Stewards And Other Features At The Bike Park
"Brent Thomson was not alone in his efforts when building trails", exclaims Mike Scheur. "Dan Haskin is the acting Trail Boss at Bootleg. His brother Jeff and others started on the trails back when the sport was in it's infancy. The local bike shop, All Mountain Cyclery and Dan Haskin have been providing maintenance and building some new stuff, too. Our crew, Bootleg Canyon Gravity Racing, works on all race trails before and after each event."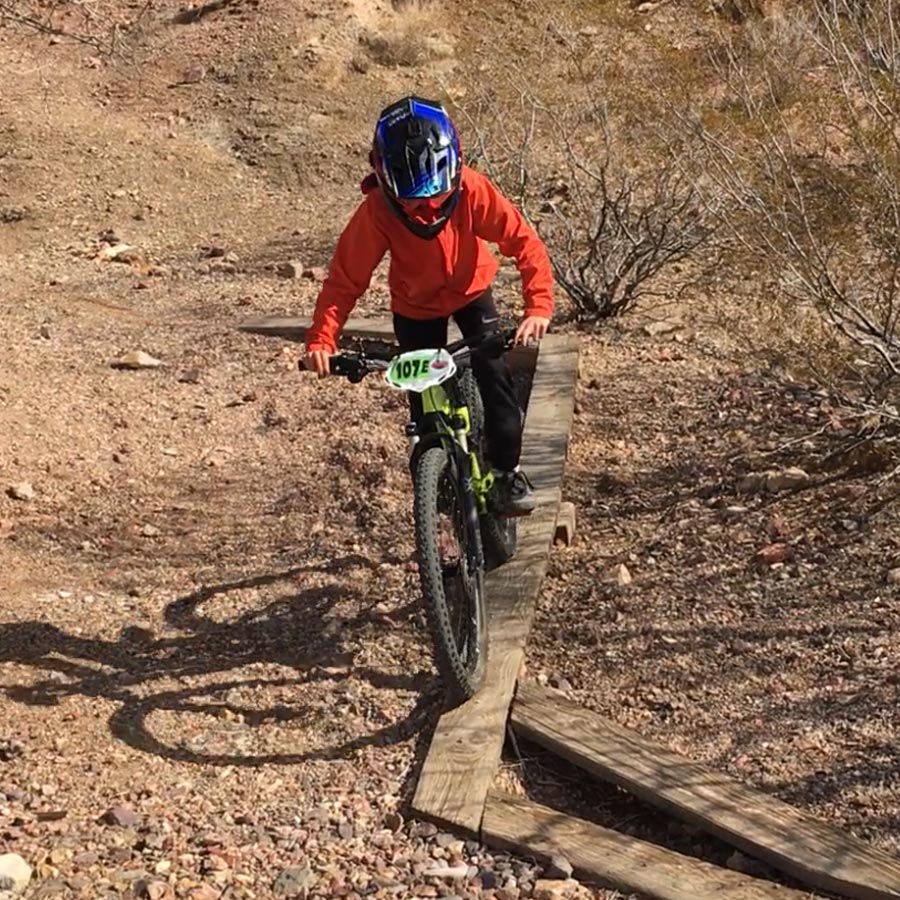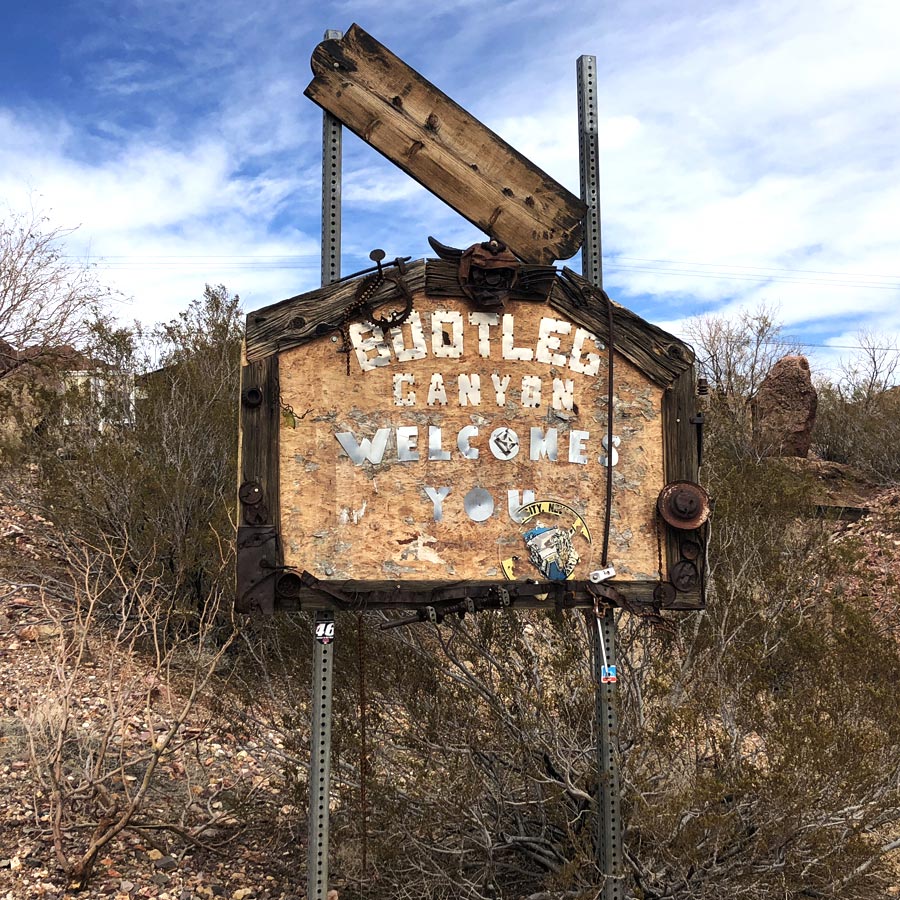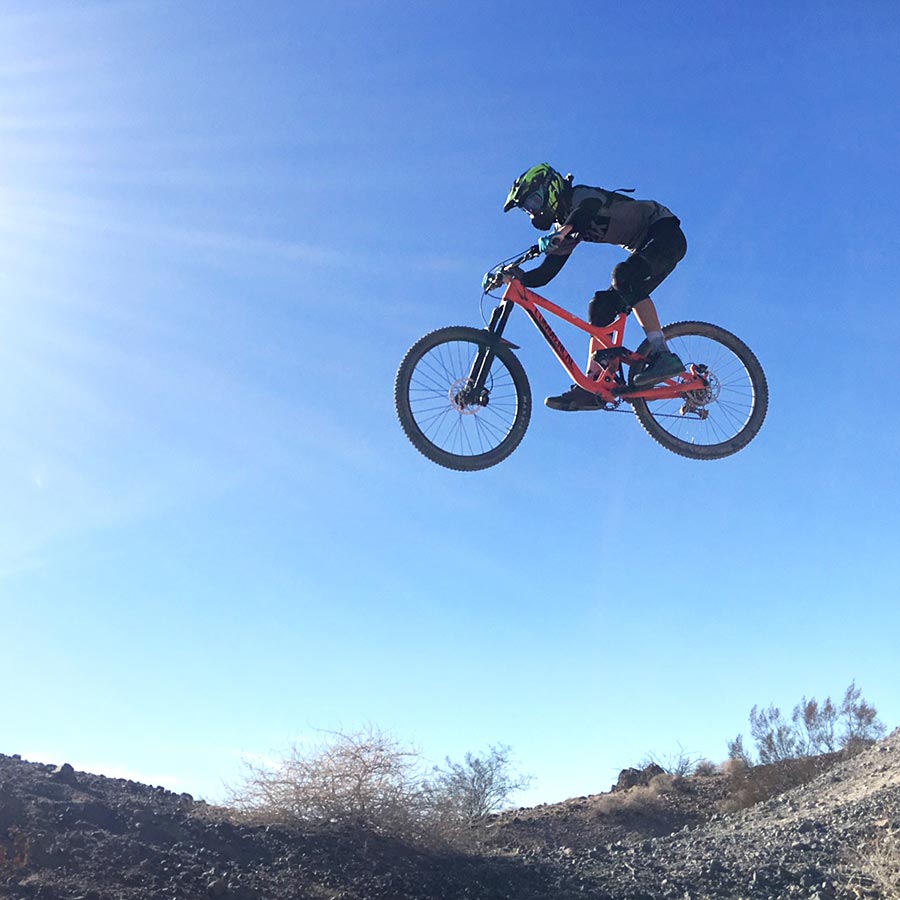 Near the main base area, there are a few jump lines you're free to session. Just treat it like a sledding hill and be on the lookout for oncoming downhill traffic prior to dropping in. Northeast of the base area, there is a see-saw feature, wood skinnies, small gap jump and a couple more senders. North of the metal bike sculpture near the entry of the bike park, there is another advanced jump line. On your left as you enter the park, there is a pump track.
Bootleg Canyon Truly Offers Something For Every Mountain Biker
With it's proximity to Las Vegas, Bootleg Canyon is very accessible compared to many other riding destinations in the Southwest US.
This zone has earned its place on our winter month road trip itinerary year after year. We eagerly look forward to riding its challenging and unique terrain when the temperatures drop at our home and the local trails are covered in snow. When you visit Bootleg, you're going to have plenty to do. You can easily enjoy a long weekend with the family so you can experience all this great zone has to offer mountain biking families.
We highly recommend visiting Bootleg Canyon with kids for families that want to get some sunshine in the winter months. Check out our Trails and Destinations page for more ideas for family mountain biking adventure.
https://mtbwithkids.com/wp-content/uploads/2019/02/bootleg-featured-photo900px-v1.jpg
600
900
Brett
https://mtbwithkids.com/wp-content/uploads/2016/05/logo-mtbk-400-300x157.png
Brett
2020-12-13 15:56:36
2022-11-15 03:27:18
Riding Bootleg Canyon with Kids