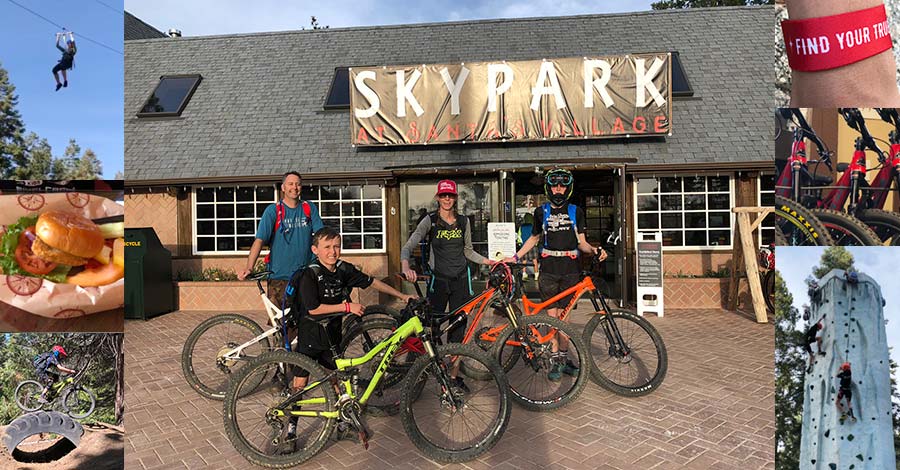 Mountain Biking SkyPark At Santa's Village – At a 5,700 ft. elevation in southern California's San Bernardino Mountains, you'll find the revitalized SkyPark At Santa's Village. Originally opened in 1955, this small renovated winter-themed amusement park features a dozen beautifully crafted mountain biking trails the whole family can enjoy.
Where: 28950 CA-18, Skyforest, CA 92385
When: Open year-round. Check online for exact days and if trails are open due to recent weather conditions
Why: There's a bike park here among other fun activities.
Who Its' For: Mountain biking families who want to try something new.
Learn More: www.skyparksantasvillage or call 909.744.9373
During a recent trip to California, our family of four made the 1.25 hour trip from Anaheim to surf the dirt on our mountain bikes at the SkyPark At Santa's Village. We were also able to experience more of the park's offerings. The drive up from San Bernardino into the forested mountains was impressive by itself. We ascended over 4,500 feet in the span of just 20 miles on CA 18. Upon arrival you will have to pay your entrance fee(s) and exchange signed liability waivers in return for fabric admission wrist bands. Your daily fee is good for all the park's activities all day long.
Upon entering the park, you're immediately transported to the North Pole. Before you lie Santa's House, St. Nick's Patio and Grill, as well as the attractions Arrow's Adventure and Silver Bells Skating Pond (roller skating during warm months). The bike park trails are accessed on the looker's right of the park after you enter.
Did Someone Say Bike Park!?! Mountain Biking Skypark At Santa's Village
You get to earn your turns at this bike park. There is not a lift or shuttle. We spent most of our time at the south side of the park so the the trail Row Upline was our main gateway to the downhill trails. The ride up only took about 10 minutes for each lap and it was never too hard for our 11 year-old. There's even a small skills park with ascending/descending logs, a see-saw, ladder feature, and more technical log features where you can test your chops. Throughout the day we saw younger kids pedaling and doing hike-a-bike up the trail.
Sleigh Ride
We got our first lap down the trail Sleigh Ride, an intermediate flow trail almost a half mile long that ends on Row Upline. From there, we took the intermediate trail Playground and opted-in to the end of the advanced trail, Arrow. Sleigh Ride featured great berms, rollers and few small table top jumps. Playground was very good single track and the lower half of Arrow offered up three rollable cedar plank wood features that were wide and in very good condition.
Arrow
Our next lap started at the top of Arrow. There is a large wooded berm on the right side after you start the trail and it's followed by two table jumps with wood tops, then a ladder feature with a steep rolldown. We won't spoil the rest of trail for you, but it's good. Really good.
Off To Neverland
The mountain bike park's signature trail is an advanced jump line called Neverland. Be sure you and your kids can ride all the features on Sleigh Ride and Arrow before you take this one on. Neverland is accessed from the top of Row Upline and it's two-thirds of a mile long. Some of the take offs on the table jumps have sculpted lips to give you extra boost; there is a bridge with a small step-up; and an expertly built step-up/step-down whale tail. Get the speed right to make the jump onto the whale tail.
Again, there's more on this trail to discover when you have the opportunity to experience this bike park in person. All this being said, I'm just an intermediate rider, but by the end of the day, I was able to do a few of the jumps and features that looked too difficult when we first arrived.
Here's What The Kids Said About The Bike Park
There was a lot of opportunity for progression in the bike park.
They put a cooler full of ice-cold water at the top of Row Upline. That was really nice later in the day.
I really enjoyed the bridges. And, a lot of the other features weren't only built well – they were creative.
There's a lot to do and you'll never get bored.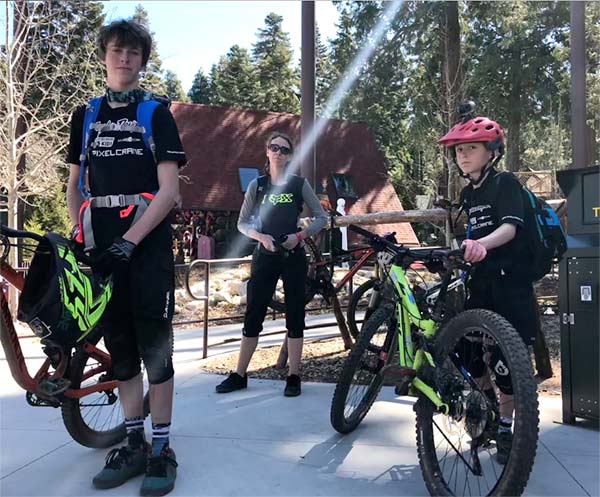 Comet
Comet is another advanced trail in the park. It also starts at the top of Row Upline and heads north. Although it does not feature a gnarly rock garden, this trail has the most steep and technical sections in the bike park. There are tight turns, exposed roots and an elevated ladder feature with a tilted 90º turn. Truth-be-told, I walked a few parts of this one. It was plenty tough. The return route takes you past another skills park and Ladybug Pond.
Deck The Halls
We also rode part of the intermediate trail Deck The Halls. This was more of a cross country trail as opposed the to flow trails in the park. After about halfway through, one of my sons and I opted out and connected to the Row Upline trail so we could ride Arrow again.
This mountain biking zone can accommodate riders of all ages and abilities. There is a balance bike trail near the center of the village – bikes and helmets are provided. And, the trails Pipeline Road and Reindeer Return meander along the lower elevations of the bike park. The multi-use trails Pond Road and Fantasy Forest Multi Trail can also accommodate less aggressive mountain bikers.
"The trails were wide enough so you could focus on the features and not just staying on trail like thin singletrack. Almost everything was rollable. The trail designers and builders went out of their way to make the mountain biking trails family-friendly. The pedal up was nice because you could ride side-by-side and still pass or get passed. All the other riders at the park were polite and friendly." – Mom
You're Gonna Pedal – And You're Gonna Like It!
The kids didn't mind the uphill pedaling at all. Our 11 year-old put in about five laps before heading our to discover the park's other offerings. Our 14 year old could not get enough of the Neverland trail. When stopping for a quick chat with the bike patroller, I mentioned how much we were enjoying their trails. He told me that they were in the process of building a beginner level mountain bike trail from top-to-bottom with optional advanced features on the sides.
Explore the bike park at your own family's pace. You'll have a great time if you do simple out-and-backs on the multi-directional trails or ride all the trails. You're nestled in a gorgeous forest with dense trees and great dirt. We really lucked out during our visit because it rained quite a bit a couple days before. The ground was tacky, not greasy – and all the man made features were in excellent condition.
SkyPark can also rent mountain bikes at very reasonable rates if you cannot bring your own equipment. They also have a small bike shop on site so minor repairs and maintenance can be taken care of during your visit.
When You Visit SkyPark At Santa's Village, Plan On Spending The Entire Day
Certainly, you should get to SkyPark At Santa's Village as early as you can and plan on staying late. Their days of operation vary, so be sure to call ahead to make sure they are open when you plan your trip. That being said, there's a lot to do. After a few laps in the bike park, our 11 year old was ready to see if the rest of the park could wear him out. Here is a list of other attractions in the park.
Arrow's Adventure –
Kids and adults can ride pedal cars along a track of varying terrain. One of our kids said, "The cars were easy to pedal because they were geared. They were fun and fast."
Blitzen's Bungee –
The automated bungee/trampoline hybrid system allows jumpers to get a bird's-eye-view of the adventure park.
Discovery Playscape –
A playground featuring playhouses, an obstacle course, mini zipline swing, and a spider web composed of thick ropes.
Frozen Falls Climbing Tower –
A 30 foot outdoor tower with climbing holds and automated belay system.
Magic Tree Bouldering Room –
Interior bouldering with 12 foot walls suitable for climbers of all abilities. Our youngest told us, "You could climb on the ceiling and the arch in the boulder room. And, the floors were padded."
North Pole Express Train Ride –
Cruise through the park on an electric powered train with four passenger cars.
Serrano Archery Range –
Do your best to hit a bullseye with real arrows at the archery range
Silver Bells Arena –
Ice skating in the winter and roller skating / roller blading in the warmer months
Strider Balance Bike Trail –
Kids 8 years old and younger can hone their skills on balance bikes on a dirt track. Helmets are required and provided as well.
Zipline –
600 feet long and 30 feet high. Our youngest thought the best part of the zipline was jumping off the landing platform to the ground with the assistance of the automated belay system. At any rate, the staff members managing the zipline were trained with fitting harnesses properly. They communicated via walkie-talkies to ensure fun and safety for each participant. SkyPark's harnesses looked brand new. Of course, staff made sure guests did not allow the equipment to touch the ground so it could be used properly and safely.
Make Sure Ole Man Hangry Doesn't Stop By
In addition to all the fun activities at SkyPark, they also have St. Nick's Patio and Grill. The menu had a wide selection of foods. To list, salads, tacos, sandwiches and burgers just to name a few.  St. Nick's Patio and Grill made it easy to make sure you keep the kids' energy up with good food. We stayed for lunch and dinner. In truth, we all enjoyed our meals. Equally important, SkyPark also has the Pedal Pub, an on-site watering hole where those of age can enjoy a cocktail, beer or glass of wine.
Add This Destination To Your Nice List
You have many activities to choose from in southern California. However, if you have a mountain biking family who likes try something new, We highly recommend SkyPark At Santa's Village. As has been noted, it's a wonderful change of pace from all the expensive, big crowds and big hassle theme parks. Without a doubt, the park was very clean and staff members were always quick to answer questions or offer a polite greeting.
Mountain Biking Skypark at Santa's Village = Better than Disneyland!?!
Surprisingly, our 11 year old said SkyPark was better than Disneyland. I asked him if this was really true. He said. "Yes. Because I get to choose what I want to do on a lot of things. I can ride the trails I want and go as fast as I want in the bike park. I can choose my route in the bouldering room and it's up to me if I make a bullseye at the archery range". Well said, kid.
Similarly, my wife and I really enjoyed being in the woods, in the clean air without hoards of people. Of course the park operates at capacity around Christmas time, but for mountain biking families who enjoy exploring off the beaten path, make sure you put SkyPark At Santa's Village on your list of places to ride.
We highly recommend mountain biking SkyPark at Santa's Village families that want a super fun and active day. Check out our Trails and Destinations page for more ideas for family mountain biking adventure.
https://mtbwithkids.com/wp-content/uploads/2018/04/skypark-featured02-v1.jpg
470
900
Brett
https://mtbwithkids.com/wp-content/uploads/2016/05/logo-mtbk-400-300x157.png
Brett
2018-04-03 01:00:13
2020-12-08 16:52:09
Mountain Bike SkyPark At Santa's Village