Well-crafted mountain bikes for kids are becoming easier to find and more big manufacturers are getting in the game. The best kids mountain bikes have the right pedal-to-gear ratios, lightweight frames, and everything that an adult-sized bike has – only smaller. The Orbea MX 24 Trail is a front-suspension mountain bike that your kid will enjoy riding.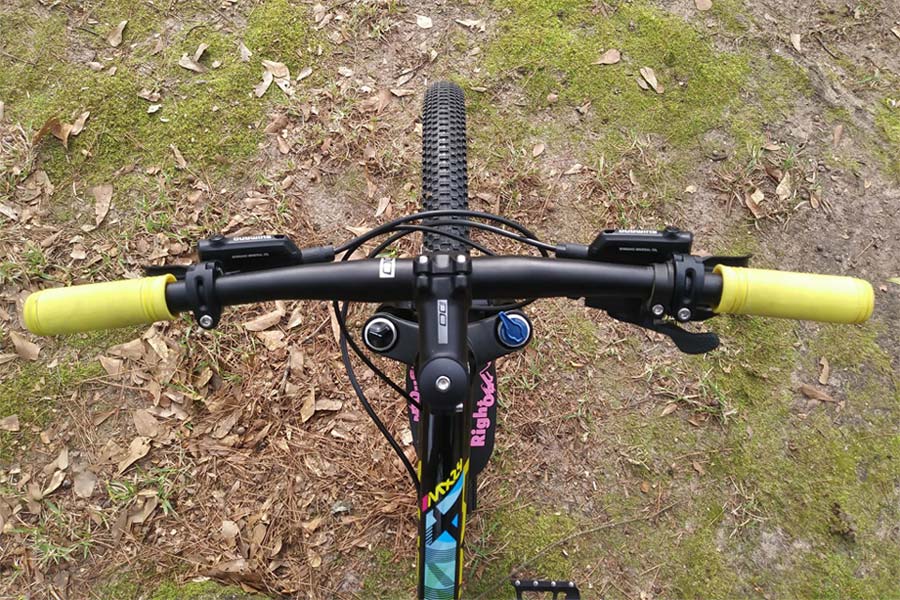 At-A-Glance
Stock Weight: ~27 lbs.
The pedals on the bike have been upgraded from the stock flats and a Shimano Zee rear derailleur has been added to handle the shifting.
A Seven Year Old Tells Us About Her Orbea MX 24 Trail
What do think about having 10 gears?
I like how easy it shifts. It pedals real fast. It makes 4 laps feel like 2 laps. I like how it has a good low gear, because it's lower than my other bike's low gear.
How do you like the brakes?
They work real good. They work real good on roots when you're trying to slow down. They're also easy to reach and use because they are right next to my fingers. They work better because I can kind of squeeze them softer than my old brakes.
Is the bike comfortable to ride?
Yes it is because I can bounce around and stand up better on it than my old bike.
What is your absolute favorite thing about this mountain bike?
It rides real good because it has a lot of gears. Now i can open and close the little thing and make my fork real hard or squishy.



Getting To Know This 24 Inch Mountain Bike
The Orbea MX 24 Trail features an aluminum alloy frame with 26-inch standover height made from the company's Hexatubing technology. This makes it both lightweight and strong at the same time. The Suntour XR LO 63mm air spring fork offers just the right amount of travel and plush ride. While it doesn't offer an adjustable rebound, it is set up very smoothly – especially after you dial in the air pressure.
The Shimano M396 hydraulic disc brakes offer effective smooth stopping power. And with the short reach adjustable levers, they ensure easy use and actuation. These hydraulic stoppers are considered to be some of the best available at this particular price point. They pads are also easy to replace once your child wears them out – or if the bike is handed down to another young mountain biker.
The Shimano M610 Deore Shadow Derailleur and shifter, coupled to the Shimano HG50 11-36t 10-speed cassette offer strong, crisp shifting. It was a much better choice over the grip shifting offered on some kids bikes. We upgraded to the Shimano Zee derailleur and shifter to get the shorter cage, ground clearance, and even easier shift actuation. Plus the looks are so much cleaner.
This kids' mountain bike is designed specifically for riders between 53 and 61 inches tall. And thanks to its seat tube length and angle, not to mention the saddle size – it's incredibly comfortable for young riders. On top of this, the sleek unisex color scheme – with its black frame and yellow, green, orange, red, and purple accents – makes it look impressive. We've seen several adult bikes that don't look as good as this one. The bike was stronger, lighter, smoother, and more comfortable than my daughter's previous 20″ mountain bike.
Other features include an alloy 32T chainset, Orbea OC-I Riser 560mm bars, and an FSA team issue chain. It also has Mach1 Klixx 23c tubeless ready rims and 24" Kenda tires. The Kendas (Small Block 8's) offer excellent traction. Whether the task at hand is accelerating, climbing, cornering, or braking, they preformed better than expected in the heavy rain, wet roots, and mud during my daughter's first race. I was going to go with a more aggressive tire, but after seeing them in action – we will keep them. 
The Orbea MX 24 Trail is a well-designed 10-speed mountain bike designed specifically for young riders. It has all of the bells and whistles of its adult counterparts, only on a smaller frame. Thanks to its geometry, the Orbea MX 24 Trail was a comfortable fit for my daughter The lightweight frame, disc brakes, and tires are all wonderful features at this price point. This great little 24-inch wheeled, front-suspension mountain bike proves the designers at Orbea know what they're doing when it comes to creating mountain bikes for kids.
Dad's Final Say For The Orbea MX 24 Trail
Everyone who has seen the bike has told us they love the way it looks and complement its groupset. I own my own small bike shop and do a lot of building and servicing bikes. This bike is easy to build out of the box, and is very easy to clean, and tune. It also holds a tune very well. The only service I've had to do to it is completely tear it down and re-assemble it after racing in the mud.
Having seen my daughter ride, race, and jump this bike – it is the perfect mountain bike for her at a decent price point. It looks better than other bikes in it's class, and came very well equipped.
---
Contributing Writer

Dan Hagler and his daughter Valice live in Texas. Dan is a bike mechanic, welder, and heavy machinery repairman. In addition to getting around on the bikes, Dan and Valice enjoy trucks, shooting, four wheelers, jeeps, ribbons, bows, and camo clothes. Dan describes Valice as having a big bouncy personality. She can out-shoot you at the range, and get a little mud on the tires.
https://mtbwithkids.com/wp-content/uploads/2018/03/orbea-mx-24-trail-review-900x600-v1.jpg
600
900
Dan
https://mtbwithkids.com/wp-content/uploads/2016/05/logo-mtbk-400-300x157.png
Dan
2018-03-18 23:49:30
2019-10-22 13:57:28
Orbea MX 24 Trail Mountain Bike Review