Your child's first pedal bike will need to be designed so it's "easy" to ride. It will need to have the right saddle height, reach, and bar width. The cranks, wheels and pedals all need to be the proper dimensions. If you have a child who is about 3-5 years old and ready to pedal – look no further than the Prevelo Alpha One. This single-speed 14inch wheel bike retails for $359.00 USD on the Prevelo website.
Your little one has mastered the balance bike and perhaps has a friend or sibling who can ride a pedal-powered bike. For many, the Prevelo Alpha One is going to be your kid's second bike. It has the geometry and build that are two of the keys to learning how to ride a real pedal bike. Your child's ability and will are going to help turn those keys and unlock a fun, new world of riding bikes together.
Overview Of The Prevelo Alpha One

SADDLE HEIGHT
15.6 – 17.5 inches



Set Up For the Prevelo Alpha One
Of course the Alpha One has kid-sized everything. From the cranks to the brakes, the bike is set up for smaller feet and hands, shorter arms and legs. As opposed to the Alpha Zero, Prevelo's balance bike, the Alpha One has a front brake as well. This is a great additional opportunity and natural advancement for building one's skills and bike control. We also like the bashguard on the front chainring as well as the quick-release seat post collar.
Be Sure To Get The Freewheel Option When Ordering The Prevelo Alpha One
The Alpha One comes with a coaster brake installed as the default build, but a freewheel option is available and perhaps preferable to most customers. Our kids had coaster brake bikes when they first learned to ride. That was over 10 years ago and we simply didn't know any better. But in our opinion, going from a coaster brake bike to freewheel bike could be a cumbersome switch or unfavorable learning curve for children who have balance bike experience.
Add-Ons And Color Options
All the add-ons and options for the Alpha One include: a kickstand, the aforementioned freewheel kit, custom color grips, a bicycle bell, rider name lettering, USB rechargeable lights, the Prevelo Trade-Up Club Membership, a riser bar, and a 13t or 15t rear cog. The bike ships with a 14t rear cog.
Internal cable routing, clean welds and optional colors make the bike visually appealing to both parents and kids. Available colors for the Alpha One include: Speed Silver, Power Purple, and Braap Blue.
Learn About The Prevelo Trade Up Club
Prevelo also offers a Trade-Up Club Membership. As of this writing, the cost is $69.00 USD. The program allows you to save money when sizing-up while your kids continue to ride a Prevelo. Get all the detail and terms by visiting the Prevelo website.
Geometry/Numbers For The Prevelo Alpha One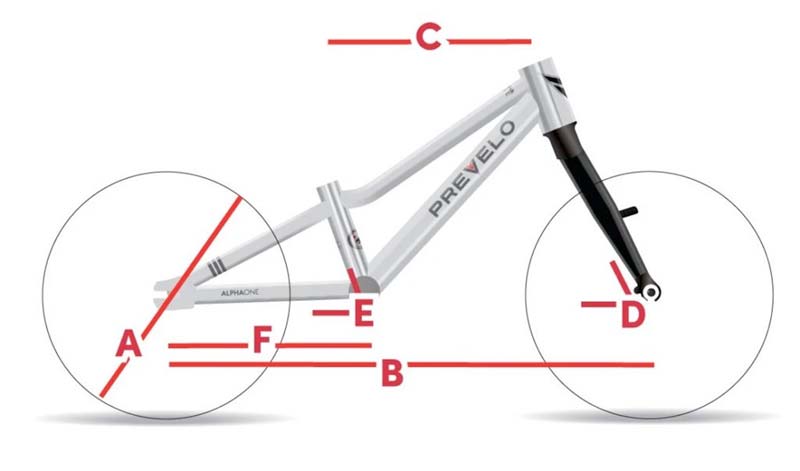 Click the photo to enlarge it
| | |
| --- | --- |
| A Wheel Size | 14" |
| B Wheelbase | 26.3 in / 667 mm |
| C Effective Top Tube Length | 13.7 in / 349 mm |
| D Head Angle | 69° |
| E Seat Tube Angle | 70° |
| F Chain Stay Length | 10.7 in / 271 mm |
| | |
| --- | --- |
| Weight (including pedals) | 14.4 lbs / 6.5 kg (13.45 lbs / 6.1 kg with freewheel kit installed) |
| Minimum Saddle Height | 15.6 in / 397 mm |
| Maximum Saddle Height | 17.5 in / 445 mm |
| Bottom Bracket Height | 6.7 in / 170 mm |
| Gain Ratio | 3.7 |
| Standover (ground to top of top tube) | 14in / 355.6mm |
Prevelo Alpha One – Specifications
| | |
| --- | --- |
| FRAME | 6061 heat treated aluminum alloy custom formed tubing |
| FORK | Aluminum alloy blades with chromoly steerer tube - 35mm rake |
| SEAT CLAMP | Aluminum alloy with toolless adjustment |
| FRONT BRAKE | Tektro aluminum V-brake |
| REAR BRAKE | Tektro aluminum V-brake & coaster brake |
| FRONT BRAKE LEVER | Tektro aluminum short reach |
| REAR BRAKE LEVER | Tektro aluminum short reach |
| CRANK SET | Prevelo anodized alloy 3-piece square taper with 85MM crank length. |
| SPROCKET | 25T with double chain ring guard |
| BB SET | Sealed cartridge |
| HEAD SET | 1 1/8" threadless |
| RIM | Aluminum with grinded sidewalls |
| FRONT HUB | Lightweight alloy 1-piece forged CNC with low profile rounded hex bolts |
| REAR HUB | Steel with integrated coaster brake - 14T cog |
| TIRE & TUBE | Kenda Small Block Eight Pro 14 ×1.5 |
| SADDLE | Prevelo small kid saddle |
| HANDLEBAR | Prevelo Aluminum - 470mm wide x 50mm rise - 22.2mm to 19mm taper |
| HANDLEBAR STEM | Aluminum 30mm extension |
| GRIP | Kraton rubber |
| PEDALS | Composite with 9/16 chromoly axle |
Riding The Prevelo Alpha One

We found the perfect candidate to ride our Prevelo Alpha One. Derek's a lad just shy of 5 years old who had never pedaled a bike on his own who had a year of balance bike riding under his belt. This was truly the perfect applicant for the job.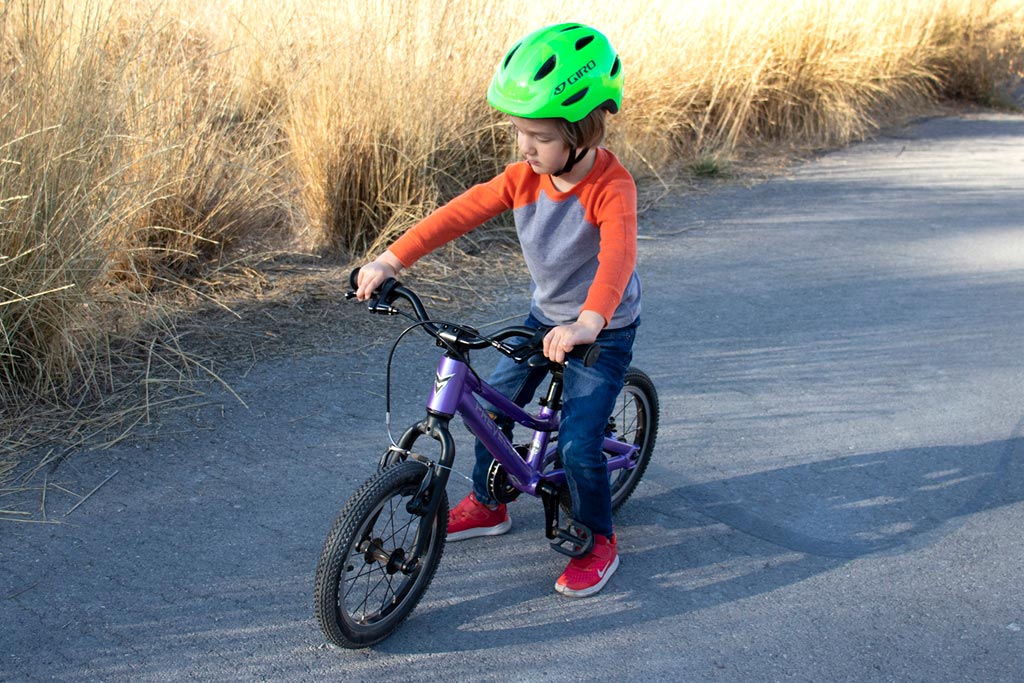 After inspecting the bike for a moment, we adjusted the saddle height using the quick-release seat collar and Derek mounted-up. We were sure to play it safe and have the saddle low enough so the rider could easily plant both feet on the ground. He pushed around with his feet on his own for a bit so he could get used to the bar width, kid-sized grips, and the hand brakes.
Our first task was to see if Derek could coast down a gentle slope with raising his feet off the ground and then resting them on the pedals when he felt safe and confident. Getting his feet off the ground was easy enough. His balance bike experience enabled him to do this on the third try. Getting Derek to rest his feet on the pedals only took another 5 minutes or so.
Next was pedaling. This concept can tough for a kid to grasp initially. When you take a moment to think about it – it's foreign at the very least. The physical motion that takes place when pedaling a bike involves alternating the force exerted from left-leg to right-leg in a constrained circular motion. This is one of those things that you really have to simplify when instructing.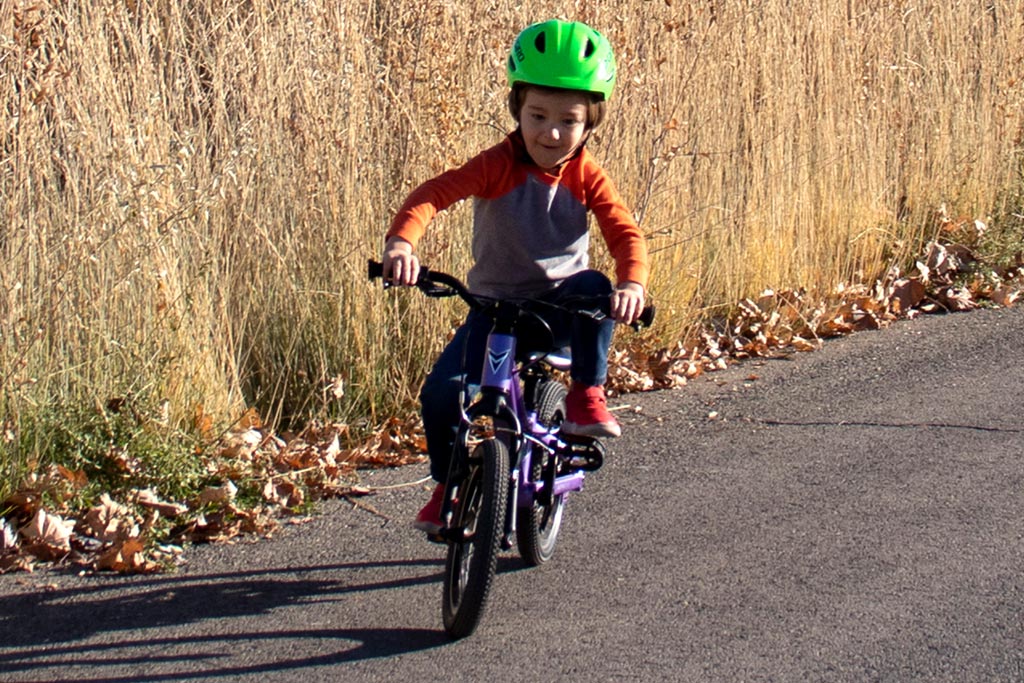 Watching this take place in-person with a new rider who's ready to try this and figure it out is really rewarding. Derek and his mom were both shocked when he got a couple of full rotations on the pedals. From there, it's just a matter of maintaining forward momentum while safely controlling the bike.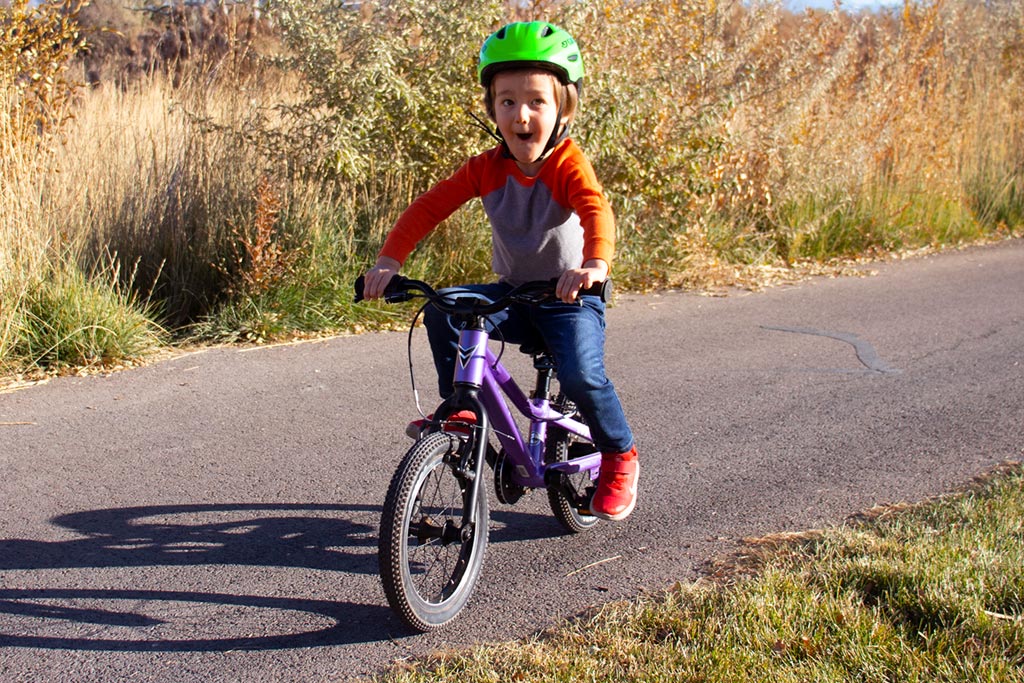 With each attempt, Derek was able to go farther and farther without having to put a foot down. We were on a paved bike path and our demo rider soon learned how to use both hand brakes evenly while making turns and even climbing slight hills.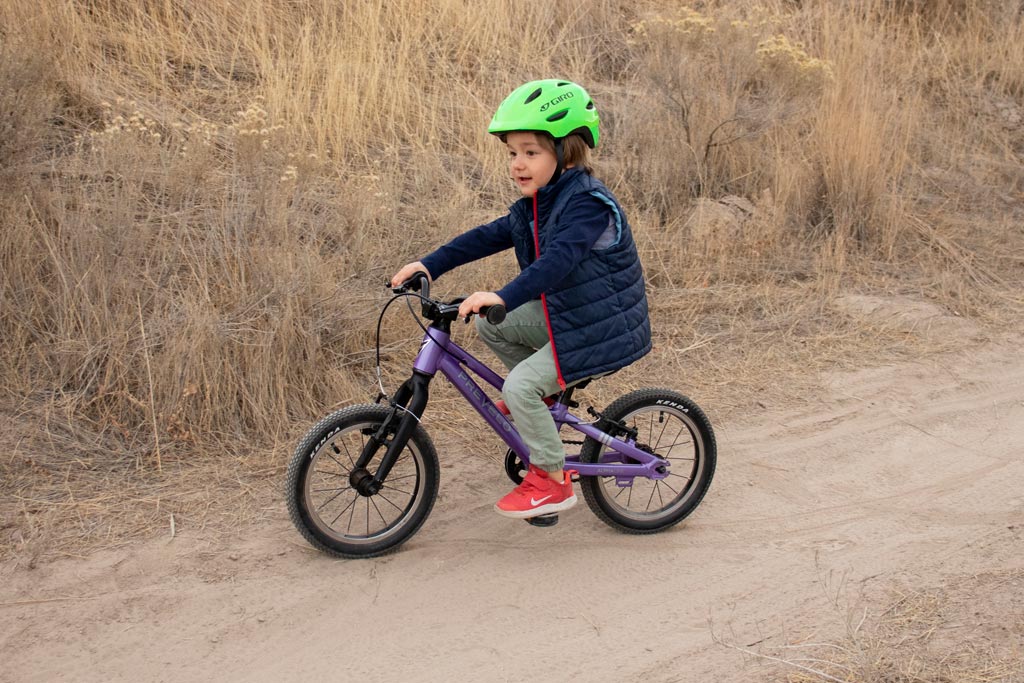 Our next location with the bike was a small skills park. We were excited to see that Derek was ready to take the Alpha One to dirt and build upon his skills.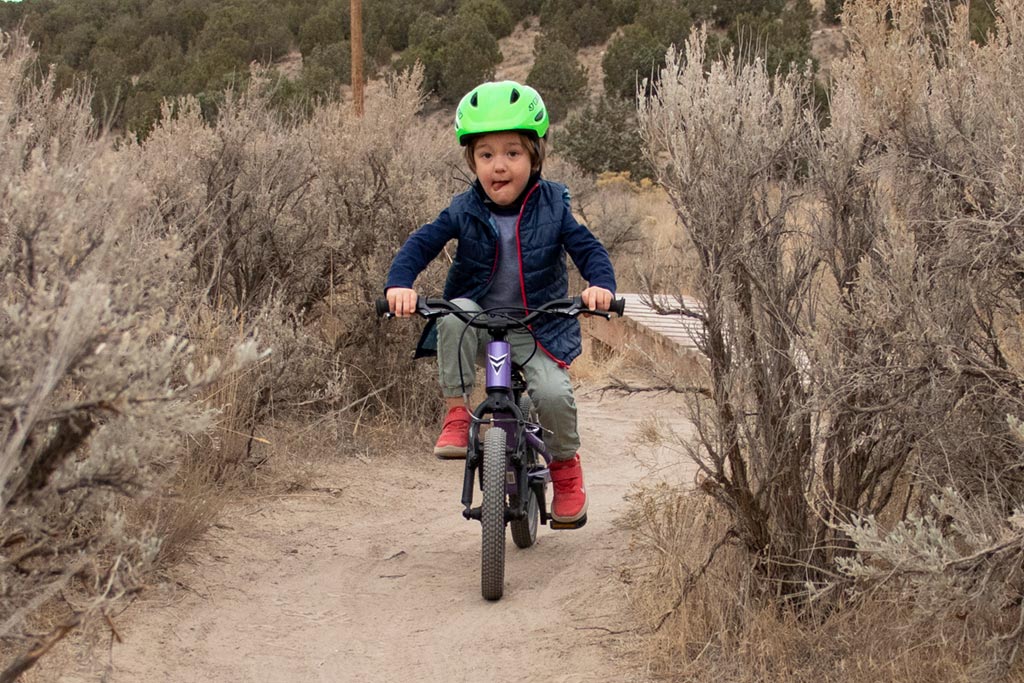 He rode the bike with confidence. As opposed to being on a wide-open paved trail – some of the terrain was bordered with weeds and sagebrush. The Kenda tires did a fine job on the dry, loose dirt and our rider was able to handle weaving the bike through the channels of trails.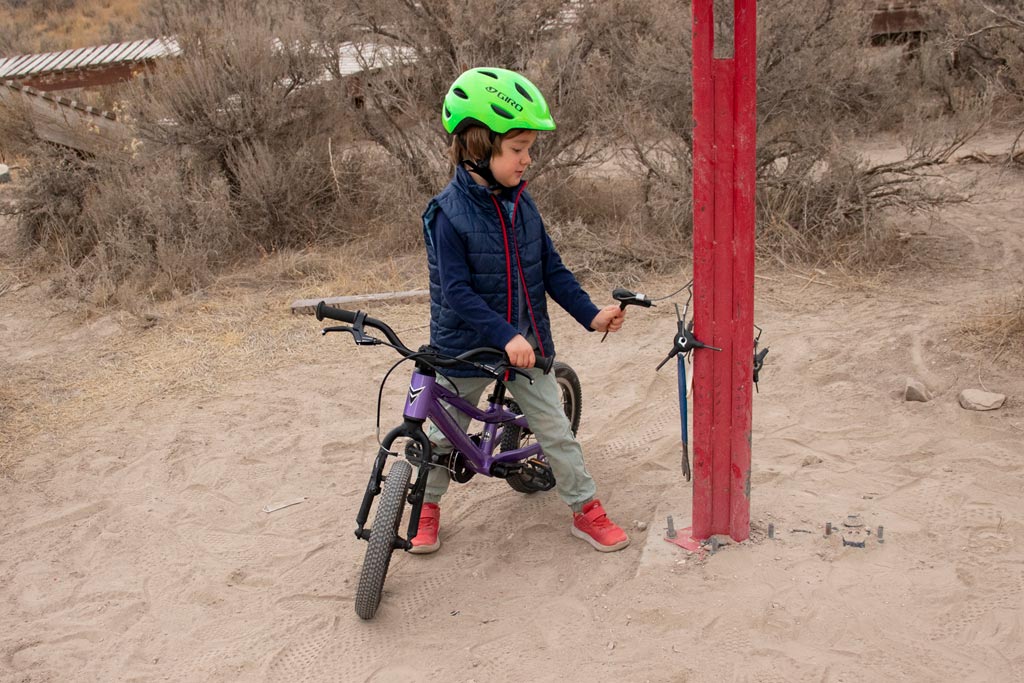 It was great to see how Derek was able to brake evenly with both front and rear brake on the Alpha One. This being his first experience with handbrakes, he simply took it as fact and used them as instructed.
Prevelo Alpha One Summary
We were beyond stoked to see a kid ride a pedal bike on his own for the first time with the Prevelo Alpha One. Derek's mom was always close by and she shouted with joy when he took off on his own.
Due to your child's size and abilities, your kid's first pedal bike may not be the Prevelo Alpha One. The company also offers bikes with 16inch wheels and 20inch wheels. Although they're different sizes, they still serve the same purpose: enabling kids to have fun on bikes. The Alpha One is definitely the right tool for the job if you have a young child who's ready to give it a shot. If you want to ensure success, start with a balance bike such as the Prevelo Alpha Zero. This will properly prepare you daughters and sons to build the foundation necessary to advance to pedaling.
https://mtbwithkids.com/wp-content/uploads/2020/12/prevelo-alpha-one-eamo-standing-smiling.jpg
683
1024
Brett
https://mtbwithkids.com/wp-content/uploads/2016/05/logo-mtbk-400-300x157.png
Brett
2020-12-06 16:11:48
2020-12-09 16:27:40
Prevelo Alpha One Review