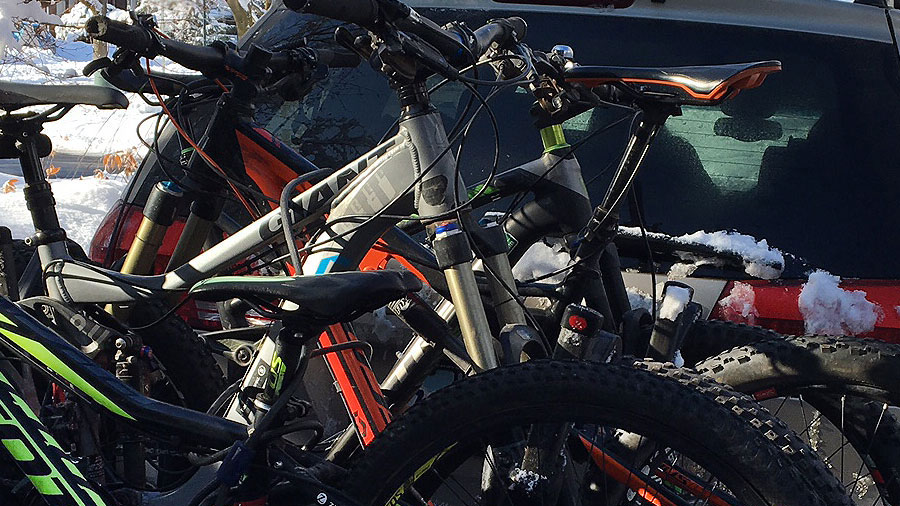 Preparing for a Mountain Bike Ride with Kids – A bit of advance planning and preparation helps make any bike trip more enjoyable. No one likes to run around at the last minute trying to remember what needs to be done and what to pack. This is extremely true if you have children. Preparing for a bike ride a day or two in advance will lower the stress level and make the entire trip more enjoyable. Here are a few tips and tricks on how you can prepare for a bike ride with kids.
Bike Readiness – The key component to any successful ride is to have your bike in tip-top condition. Bike maintenance should be a standard preparation for any upcoming ride. Pump up the bike's wheels and make sure they contain the required amount of air. Look closely at the bike for any signs of wear or any indications that the bike's tire might not hold up to a ride. You should also examine the bike's chain and braking system. A day or two prior to the ride have your child sit on the bike and make any necessary adjustments to the seat's height and the bike's pedals. Remember that kids grow fast and even if your tot's bike fit him well a month ago the odds are good that he has grown and the bike will need a bit of tweaking to offer a comfortable ride.
Clothing – Pick out your biking outfit and your children's clothing a day or two in advance. Try to take into consideration the weather's forecast so you can dress appropriately. Ideally, you should dress to peel if the forecast calls for a warm afternoon but a chilly morning.
Helmet Check – Your child's head grows just as quickly as the rest of his body, so be sure to make sure that junior's helmet fits. Everyone in the family should examine their helmets for any broken straps, fasteners or other safety issues.
Sunscreen – No matter what the weather forecast is you should always remember to pack sunscreen. Burns happen even when the weather is chilly and overcast. Packing a sufficient amount of sunscreen helps protect not only your skin but also the delicate skin of your child.
Gear Up – Consider what gear you will need to achieve the ride from start to finish. Pack sunscreen, sunglasses, biking gloves, proper shoes, and comfortable riding clothing.
Water and Snacks – Advance food and water planning are a necessity if you plan to bike with your children. Kids always want foods and snacks, so you should always pack necessary beverages and snacks to keep the children happy.
Map It – No matter how many times you have ridden the trail, if a season has passed then it's time to map the trail again so you are familiar with the terrain. You should always know the trails you plan on riding, any distinguishing landmarks, and realistic distances.
Phones and Chargers– Pack your cell phone with a fully charged battery in the event of an emergency. You should also pack a solar charger to keep your battery fully powered.
Bring Money – Even though you plan on riding a trail through the wilderness, it's always a good idea to bring money and identification.
Check the Forecast– Weather is notorious for changing quickly. Even with the best weather forecasting methods, nothing is foolproof. It is best to prepare for the worst.  If it looks like rain, then pack rain gear just to be safe. Mornings and evenings are often chilly, so bring a lightweight jacket. Dress to peel if it looks like the afternoon will warm up.
Be Realistic – If you are biking as a family then you need to be realistic about how far and how many hours your child can ride. Prepare for long rides by gradually building up with shorter rides. No one, young or old, will have fun if you aren't physically ready to meet the demands of the trail. Try to pick a trail level with the skill set of everyone in the party. Don't think that you or your anyone in your group can do more than they realistically can achieve.
Rest and Rejuvenate – The night before a big ride make sure everyone gets a good night's sleep. In the morning hydrate and fuel for the day ahead by planning a wise breakfast that will adequately fuel your physical needs.
Never underestimate the importance of advance planning and preparation for a mountain bike ride with kids. Taking care of everything prior to any bike outing lets you focus on the ride and revel in the moment.
Want more info?  Check out 7 Tips for Mountain Biking with Kids
---
Kimberly Sharpe is an outdoor sports and travel writer. She has spent a lifetime mountain biking the trails of Oregon, Washington, British Columbia, Florida, Northern California, and numerous other locations with friends and family.
https://mtbwithkids.com/wp-content/uploads/2017/03/preparing-v1.jpg
506
900
Kimberly
https://mtbwithkids.com/wp-content/uploads/2016/05/logo-mtbk-400-300x157.png
Kimberly
2016-05-07 00:47:38
2019-11-28 21:20:25
Preparing for a Mountain Bike Ride with Kids