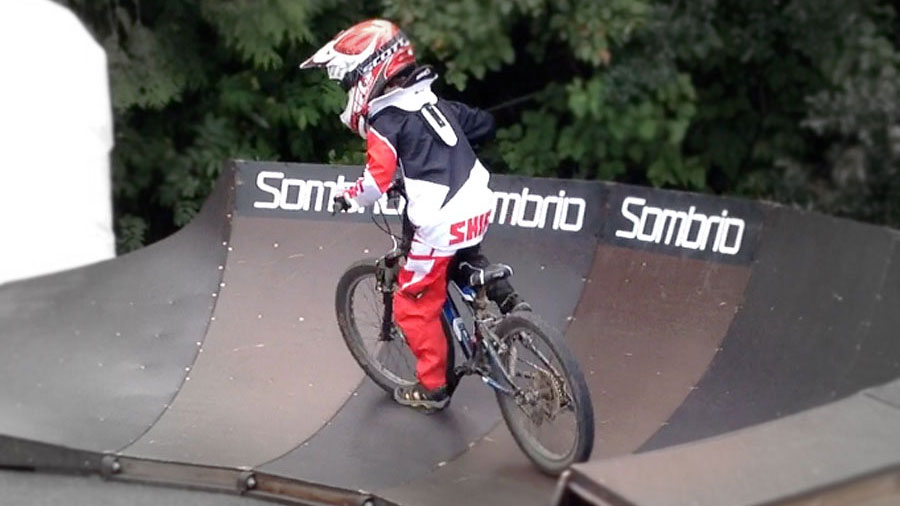 Are you worried about keeping your kids safe while mountain biking?  One nasty crash on a bike could set your young rider's confidence back quite a bit. To bolster the love of bike riding with your child, you need to take every safety precaution available to stack the deck in your favor. Unforeseen crashes happen. Be prepared.
Here are just a few ideas to help protect your child while biking. While no equipment is fool-proof and the odds are good that your little one will inevitably sustain boo-boos, following a stringent safety protocol helps lessen the odds of a severe accident or injury.
Helmet Required –
A child's head is highly susceptible to injury. Even a small bump can cause brain trauma. Most head trauma is avoidable by making sure your youngster wears a properly fitted helmet.  Any helmet that you purchase for your child should have a Consumer Product Safety Commission (CPSC) sticker affixed to it. The sticker indicates that the helmet has passed the strict safety requirements set forth by the United States government. 
Bike helmets need to fit snugly and never slip or slide on the child's head. Avoid letting your child wear a hat under the helmet or the helmet's safety ability might be impaired. A properly fitted helmet sits level across the child's forehead and covers it almost to the eyebrows. Always make sure the straps are firmly attached beneath the child's chin. A slipping and sliding helmet is ineffective at providing any sort of safety.
Clothing –
If you are hitting the roadways or trails for a bike outing, make sure you dress your youngster in bright colors so he is easily spotted by other riders, joggers, or drivers. Shoes should be properly laced up so they don't drag the ground and pants should not be overly baggy or they may get caught in the bike's chain. Never let your child wear sandals or flip flops or they could easily skin and peel the skin off their toes during a sudden stop or fall. 
Elbow, Knee, and Shin Guards/Pads –
At some time, most kids will inevitably hit their shin with the bike's pedal. Everyone knows that a shin bruise is painful. Often wearing a pair of shin guards helps prevent such an injury.
Eye Protection –
Hitting the trails on a mountain bike is an exhilarating experience, but many trails are muddy and filled with rocks or debris. Wearing a pair of safety goggles will help protect your child's peepers from flying objects.
Reflectors –
If you plan to let your child ride near traffic, it is advised that their bike have reflectors to make them instantly visible to motorists.
LED Lights –
When riding in the early morning or late evening hours, a headlight and tail light not only helps light up the trail for your child to see obstacles but also makes the child more visible to other bikers, joggers, or motorists in the failing light.
Bike Bell –
What child doesn't like a bell? Besides being fun, a bell is a handy safety item that a parent can teach their child to use appropriately when riding. 
Cycling Gloves –
A pair of full-finger mountain biking gloves not only provides grip but also helps protect small hands from chafing or skinning during a fall. Gloves can go a long way in keeping kids safe while mountain biking.
Neck Braces and Back Braces –
Do your kids ride technical downhill terrain, elevated wood features, off-camber steep slopes, hucking the drops and jumps? If so, you should consider a neck brace with a full-face helmet and back brace for you and your kids. I've taken a hard crash with a neck brace in a bike park and so have my sons. All of our injuries have been limited by always wearing the proper gear.
With the proper equipment, biking can not only be fun but also safe for new and beginning riders alike.
Want more info on mountain biking, helmets, pads and accessories? Check out our Reviews
---
Kimberly Sharpe is an outdoor sports and travel writer. She has spent a lifetime mountain biking the trails of Oregon, Washington, British Columbia, Florida, Northern California, and numerous other locations with friends and family.
https://mtbwithkids.com/wp-content/uploads/2017/03/mtb-with-kids-safety-gear-v1.jpg
506
900
Kimberly
https://mtbwithkids.com/wp-content/uploads/2016/05/logo-mtbk-400-300x157.png
Kimberly
2016-05-12 00:12:31
2019-11-28 21:18:02
Keeping Kids Safe While Mountain Biking