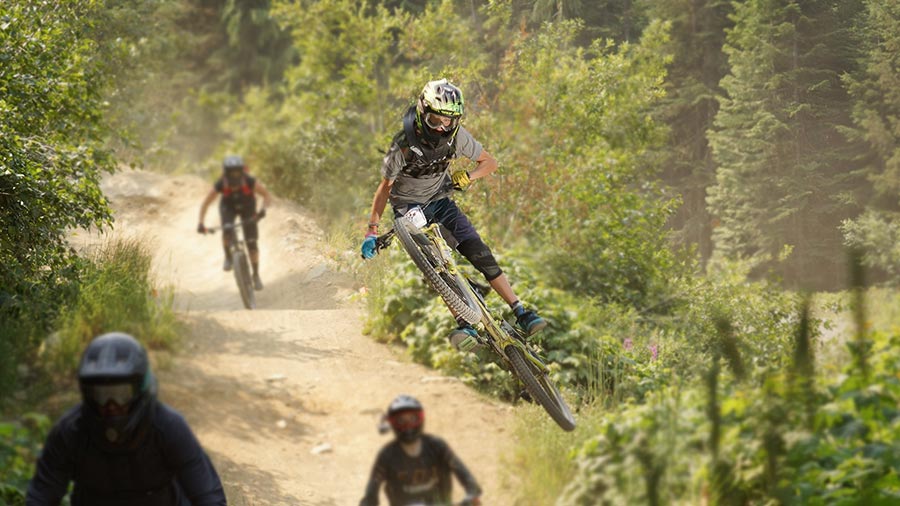 Whistler has long been known as a mecca for mountain bikers of all skills and riding styles. And, while part of the appeal is undeniably the beautiful and rugged terrain that makes up British Columbia – to an even greater degree it's the culture around biking that's developed here. Some of the top professional mountain bikers call the area their home. It also boasts one of the more acclaimed bike camps available. Having started out 15 years ago, SGC – or Summer Gravity Camps, was the brainchild of Andrew Shandro. He wanted to create an opportunity for young mountain bikers to challenge themselves and progress their skills.
Summer Gravity Camps in Whistler, BC
Each session is 7 days long and camps usually begin in July

Clinics are led by professional mountain bikers from around the world 

2017 prices started at $1,510 CAD. Campers will also need to pay separately for travel, bike park pass for the week, accommodations, some dinners, rental bike and protective gear (if necessary).
A full-suspension DH bike is recommended. Full-face helmet is mandatory.
Get more details and register at

www.summergravitycamps.com
For people like Wyatt, our young teen rider, it also offers the opportunity to learn at a world-class venue. When his mom told him he had the opportunity to sign up for a week-long SGC youth session in July of 2017, he was one hundred percent on board. After finding out he'd formally been registered he recalls that "it felt like my birthday". But after the initial excitement soaked in, Wyatt told us he was a little nervous. He wanted to be able to get placed in a group where he could demonstrate what he could do on a mountain bike, and then learn more.
Wyatt doesn't have his own downhill mountain bike and we needed to make sure he'd be able to keep up from a technical standpoint. Instead of renting a bike for the week, I took care of this by making some changes to my "park" bike. I own a 2011 Specialized SX Trail II. Wyatt only weighs about 110 lbs, and with help from my local bike shop, we were able to set it up properly for Wyatt's weight. A different spring was purchased for the fork and we switched out the coil on the rear shock. Aside from riding in the Whistler Bike Park for a week, another part of the curriculum for SGC is riding outside the bike park at the Whistler River Dirt Jumps or at the Air Dome. Wyatt already owned a decent dirt jumper, and we were sure to bring that along. He also had his trail/enduro bike so we could mountain bike with the kids outside of the park. Additional gear for the camp included a full-face helmet, neck brace, gloves, elbow pads, knee pads, MTB shoes, goggles, mountain biking jerseys and shorts, a rain jacket, and a hydration pack.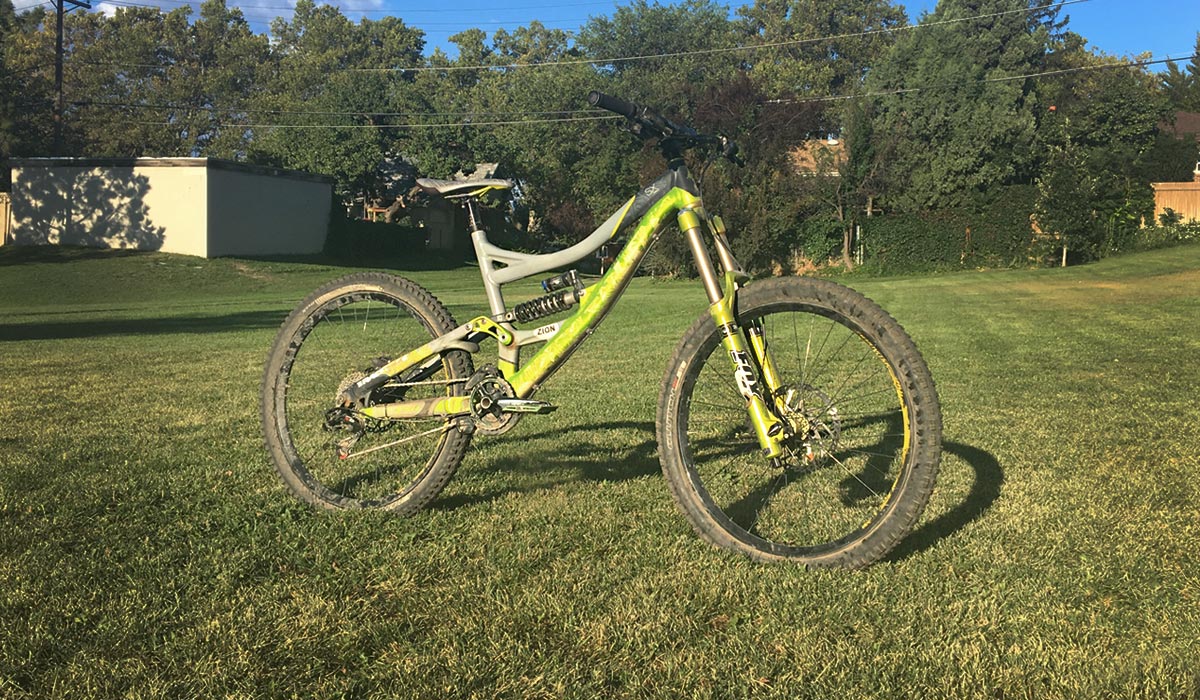 Our Kid's Week At Summer Gravity Camps
Regarding accommodations during a SGC session, most of the bikers stay in the host hotel at the resort – but as this was a family trip, Wyatt had to stay with mom, dad, and his little brother at a condo we rented near the Whistler base village.
Once we got settled at the condo, me and Wyatt ended up meeting with Mel(lissa) and Trish at the hotel on the BlackComb side of the resort on the first Saturday evening. Mel and Trish act as surrogate "camp moms" by greeting SGC campers and getting them settled before the actual training week begins. I had to sign waivers, fill out emergency contact information, and sign a media release for Wyatt. Then, Wyatt was given a jersey, a pair of new grips, and his bike park pass for the week. A welcome dinner for the riders at the hotel was scheduled next, so I left Wyatt and went back to the condo.
Andrew Shandro got things underway by telling the group of teenagers to be on their best behavior at the hotel and pay attention to the curfew. Riders will be split up into smaller groups based on their experience and abilities. Dinner was pizza. Wyatt asked the coaches if he should ride his newer trail bike or the SX Trail during the camp. He was told "Bring whatever has more suspension." This was reassuring because SGC could have told us that he should rent a bike. After dinner, Shandro said "Be at the GLC by 9 tomorrow morning. See you later. Take care."
The next morning, the riders met up again and become more acquainted with one another over a buffet style breakfast at the Garibaldi Lift Co. Pancakes, waffles, French toast, sausage, potatoes, and other items were available through the week. Following breakfast on Sunday, SGC riders received their daily voucher for lunch at the Garbanzo Bike & Bean. Finally, it was out to the bike park for the first day.
In the winter, Whistler-Blackcomb is the name when it comes to ski hills, but during the summer months the lifts and runs do double duty. As part of their deal, SGC riders get priority when it comes to lift lines, so there's never a huge wait when it comes to getting to the top of the hill. To start, the riders had to be separated into smaller groups based on their skill level.
SGC is able to cater to mountain bikers' different levels of skill. Shandro and his colleagues do their best to assess the riders' abilities and make sure they ride with different coaches. Wyatt said they rode Crank-It-Up and B Line so the coaches could determine how to divide everyone up into groups of about 6-7 riders. This way everyone gets to ride at a level where they're comfortable. Those who are really hardcore can get on more advanced trails right away, while those who are more intermediate can work on their skills and not feel like they're getting left behind. A big part of Shandro's conceptual framework for the training is having a small ratio for coaches-to-students in order to maximize one-on-one time and ensure everyone has fun.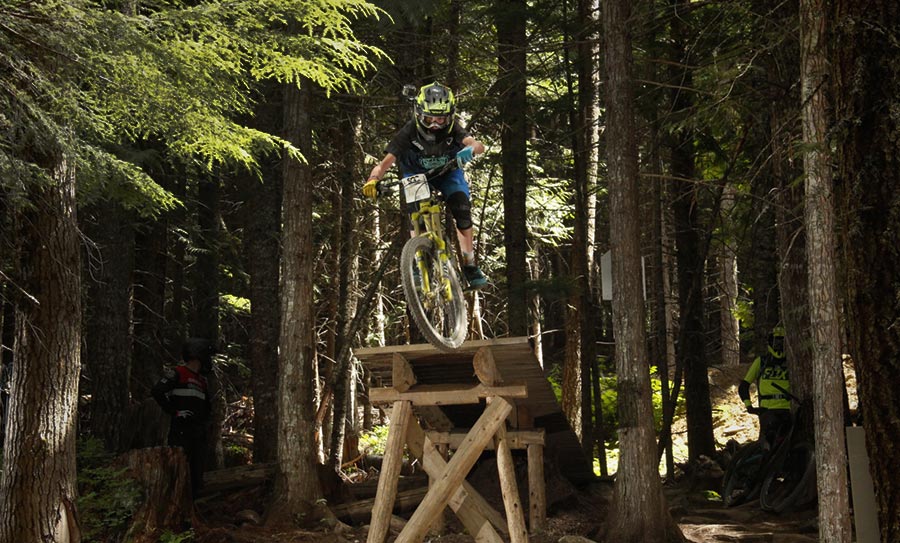 Wyatt ended up with Jordie Lunn as his group's coach for the first day. Like so many other Whistler riders, Jordie is a local from Vancouver Island who calls Whistler home – and he wasn't at all shy about exposing his group to everything it had to offer. Some of the trails the group rode included: Crank-It-Up, B Line, A Line, and Fade To Black. One of Wyatt's goals for the trip was to do the Fade To Black road gap. Luckily enough, when the opportunity presented itself, Jordie told Wyatt, "Just give it a couple of pedals going into it. You got this." Mission accomplished on Day One.
On Monday, Wyatt rode with Micayla Gatto and Casey Brown, two downhill racers that prove gender doesn't have anything to do with speed or style. When asked about what he learned on Monday, Wyatt told us, "Micayla taught us how to corner better." She said, "You point your belly button where you want to go and pretend you're mooning the people on the outside of the berm."
Casey was just as fluent in her instruction, and focused on how to properly whip. "It was like rotating your body and your bike. So, you twist your bars a little. Just look where you want to go. Rotating your body and your bike so it moves to whichever side of the trail is most comfortable to you. And always be looking where you want to go while you're doing that motion and bringing it back," Wyatt told us.
Monday also marked the first time Wyatt was able to try out the dirt jumps and Air Dome with his SGC group. These are specialized facilities where riders work on jumping. Another benefit of attending SGC is that from 3:00pm-5:00pm throughout the entire week, SGC members get singular access to the Air Dome. Wyatt recalls watching skilled locals pull backflips, Cork 720's and tailwhips. During this session, he learned how to improve the style of his tabletop jumps.
Come Tuesday and Wednesday the coaches were Duncan and Dave. These two days of riding were spent working on the things they'd learned the day before. Wyatt mentioned that SGC is a great forum for coaches to show off some of their own skills – like when Duncan managed to pull a stoppie at the top of a rock roll on Original Sin. Wyatt said, "I never thought anyone could do anything like that," I asked him how he did it and he just said 'Insane brake control'."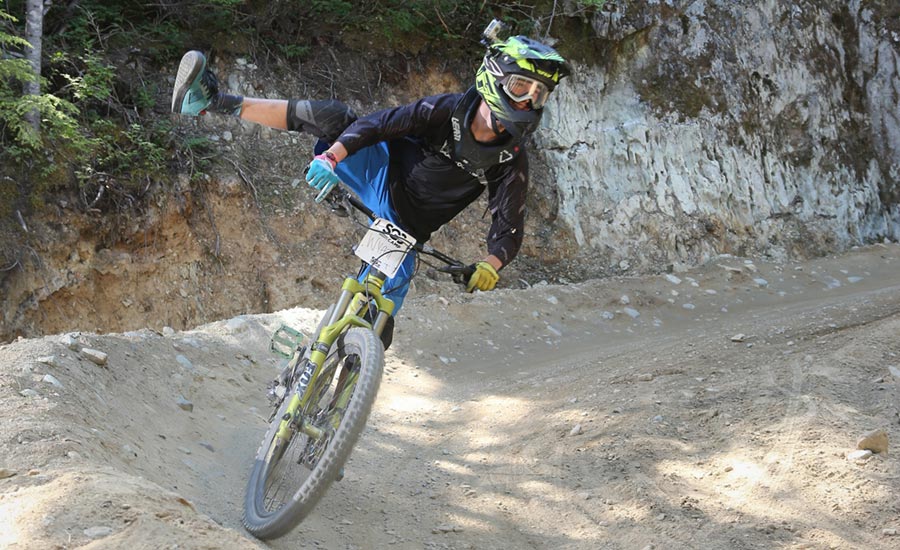 According to Wyatt, Dave was just as fun. This is an example of the atmosphere Shando and the staff are trying to create for the kids. SGC is a place to learn and push yourself, but it's also meant to be fun every step of the way. Wyatt recounts one of Dave's funnier antics. "He put coins in one kid's bike through the seat tube, so whenever he went over brake bumps, or did a jump, or ran over anything; it would just be 'tinkle, tinkle, tinkle'. The kid new right away. He was like, 'Oh, I know who did this!'"
What seems to come out as a recurring theme in Wyatt's experience is the dedication of the coaches, and making sure the kids feel safe and confident at the same time. It's a difficult balancing act, but they strive to achieve this each and every time. "If you're in the front, you just hear them holler at the person who they were behind. You just hear 'Good job! Faster! Faster! Faster!'"
Besides having a great complement of coaches and the ability to ride with almost the entire staff during the course of the week, Wyatt said it was also cool to learn about where the other riders were from. Wyatt remembers riding with other boys his age from Bellingham, Washington and other parts of the United States. There was even a kid who had come over all the way from London.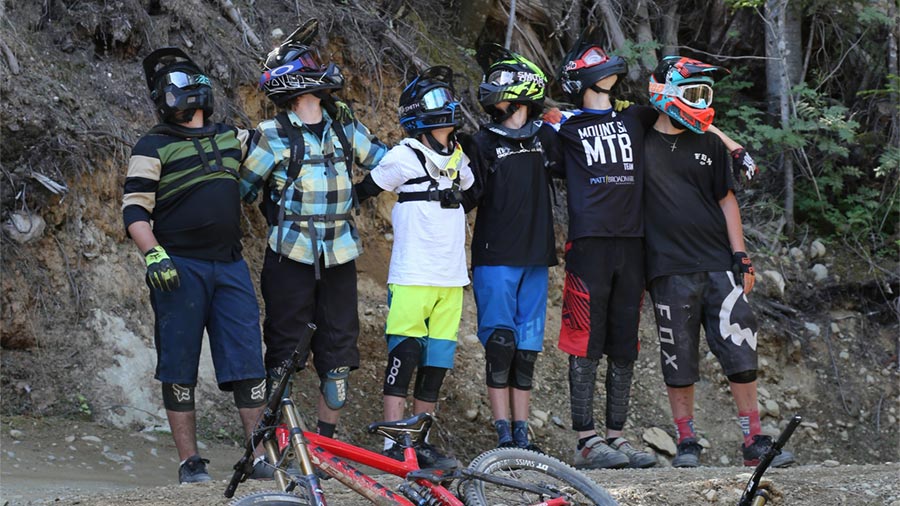 The coach was Kyle Norbraten on Thursday, and the weather classic "BC summer". The West Coast is famous for its rain, and during the whole day – from riding the gondola to blitzing down Una Moss to Freight Train the whole mountain was decked in fog and a light rain. But from Wyatt's perspective, this was perfect.
On the final day, Wyatt's coach was Graham Aggasiz and the group tended to stick mostly to Dirt Merchant. For Aggy, it was time to put the kids to the test. This meant enforcing a couple of casual rules: every time you either did a pedal stroke, you had to do a push-up. If you cased a jump – you had to 10 push-ups. "Dirt Merchant to A-Line. No pedals or no stops? A-Line? Yeah, it was interesting," Wyatt said. "In total, I only had to twenty push-ups, but there were some other kids there who had to do thirty after every lap". But because it was the last day, Aggy wanted to make sure the kids got the full Whistler Experience, and that meant knocking off as many different runs as possible, including Fatcrobat, In Deep, Original Sin, Schleyer, Whistler Downhill, and more of Fade To Black.
Of course, the SGC – and their coaches – couldn't hold these kinds of camps without a lot of support from their sponsors and from local community, so at the end of the week Wyatt and the other riders also got entered into a raffle which featured a ton of donated swag. Some of the prizes were a dirt jump fork, bluetooth portable speaker, energy bars, bike cleaning products, a new brakeset, water bottles, and other items.
When asked if he'd suggest the SGC to other kids his age with an interest in downhill or mountain biking he practically beams. "If there's any worries you have about it, just realize that you're just biking with people who will give you tips and know how to coach you. You'll do good and have the time of your life no matter what group you're in," he says assuredly.
Can Summer Gravity Camps be challenging? Yes. Is it exciting to learn new skills with the best mountain bikers? Yes. But is it worth it? "Absolutely. You'll want to come back year-after-year." Wyatt replies.
https://mtbwithkids.com/wp-content/uploads/2017/09/sgc-summer-gravity-camp-featured01-v1.jpg
506
900
Brett
https://mtbwithkids.com/wp-content/uploads/2016/05/logo-mtbk-400-300x157.png
Brett
2017-09-13 17:28:25
2017-09-13 17:28:25
Whistler's Summer Gravity Camps – Mountain Biking With Kids