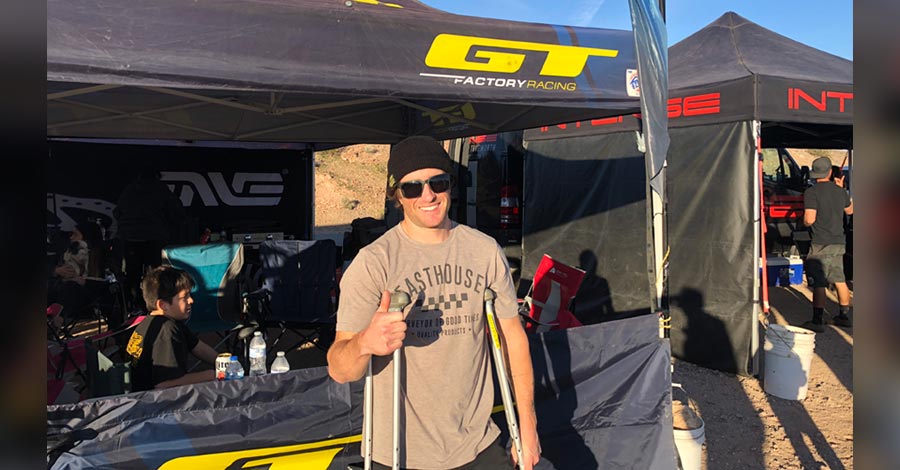 We had the opportunity to talk with mtb freerider and Redbull Rampage athlete Tyler "T-Mac" McCaul last weekend. After taking an injury last month, he was on crutches and hanging out in the GT Bicycles team tent at Bootleg Canyon. So, without further ado…
Has it been a year since you moved to Utah?
Almost, I moved in April last year, so 10 months.
What's a typical day like in Toquerville while you're on the mend?
Lately, I've been doing physical therapy and doing a lot of stretching on my ankle. I got a trainer for my road bike, but I just set up downstairs so I can look at the hills and bring it in it and kind of spin out on that. So, finally I'm able to get some exercises. Today's been a month. I couldn't do anything other than ice and elevate. But now, I can actually get going. I'm trying to stay healthy and get it moving and keep it working.
Is it hard to keep the diet going too, just because you're not burning all those calories all the time?
Yeah, I've tried to lower my caloric intake but it's tough because food can cheer you up when you're bummed and it's a bummer to be sitting on the couch.
Lots of movies?
Yeah, lots of movies and then there's a guy named Paul who reached out to me on Instagram, he's a trainer and physical therapist. He gave me kind of a workout routine I can do while I'm on one leg. So, I don't just sit there and wither away. That's pretty good.
Is he local or is he working from afar?
He's in Colorado. I've never met him or anything, he's so cool. He just reached out and said he wanted to help and gave me a routine I can do on one leg and try to not waste away completely.
Do you have cabin fever yet?
It just is what it is. It happens. It's part of the territory and I did it to myself. It's just tough because we moved there in April and then it's summer – and summer's here are so hot. So the whole time I'm just looking forward to winter. And right now is prime-time. The best weather all year. I'm bummed to be missing that, but obviously it could be worse. It's petty to dwell on that kind of stuff. I'll be back when I'm back and now that I live in Utah, I'll catch the next winter.
Do you work with a sports psychologist?
No, just my lady telling me to stop complaining.
What's your physical therapy like?
Right now I'm doing two days a week. And we just do an hour there. The therapists grab it, twist it, pull on it, do all kinds of crazy stuff. And then I just do some on my own at home; certain exercises they gave me and I try to do those pretty regularly.
Do you ever skip any of those, like brushing your teeth every day?
Right now I'm trying to do anything I can to get riding again.
When will you be good to go?
They don't know, actually. It's a weird injury. I bruised a bunch of bones in my ankle, which I've never had before, I had no idea how painful that could be. It hurts more than when I broke my right ankle and this is my left one, but it's getting better. It's been a month and I'm getting to the point where I can put weight on it. So, I'm hoping it'll just keep getting better quick. But, yeah, they're not too sure how long it will be.
Was surgery ever an option or a possibility?
No, not for something like that. I thought I tore some ligaments or achilles tendon maybe but all that was stretched and inflamed but intact, so that's good.
Would you be racing here [at Bootleg] if you were healthy?
I would like to race. I used to when I was younger. I think the last time I was here was 2010. It's been a long time since I've raced but I think it'd be super fun.
Talk about Jaxson Riddle for a moment.
That kid is the future. He's incredibly talented, motivated, down-to-earth. He's a full package. I'm hoping he gets in Rampage this year, which I think he will. He's been working super hard and I think he's gonna raise a lot of eyebrows. A lot of people are going to take note that he's gonna make a great name for himself and for freeride. He's definitely leading the younger generation of riders. That's for sure.
How good is it to have the wild wild west outside your door now? What projects have you been working on?
I started digging before I got hurt for a video project. I did one last year it's called Handbuilt. I was going to do chapter two in Utah, had some really cool stuff picked out to build. I was hoping to be filming right around now. We may have to postpone it until next winter, but we'll see.
Do you have a favorite filmmaker that you work with or just local talent?
I did my first one with Calvin Huth, he's from BC, super talented filmer and easy to work with. He can help me on the shovel too if we need to make last minute adjustments. He's who I'm going to film next for this next one, and we might bring in Pete Jamison as well. That'd be a really good team.
Tell us about how the Proving Grounds event provides the opportunity for additional talent to get on board.
I think Proving Grounds is definitely something that needed to happen. It's fairly controversial just because you can't really replicate that kind of [Rampage] terrain. But the idea is there. It's something tangible to rank people on and see what they can do other than the video part because some people could have more money and more time to put into a video part than others. But it's called Proving Grounds for a reason. You're competing against each other. And it's not exactly like it is in Southern Utah. But at the same time, it's big features and it's a competitive environment. You can see how riders do under pressure in a contest format, all that stuff
I wouldn't be surprised if they started doing it in different countries, it seems logical.
They've been talking about it.
But there's nothing set in stone that you know of?
Not yet.
You've been on GT for quite a while, how long?
I think this is my 12th year.
That must be a record.
It's been awesome. They've supported me through everything I've ever done. Before I signed with them I was doing a little bit of racing and slopestyle and they brought me on to be their slopestyle guy. I've switched full focus to that and then have gone back-and-forth. Sometimes I will race and they will support that. And then I stopped doing slopestyle and settled on and focus on speed and style, which they fully supported. Now I moved to Utah, I'm spending most of my time on a downhill bike which they support. So, it's great to have people that believe in me and give me the freedom to pursue what I feel is right at the time.
Tell us about the gigantic drop you had in your Rampage line last year.
That was the Triple Dipper.
And this is on Chili's menu?
Hah! Yeah, that's right.
You gotta have stuff in the back of your head for what the next thing is going to be, right? That's part of the fun of writing this thing, because you get to name the features after you make them.
We used to name the big drops after margaritas at Chili's and those ran out in 2017. In 2018 I was driving to Virgin with my friend Alex who digs with me every year and he asked, "If we find a big drop what are we're going to call it?" And I said, "I don't know, pull up the Chili's menu." So, he pulls it up on his phone and says, "The only margarita left is called tropical sunrise or something." I said, "Well, we're not going to name it that because that's just not cool." And then I said, "Well my favorite appetizer at Chili's is called the Triple Dipper, but we can't name it that unless there's a landing in between, so it's like a triple." So, we found this big drop. I was dead set on putting that in my line. And then Brandon [Semenuk], the feature he ended up flipping; the flat-flip to lily pad, that landing was in between the takeoff and landing of our drop, so it looked like a triple. So, then we were like, "Okay, cool, its triple dipper, it meets all the criteria."
You're always smiling and it's wonderful. It trickles down for sure among all the other riders and fans. Thanks for the talk. I really appreciate it.
Thank you, too.
https://mtbwithkids.com/wp-content/uploads/2020/02/tyler-mccaul-tmac-featured.jpg
470
900
Brett
https://mtbwithkids.com/wp-content/uploads/2016/05/logo-mtbk-400-300x157.png
Brett
2020-02-21 18:47:54
2020-03-02 00:07:01
Tyler McCaul Interview