Best chair for mountain bikers = Helinox: Mountain biking with your family gives you lots of opportunities to sit outside.  For example: pre and post-ride meals or drinks at the car, camping, and  watching  friends and family members participate in mountain biking events. For years, we used inexpensive camping chairs purchased from a big box store. However, we were constantly dealing with broken frames or torn fabric that made the chairs unusable. We felt terrible throwing away such large pieces of equipment.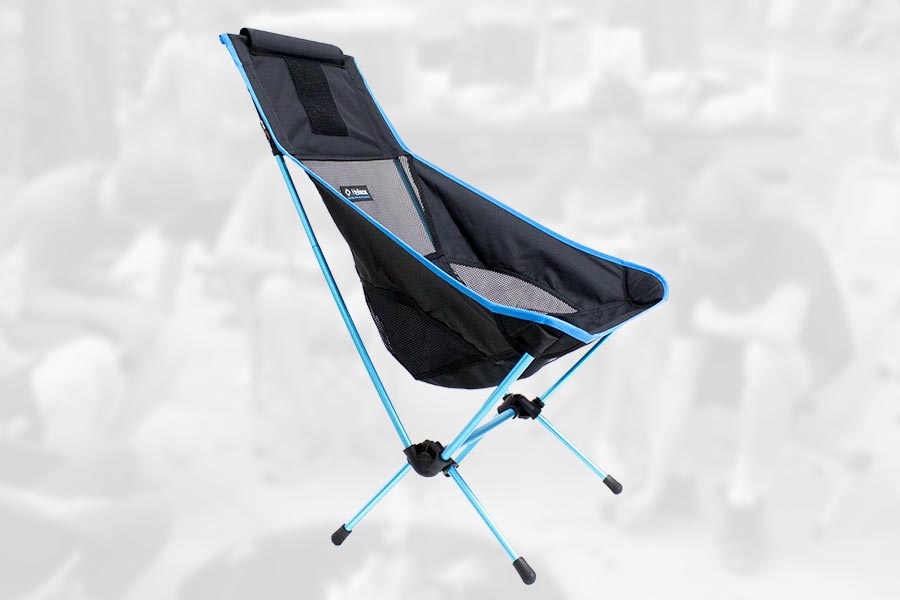 Last Christmas, we decided to purchase some quality camping chairs as our family gift. Our two main criteria were durability and comfort.
After lots on online research we purchased Helinox Chair Two camp chairs for our family in the hopes that these chairs that would be durable and continue to be usable for years even as our kids grow.
We purchased 4 different colors (yellow, black, blue, orange) so everyone gets to take care of his/her own chair.
Weight: 2.6 lbs.
Size (set up): 21.5 in wide x 25.5 in deep x 33 in tall
Size (packed): cylinder; 18 in x 5 in
Seat height: 13.5 in
Weight capacity: 320 lbs
Manufacturer Warrantee: 5 years
Price: Click button below
Best Chair for Mountain Bikers: Helinox Chairs Are Comfortable And Durable
Compared to the popular Helinox Chair One, Chair Two is slightly wider, deeper and adds a taller back that gives comfortable back support. The tall back rest also means the carry bag can be filled with padding (clothing or a towel) and attached to the chair back as a neck pillow.
Durability
We've been impressed with the quality and durability of these chairs. They have survived almost an entire year of camping including a summer of solid use and abuse by a group of wild 11-15-year old boys. The thick nylon mesh fabric is built to last. The fabric on the corners is the thickest and stiffest where you connect the chair to the frame.
Comfort
Everyone in our family agrees that the Helinox Chair Two is very comfortable. The back is supportive and allows you to sit comfortably while eating, sitting around a campfire or gazing at the stars. The storage bag can be used as a pillow if you put a t-shirt in it and use the Velcro to attach it to the head rest. These chairs are low to the ground, but they are not hard for us to get out of. We actually like being closer to the fire on cool camping evenings.
The Helinox Chair Two Camping Chairs Are Easy To Set Up And Take With You
Our Helinox Two chairs are compact and light taking up about half the space of our old heavy foldable camping chairs. This  helps when we road trip in the minivan. Additionally, the size makes it possible to put them into a backpack for short hikes. The carry bag has two large loops and webbing ladder to attach to the outside of a pack if needed.
These chairs assemble easily. The single shock-corded design makes setup quick. Our kids can have their chairs built in less than a minute. They are also easy to roll back up and our kids fit their chairs back in the bags with no problems.
The only factor that may influence your decision to buy the Helinox Two camping chair is the price. Don't let this hold you back. Our old camping chairs were purchased from a big box store for about $20 each, so that makes these Helinox chairs more than 5x the cost. However, we have learned that the the durability of these chairs will pay off in the long run. We strongly recommend the Helinox Chair Two chairs for mountain biking families and kids. These chairs do an excellent job of balancing lasting comfort and ease of transportation.
If you're looking for the best chair for mountain bikers and active families, we highly recommend the Helinox camping chair.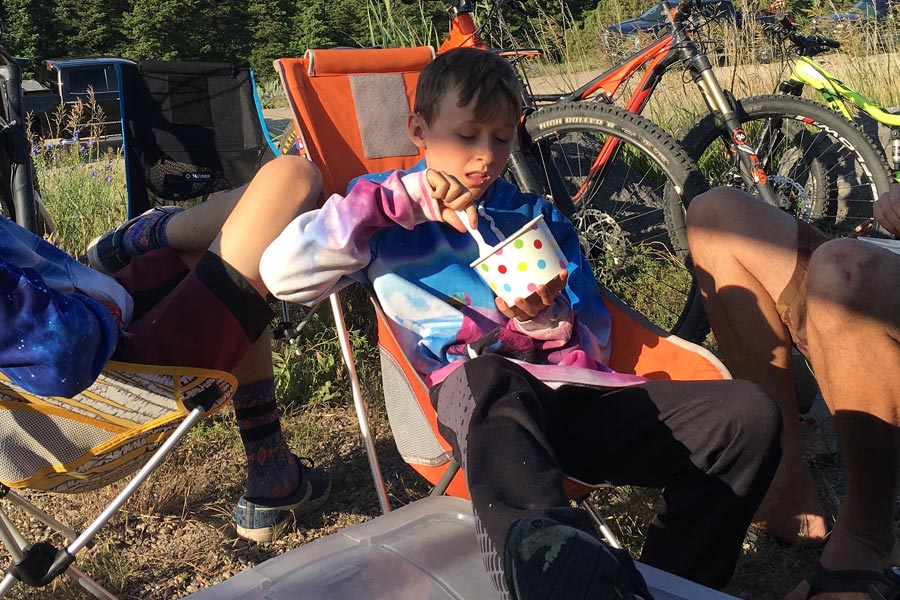 https://mtbwithkids.com/wp-content/uploads/2018/12/helinox-chair-review-900x600.jpg
600
900
Traci
https://mtbwithkids.com/wp-content/uploads/2016/05/logo-mtbk-400-300x157.png
Traci
2018-12-03 18:14:17
2020-01-13 02:35:43
Th Best Chair for Mountain Bikers: Helinox