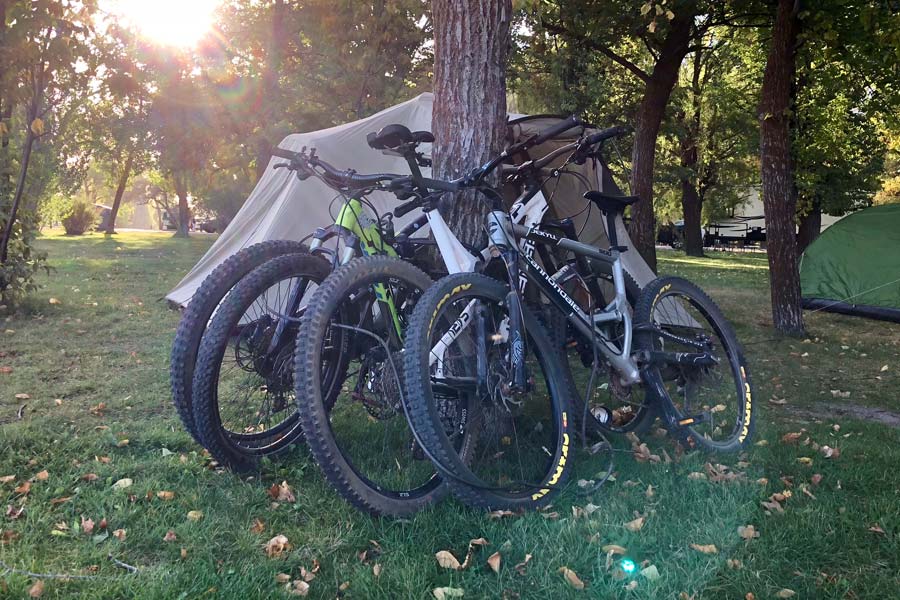 Mountain Bike Theft Happens
According to the National Bike Registry, 1.5 million bicycles are stolen each year. Bike locks are the only deterrent to thieves on the lookout for mountain bikes. Sometimes, would-be thieves only decide to strike when they see a poorly secured bike. After you see which three mountain bike locks we have selected, read on to learn about our best practices for keeping your mountain bikes safe and sound.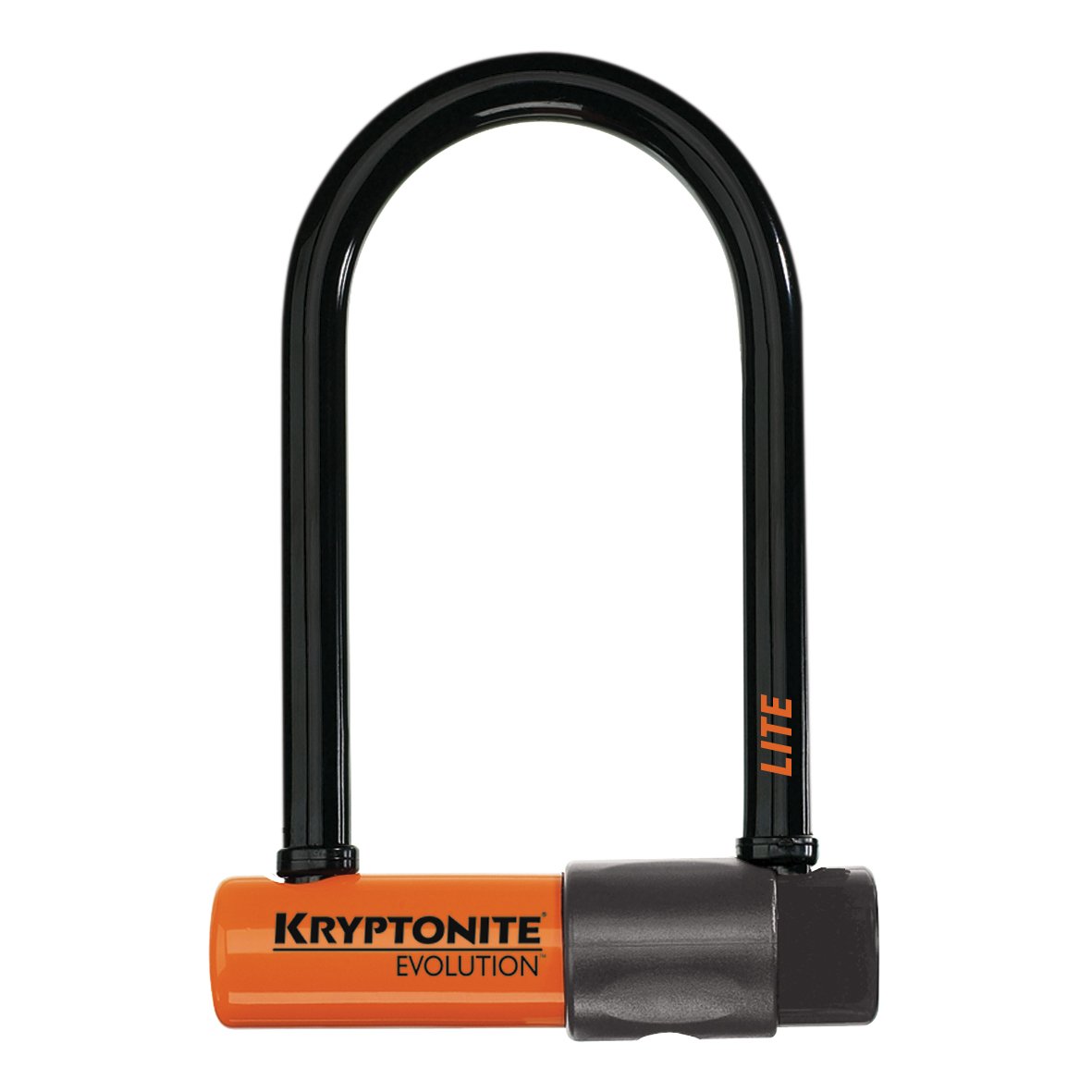 Best U Lock For Mountain Bikes: Kryptonite Evolution Lite Mini-6 U-Lock
The Kryptonite Evolution Lite Mini-6 U-Lock is the best U lock on the market today. This tiny black and orange beauty weighs 39% less than its parent, the Mini-5. Keep this key lock in your bag, or throw it in your pocket if you are traveling light. Use the Evolution Lite Mini-6 on your travels on transportation, metro areas, and public bike racks.
U Lock Materials
The Mini-6 is made out of max-performance steel. This means all 6 x 2.75 inches are created out of high-quality, long-lasting materials. Not to mention the substance of the stuff only weighs 1.95 pounds! There are also 3 keys made of stainless steel, as well as 1 LED key fob replacement.
U Lock Durability
The thickness of this U lock is 11 millimeters of hardened steel. That means a drop or a fall won't destroy it. For even more durability, this mountain bike lock has a rotating dust cover and stopper plug to prevent the lock from failing due to debris.
U Lock Level of Protection
Kryptonite rates their locks on a 10-point system. The number 1 is the most basic level of protection, and 10 the most secure. The Evolution Lite Mini-6 rates as a 7.
The high-security cylinder is resistant to both drills and picks. Not to mention there is a reinforced cuff over the crossbar and cylinder. Twist attacks? Not anymore. This bike lock boasts protection in the form of a double-deadbolt, bent-foot design.
As an added safety precaution, this lock is eligible for the Key Safe Program. This program allows you to register your key number to make replacement simple. There is an additional fee, but it allows you to use this U lock on your mountain bike for a very long time to come.
Finally, you can register for optional, $2500 anti-theft protection on the official Kryptonite website.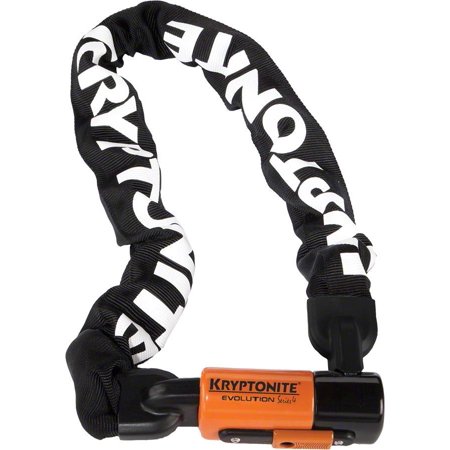 Best Chain Lock For Mountain Bikes: Kryptonite Evolution Series 4 1090 Integrated Chain Lock
In terms of chain mountain bike locks, the Kryptonite Evolution Series 4 1090 Integrated Chain Lock is the best in the business. Black and orange are the colors, 35.5 inches is the length, and 6.1 pounds is the weight. Although heavier than U locks, the chain lock is longer, more durable, and can withstand more malicious treatment.
Chain Lock Materials
The chain links and 3 included keys are made from 3T manganese steel, and the sleeve on the outside is made from water-resistant nylon. The purpose of this accessory is to protect your mountain bike from the tough lock chains underneath. As an added bonus, the sleeve also protects the chain from nasty weather!
Chain Lock Durability
The 1090 integrated chain lock boasts 6-sided links, 10-millimeters apiece. It is also able to withstand quite a bit of mistreatment, whether from the climate or those with cruel intent. Furthermore, a sliding dust cover is included to protect the lock cylinder from dust, rocks, and other debris.
Chain Lock Level of Protection
Since the Series 4 1090 Integrated Chain Lock is a Kryptonite, it follows the same security point system as the first product on our list. However, this lock received an 8 and there are plenty of reasons why. Not the least of which is the oval crossbar headlock that works to double the strength of the mechanism!
The Series 4 1090 also eliminates the usual vulnerability at the end of chain links. How? By using a hardened deadbolt to secure the chain at each of the ends. Kryptonite calls this the End Link Design. Additionally, this bike lock features a cylinder resistant to drills and picks.
The $2500 anti-theft protection is optional, and it is available on the official Kryptonite website. Additionally, this bike lock qualifies for the Key Safe Program. Simply register your key numbers, and if your keys are lost or stolen you pay a small fee to receive replacements.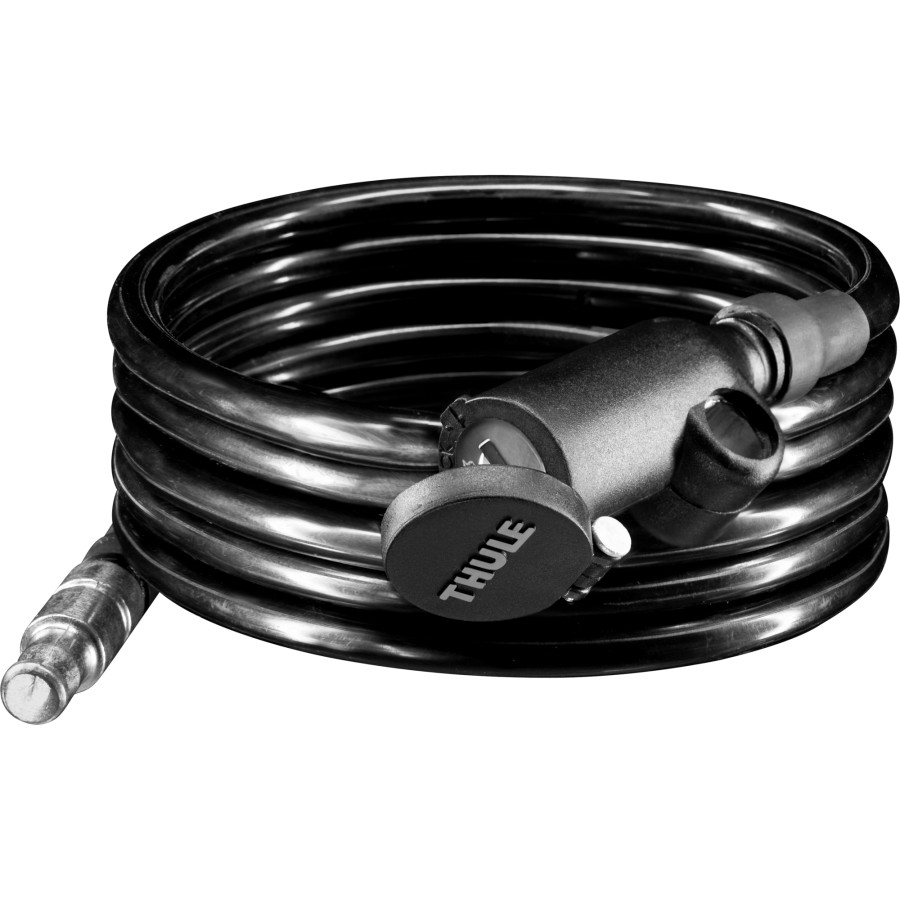 Best Cable Lock: Thule Cable Lock 6ft One-Key System
One of the best cable mountain bike locks is the Thule Cable Lock 6ft One-Key System. At 6 feet long, there is no bike size you cannot wrap this black lock around. In fact, you can secure up to 4! Whether on your hitch rack, cargo carrier, or roof rack, you won't have to worry about the safety of your bicycle.
Cable Lock Materials
The Thule Cable Lock is made of braided steel, and double coated with plastic. This helps protect your bike, rack, and vehicle from scratches. Additionally, the whole thing is self-coiling which comes in handy when trying to store it. That goes double for storing in small spaces such as a backpack or beach bag!
Cable Lock Durability
The hefty plastic coating protects the steel from bad weather, and the hinged cap protects the cylinder from dust and dirt. Hefty braided steel forms a strong 10mm diameter underneath the polyethylene, meaning you can give this product the business without fear!
Cable Lock Level of Protection
Thule does not include a system to rate the level of protection offered by its products. However, there is ample information online that would place the safety rating at a 5 out of 10. You can trust it for many situations such as travel, but professional bike thieves can break through with with inexpensive cable cutters.
The cable lock is a one-key cylinder, and you can have the cylinders to all of your Thule products keyed the same. That makes it easier for you. However, that also makes it much easier for a thief to steal all of your Thule items.
There is also a lifetime manufacturers warranty available from Thule on the lock itself.
Our 3 Best Practices To Protect Your Mountain Bikes
Tip 1: Inside Is The Safest Storage Place
Even mountain bikes stored in the garage or out on a balcony should be locked. Once when traveling in California, we visited an aquarium and took great care to take the front wheels off the bikes and store all four of them in the van as opposed to locking them on the bike rack.
Tip 2: Use Multiple Locks
All locks do is buy you time and help deter theft. We have four mountain bikes to keep safe and we often use a combination of all the types of locks mentioned in this article when camping.
Tip 3: Keep Your Locked Bikes Within Eyesight
Even if we have multiple locks on our mountain bikes, I always keep them in eyesight. When we stop a restaurant after a ride, my wife knows I will not sit at a table where we cannot see the bikes. We always leave someone in the car if we go to a grocery store.
https://mtbwithkids.com/wp-content/uploads/2019/06/best-bike-locks-featured-photo.jpg
600
900
Brett
https://mtbwithkids.com/wp-content/uploads/2016/05/logo-mtbk-400-300x157.png
Brett
2019-05-30 16:26:36
2019-12-07 21:02:18
We Choose The Best Locks For Mountain Bikes