We're taking a look at the Bontrager Flatline Mountain Bike shoe. Sure, we've been a fan of another over the last few years, but Trek's house brand, Bontrager, has stepped up its game with in the apparel and accessory market over the last few years and we're excited to try something new. The Flatline's are available in sizes from 3.5 – 14.5 (US men). MSRP is $129.00 USD, but you can click the jolly red button below with our affiliate link to get the live price.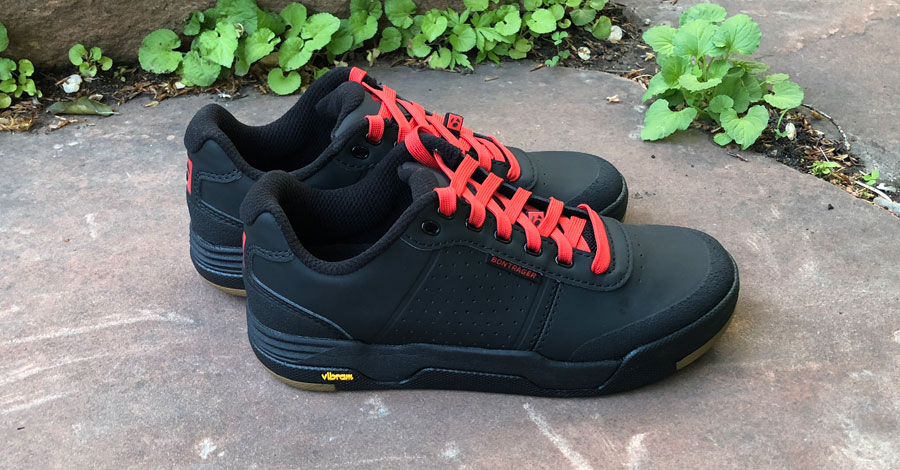 Our 13 year old wears a size 6 and we're always glad to find that when we order online correctly for fit, we can hit the trails right away. You want to make sure you get the fit just right so it's firm around the sides and top of the foot, yet there's a little wiggle room in the toe box for comfort and more than a couple weeks of growing.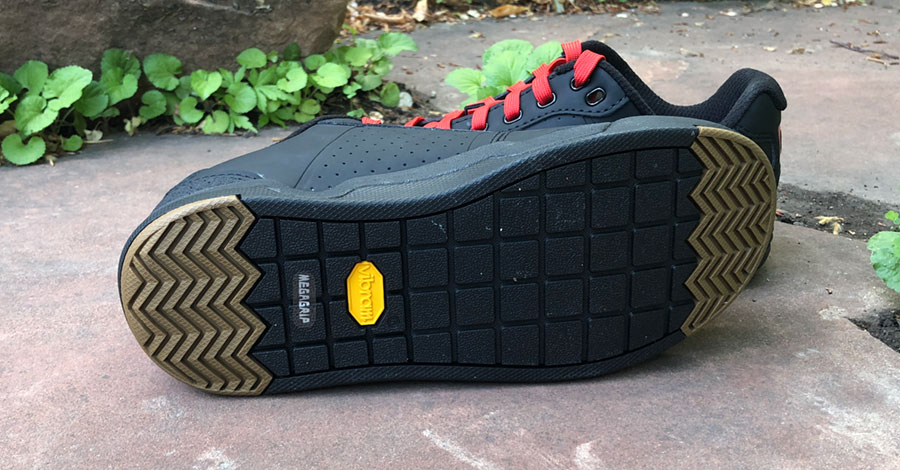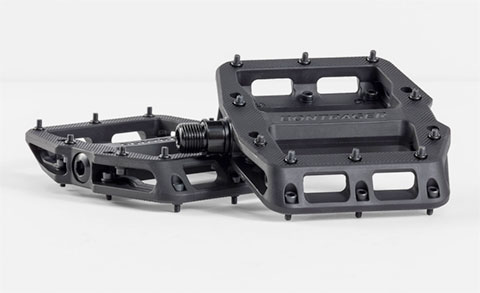 It's important to note that these shoes need to be paired with specific pedals. Regular flat plastic pedals with textured surfaces or metal pedals commonly known as "rat-traps" just won't do. You gotta pair these shoes with pedals that have metal pins extending from the platforms. Many brands make these types of pedals, but the Bontrager Line Elite MTB Pedal Set has been designed to be your Flatline's BFF. The combination of rubber and pins prevents the shoe from easily slipping when pedaling or applying your full weight to the pedals. You'll notice the difference when simply pedaling, too. The shoes have eyelets that allow you to lace them up across the very top of your foot to ensure a super secure fit if desired.
The Bontrager Flatline Mountain Bike Shoe has a Vibram rubber outsole that can best be described as "sticky" as it helps your feet adhere to the pedals. Vibram soled shoes have been around for decades and they're the go-to for quality hiking and running shoes. They do very well when gripping flat pedals with pins and rocky surfaces. Speaking of the bottoms of the shoes, the uniform treads are designed to help your feet adhere as well, allowing you to maximize your power and give you a predictable interface between the outsole and the pedals.
In addition to those features, the toe and heel sections have directional treads that help you not only stay on the pedals but also deal with any off-bike terrain. The midsole is made of EVA, which absorbs a bit of the shock. In addition, the exterior consists of synthetic leather that's extremely durable. There's an extra lace holder that keeps your tied shoelace ends from flapping in the breeze or potentially getting tangled in the pedals. Even with this being said, the laces for these shoes are long and we always tie extra knots in them to make sure they don't get caught in the drive train.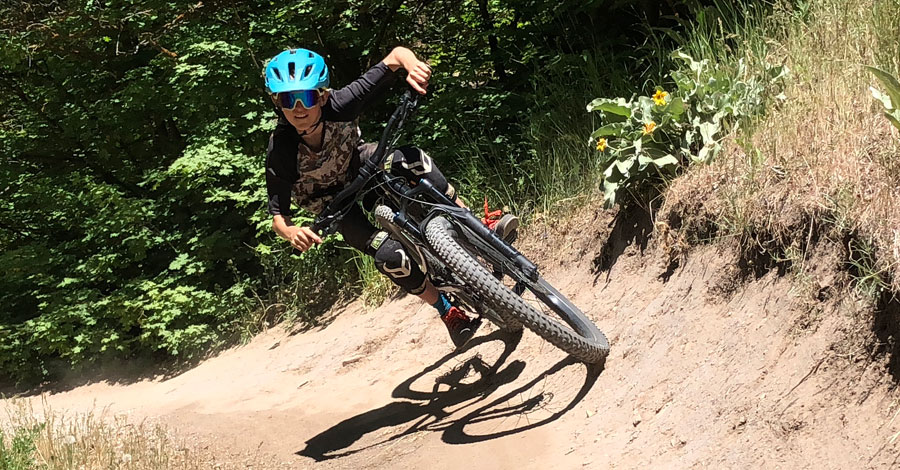 With a couple of colors to choose from, including black, red with black accents – and a combination of muted and bright in battleship blue and marigold, your dirt monkeys will look great while riding as well. Sizes to choose from include men's 3.5 all of the way up to 14.5. Sorry, but now you don't have an excuse for trying out a pair Bontrager Flatlines for yourself.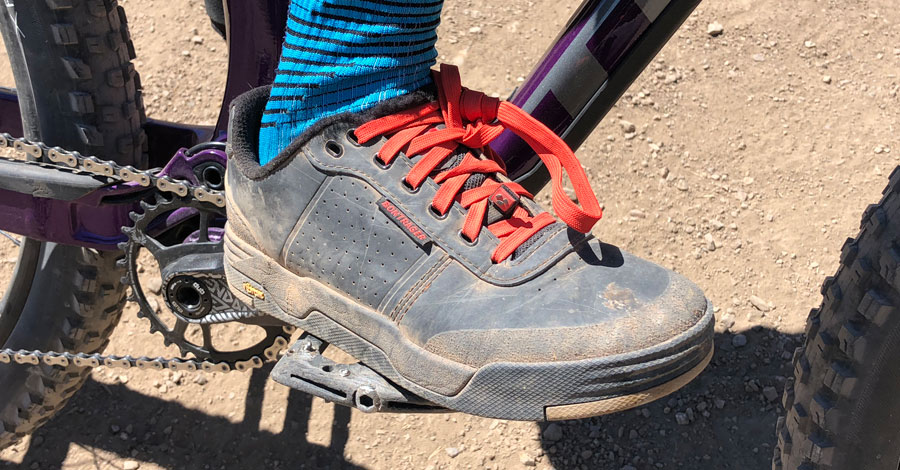 As far as durability goes, our kid has tried his best to beat these mountain biking shoes to bits and they have held up very well. All the stitching and glued pieces are as firm as the day we opened the box. The treads on the soles are in good shape. The shape of the shoe has remained in-tact and they've been worn-in so they fit our kid's foot while maintaining stiffness of the sole.
Feet on the pedals is important for pre-loading the jumps and making the landings.
Tyge hasn't had any slipping issues on the pedals that result in taking pins to the shins. I guess this can be attributed to about 5% luck and the remaining 95% due to the fact that the Vibram soles maintain a firm grip on the pedals. He told us, "I like these shoes because they feel good and they stick to the pedals. The basic black and red just looks good, too."
Over the years, we've learned that mountain biking shoes for kids are kind of like bikes. They're not a long term commitment because they will only fit your growing kids for around a season. So why in the world would you spend your hard-earned money on a pair of Bontrager Flatline mountain bike shoes for your child when they're only going to use them for less than a year? Because of the quality, comfort, fit and performance they provide. The contact points on your kids' bikes matter – especially the area where most of a rider's weight is supported and energy gets transferred to wheels. This is why if your kid is beyond recreational mountain biking it's going to be good to pick up a pair of Bontrager Flatline shoes.
https://mtbwithkids.com/wp-content/uploads/2020/06/bontrager-flatline-mtb-shoes-featured.jpg
470
900
Brett
https://mtbwithkids.com/wp-content/uploads/2016/05/logo-mtbk-400-300x157.png
Brett
2020-06-16 17:16:48
2020-06-25 15:38:02
Bontrager Flatline MTB Shoes Review