Father's Day 2020 is here and we were super stoked to invite a group of rad dads to show off their bikes and tell you why they love mountain biking. As you read on, you'll see a variety of different bikes. They range from from an old-school 26er restored by a family friend, to a prototype dirt jumper being test flown by a former Crankworx athlete. No matter what type of mountain bike you have, simply going on a family bike ride can always be the foundation for creating memories and that sweet always-in-fashion #mtblifestyle. Here is our 2020 Mother's Day bike checks post, too.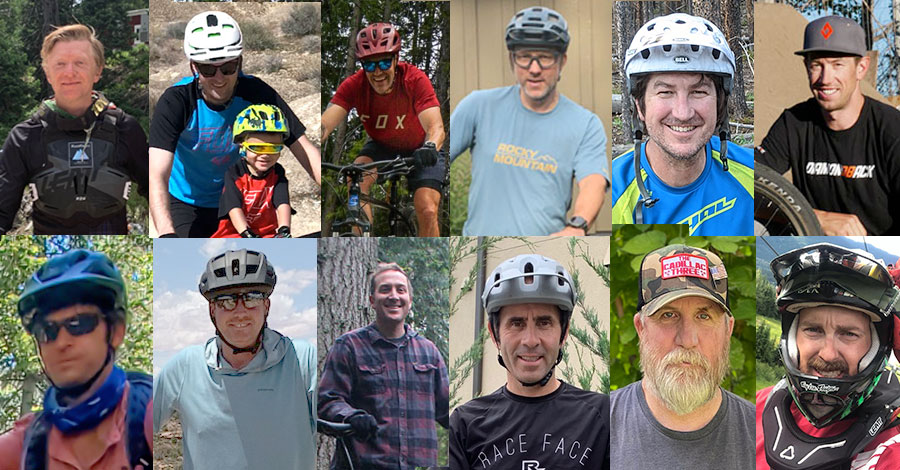 Kris Baughman And His Santa Cruz Bronson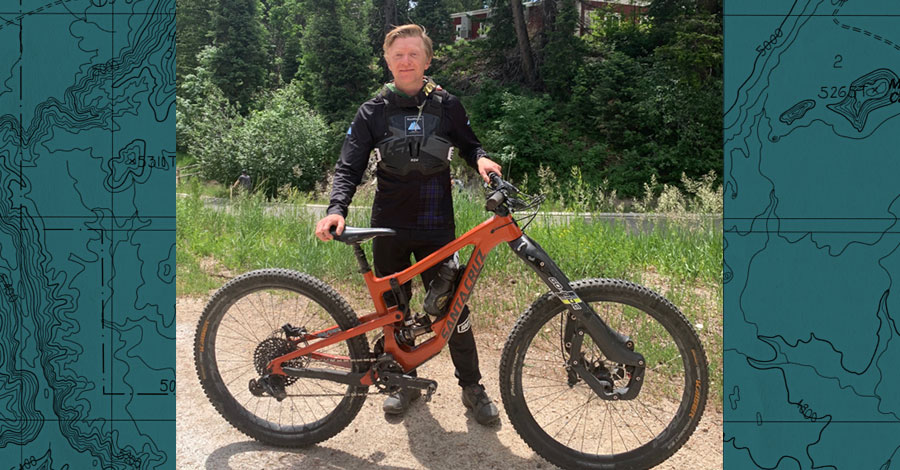 I'm Kris Baughman. My friends call me Krispy. I fell in love with bicycles as a pre-teen as it offered the ultimate feeling of freedom and that just-right mix of simplicity and technology that no other machine can offer. The wheel is mankind's greatest invention after all. For over 40 years I've been on 2 wheels and more than 100 bikes have come and gone from my garage. Each one has taught me something. I've since used the experience I gained and applied it to various roles in the bike industry for over 25 years.
I currently co-own RaceKraft Gravity Development which is a coaching business-race team and also manage a bike shop called Go-Ride along with product testing for a couple of brands. I still manage to get a few race runs in every summer.
Riding bikes started with family and continues today with my wife and son. In this world of virtual reality, we ground ourselves outside in nature by connecting hands to grips and tires to earth. Camping trips, races and after-work rides keep me in touch with what matters most in this world. My competitive spirit keeps me motivated to be healthy and fit, and I can't help but share that feeling with everyone around me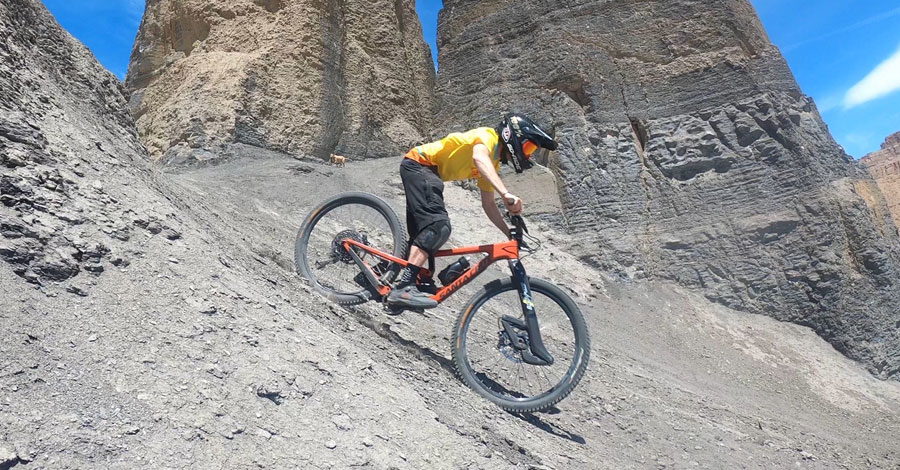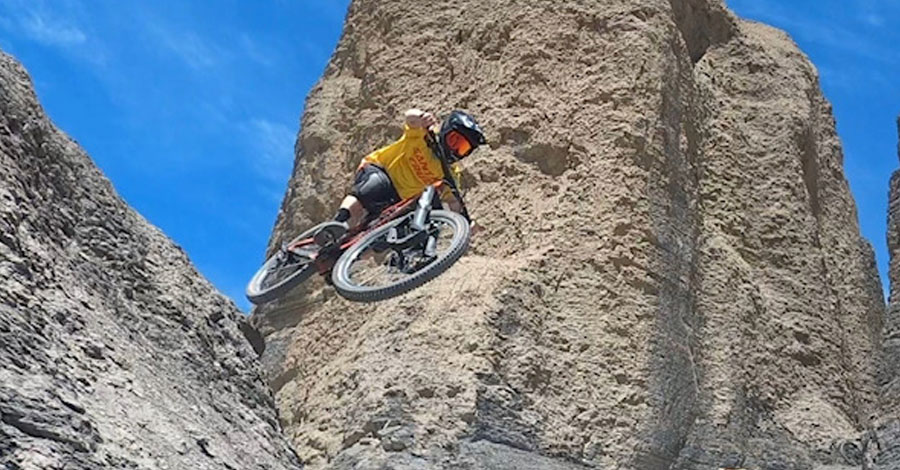 My current most-ridden bike is s Santa Cruz Nomad with an eclectic build. I'm drawn towards hi-tech suspension and unusual products, and this bike shows. I often go for a frame-up build but this is an off the shelf "S" kit with some customization. It just goes to show how good stock bikes are.
The most notable is the wild-looking Trust Performance Shout linkage fork. It has an amazing, but rather personal feel to it, and the company is based out of Utah. It has 178mm of rock-eating travel. Next up is the EXT Arma coil shock from Italy via Ext USA. it's exotic, beautiful and expensive. And it's worth every penny. It's custom-tuned for my bike and it's 350 lb spring.
Other highlights of my Nomad include: Deity Skywire bars. Deity Copperhead stem. Sram GX Eagle drivetrain. Sram Code brakes. Continental Kaiser tires. Cushcore XC tire inserts.
I'm super picky about nearly everything. I run my brakes really close to the grip and it freaks people out when they squeeze them! I use the biggest rotors and most grabby pads so they stop just fine, at the very last second. I find this helps reduce hand fatigue. I check my tire pressure every ride and run 17-19 front, 23-25 rear depending on conditions. My suspension settings are ever-evolving and also vary depending on the speed and traction of the terrain.
Ben Bowen And His Scott Genius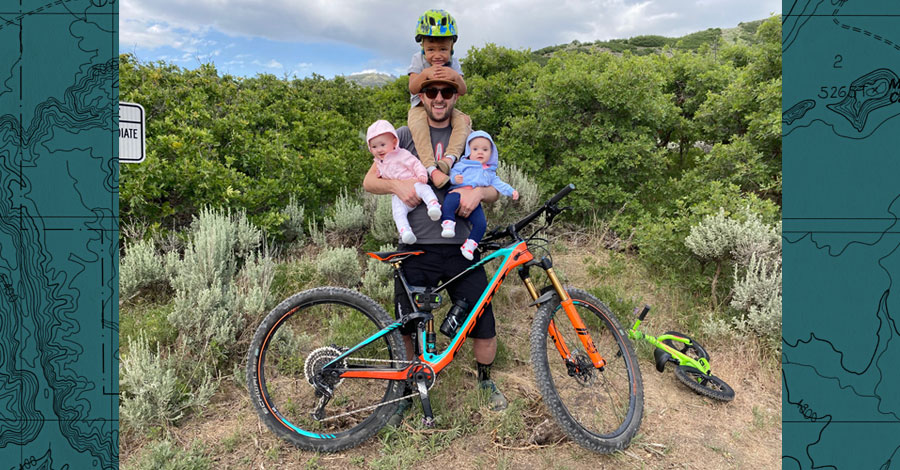 My parents didn't believe me when I said I was mail ordering a frame from Canada. I was 15 and had talked my Mother into buying me a subscription to Mountain Bike Action where Cove had a tear out mail order form. My bike arrived and I got a job at Canyon Bicycles in Draper, UT building showroom bikes in exchange for parts to build up my Cove. Now, more than 15 years later, I'm still obsessed with bikes although I've added an incredible partner and three kids that are now my main focus.
Bikes have always represented a way for me to escape from the day to day and also a great way to connect with people. Many of my best friends are people I have met because of bikes. In my professional career, lending my knowledge and mechanical abilities has benefited me countless times.
As a father, I have discovered that the ultimate joy in riding is being able to share the stoke with my oldest child, James. He and I ride my Scott Genius 900 Tuned with the best kids seat in the game from Mac Ride. I post on my Instagram account about most of our rides. He begs me to "go zoom" all the time. We have such a good time chatting on the climbs and laughing on the descents. My bike is pretty stock other than a few volume spacers in my Fox 36. I've always appreciated the incredible design and style from Crankbrothers and have been on the same pair of Candys for the last 7 years!
While I have a full time job, I also get to manage social media for dznuts high performance chamois cream and have some great relationships with manufacturers and shops because of that. I frequent Hangar 15 in South Jordan, UT where I wrenched for many years and spend more and more time lately at Contender Bicycles in Salt Lake City, UT where I picked up my Genius and the Contessa Genius 910 my wife rides. Families who ride together, abide together!
Devin Featherstone And His Cannondale Cujo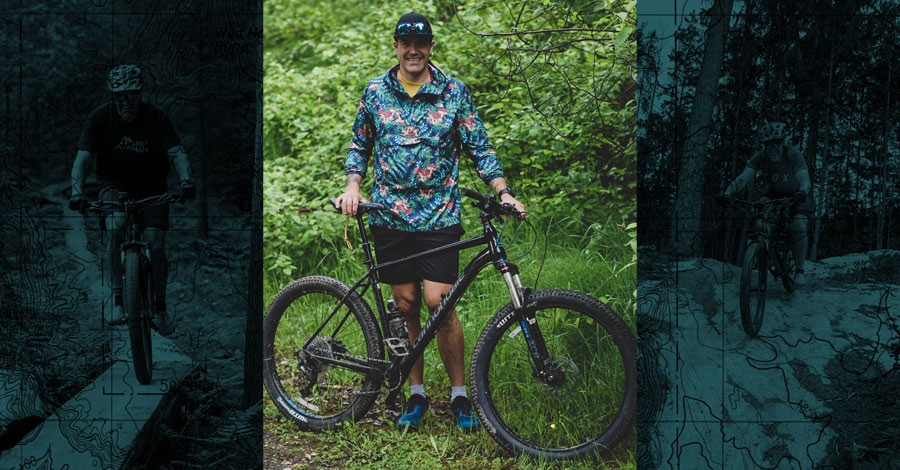 My name is Devin Featherstone I am a father, husband and outdoor enthusiast. I work as a fire fighter in Calgary, AB, Canada. I enjoy everything in the mountains like climbing, trail running, camping, hiking and most importantly mountain biking. I love riding with my family and with friends but one thing I truly love is biking with my son Kai who is 4 years old. I love watching him challenge himself and continuously get better after each ride. He encourages me to teach him and work with him on each ride where we get lots of laughs and a few wipe outs but at the end of the day we build a great father son bond. I love riding solo as well and always push the limits I truly love the grind climbing up a hard mountain or trail. Love the reward of a view and the down hill just like everyone else.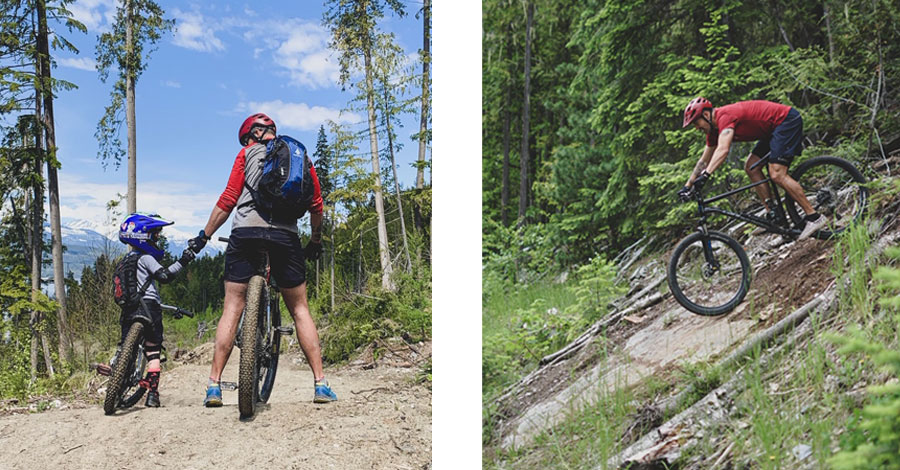 I ride a Cannondale Cujo 2 (2019). Old school hard tail but I won't be shy on any trail. Black diamond, double blacks and even a few drops I will ride my beauty hard tail down anything.
Andreas "Dre" Hestler And His Rocky Mountain Slayer
I've been on a true mtb since 1986 when I had my old commuter stolen and it was replaced with a mountain bike. It was a fancy new thing at the time. From there I was hooked. Even considering the bike was equipped with 6 speeds, rigid forks, and toe clips. Yikes! Those were the days. As I dug deeper into the mountain bike world I started racing, found success and eventually represented the Canadian National Team for 13 years (won 5 titles), attended the 1996 Atlanta Olympics Games (debut of mountain biking) and to this day continue to love everything about mountain biking – including sharing it with my wife, kids and friends.
Mountain biking has given me courage, purpose and a whole whack of amazing friends. It's taken me around the world a few times and to some very exciting and exotic locations. Could there be a better lifestyle? Not in my humble opinion. But sharing this lifestyle with my kids is something extra special and something I have approached with some deep rumination. While mountain biking is our family sport, I didn't want it to be only coming from Mom and Dad – so I have included their involvement in other mtb activities like a club/sport. They do many lessons with coaches and spend after school sessions just like soccer or hockey. I want them to be surrounded by the sport and it to become part of their DNA. If they choose to race, that is up to them to decide. But for me so long as they love getting out into the woods with their friends on bikes – we've been successful.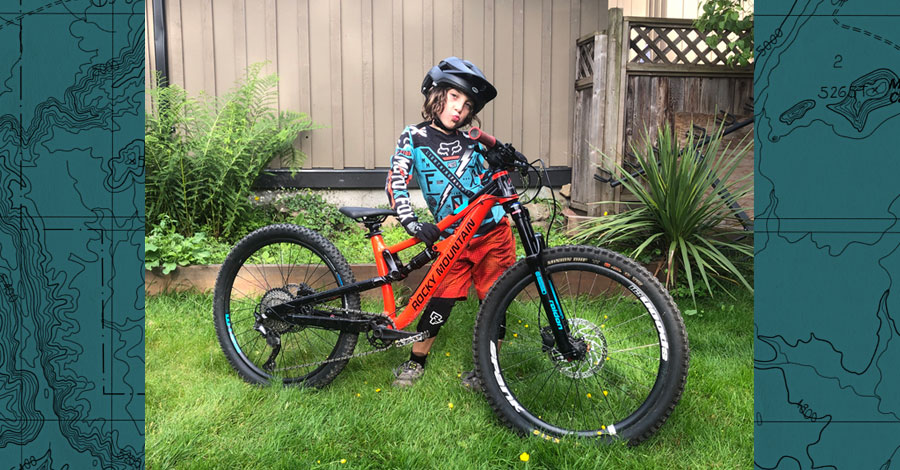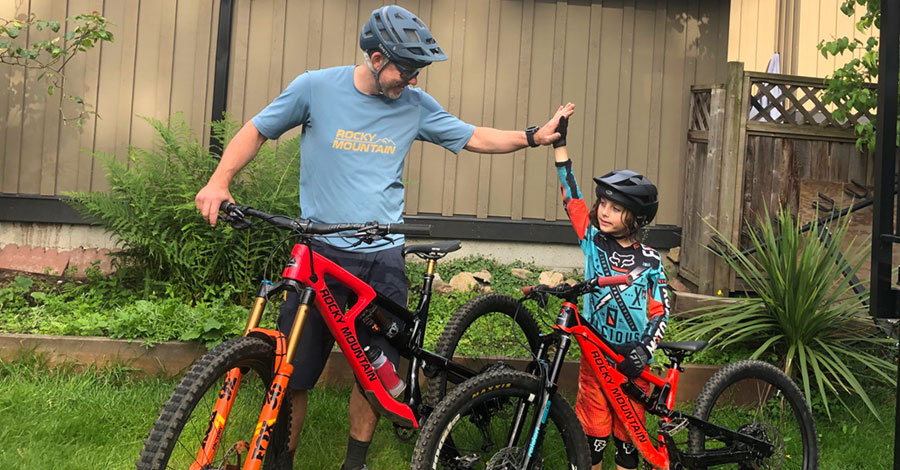 My Bike is a Rocky Mountain Slayer 29er with Fox suspension, Shimano XT drive train (including pedals), and Race Face components – including the wheels. It has 170mm of front travel, a Fox X2 shock, and a Fox Transfer dropper. And, I'm run it with Maxxis tires. My son Owen rides a Rocky Mountain Reaper with 24-inch wheels and a modified build. His bike has a Shimano drive train with a 28t front chain ring and Shimano MT 200 brakes.
Eric Porter And His Prototype Diamondback Dirt Jumper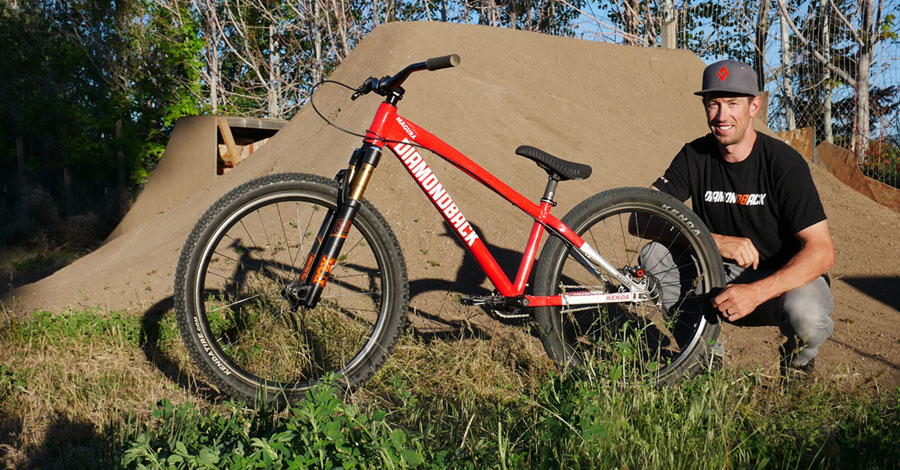 I've been riding mountain bikes since I was 12 years old growing up in Louisville Kentucky, on a bike I got for my birthday from Kmart. Since then I never stopped riding, and love it now more than ever. I now have a family who also loves to ride, including my wife Megan and our two boys Milo (10) and Owen (8). I have been riding professionally for 18 years, starting out with 8 years as a Slopestyle and Freeride athlete competing in Crankworx and other contests around the world. Since then I've been traveling the world creating videos and magazine articles on the full range of bikes from trail to gravel and road bikes to dirt jumping. In the last few years I've ridden in Iraq, India, Morocco, Scotland, Iceland, New Zealand, and more. I've also been helping build my local riding scene, and am current President of Wasatch Trails Foundation, a 501c3 non-profit advocating for trails in Wasatch County, Utah.
I've lived in the Park City area of Utah since 2005, and have been building my dream backyard since we moved into our current house in 2011. Now I am able to let the kids help dig and build what they want to ride in the yard, and it's been a blast! Mountain Biking is my favorite thing to do because of the freedom it gives you to explore the mountains, and it's the best family activity I could think of, we all have an awesome time on our bikes.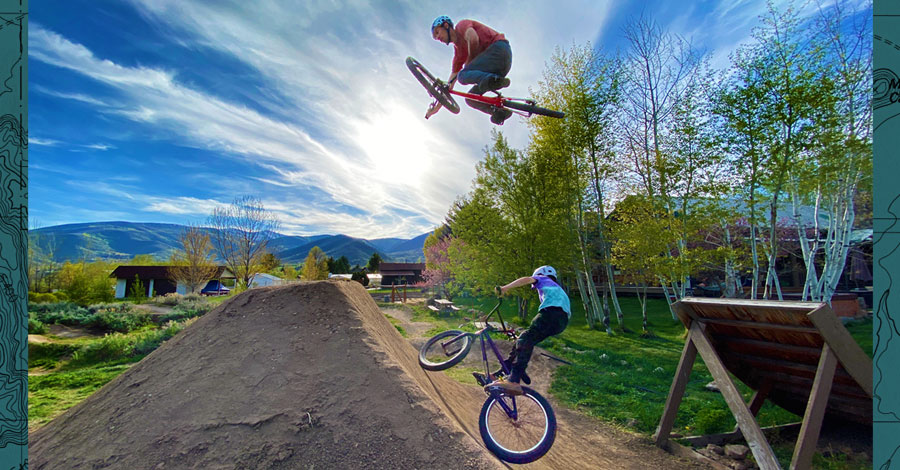 This bike is my dirt jumper, it's a 26" wheel hardtail built specifically for dirt jumps and pumptracks. This is a frame that Diamondback made custom for their athlete team as we are getting ready to make a production version next year. I'm running a 100mm travel Fox 36 831, Magura MT8 Brakes with HC3 lever blade, the wheels are Reynolds carbon rims with Industry 9 hubs, Kenda Slant 6 and K-Rad tires with tubes, SDG Apollo i-beam saddle and post, and Deity Bars, Stem, and Drivetrain. It's about 25lbs and super durable. I would recommend anyone who wants to really learn how to jump and pump get a dirt jump bike, they are really fun, and will make you a better rider on the trail!
Bryan Redding And His Transition Sentinel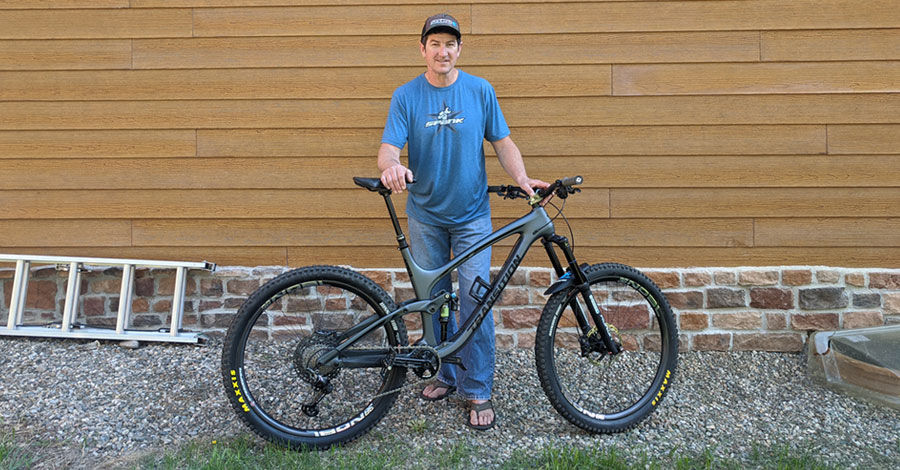 The Bug. Did you catch it? I did. It didn't take long with available adventure. High stakes risks. Technical trail challenges to accomplish with friends. As addictive as crack and twice as expensive was a T shirt I saw in Whistler in 2006. DH laps are like intravenous adrenaline. Free of charge. That's when my life as a Mountain biker took the plunge. Destination resort mountain biking was a thing. High level MTB coaching was a thing. People need this. I knew this, but to finally experience it first hand was the catalyst that pushed me 'in deep'. Growing up in Colorado, I was introduced to what we called a Mountain Bike in 1989. What a journey we've both been on.
I had already been wrenching, but now I wanted to pursue this soon to be future of Destination Resort Mountain biking in Colorado. Why weren't we doing this? In 2007 I decided to try racing in the Mountain States Cup DH series. Boom, another addiction! I needed a bike park. Winter Park Resort was going to launch a new bike park. Coaching at Trestle was rewarding for many years, but not even close to coaching my kids. My son Eli was hooked at age 3.5 like I was at age 37. Chairlifts and bike trails are dreamy.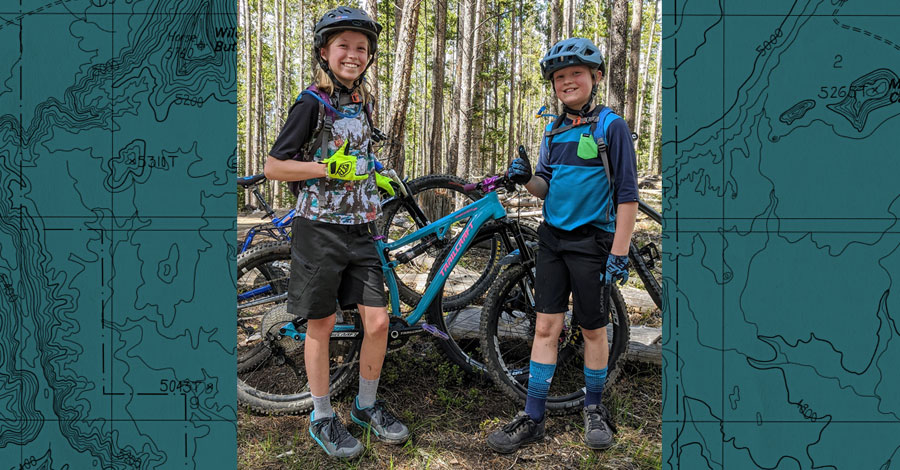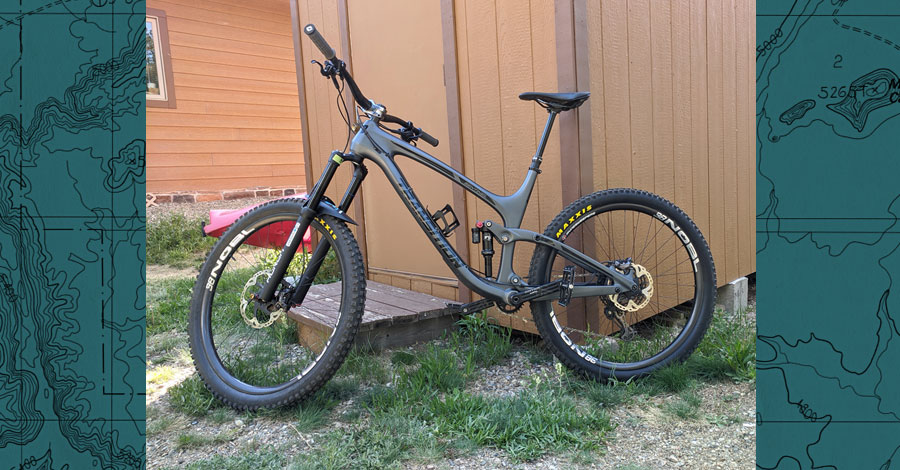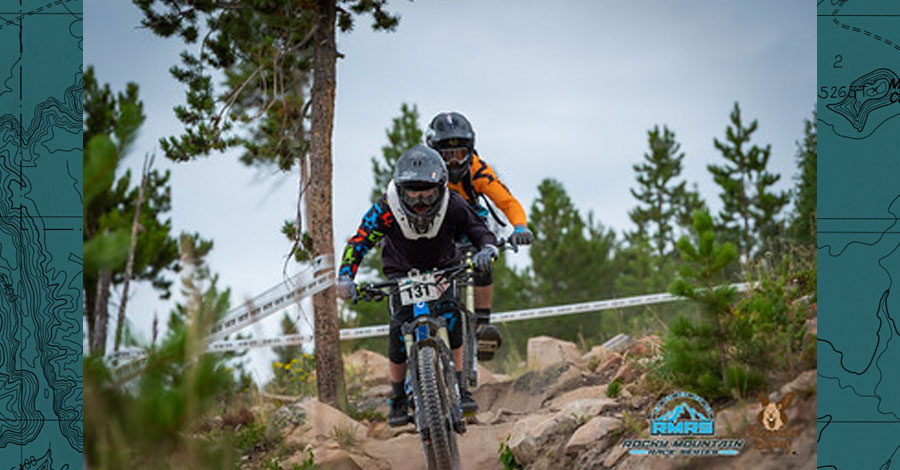 This could be a novel, so much could be said. But this is about MTBwithkids and my bike check. Since 2016, I mtb with my son, or my family more than anyone else. What a reward. I'd rather ride with my kids or other kids. They fuel my happiness and stoke my shred vibes. Ask any coach about coaching kids.
My 2019 Transition Sentinel carbon XL is dad's first new bike since 2013. You're welcome kids. It's an amazing bike. I built it frame up with the factory shock. Parts spec: Chris King headset and BB, SR Suntour Auron 44mm offset 29 fork, Nobl TR38 on DT350 boost wheels, Rotor Kapic Cranks w/ 32TQring, Pedaling Innovations Catalyst pedals, XTR 12 speed, XT brakes 203F 180R, Maxxis DHF 2.5WT EXO plus Front, Max 2.4 WT Dissector EXO Rear, Mynesweepers insert Rear, SDG Tellis 170mm dropper, Spank Oozy 280saddle, ANVL bar and stem, odi grips. Highlights I'm really stoked about are the Catalyst Pedals, Rotor Qring, SDG Tellis dropper, and the Oozy 280 saddle is most comfortable I've ever used.
Jacob Rheuben And His Intense Spider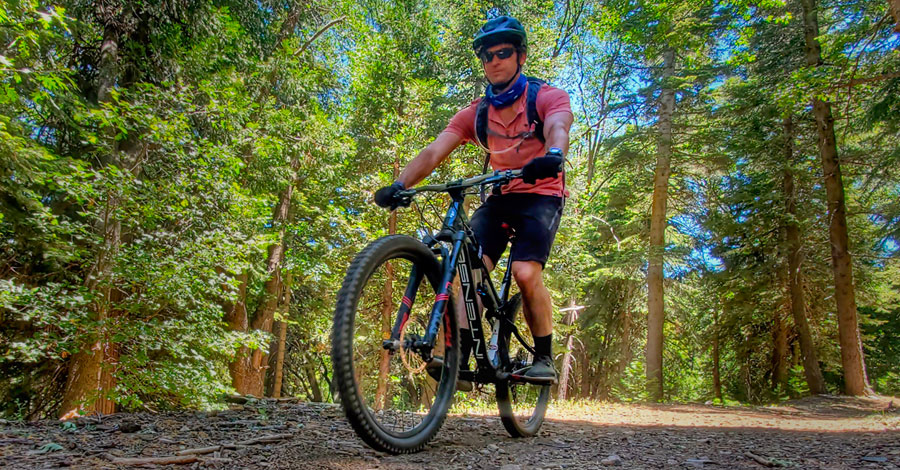 My wife and I own Prevelo Bikes. I could try tell you how much we enjoy riding bikes with our kids – but I think the fact that we dropped everything in our life to start a kids bike company speaks more about our passion for riding bikes with kids than any words I could throw together. When we're riding with our kids we're outdoors, together as a family, doing something healthy and adventurous. There are always new things to try to keep the kids challenged. Starting from when the tires hit the trails, to when the day of riding is over, and we're all dirty and exhausted, I'm in my happy place.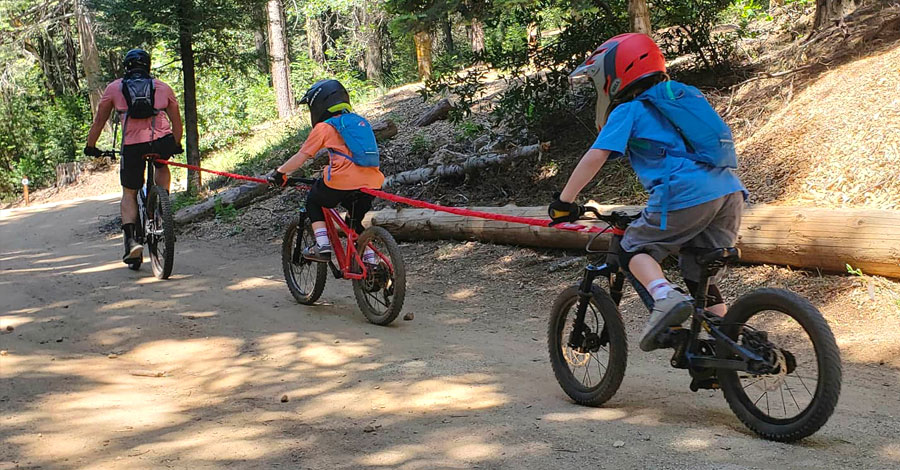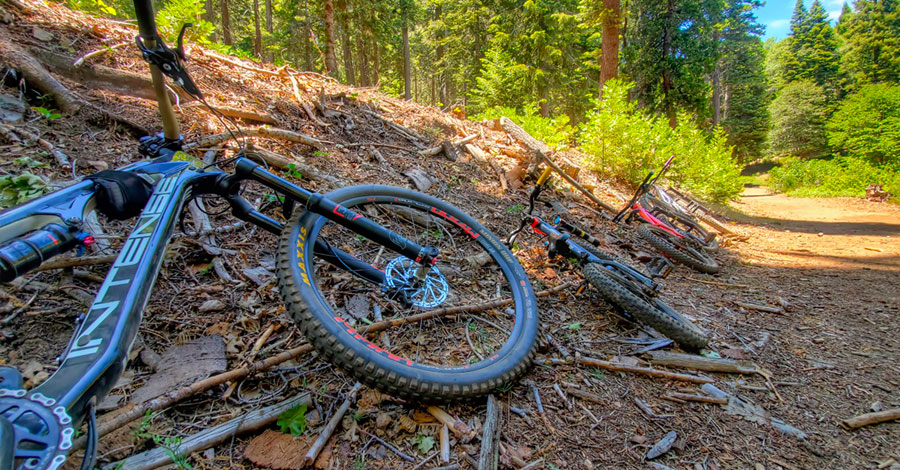 I ride an Intense Spider. It fits me perfectly and I like it's versatility. It works great for everything from cranking out long rides to towing my boys up to the top of a hill at the local bike park. For the time being I can still keep up with them on the downhill, but I know my days are numbered.
My Intense Spider was pretty dialed straight from the factory, but I couldn't stop myself from tweaking with it. It's got a pre-Eagle 11-42T cassette and I got jealous of my wife's ability to spin her Eagle equipped bike up hills while towing kids, so I swapped out the chainring for a 30T. I also upgraded the shifter to X01 and replaced the tires with Maxxis Minion DHF/DHR.
Brett Rosenbauer And His Ibis Ripmo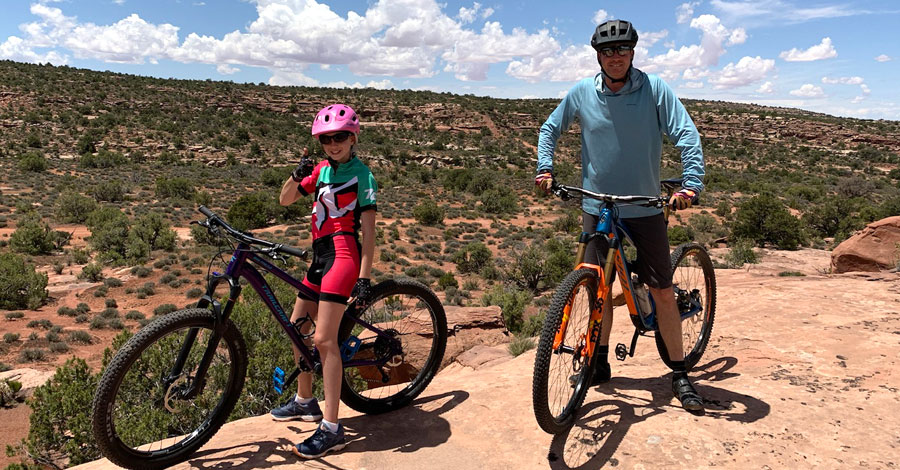 I spent my childhood youth building dirt jumps in the forest, and tree houses in the oak trees. I was naturally drawn to raking, digging, and making super cool trails! In 1986 I bought my first mountain bike – a Schwinn High Plains and that bike pretty much secured my love for the sport of mountain biking. Fast forward a bunch of years, and we own a high end kids bike company (www.trailcraftcycles.com) so we are all in! I now spend most of my days chasing my kids who are pretty much faster than I am now!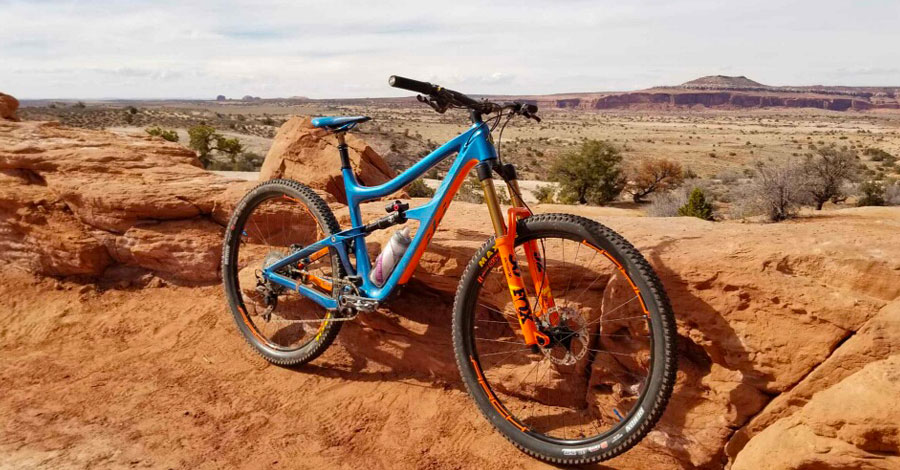 My bike of choice is an Ibis Ripmo, Fox 36 fork, and modest XT level build with Stans Arch wheelset for the more trail style rides, and a Stans FLOW EX3 wheelset for the days riding the lifts up for the downhill miles where a more burly wheelset is needed. It's a super fun bike that pedals uphill REALLY well. I've had this bike for a few years now and after building so many kids bikes with SRAM AXS wireless shifting, I wonder why I don't have it on my Ripmo yet!
Andrew Skeen And His Ibis Ripmo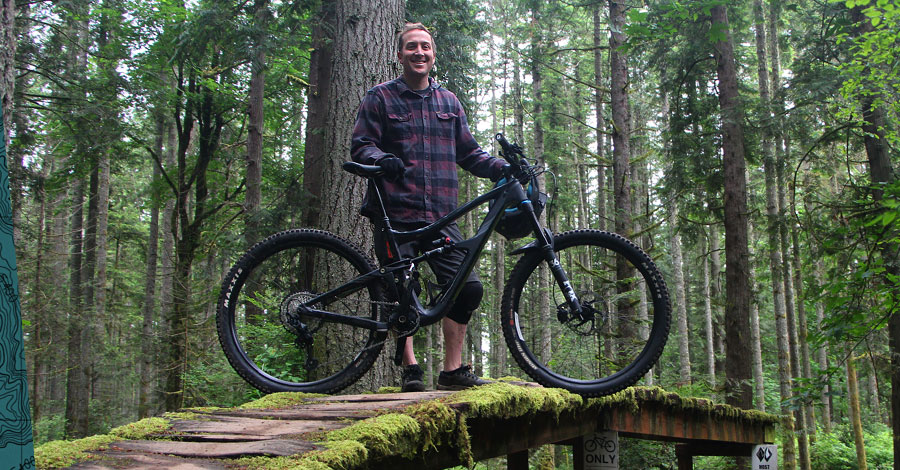 I still remember the first mountain bike my dad got for me in middle school, a Kokanee fully rigid. Man, was I excited! So much has changed since then – bikes, trails, my age…but one thing hasn't, and that's the stoke when someone conquers a new feature. I'm almost 40 now and with the new trails here in the Seattle area, I've found new zeal in progressing my riding. Thank you Evergreen Mountain Bike Alliance and the community for giving us the amazing Duthie Hill Bike Park, Tiger Mountain and Raging River trails. Conquering a new feature or mastering a line is what gets me most excited about getting out consistently. It blows my mind how much a person can progress by consistently getting out and making small incremental progressions, that over time add up to huge accomplishments. The stress of home schooling and COVID-19 this year have really highlighted the power getting out on a bike and being active can have on one's mental and physical health. I've noticed quite an influx of adults and kids out hitting the trails since COVID and homeschooling took us all by surprise, and I'm sooo glad to see it. It's certainly needed and well deserved as we're all just trying to stay positive and do the best we can.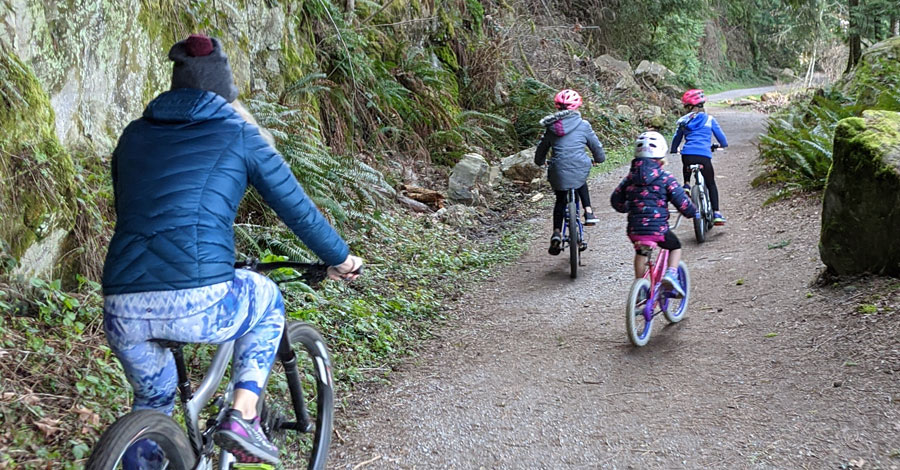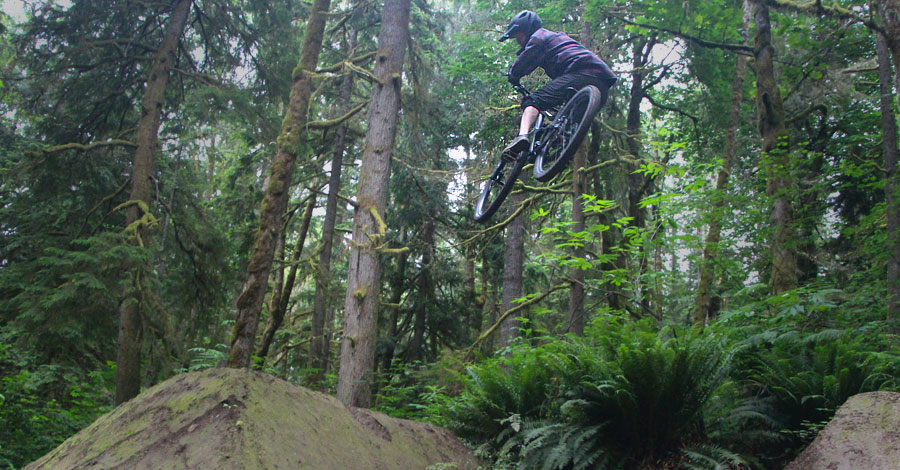 My faithful black stallion is the 2018 Ibis Ripmo. It's a 160/145mm enduro bike. I love how playful and poppy the Ripmo can be, while at the same time feeling really stable and efficient. It's been an amazing all around bike. You can find me on all kinds of trails, from steep and chunky to fast and flowy, but recently 80% of the time you'll find me doing jump line laps. Ripmo can jump! I just swapped out my SRAM GX drivetrain for the Shimano SLX 12-speed to see if it could handle my poorly planned shifting under load, I'll just say both are GREAT, I'm happy with SLX, but it can't do miracles :P. Truly still loving the bike. Of note, I REALLY like the bleed system on my BikeYoke dropper. It makes it effortless to get rid of the squish that can accumulate over time. I'm also super happy with my upgrade to a 203mm front rotor – stopping power galore.
Keith Stark And His Rocky Mountain Slayer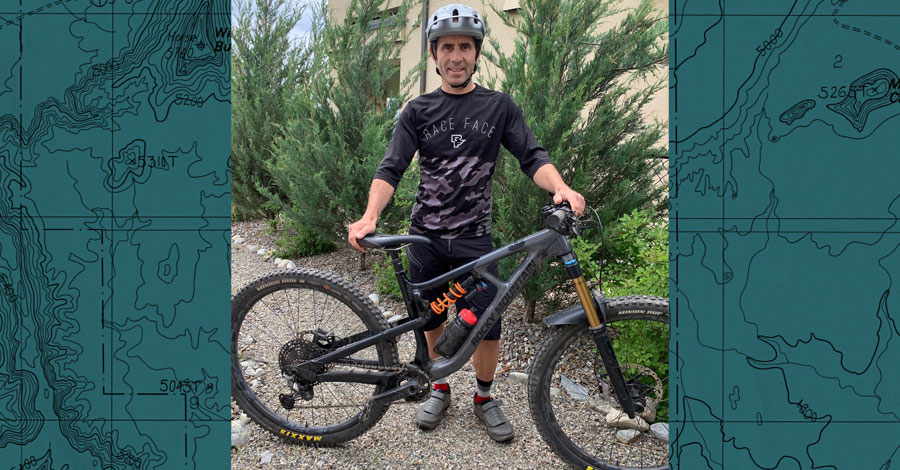 Hi my name is Keith Stark, father of three awesome girls. Bikes have been a huge part of my life since I was a little. 45 years later I'm still riding, finding new trails, and working in the industry. Not gonna lie, growing up in Deep Cove, BC was probably the reason for it all. The original mountain bike scene started there and definitely shaped the kind of rider (and dad!) I am today.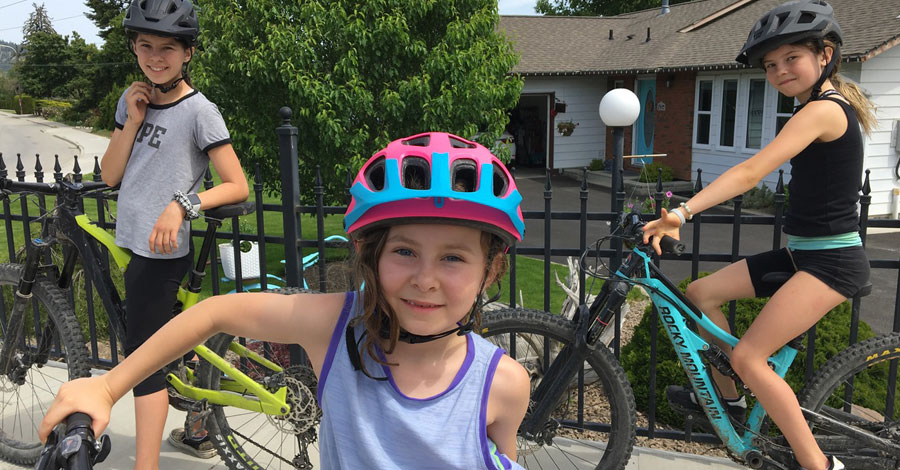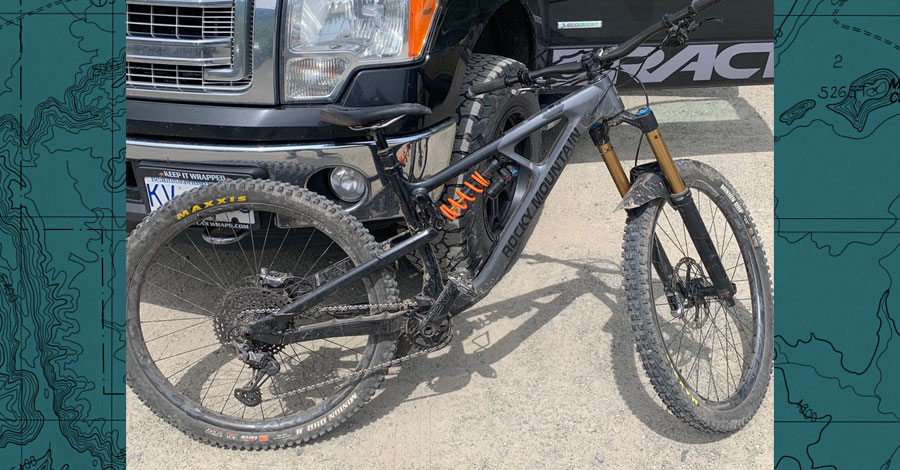 My bike of choice is a Rocky Mountain Slayer C90 kitted out with some RaceFace Next R wheels.
Allen Sybrant And His Titus Racer X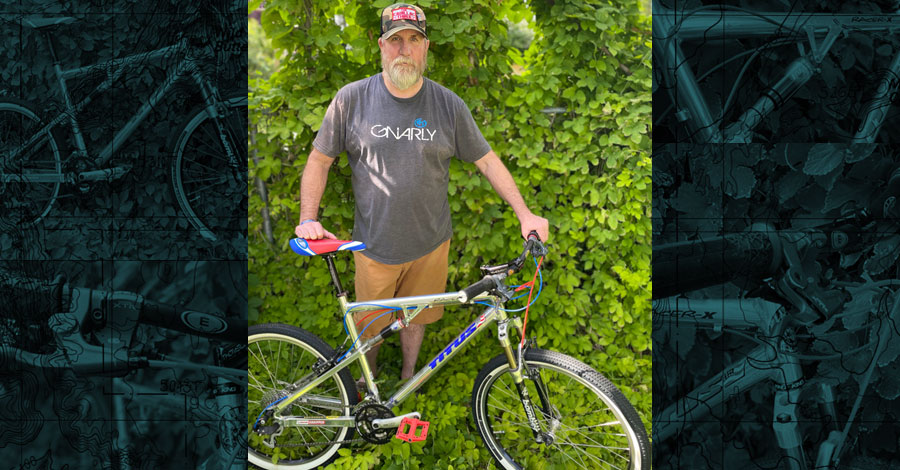 Missing Link, Slippery Pig, Rocky Rabbit. Those names mean it's NORBA cross country mountain bike race weekend in Arizona, 1999. Loading up my Gary Fisher BMX as my dad loads his chrome Titus Racer X with XTR and a Grateful Dead sticker to match. The bike was as tall as me. No way I could ever ride this bike, I thought.
Those thoughts run through my mind all the time. Last year, I decided to pull my Dads 1999 Titus Racer X out of the basement, it was time to bring the Titus a new life. I had been riding my chrome Transition PBJ, and always recalled where my first love of chrome came from. I took it to work at Hyland Cyclery in Salt Lake City, Utah. Whenever I got a free lunch I would spend my time fixing up the Titus. I wanted to give it the classic American look, with a touch of what's new.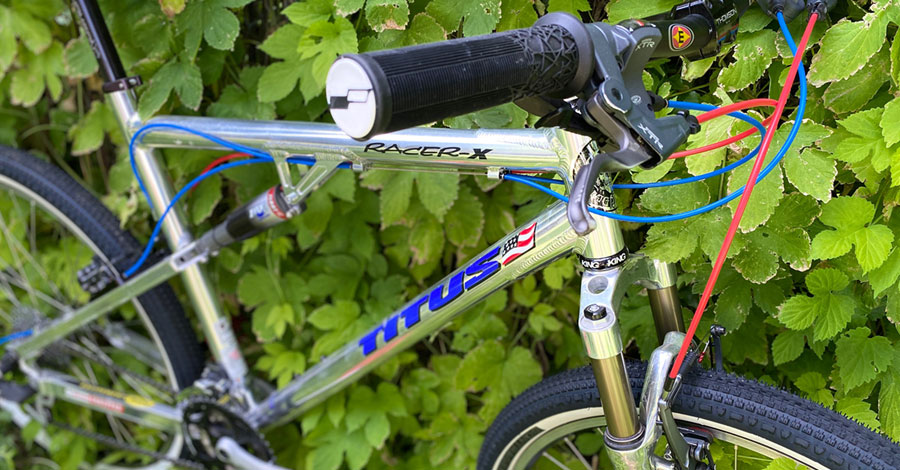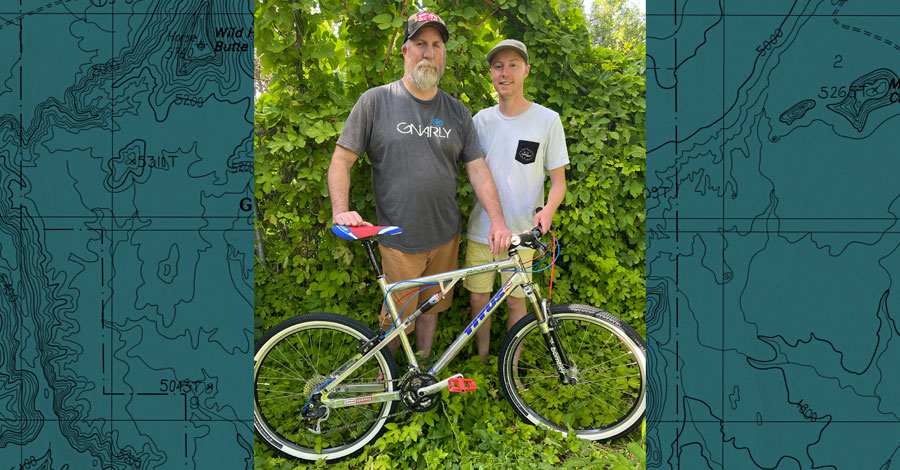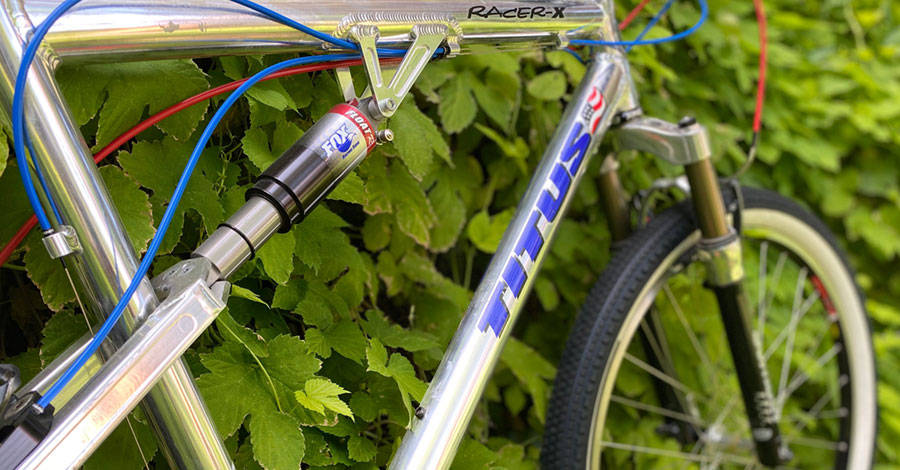 Red and blue housing to emphasize the American flag decals. Some more current components were added during the tune up; Deity Compound pedals, Sensus Meaty Paws grips, Bontrager G-Zero tires.
Giving this bike back to my Dad all swaggered out, tuned up, and shinning made me realize I could finally ride this bike. It wasn't as tall as me anymore. I look forward to racing some cross country in the near future on the Titus. I'm so thankful to get to work on my craft and have my Dad by my side. The ultimate pit-crew, fan, mentor, teacher, coach, and father. Heres to you Big Dog, Happy Fathers Day.
Brett Thompson And His Intense Tracer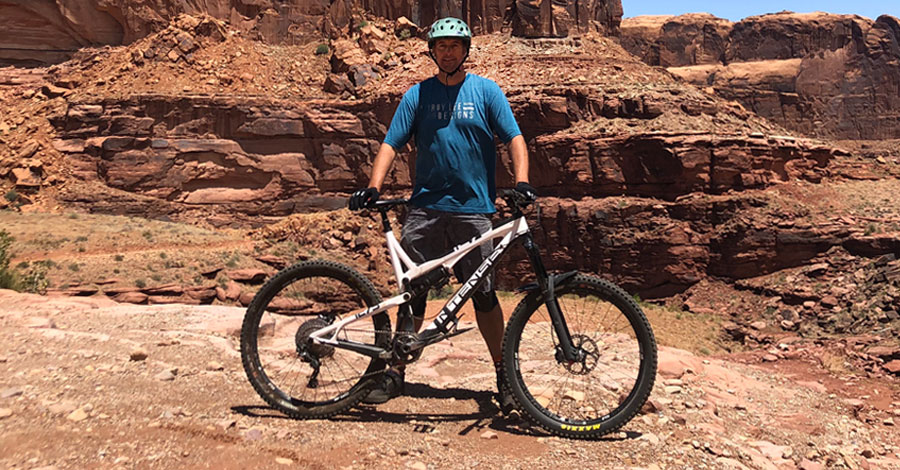 I'm a strong intermediate rider on my best days, but my love for this sport definitely ranks as pro. For our family, nothing beats loading up the van and taking off for a mtb road trip. Most of the time, I believe my wife and kids agree with this. We have been very fortunate to ride in many great places together and I can't wait to see what this summer brings. If your kids are getting into the sport, do what you need to do to make sure they have a good time. If you ride with them, you're going to create memories that last a lifetime. Be sure to take lots of pictures as you document your #mtblifestyle.
My 2016 Intense Tracer was purchased used and hopefully someday, I will figure out how to use it for what it was made for. It has a carbon frame, XT drivetrain, and RockShox suspension. And even though it's almost five years old, the thing is solid – not a rattle on it. I have made the habit of cleaning the drive train before I ride to keep it pedaling smooth. This bike has been a decent fit for me because I can take it on XC rides with our NICA, lift-served bike park laps, and everything in-between.
Colin Zimmerman And His Commencal Furious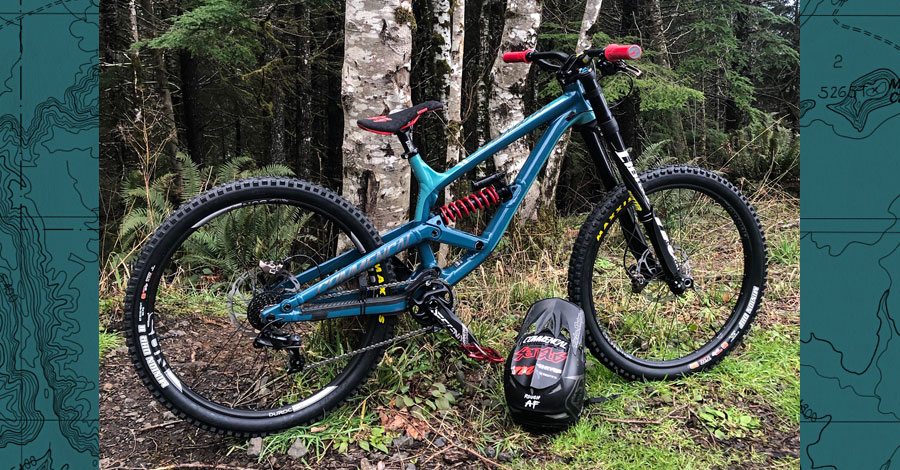 My name is Colin Zimmerman. I started mountain biking in 2004 when I met a friend in college who biked. Initially it was an opportunity to make friends on campus and hang out at the local bike shop. I started working at the LBS for the extra cash and employee discount. After graduation I moved to Denver with my girlfriend and now my wife and mother to two fantastic children. Moving to Colorado was the start of my downhill and freeride passion. Riding all of the iconic IMBA trails and riding every chairlift in Colorado, Utah, and New Mexico. Years flew by like days. I worked for Boulder County, CO and was able to ride at Valmont Bike Park 3-5 days a week on lunch. I had a garage that looked like a bike shop. My love for mountain bikes engulfed every vacation, every free moment, every purchase. The feeling of going fast, pushing into corners millimeters from edges of sidewalls. Flying sideways for seconds. White knuckles. The ability to remain calm and clear while screaming down singletrack. Equanimity. Then our family moved to Seattle and the most exciting days of mountain biking still lied ahead with two great kids about to learn how to explore their love for bikes. I can now teach my children all of the life skills that mountain biking has taught me through the same medium I have loved for years. After 18 years of blurry tree laden trails, gaps flying underneath, and multiple injuries – I now have the most heroine years ahead of me teaching and watching my kids pursue their love for wilderness, trail building, racing, and mountain biking.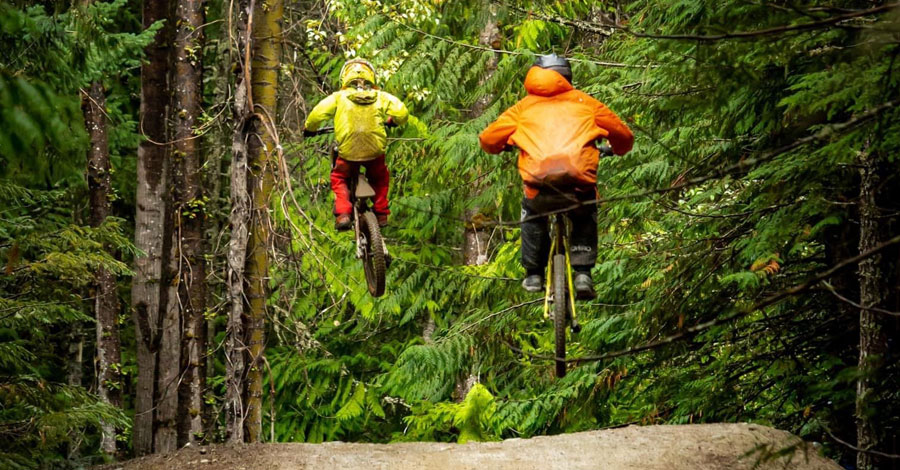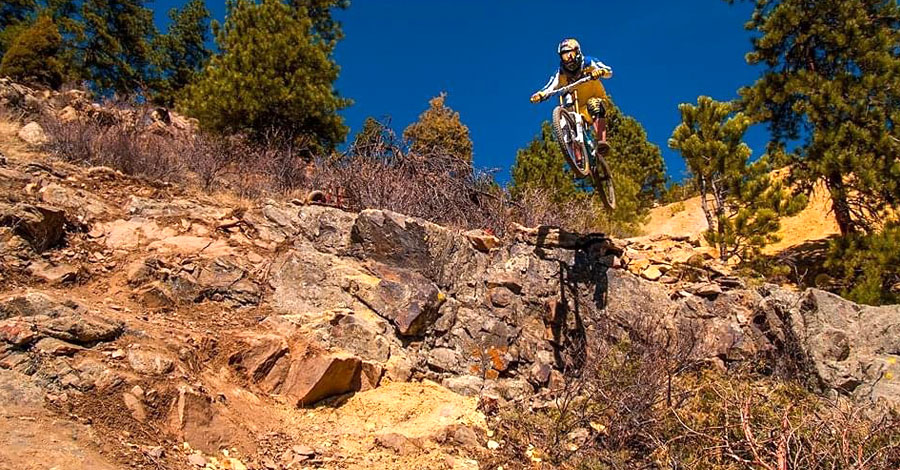 I have chosen my Commencal Furious 27.5 downhill bike to share. I built this bike to ride at Whistler and the NorthWest Cup race series. Long travel at 200 mm in the rear with a Manitou Mara and 203 mm provided by Manitou's inverted Dorado fork. Cockpit has Protaper direct mount stem and handlebars with half inch rise with Sensus Meaty Paw grips. Hayes Dominion a4 provide 203 mm of stopping power. Sun Ringle 27.5 Duroc tubeless wheelset with Super Bubba hubs are wrapped with Maxxis Minion treads. I chose Sram gx7 7 speed 11-25t drivetrain with Truvativ Descendant DH cranks guided by an MRP SXg and STFU chain damper. Pedals are Deity Bladerunners. Truvativ seatpost with a Sensus Kevlar saddle. Certified shred sled.
https://mtbwithkids.com/wp-content/uploads/2020/06/fathers-day-bike-checks-2020-featured.jpg
470
900
Brett
https://mtbwithkids.com/wp-content/uploads/2016/05/logo-mtbk-400-300x157.png
Brett
2020-06-20 20:23:57
2020-06-28 23:28:20
Father's Day Bike Checks - 2020 Edition