Are you thinking about a trip to Maui? Mountain biking Maui with kids is amazing. Here's one active families story about theie MTB adventure in paradise.
One of the most popular attractions on the island of Maui is to wake up at three in the morning to bus to the 10,023 foot summit of mount Haleakalā. There, you can watch the sun tear through inky pillowed clouds, releasing a pyrotechnic sunrise. Glorious for adults and whine-inducing for sleep-deprived children. Like many, when my kids are not sleeping, they prefer cycling to aesthetic contemplation.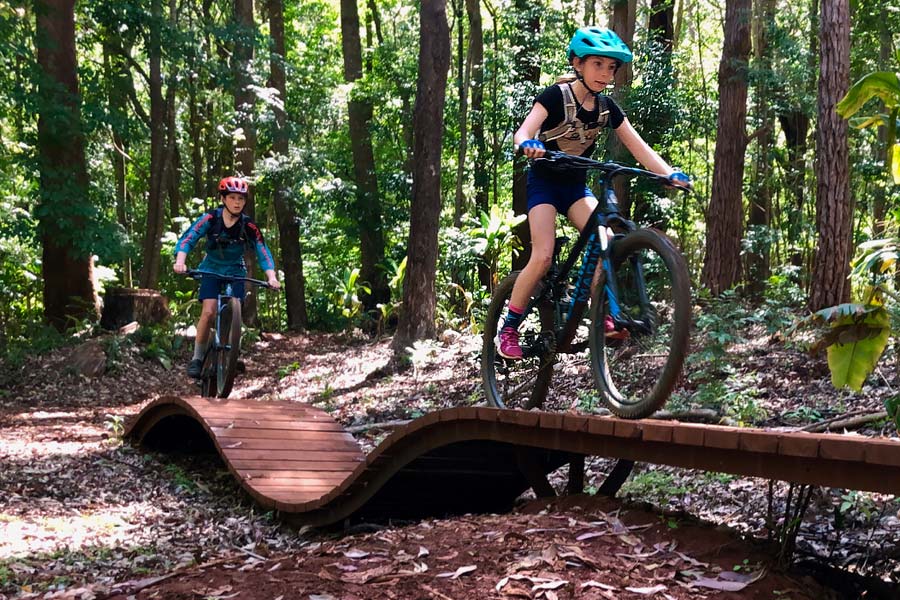 Vistiting Haleakalā and Makawao Forest Bike Park

We slept in and left for the summit after seven, when Haleakalā National Park opens to cars without reservations. Our goal: a mountain bike descent from the summit via the Skyline Trail and Polipoli Spring State Recreation Area. The ride is 18 miles long. However, that includes 7000 feet of downhill and little up. This trail is definitely doable for kids accustomed to a few hours on a bike. Apart from some loose rock at the top, tight turns and achy brake fingers, the ride is generally not technical.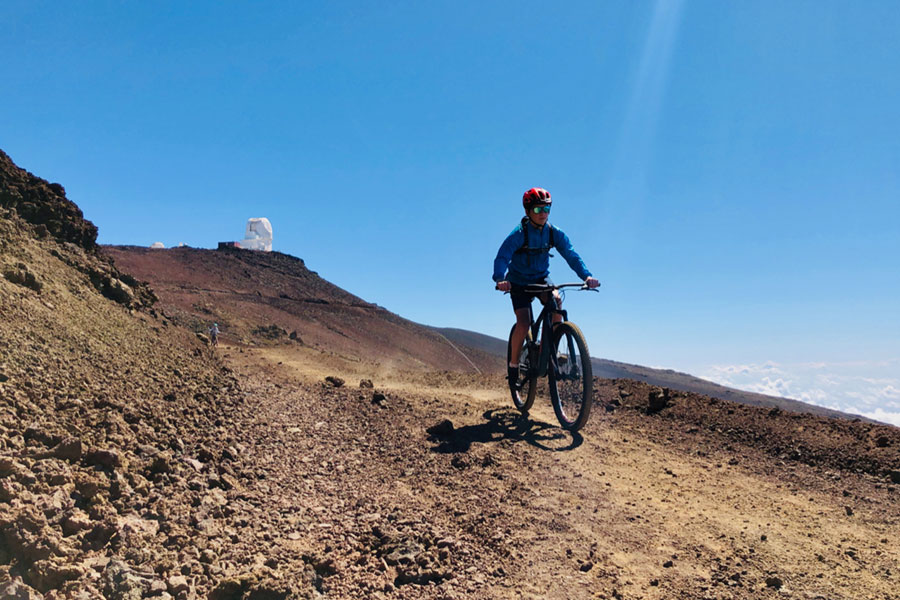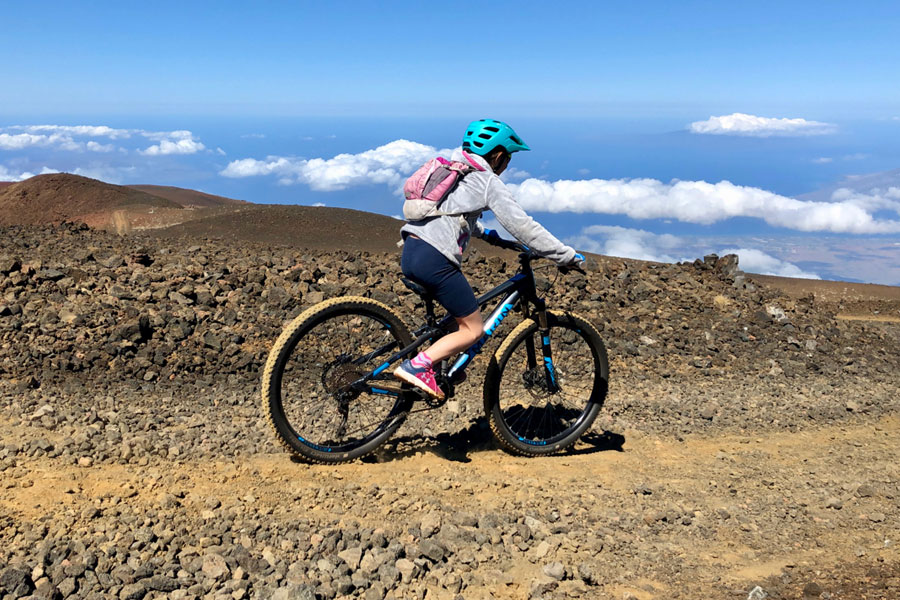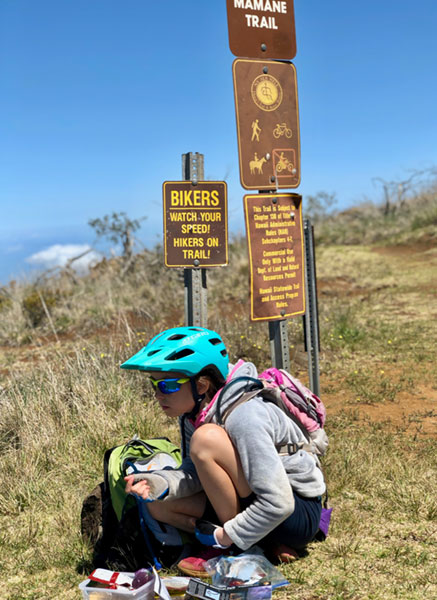 Skyline Trail
The Skyline Trail starts just past the desolate multihued crater where the Haleakalā High Altitude Observatory perches at the edge of the park. The first five miles of the trail are on double-track. This is a mercy for those awestruck by views of distant Mauna Kea and Mauna Loa set in the sparkling big blue.
Unlike their mom, the children were not bothered by the sensation of imminent flight off the mountain towards the Alenuihaha Channel. A park ranger said the road had recently been graded, but it can be ugly with sand and fist-sized hunks of sharp a'a lava rock.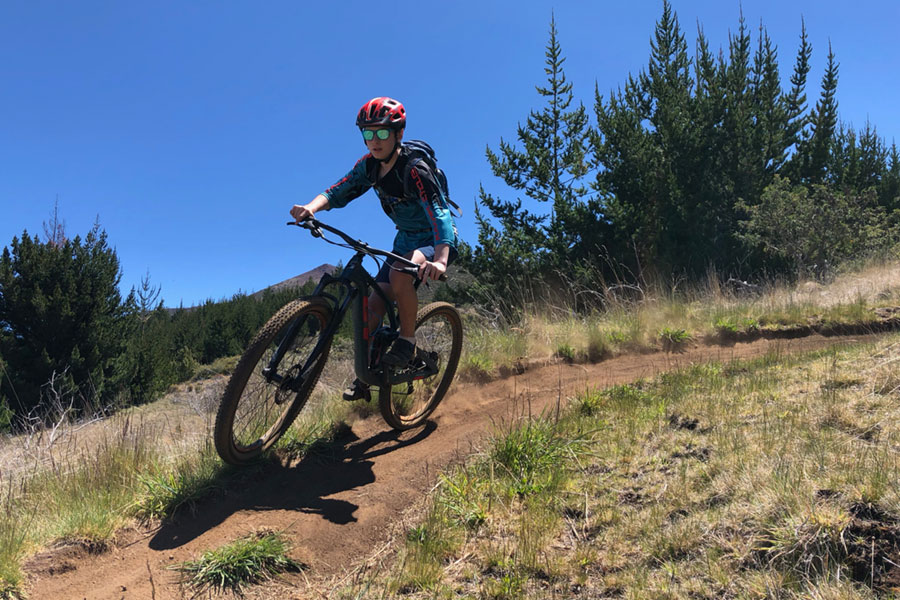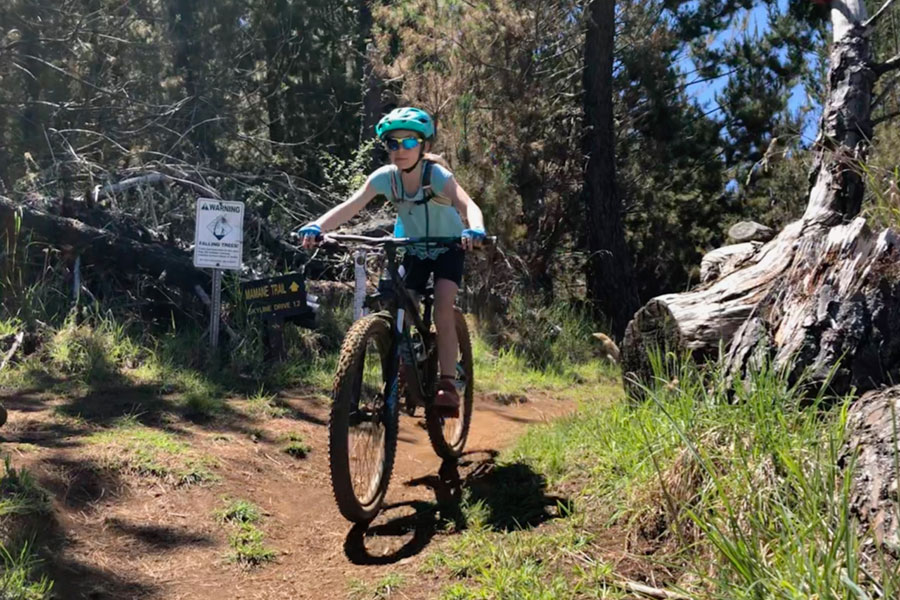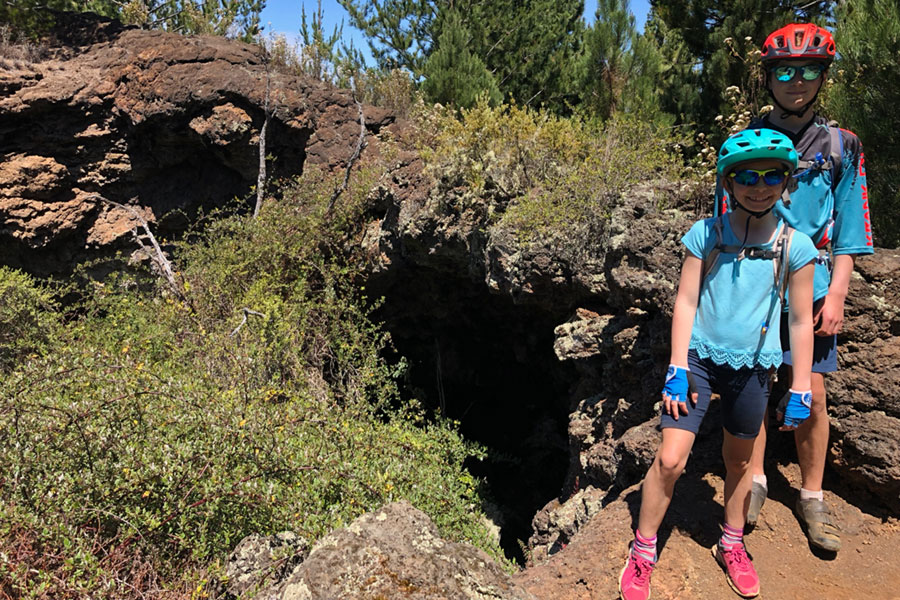 Mamane Trail
At the top of the fog belt, where rider and vegetation return to earth, we took a snack break before heading down the Mamane Trail. We flushed ring-necked pheasants and chukars as we cruised the pine forest on well-maintained singletrack.
A collapsed lava tube marks a junction with the upper Waiohuli Trail and a transition to the tropical rainforest. That trail leads to the dirt Waipoli Road that transforms into a one-lane asphalt road with 20 magnificent switchbacks accomplishing the last 1000-foot drop. We saw three hikers and two cars the entire ride.
Tricky Logistics
There are no licensed shuttles or guided tours of the Skyline Trail. Skyline skirts the Hawaiian Homelands, areas sacred to native Hawaiians and off limits to commercial activity per the state. Since I was the only one with a driver's license, I considered the possibilities. One potential option included stealing a mobility scooter from the Kahului Costco parking lot. Except that twenty years from now I do not want the family legend to contain a story about how mom was busted driving up the side of a Hawaiian volcano at four miles per hour.
The real options are few. Firstly, rent a second car and leave it at the bottom. Secondly, hitch back up to your car. Or thirdly, to keep asking until you find someone who has half a day available to drive you around. I lucked out offering da kine tip via a ride-sharing app for the run back up to the summit.
With two cars, leave one near Ali'i Kula Lavender Farm at the end of the descent. Count out riding on the busy two-lane highway. Drivers on Maui are courteous to riders. However, the long shoulderless sections of road lined with grabby tropical plants are a particularly bad idea for children.
Bike Park At The Kahakapao Recreation Area

Having worshipped at the House of the Sun, the next day we joined Maui's party of the jungle at the Makawao Forest Preserve's Kahakapao Recreation Area. You know it's going to be good when you roll into the parking lot. We noted both tots jamming on striders and construction workers celebrating a lunch ride with huge grins on mud-splattered faces. It's not just the chorus of tropical birds making noise, there were happy human whoops coming from the forest. Plus, the air smelled like tropical flowers.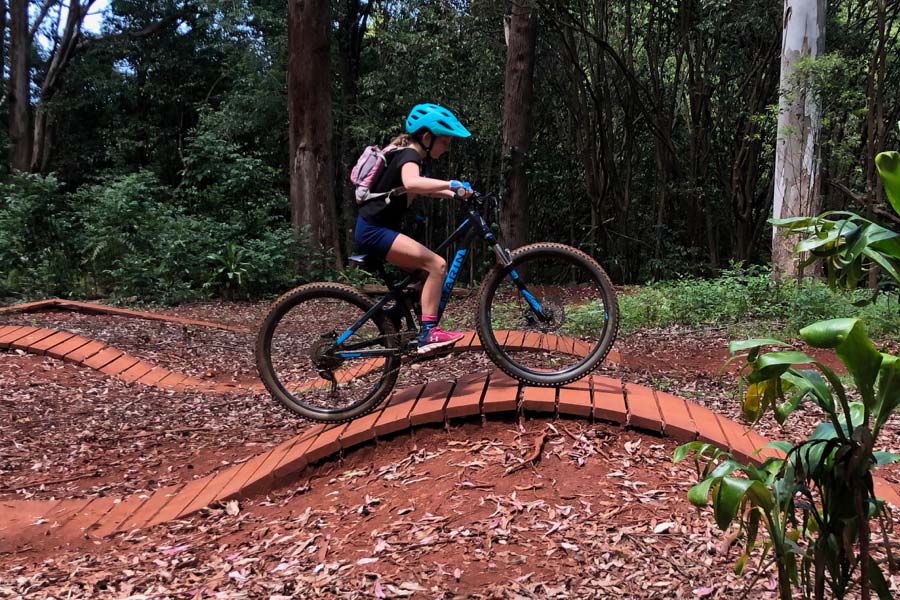 The bike park starts with a couple pauma (pump) tracks; 'akahi akahi (novice) and akamai (expert) skills areas; and even offers a repair station with tools. The skills areas feature a small teeter-totter, bridges, log rides, jumps of varying sizes and shapes and generously banked turns. The steeper jumps were hard-packed and booger-slick, requiring extra momentum for successful takeoff and landing. Fallen leaves and mud obscured some portions of the parks, but popular lines were clear.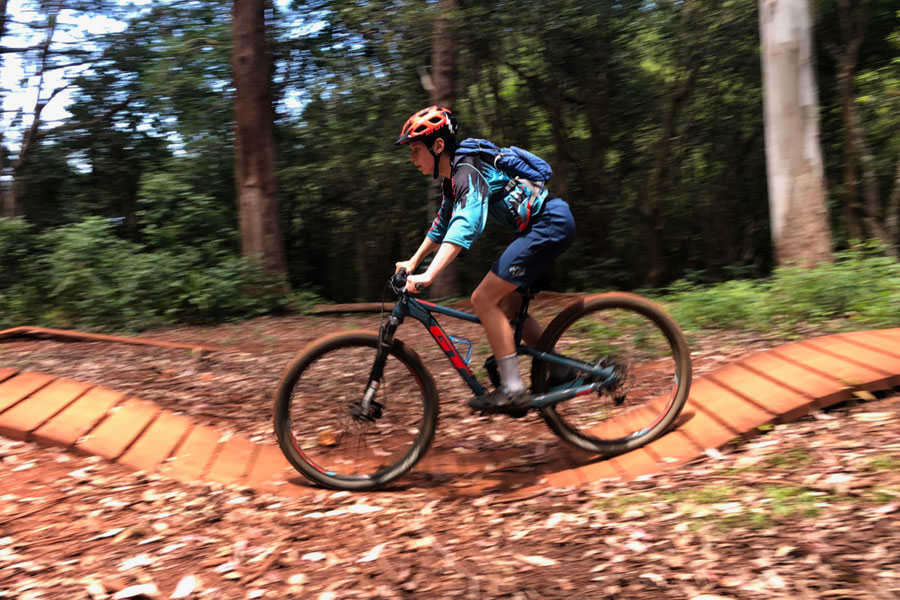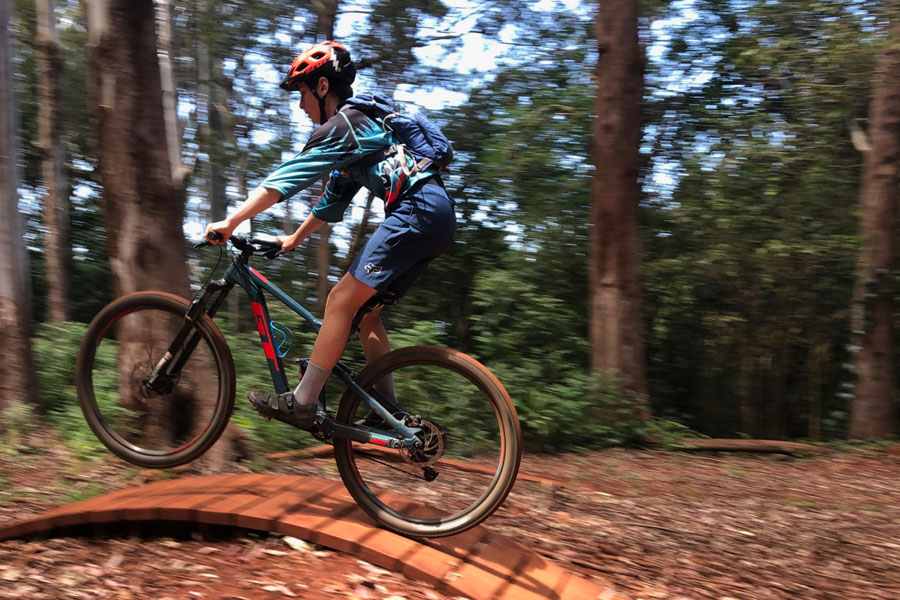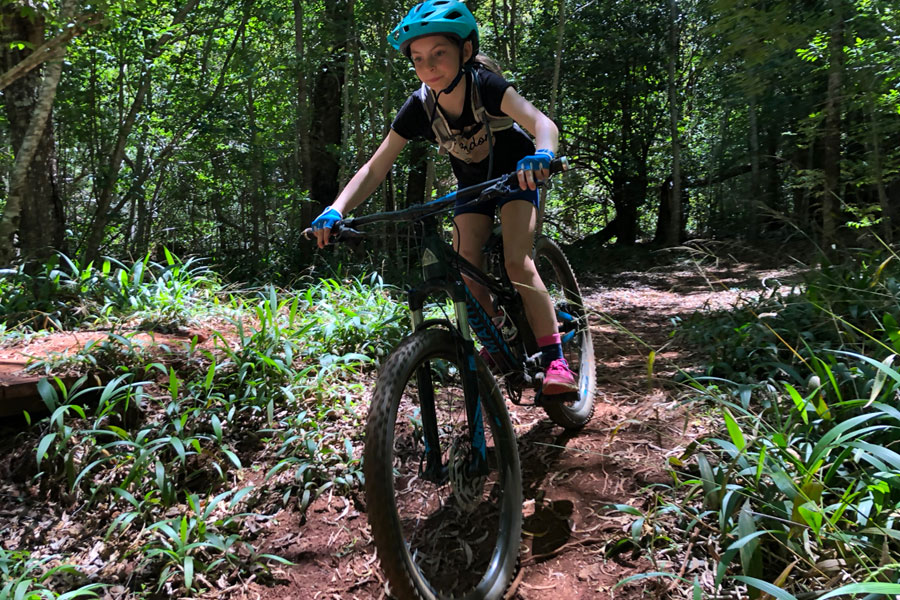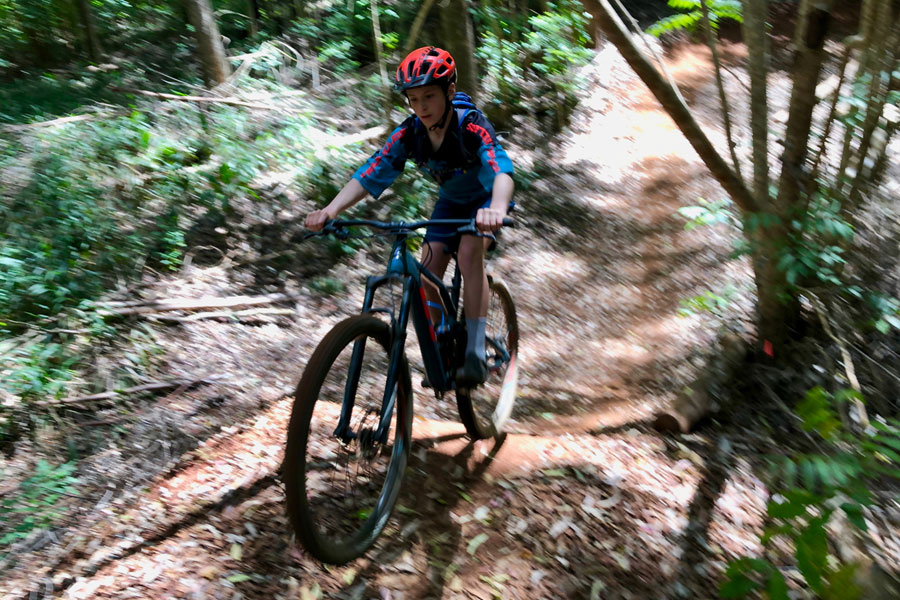 The main trails are designed by IMBA's Trail Solutions and maintained by the local IMBA chapter, the Maui Mountain Bike Coalition. These trails work out to a few variations on a couple miles of upward grind followed by a swoopy run down. Everyone we met recommended climbing the East Trail and descending via Pineapple Express.  Pineapple Express is a  two mile long tasty flow trail with solid berms banking tight turns, whoop de doos, table jumps and a fat BC-style wallride near the end. More advanced climbs and descents are an option.
Mountain biking Maui with kids can be educational, too!
As an educational bonus a parent would appreciate, trails were sprinkled with interpretive signs. Take a break! Firstly, you can learn about the history of the preserve, which was planted by prisoners in the 1960s. Secondly, learn about tools like the kahakapao, an adze Hawaiians once used to shape canoes.
All in all we had a great time at Makawao Forest Preserve's Kahakapao Recreation Area. We made one last visit to the skills area before foraging for the penultimate post ride treat of the tropics: shaved ice.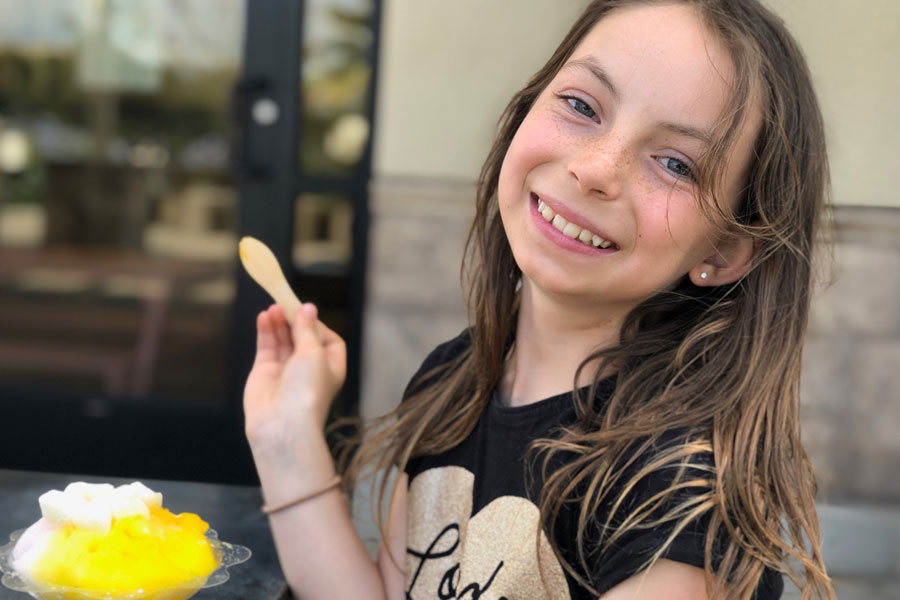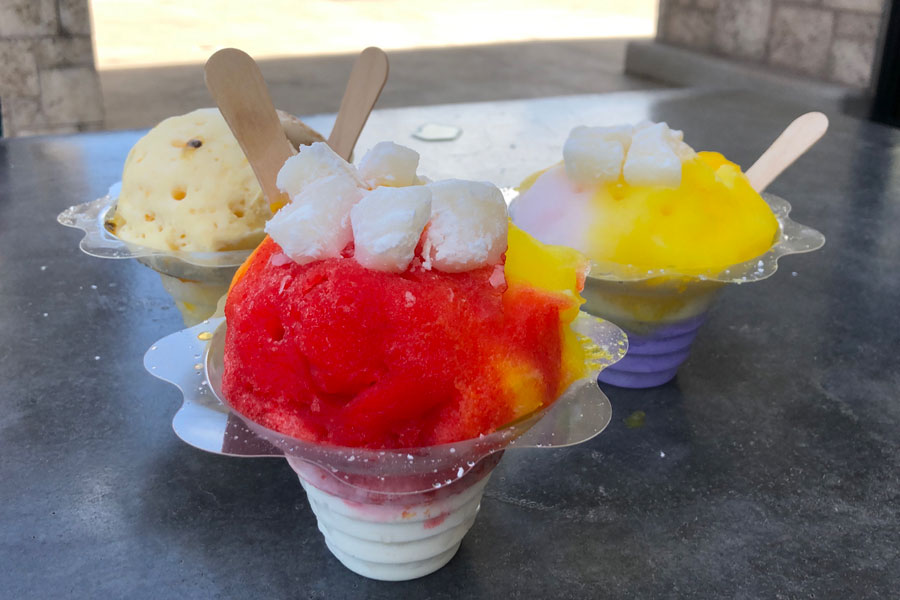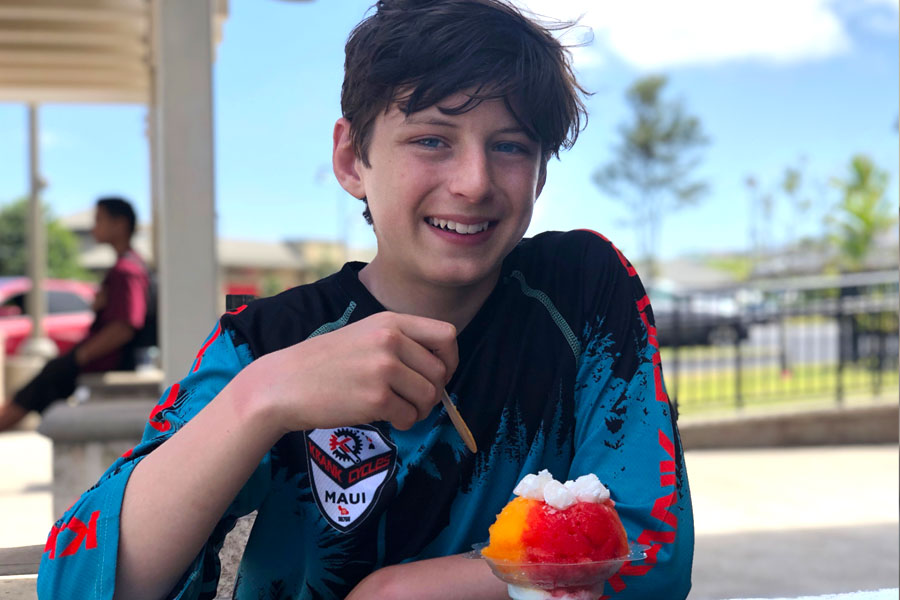 Before you start mountain biking Maui with kids, check in on trail conditions via coconut wireless, aka direct person-to-person information sharing. Various websites, maps and trail apps have inexplicably different names, lengths and ratings for the same trails. For example, East Trail and East Kahakapao Loop, rated both easy and difficult as well as being one, two and three miles long.
Neither GPS nor cell service are reliable under heavy tree cover. Plus, island weather varies by microclimate, a situation only decipherable by someone in the area. However, in general morning tends to be sunny and rain visits in the afternoon.
Renting Bikes on Maui
We picked up bikes at Krank Cycles Maui in Makawao . Krank Cycles had an extra small, full-suspension Marin Hawk Hill that fit my nine-year old. For the taller ones, the shop has a formidable quiver that includes Santa Cruz, Knolly and BMC. While a couple of 20-inch bikes were available, they said 24-inch bikes might be a future possibility. Rentals come with a helmet, water bottle, repair kit and a backpack, but those with a preference for clipless pedals have to bring their own.
If out of luck with the ever-shifting landscape of vacation equipment rental companies, you might consider buying (and triple-checking the assembly of) smaller bike-shaped-objects from Walmart and donating them afterwards. The cost would not be far off from renting and still less expensive than an evening of mai tais and pupus at the Sheraton.
Mountain Biking Maui With Kids for the Win!
Even the most dedicated beach potatoes typically plan for an adventure or two while vacationing on Maui, the most action-oriented of the Hawaiian islands. Cram into an underwater metal sausage for a submarine tour or hang loose for a high-altitude shred session? Five minute flight on a zipline verus hours of red dirt roller coaster? Booze cruise versus jungle mountain bike jam? Maui MTB nō ka ʻoi! Undeniably, mountain biking maui with kids is the best!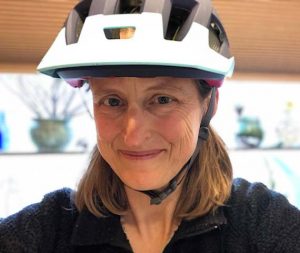 When she's not Mountain Biking Maui with kids, Cassie Ferguson lives in Salt Lake City with two children that wisely suppress their giggles when mom walks her bike downhill. A sometime science writer specializing in computational science, Cassie will fully transmogrify to graduate student in occupational therapy at the University of Utah starting fall 2019.
https://mtbwithkids.com/wp-content/uploads/2016/05/bell-et-bike-park-maui.jpg
600
900
Cassie
https://mtbwithkids.com/wp-content/uploads/2016/05/logo-mtbk-400-300x157.png
Cassie
2019-08-14 18:58:54
2020-01-14 00:52:47
Maui Wowee: Mountain Biking Maui With Kids