Overview of Moab's Slickrock Trail
Many bikers consider this one of the best trails in the world. And, although this trail is often rated "high technical" difficulty, it does not require the same skills needed to ride over roots and on sharp turns through some alpine trails. This scenic trail is mostly on Navajo sandstone, which is a tacky surface for bike tires. We learned the name "slickrock" was given to the area by people riding horses with metal shoes.
This ride is on a mesa and it features beautiful landscapes. If you haven't been on terrain like this, it is fun and unique sandstone mountain biking
The transitions between climbing and descending can be tricky. Watch for cactus. Be mindful of the exposure. We suggest a skilled adult with at least intermediate skills pre-ride this trail before determining if your kids are ready for it.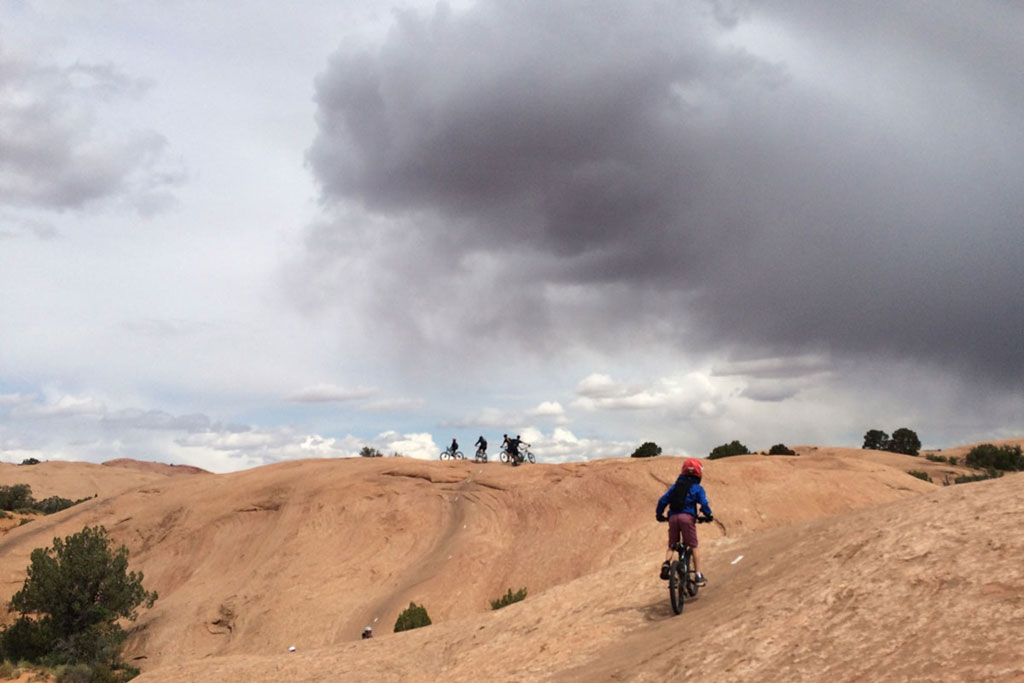 Getting To The Slickrock Trail In Moab: [1] Head east on E Center St toward S 100 E/S 1st E St (0.4 mi). [2] Turn right onto Fourth E St (0.4 mi) [3] Turn left onto Mill Creek Dr (0.5 mi) [3] Continue straight onto Sand Flats Rd (2.3 mi). There will be a toll booth. The parking lot for the Slickrock trailhead will be on your left.
Riding The Slickrock Trail With Kids
When our kids rode this trail for the first time, our youngest was on a heavy 20-inch mountain bike with v-brakes, heavy entry-level spring fork, and tires with tubes. His hands were as tired as his legs when we finished – but what an accomplishment!
Climbing the Slickrock Trail is really fun because the rock is grippy. Once you become comfortable, you'll be amazed at how you can ride up climbs that look way too steep. The key is keeping your front tire on the ground and pedaling smoothly. We taught the kids to zig-zag up the steeper slopes that were wide enough and they can make almost every climb.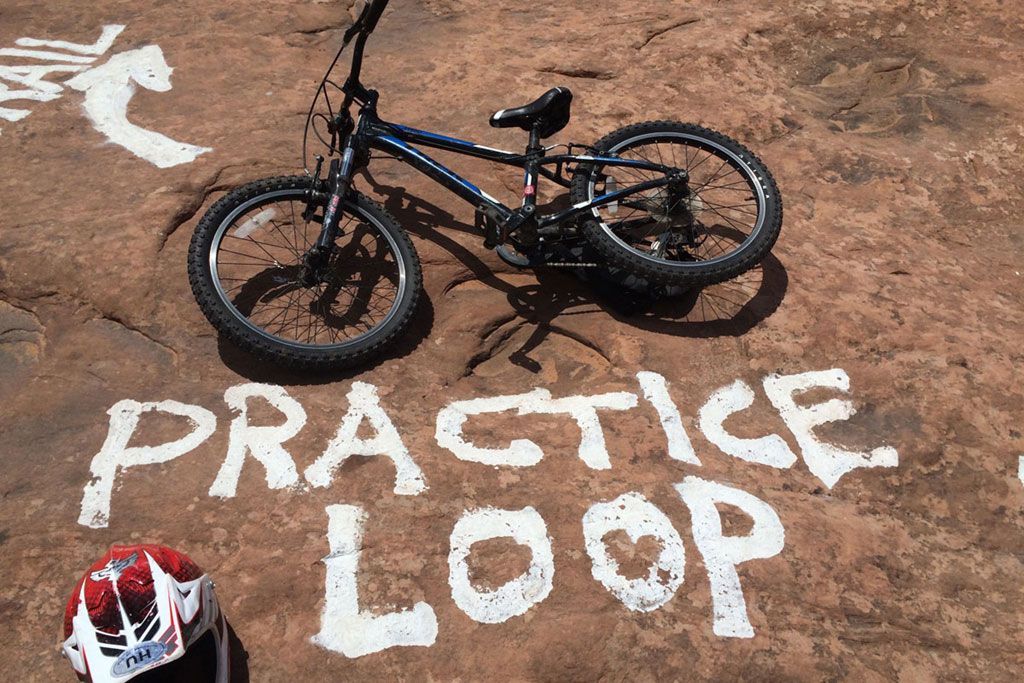 The Slickrock Trail is made up of many short and steep undulating climbs and descents. The trail is easy to follow – white dots and arrows painted right on the rock. The views are breathtaking. A quarter mile from the parking lot, you'll hit the 1.7-mile practice loop. This is a great introduction to riding on sandstone. You can just ride this loop, or add it to the full Slickrock Trail. It will add a mile and re-connects with the main trail.
At 2 miles, you'll get to the loop part of the lollipop – you can ride either way, but we have only ridden it clockwise by taking a left at the fork.
Out And About On The Slickrock Trail With Family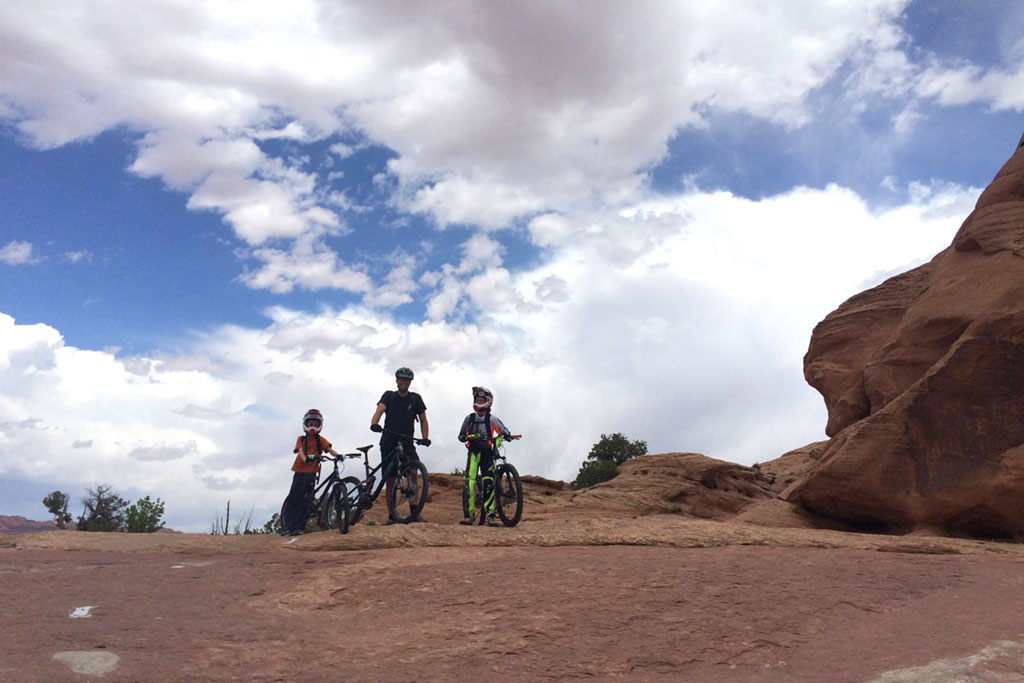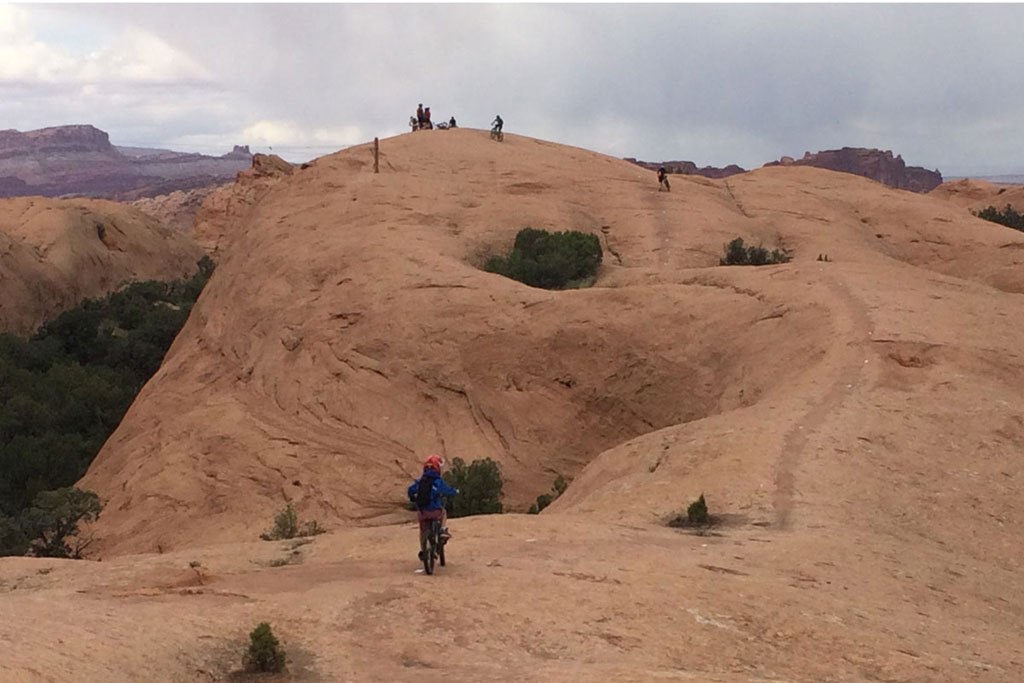 Along the way, there are optional short spurs that will take you to the edge of the cliff. These only add a bit to the length the ride – and add a lot to the overall experience of the trail. We took breaks at each overlook.
There are a few places where you have to ride/walk through sand. And many, many places to take breaks and enjoy the view.
Keep an eye out for potholes with sand and cactus. One time we rode this trail, our youngest managed to fall off his bike right into a pothole filled with cactus about mid-way through the trail. It was awful. His butt and leg were full of cactus barbs. After we removed as many of the barbs as we could, he demonstrated his toughness and completed the remainder of the ride. For a while he rode so slowly that I thought we might die out there, but we made it! If you're wondering about the best way to remove cactus barbs, it turns out Elmer's school glue works well. We initially used duct tape.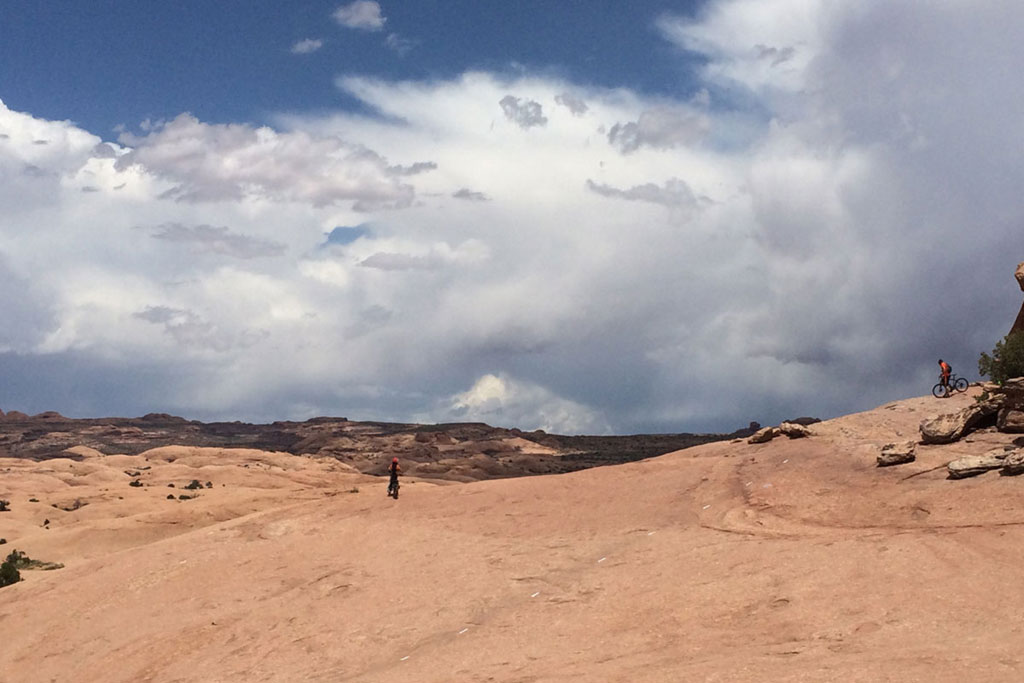 Being Prepared For The Slickrock Trail
Depending on the time of year, you want to make sure you have plenty of water and snacks for the ride. Bring proper clothing, tools, sunscreen and your camera! Your kids may want to take a lot of breaks because there are several long climbs where both kids and adults may need to hike-a-bike. It can also be quite windy. And, of course, be sure you check the weather so you don't get stuck in a rainstorm several miles from the trailhead.
https://mtbwithkids.com/wp-content/uploads/2021/03/moab-slickrock-trail-featured.jpg
683
1024
Brett
https://mtbwithkids.com/wp-content/uploads/2016/05/logo-mtbk-400-300x157.png
Brett
2021-03-25 00:11:21
2022-11-15 03:50:02
Mountain Biking The Slickrock Trail In Moab, Utah