Best Seattle Mountain Bike Trails for Kids: There's nothing more exciting than getting your kids hooked on an activity you love. But for mountain bikers, that can be a bit of a challenge. It can be really hard to find good beginner trails for kids that keep them interested and help them progress, without being too challenging and overwhelming.
That's why we've put together this guide to the best mountain bike trails in the Seattle area for kids. These trails are all easily accessible, with optional features that kids can challenge themselves on. They're well signed, so you won't run into any surprises, and most cater to beginners specifically, so you won't have more aggressive riders coming up behind and passing. And most of all, they're fun. Your kids will have a blast exploring and riding all of these trails – whether they're riding a strider, or riding their mountain bike harder than you.
Duthie Hill is a huge bike specific park, with something for everyone. While it's got plenty of bigger intermediate and expert terrain and features, what really sets it apart for kids and beginner riders is how the whole park is designed for progression. There are trails and features designed to help riders of any ability level grow. So younger kids can just get a feel for pedaling and cornering on dirt, and as they progress, there are easy building block features that will challenge them without being overwhelming.
Even really young kids who are still on balance bikes can get a feel for singletrack riding at Duthie. And most of the trails at Duthie are designated as directional, so everyone will be going the same way. That's especially helpful for kids who can struggle with stopping and starting again when they meet riders coming the opposite direction. Duthie Hill made our list of best Seattle mountain bike trails for kids because it provides a fun, safe environment to grow as riders.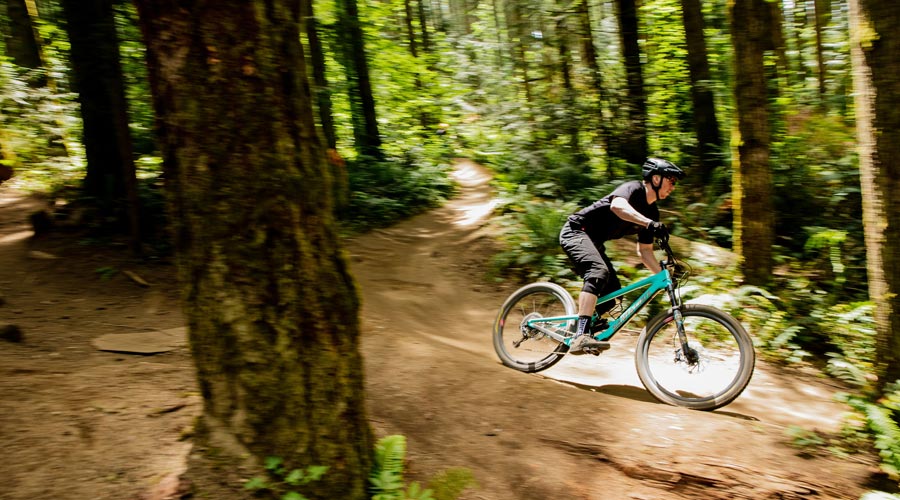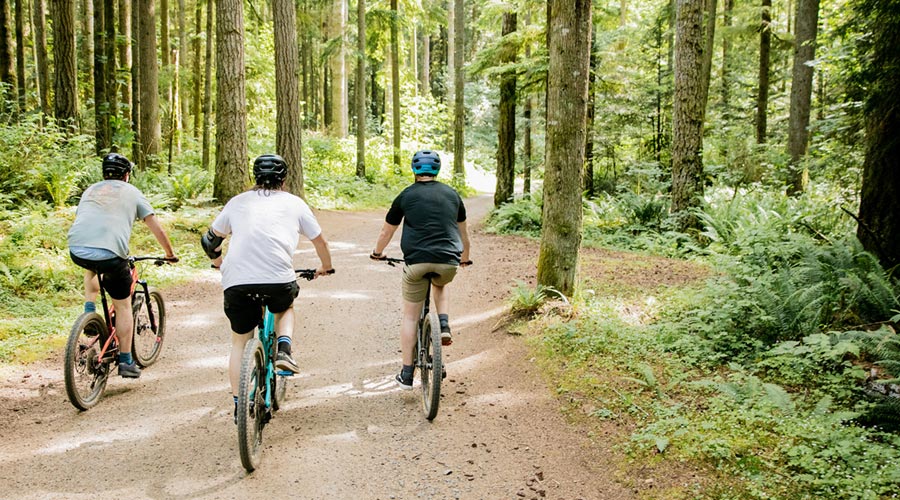 Palouse To Cascades Trail

The Palouse to Cascades Trail, formerly known as the John Wayne Pioneer Trail, is the perfect option for kids who want to ride a little further, but aren't as interested in technical terrain. It's a wide, mostly gravel trail that follows an old railroad bed, and even goes through a tunnel. The tunnel is an adventure not to be missed, and the mellow riding means you don't even need a bike with real mountain bike tires. Because it's on the railroad grade, the climb and descending are very gradual, so even kids who just learned to pedal or use hand brakes can stay in control.
The whole trail is over 100 miles long, we recommend riding shorter sections and setting up a shuttle with multiple cars so that they can ride point to point in the downhill direction of the trail. Our favorite section of trail for kids starts at the Iron Horse State Park and drops West towards Cedar Falls. From Iron Horse to Cedar Falls is 23 mostly downhill miles, but you can cut it shorter depending on how much energy your kids have. This section is mostly gently downhill, and includes a railroad tunnel so bring lights and headlamps. The John Wayne Pioneer Trail is the perfect place for kids to build confidence and experience for longer, more technical rides. This is definitely a big adventure, so grab your mountain bike shoes, put on your bike shorts, and get ready for a fun day!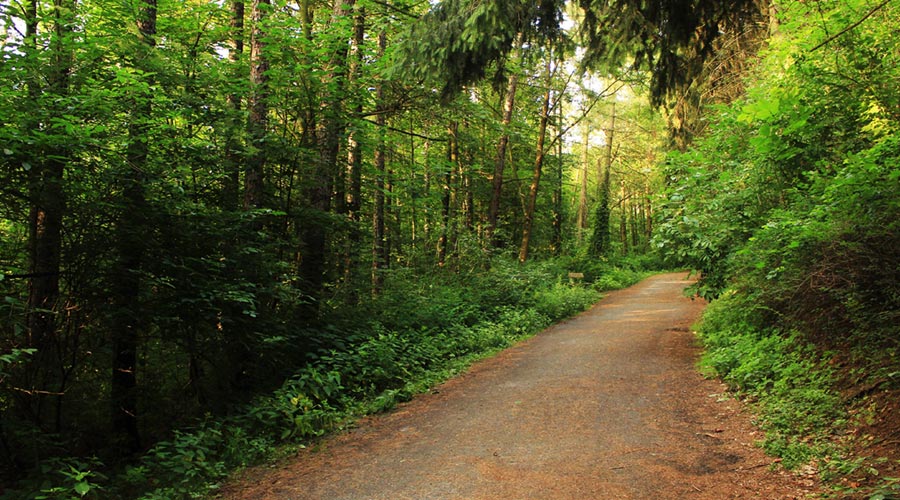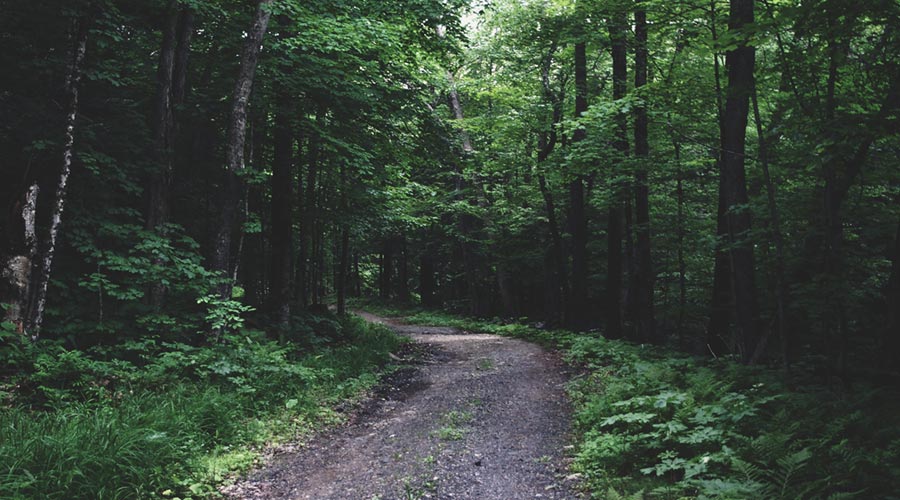 Black Diamond Open Space (BDOS)
The Black Diamond Open Space is a conveniently located trail network with a high concentration of great beginner and intermediate trails. Located close to Henry's ridge, Black Diamond Open Space is flatter and less demanding than much of the riding in the Seattle area, and its densely packed trails make it easy to stack small loops of riding and cater to any skill or endurance level.
Like Duthie Hill, the BDOS trails are optimized for progression with plenty of optional features, and a variety of blue and green trails. Kids can build skills on easy trails, and then quickly step up to more technical trails in the same area. And there are plenty of more interesting intermediate and expert trails for parents and older kids. BDOS is a great place to go ride with your kids and learn about what kinds of trails they prefer, and what their strengths and weaknesses are.
Paradise Valley's trail system isn't quite as tightly stacked as Duthy or BDOS, which means there's more riding between intersections. And there aren't any really big climbs or descents, instead it's mostly flowy up and down riding that helps build endurance and bike handling skills for kids.
Most of the trail at Paradise Valley is beginner or intermediate, so don't worry about taking a wrong turn and ending up in over your head. Instead, you can plan bigger loops and ride continuously with your kids. It's not quite as easy to progress to more technical trails or bigger features here, instead it's an ideal place to just solidify all-round bike handling skills and fitness.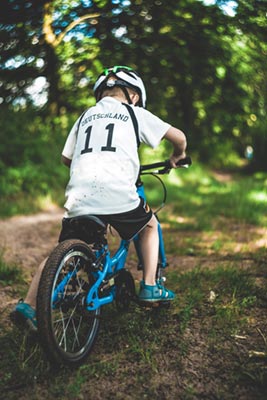 We are evo Seattle, a mountain bike shop with an emphasis on invitation & getting everyone out having fun on the trails. evo is a one stop shop for all things bike repair while also offering mountain bike rentals.
evo explores the collaboration between culture and sport by seamlessly joining art, music, streetwear, skateboarding, snowboarding, skiing, mountain biking, and wakeboarding. Our aim is to bring all things relevant to the urban, action sports lifestyle into one creative space. Whether it is on the website, on the phone or in our stores, our aim is to make all who come into contact with evo feel welcome and excited about their experience.
Check out our Destinations and Trails page for more fun places to ride and visit! We'd love to hear about your favorite places to ride bikes with your family, too. Share your faves with us on Instagram or Facebook
https://mtbwithkids.com/wp-content/uploads/2016/05/seattle-evo-featured-v1.jpg
470
900
evo
https://mtbwithkids.com/wp-content/uploads/2016/05/logo-mtbk-400-300x157.png
evo
2020-02-10 01:06:09
2020-03-02 00:16:47
Best Seattle Mountain Bike Trails for Kids